The G League is the NBA's official minor league organization that caters to the lesser-known basketball players. It originated in 2001-2002 with the name MBA Development League and has grown and evolved to what it is today.
It gives younger rookies and veterans a platform to develop, train, rehab, and develop their skills for the big guns at the NBA.
NBA G League is a platform reserved for players as coaches, but officials, trainers, and other staff also use it as a training phase for the NBA. There are 29 teams in the G League, each with an association with a significant NBA team except one which is the NBA G League Ignite team.
Players in the G League do not sign contracts with the individual teams but rather with the league. Players are on a salary system based on a format that we will fully explain below.
Salary Scale of the G League
The salary of G League players depends on the contract they sign and the category they fall under. There are generally four classes as follows:
Select Player
Players in this category sign a "select contract" that is usually worth around $125,000. Players reserved for this contract are at least 18 years of age and are considered elite because of their skill and ability.
The base pay is usually for five months when the season is active and does not include other incentives like call-up compensation.
In recent times, this new select contract is primarily for players that do not attend college and instead choose to play in the G League.
Two Way Player
This set of players start with the base of select players at $125,000. This includes a pro-rated portion of the minimum salary in the NBA, which was $582,000 in 2019.
So, if it takes a player 100 max days to get to the level of $582,000 minimum salary, they'll be making $5820 per day.
Assignment Player
Players categorized under this category usually are NBA players with at least three years of experience and are sent to the G League affiliate team for a period. This could be because of rehab, playtime, discipline, development, or creating a roster spot.
NBA organizations typically have this player's contract and can move the player as they wish, depending on what the organization needs. Players on the NBA assignment earn their regular NBA salary.
Draft Rights Player
Like the NBA, the G League also drafts players below 18 years under the draft's rights division. These players that enter the G League Draft are yet to enter the NBA draft.
Once the G League drafts them, the NBA cannot call them up during the season and, as such, have to stay at the G League till the season is over. Players in this category earn an estimated $7000 monthly, totalling $35000 for the five-month season.
In the 2021-22 season, there has been a slight increase with players earning up to $37,000 per season.
Affiliate Player
NBA Training camps usually finish up in October, and that is when NBA organizations typically select up to 4 players they want in their NBA G League affiliate teams.
These players are called affiliate players. These players can advance to the leading NBA teams since they are in the G League.
In addition, this category of affiliate players can make a maximum of $50,000 through some of the partial guarantees in the NBA training camp.
In Season Affiliate Players
These categories of players are similar to affiliate players, albeit a critical difference. With in-season affiliate players, the NBA team waives them while the NBA season is still in progress.
When NBA organizations waive a player, they can allocate or classify them with their respective G League affiliate and call them an in-season affiliate player.
NBA teams generally have a maximum of four affiliate players at the beginning of a season, and this only applies to players that were part of the training camp before the running season.
A Quick Summary of the Key Categories and their Salaries
G League Drafted Players (Basic Contract) – $7400 monthly
Select Players – $125 000 plus call up pay
Assigned Players – Pro-rated NBA salary/NBA Salary depending on player's contract
Two Players – Standard G League Contract of $7000/ Select Player pay of $125 000 + NBA Two-Player Pro-Rated Pay of NBA minimum contract
Players' income could rise significantly to $400,000 when combining NBA time, two-way contracts, and other incentives in their agreement.
What is the Average G League Salary?
G League salaries depend on your class and how you entered the G league. However, the average G League salary would stand at $35,000. However, some players would earn far more than this with a combination of contracts or on the level they are.
What is the Highest G League Salary?
2021-2022 Season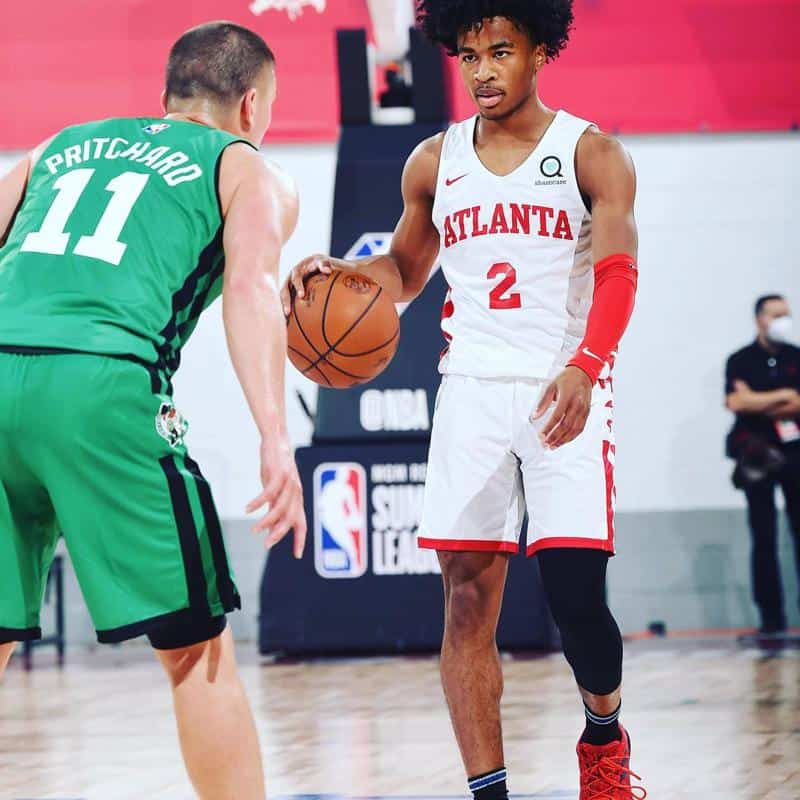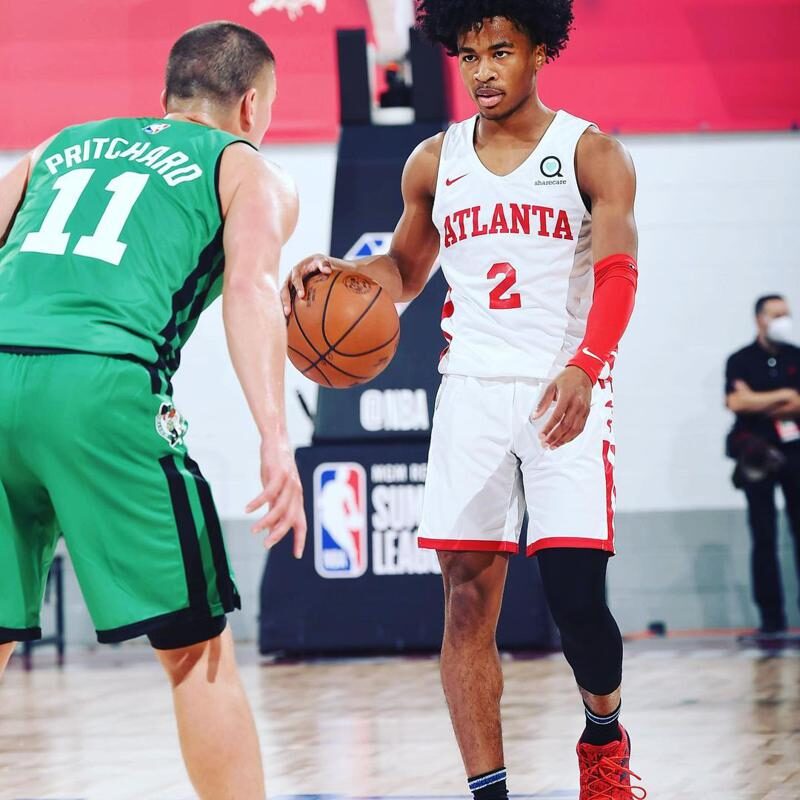 The highest-paid player in the G League is Sharife Cooper making a sum of $462,629. He is on a two-way contract playing for the NBA Atlanta Hawks and their associated G League Team College Park Skyhawks.
He was the 48th overall pick in the July 29th draft. His college career was brief where he played just 12 games in his freshman year for Auburn before a left ankle injury became a hitch in his season. However, his limited time there was impressive with an average of 20.2 PPG, 8.1 APG, and 4.3 RPG in 33.1 minutes per contest for the Tigers.
His two-way contract doesn't give him a space on the 15-man regular season roaster of the Atlanta hawks. He will occupy the two-way slots making him eligible to appear for up to 50 NBA games.
2020-2021 Season
The highest-paid player in the G League last season is Jalen Green making a sum of $500,000. He plays for the NBA G League Ignite in the shooting guard position. ESPN ranked him the best shooting guard in his 2020 class, and he is a consensus five-star recruit.
Note: Green was selected by the Houston Rockets with the second overall pick in the 2021 NBA draft.
Check out Jalen Green's G League highlights:
Before he was 15 years, he had already gotten offers from various NCAA Division I basketball programs in Florida State, USC, and Arizona.
However, he decided to forego college basketball and instead join the G League and signed a one-year contract with NBA G League Ignite, a developmental team associated with the NBA G League.
What is the Lowest G League Salary?
The lowest salary a player in the G League contract can earn is $7000/month. This is the regular amount in the Basic Contract for G League Drafted Players. This payment also covers other benefits like housing and insurance over the five months when the league runs.
Also Read:
Conclusion
G League is typically an opportunity for players that aren't eligible for the NBA, and there isn't a fixed cap for the number of players they can offer the select contract. These amounts could still vary depending on the player's ability to negotiate and their value to the team.
Even though these players are not eligible to play in the NBA because they didn't go through a draft, they are still offered salaries based on a scale.
The highest-paid players in the G League are usually the most sought after or the best in a category coming out of high school. However, some other players use a combination of contracts to get higher benefits that could quickly boost their take-home.
Read More: NBA 10-Day Contract: How Does it Work?