Ever wondered if there are Muslim players in the NBA, how many there are, or how they go about their basketball schedule while practicing their religious activities such as fasting? We will be giving an insight into what it means to be a Muslim basketball player in the NBA, as well as some firsthand accounts of Muslim players in the NBA. Stay with us to find out more.
NBA is the most recognized basketball sports league worldwide. It is usually hosted in North America and involves 30 teams competing for the championship. Many basketball players from different parts of the world come together to join NBA teams and compete among their various teams, the players from all races and religions, including Islam.
Throughout the history of the NBA, multiple Muslims in different teams have participated in its competitions. There are currently over 10 Muslim players in the NBA; while some are Americans, others are from different countries in other parts of the world.
What is it Like Being a Muslim in the NBA?
Here is the perspective of a famous Muslim NBA player on how it is like being a Muslim in the NBA
Hakeem Olajuwon: Hakeem Olajuwon studied his Quran every day, even when he had to do it while on the to a match. He fasted during the Ramadan period and said it felt like he played better than usual when he was fasting and won the player of the season in 1998 when Ramadan was during the season but auctions off any jewelry given to him because of his faith.
Most Famous Current Muslim NBA player
Kyrie Irving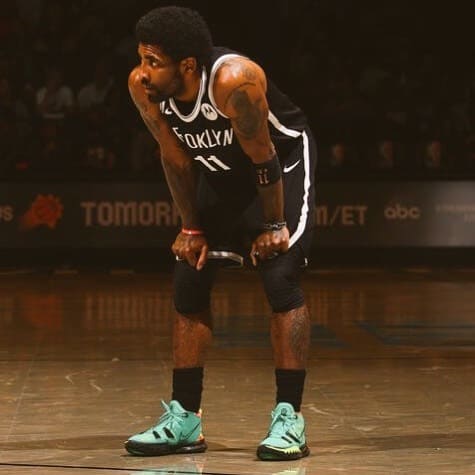 Kyrie Irving is currently the most famous Muslim NBA player. He was born March 23, 1992, in Melbourne, Australia, to Drederick and Elizabeth Irving. In High School, he played for Montclair Kimberley Academy, and under him, they won the Prep 'B' state title for New Jersey. He transferred to St Patrick high school after playing in more challenging basketball competitions but had to stay on the bench for the first 30 days. Irving was chosen to join the Junior National Team in 2010 and was part of the team that won the gold medal in the FIBA Americas Under-18 championship.
In college, he joined the Blue Devils and performed well. After college in 2011, Irving's first NBA team was the Cleveland Cavaliers, where he won rookie of the year for the 2011- 2012 season; he was with them till 2017, when he asked to be traded to the Boston Celtics. Once in the Celtics, with him, they got their first win ever against the Spurs from 2011. Irvin signed on July 7, 2019, a contract to join the Brooklyn nets and still plays with them to this day.
On April 23 2021, Irving had a press conference where he talked about his faith and told everyone he was a devoted Muslim. He also announced that he would be observing the Ramadan coming up just like other Muslims worldwide. He also stated how happy he is to be a part of the Islam community, and he will also fast even when he has games during the Holy month.
If he wasn't famous enough, his refusal to receive vaccinations placed him further into the limelight in 2021. Although he has been vague about his reason for not getting vaccinated, Kyrie stated that his decision was what was best for him.
After being left out of several home games due to New York laws on unvaccinated people, he was finally cleared to play in March 2022, thanks to a change in the city's policies.
Also Read: Stephen Curry vs. Kyrie Irving Comparison
Best NBA Muslim Player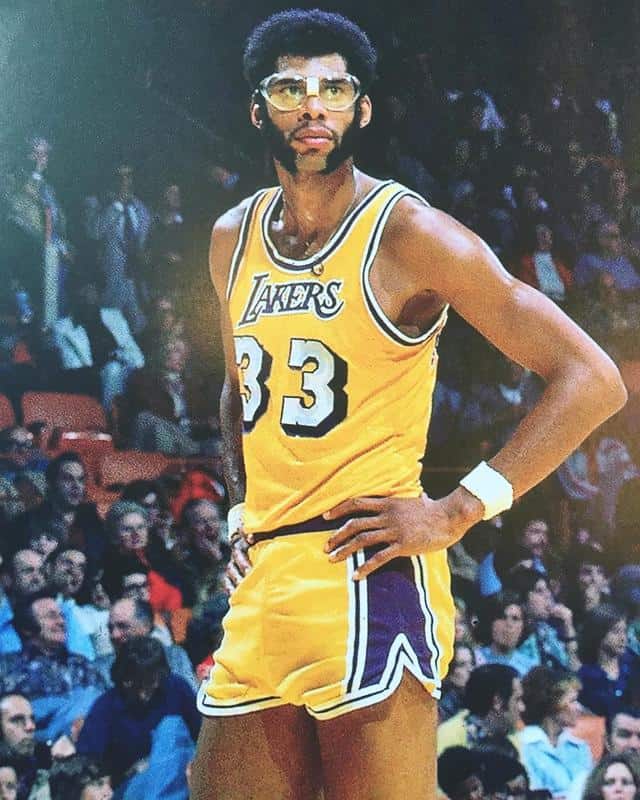 Kareen Abdul-Jabbar is acknowledged by many as one of the best NBA players of all time. When he started his career, he wasn't a Muslim and was known by a different name, Ferdinand Lewis Alcindor Jr., but he changed his name after his conversion. Lew Alcindor was born and grew up in New York City. He was the best player in his high school, Power Memorial Academy, then scoring 2,067 points before changing schools to UCLA.
Once in California, Kareen Abdul-Jabbar joined the school's basketball team and made it to the varsity squad. During his time with the team, it won three NCAA Championships and was the best team in the country, with Alcindor as the star player.After high school, He signed with the Milwaukee Bucks, and he did it again, making a significant impact with an average of 28.8 points and 14.5 points per night and was on his way to getting the Rookie of the year honor.
The Bucks also bought Oscar Robertson, he and Alcindor won the 1971 NBA Title. After winning the award, Alcindor decided to convert to Islam and changed his name to Kareen Abdul-Jabbar. He chose this because the name Alcindor belonged to a French man who was the master of Kareen's ancestors, who were from Nigeria. He didn't want to keep using the name of his family's former enslaver as it would be dishonorable to his ancestors.
Although Ferdinand Lewis Alcindor Jr changed his name to Kareen Abdul-Jabbar, that didn't affect his performance on the court as he was still the same skilled NBA player. Throughout his 20 seasons in the NBA, he averaged 24.6 and 11.2 rebounds on average. He won six MVP awards and six championships during his time.
How Many Muslim Players are There in the NBA?
Over 10 Muslim players in the NBA come from all over the world to play basketball and participate in the NBA.
Other Muslim players in the NBA
Here are a list and career details of all previous and current NBA players:
Hakeem Olajuwon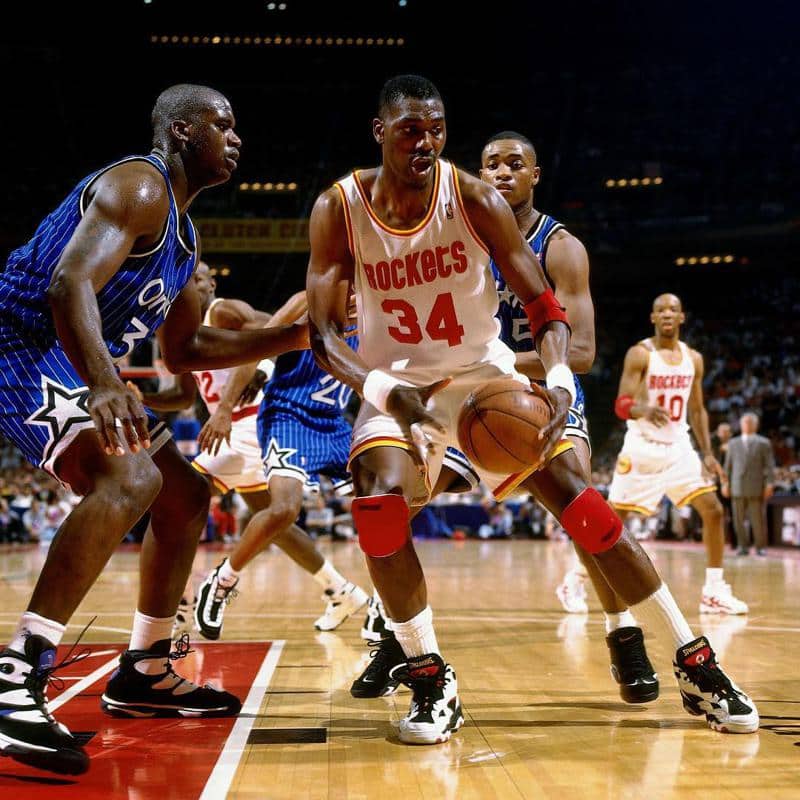 Hakeem Abdul Olajuwon born in Lagos, Nigeria on January 21st, 1963, is a basketball player also known as "the Dream". Hakeem is known as a top Muslim basketball player. He played for the Toronto Raptors and Houston Rockets for the more significant part of his career under him.
Rockets consecutively won NBA Championships from 1994-1995. Hakeem got into the FIBA Hall of fame in 2016 and the Naismith Memorial Basketball Hall of Fame in 2018. In 1983, Olajuwon won the award for NCAA player of the year. After high school, he continued his career in the Houston Rockets in 1984, and immediately after he started playing for them, there was an improvement in the number of games won.
Olajuwon's was one of the best Centers in history during his 1993-1995 seasons. With him as the leader, the Rockets won the 1994 NBA Finals against the New York Knicks. He is the only player that has won Finals MVP, Defensive Player and MVP championship of the year in one season. On August 2, 2001, Hakeem Olajuwon was traded to the Toronto Raptors, and he played with them till he retired in 2002 due to a back injury.
Some other Muslim NBA players include Mahmoud Abdul-Rauf, Gorgui Dieng, Omer Asi, Kenneth Faried, Ersan Ilyasova, Salah Mejri, Al Farouq Aminu, Mirza Teletovic, Rondae-Hollis Jefferson, Jusuf Nurkic, Kareem Abdul Jabbar, Shareef Abdur-Rahim, Rasheed Wallace, Tariq Abdul-Wahad, Mustapha Shakur.
Shaquille Rashaun O'Neal
Shaquille Rashaun O'Neal, born March 6, 1972, is a Muslim and former American professional basketball player known as "Shaq". He needs no introduction as he is known as one of the best basketball players and centers ever. He has played for a total of 6 teams during his 19-year career in the NBA and has won the NBA championship four times.
He was MVP in NBA during the 1999-2000 season; the NBA Rookie of the year in the 1992-1993 season, three All-Star Game MVPs, and he is one of the three players to ever win NBA MVP, All-Star Game MVP, and Finals MVP within the same year. During 19 years in the NBA, the teams he played for were Orlando Magic 1992-1996, where he won the Rookie of the year for 1992-1993, Los Angeles Lakers 1996-2004, Miami Heat 2004-2008, Phoenix Suns 2008-2009, Cleveland Cavaliers 2009-2010 and lastly Boston Celtics where he played from 2010 until he retired in 2011.
Enes Kanter Freedom
Enes Kanter is a Muslim American professional Basketball player born May 20, 1992, in Switzerland to his Turkish parents. He was raised in Turkey but moved to the US as a teenager. Freedom started playing in the NBA in 2011 and has played for five teams since then.
From 2008 to 2015, he represented the Turkish team in national competitions. Starting his Basketball career, he played for Fenerbahce in their youth squad from 2006-2008 and the senior team from 2008-2009; in 2010, he played college basketball for Kentucky. From 2011-2015, he played for Utah Jazz, where he was a center and was the third drafted in Utah's 2011 NBA draft. On February 19, 2015, he was traded to Oklahoma City Thunder until September 25, 2017, when he was sold to the New York Knicks.
Kanter Left the New York Knicks and signed with Portland Trail Blazers in 2019 but didn't stay long with them as he joined the Boston Celtics from July 1, 2019-2020. On November 20, 2020, he was traded again, but this time back to Portland. On August 31, 2021, he signed a contract and returned to the Boston Celtics, where he is to date.
Dion Waiters
Dion Waiters is a Muslim American professional Basketball player born in December 1991 in Philadelphia, Pennsylvania, USA. He started his basketball career in college, playing for the Syracuse Orange, and was the fourth pick in the 2012 NBA draft for the Cleveland Cavaliers. He has played for both Thunder, Miami Heat, and Los Angeles Lakers and won an NBA Championship with the Lakers.
His professional career in the NBA started in 2012 when he signed a contract with CLEVELAND Cavaliers till 2015; while he was with them, he won the fourth-best overall Rookie in the NBA. He was traded to Oklahoma City Thunder on January 5, 2015, in a three-way team trade, but he didn't make much impact on the team as he did in the previous one. Then on July 26, 2016, he signed with Miami Heat, and in 34 minutes of his first match, he got 9 points, six rebounds, and four assists; the team won that match.
On February 6, 2020, in a three-team trade, he was traded t Memphis Grizzlies, but three days later, the Grizzlies let him go, and on March 6, 2020, he joined the Los Angeles Lakers, where he has been;/till date.
Dennis Schroder
Dennis Schroder is a Muslim German professional basketball player born September 15, 1993. He started his basketball career playing for SG Braunschweig and Phantoms Braunschweig in Germany, then spent five seasons with Atlanta Hawks and two years in Oklahoma City Thunder after that. Dennis Schroder is the only owner of his German basketball team Braunschweig of the Easycredit BBL and the majority owner from 2018.
Dennis Schroder in his first League, got an average of 7.8 points, 2.1 assists, and 1.6 rebounds every game he played in the 2nd tier German League, but from his second game onwards, he improved with an average of 17.8 points and 6.7 assists over 23 games in the season. In 2013, he played at the 2.13 Nike Hoop Summit leading his team to victory with 112-98 points.
On June 27, 2013, he was picked by Atlanta Hawks, the 17th pick in the 2013 NBA draft, and signed with the Hawks on July 11, 2013. He got traded to Oklahoma City Thunder on July 25. Schroder got sold again, but this time to Loa Angeles Lakers on November 18, 2020. He signed with Boston Celtics on August 12, 2021, and was with them till February 222, when he got traded to Houston Rockets, where he is to date.
Challenges of Being a Muslim Player in the NBA
There are a lot of challenges that Muslims in the NBA face, but the biggest and most common ones are:
1. Prayer Time
Basketball players travel a lot, but there are designated times for prayers for Muslims, and as a result, many players find themselves in the middle of travel when it is time to pray. Trying to pray at the right time is incredibly difficult, and most players find themselves postponing it to make it up at the next prayer time. Matches can also come in the way of fasting as they are not in control of the time at which games get set, which can be a significant issue.
2. Ramadan/ Fasting
During Ramadan or other fasting periods, practice becomes more difficult because players find themselves using up most of their energy at the beginning of the day or don't get to spend a lot of time in matches. There are also some instances when it's time to break, but as they are busy playing a match, they can't do anything till it is over.
How Do Muslim Players Play During Ramadan?
Ramadan is a crucial period for Muslims and is considered a Holy month. During Ramadan, Muslims are to follow specific rules about their behavior and activities, such that they have to fast and practice good discipline. Ramadan has become an essential topic in the NBA due to Kyrie Irving announcing that he will participate in the month of Ramadan. During Ramadan, there are some situations where Muslims are allowed to take a break from fasting, but they have to make up for it later on. These exceptions include:-
People who are ill
Anyone who is traveling
And lastly, the elderly and the young can be exempted from fasting during Ramadan
Some of the best practices players use to play during Ramadan are:
1. Participate in Suhoor
Suhoor is a term in Islam used to describe the recommended means Muslims can take before dawn to assist them with fasting for the rest of the day. The basketball players wake up early for suhoor to eat food or drink fluids that can fill them and keep them throughout the day.
2. Reduce activities
Fasting isn't easy, especially for basketballers, so they try reducing the number of activities they partake in and cutting off any extreme action of the day. While playing basketball, they try to be as efficient as possible while limiting how much work they put into it so it doesn't result in injury or something worse.
3. Inform the Coaches and Teammates
It Is important to let the Coaches and teammates know you are partaking in the month of Ramadan, especially if an important game is coming up. This will enable your coach to understand how to plan the game better, along with substitutions to ensure you can preserve most of your energy.
4. Don't drive to the basket.
Reduce/restrict the number of times you drive the ball all the basket. Though this doesn't mean you should play defensive, it is also essential to know that because you are fasting, you can't take any food or drink, and driving with the ball will make you expend much more energy than needed. Instead, try passing more with your teammates and stay open for shots.
5. Be a facilitator
Be a team player rather than trying to have all the spotlight and ball time. It is crucial to rely on your teammates and not try doing everything yourself as you will quickly get exhausted, which isn't food for you or the team.
Read More:
Conclusion
There is a good number of Muslim basketball players in the NBA. They usually face a couple of challenges as a result of this but they have found ways to adapt and make things work for them which doesn't make a lot of things major problems anymore especially when it comes to the Holy month of Ramadan.
Some of them are even regarded as some of the greatest NBA players ever like Shaq and Hakeem Olajuwon.