There are many Asian players still participating in National Basketball Association (NBA) league. They have significantly contributed individually or as a team to help their teams excel at the NBA competitions.
With most being from Japan and China, the players have faced many challenges due to racism, amongst other things.
But against all odds, they have set their eyes on the prize and performed amazingly well.
They have excelled in their sport and proved that basketball is a game for all despite each other's race. With quality training, determination, and the zeal to be better in what you do, one can make it to the NBA.
In this piece, we sort to find some of the finest active and retired Asian players in the NBA. While the list is long, we highlighted the career journey of a few of them.
The list comprises current active Asian players who participate in the NBA league competitions and a few retired basketball legends who made a name for Asia.
Asian Players Currently in The NBA
1. Jordan Clarkson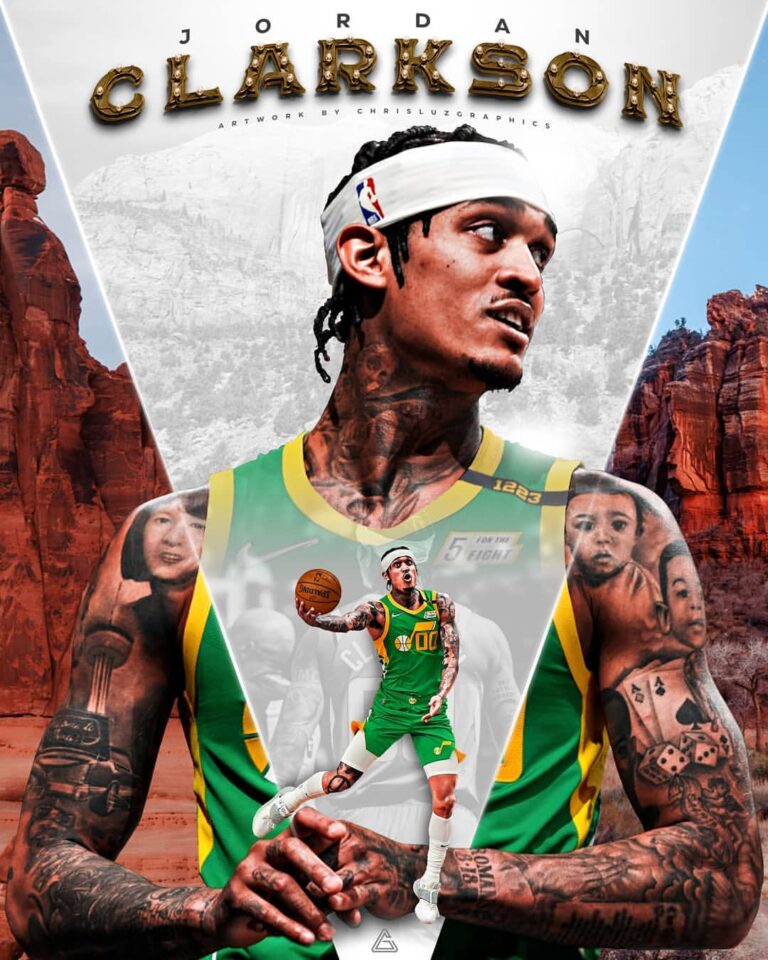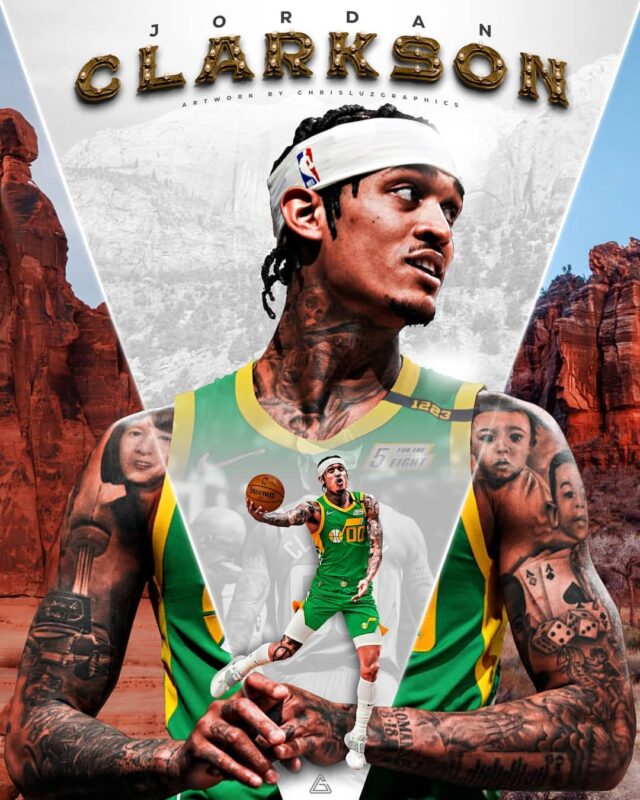 Position: Shooting Guard and Point Guard
6-4, 194lb (193cm, 87kg)
Colleges: Tulsa, Missouri
Draft: Washington Wizards, 2nd round (16th pick, 46th overall), 2014 NBA Draft
Experience: 6 years
Career: 15.3PTS 3.3TRB 2.6AST
Jordan is one of the best players that ever appeared on the NBA court. The player was a Filipino-American, and he began by playing for Los Angeles Lakers in the NBA, where he played from 2014-2018.
He may not be a superstar, but he commands a significant following probably because of the high number of Philippines rooting for him from thousands of miles away.
In 2015, Jordan had his best season career game when he scored 30 points and seven assists when his team, Los Angeles Lakers, lost to Oklahoma City Thunder.
He started alongside Jeremy Lin, making them the first Asian-American pair to begin the same basketball backcourt in the NBA league history.
The player has been essential in the NBA team, and he found his stride when he played for Utah Jazz, where he emerged as a top-six best men of the season. Utah also became the best team in the league in the season.
In March 13, 2022, Clarkson scored high points of 45 on 21 shots in the game against Sacramento Kings while playing for Utah Jazz, where they won 134-125. Jordan Clarkson is currently playing for Utah Jazz.
2. Rui Hachimura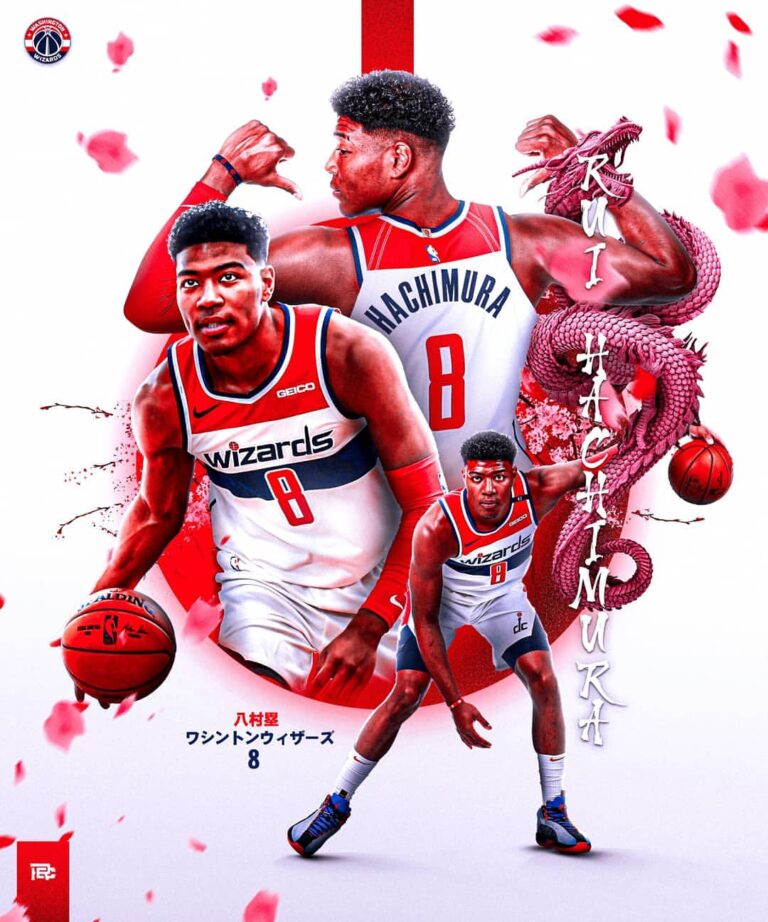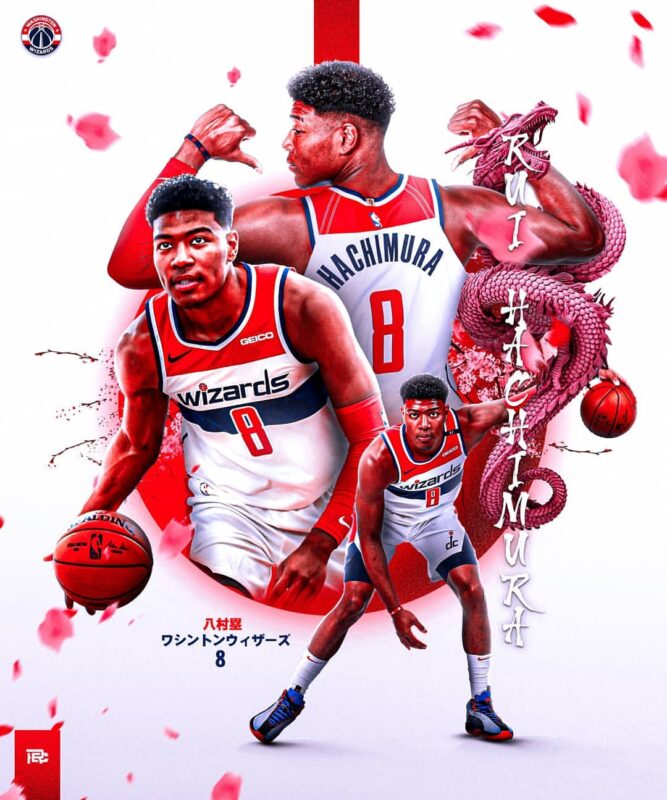 Position: Power Forward
6-8, 230lb (203cm, 104kg)
Draft: Washington Wizards, 1st round (9th pick, 9th overall), 2019 NBA Draft
Experience: 1 year
Career: 13.7PTS 5.8TRB 1.6AST
Washington Wizards drafted Hachimura ninth overall. Before then, Hachimura announced that he would forgo his final year of eligibility in 2019. The drafting made Hachimura the second Japanese-born player to officially sign a contract with the NBA league.
The first Japanese player to ever sign an agreement with the NBA league is Yasutaka Okayama. Besides, Rui became the first Japanese player ever taken in the first round.
His first career high point was when he scored 30 points, three-assist, a steal, and nine rebounds in 2019 while playing against Los Angeles Clippers, where his team lost 125-150.
Unfortunately, the great player suffered a groin injury while playing against Detroit Pistons on December 16th, which forced him to undergo surgery. Hachimura missed on several games and was later named to the second-team NBA All-Rookie Team. I
n the 2019-2020 league, Hachimura started all the 48 matches that he played for the Washington Wizards with a free throw percentage of 829 and 13.5 points per game.
Because of his nationality, Hachimura represents Japan on the national team. If not a great player, Rui is already an NBA legend in the making.
Did You Know: Rui Hachimura reports to Washington after missing the first couple weeks of the 2021-2022 training camp to address his mental health. And made his long-awaited NBA season debut for the Washington Wizards on Sunday, January 9, 2022.
3. Yuta Watanabe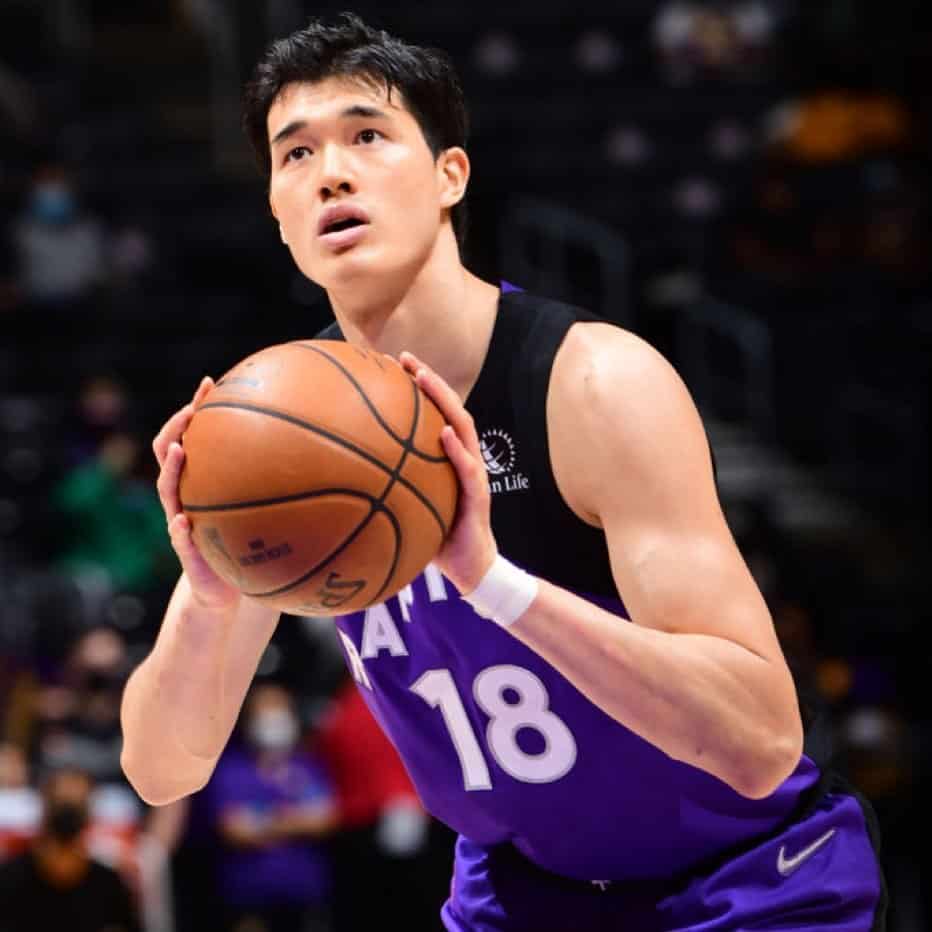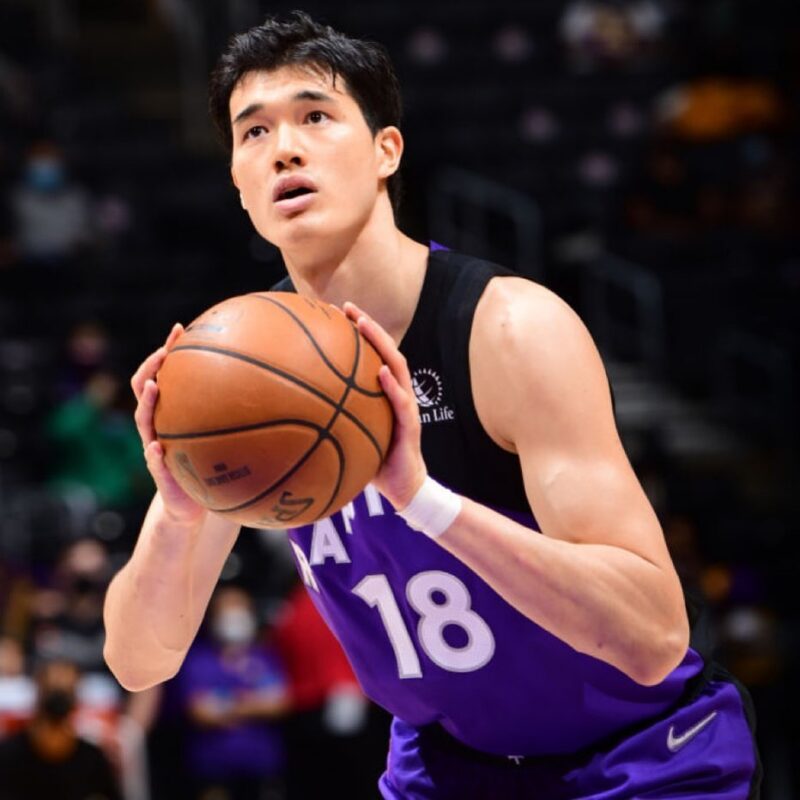 Position: Small Forward
6-9, 215lb (206cm, 97kg)
Experience: 2 years
Career: 3.5PTS 2.5TRB 0.6AST
Yuta Watanabe is a Japanese basketball professional born in 1994. The player is currently playing for the Toronto Raptors of the NBA (National Basketball Association).
During his college days, Yuta played for George Washington Colonial, making him the first Japanese to secure a basketball scholarship at the NCAA Division.
In the year 2018, Watanabe was named the defensive player of the year, and in 2013, he helped his Japanese national team to win bronze in the 2013 East Asia Basketball Championship.
In 2018, Watanabe played for Brooklyn Nets during the summer season league, after which he signed a 2-year contract with Memphis Grizzlies and 2018. Watanabe made an NBA debut in October 2018. The player spent most of his time playing for the Grizzlies.
Together with Rui Hachimura, he was the first pair of Japanese players to share a court in NBA. While in G league, he started all 22 games.
In 2020 November, Watanabe signed a deal with Toronto Raptors, and the deal was later, in December, converted to a two-year contract after he helped the team out of the pre-season.
In December same year, Watanabe debuted for Toronto when he recorded incredible stats in their game against New York Knicks, where they won 100-83, which was their first victory of the season.
In April 2021, Watanabe surpassed his career-high 14 points when he came off the bench and gave a high lead in a quarter with 47-26 points against Cleveland. On December 13, 2o21, Watanabe posted the first double-double in his NBA career with 12 points and 10 rebounds.
Related Read: Tallest Point Guards in The NBA
Players From Asia Who Played in The NBA
Even as much as we celebrate the active list of NBA players, we should take some time and focus on the basketball players from asia who played in the NBA. Here is a few of them that we should take some time to celebrate.
1. Yao Ming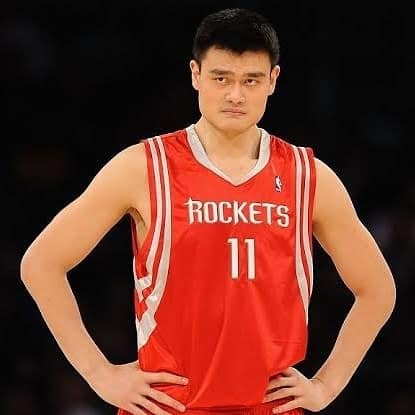 Position: Center
7-6, 310lb (229cm, 140kg)
Draft: Houston Rockets, 1st round (1st pick, 1st overall), 2002 NBA Draft
Hall of Fame: Inducted as Player in 2016
Seasons: 2003-2011
Career Length: 8 years
Career:19PTS 9.2TRB 1.6AST
Born on September 12, 1980, Yao Ming is a former Chinese basketball executive cum former professional basketball star.
He was born to professional basketball players playing for the National Team. His mother, Fang Feng Di, stands 6-foot-3, and his dad Yao Zhi Yuan stands 6-foot-7.
Yao played for the Shanghai Sharks of CBA and Houston Rockets of NBA.
He was selected to play for the Western Conference in the NBA All-Star Games 8 times and named the All-NBA Team 5 times. At the time of his final season, he stood 2.29m (7 ft6 in), giving him the title of the tallest active player in the NBA. Yao Ming is the only non-US player to lead the NBA All-star votes.
He was under pressure by Li Yaomin (the deputy general manager of Shanghai Sharks) to enter the NBA draft in 1999. Consequently, Li would also influence Yao Ming to sign a different contract for Evergreen Sports Inc to be his agent, whereby the agent would get 33% of Yao's earnings.
This contract would soon be invalidated. As the US attention over Yao increased, Chinese authorities would also take their side, and in 2012, new regulations were released that sort to have all Chinese NBA players turn over half of all their earnings. These included endorsements and salaries.
He did not participate in the Rocket's pre-season training camp rather opted to play for China during the 2002 FIBA World Championships.
Before the season commenced, many commentators such as Dick Vitale and Bill Simmons predicted that he would fail in the NBA. Charles Barkley even went ahead to swear he would kiss Kenny Smith's ass had Yao scored more than 19 points in one of his rookie-season games.
His first NBA game was against Indiana Pacers, where he scored no point but grabbed two rebounds. He, however, scores his first NBA basket playing against Denver Nuggets. Yao averagely a paltry 14 minutes and 4 points, however on November 17, Yao scored 20 points.
He scored against the Lakers on a perfect 9-of-9 from the field and 2-of-2 from the free-throw line. This prompted Barkley to make good on his bet by kissing a donkey's ass. Smith had purchased the donkey for the Smith's ass occasion.
Let's check out the Yao Ming Song: Yao Ming, Yao Ming, Yao Ming, Yao Ming, Yao Ming, Yao Ming.
2. Jeremy Lin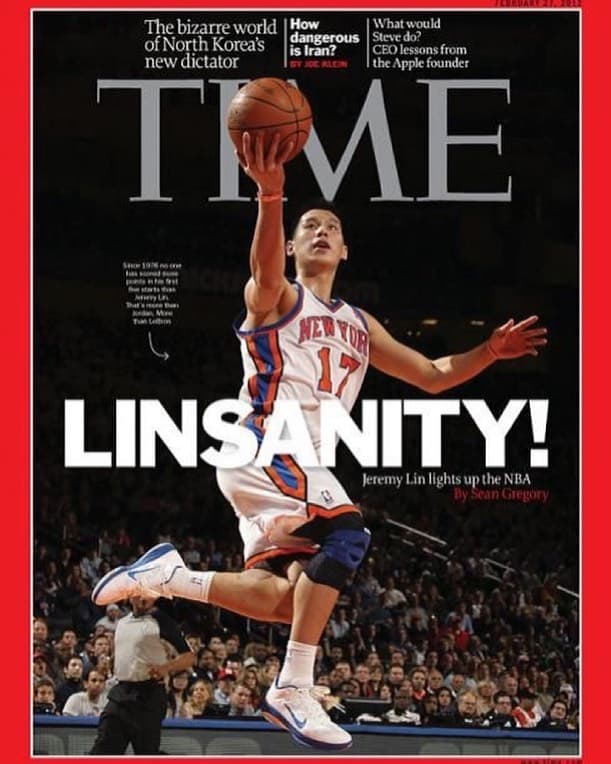 Position: Point Guard and Shooting Guard
6-3, 200lb (190cm, 90kg)
College: Harvard University
High School: Palo Alto in Palo Alto, California
Experience: 9 years
Career: 11.6PTS 2.8TRB 4.3AST
If you are an NBA fan, then definitely you know Jeremy Lin. Lin is a player and an activist who always stand for what is right at all cost.
The player, therefore, uses his platform to speak out by opposing the hats that existed against the Asian-Americans. Jeremy is the first Asian to win the NBA championship with Toronto Raptors in 2019, and he is well-known for his Christian faith.
He once led a winning turnaround while playing for the New York Knicks of the NBA in the 2011-12 season. This generated a cultural phenomenon called Linsanity. Jeremy has played for various basketball clubs that include New York Knicks, Brooklyn Nets, Houston Rockets, and Los Angeles Lakers.
Here is some of the best highlights from him during the Linsanity period.
As an NBA player, Jeremy Lin had had many ups-and-downs since he is Chinese, especially when he won the NBA finals while playing for Toronto, despite appearing on the court for only one minute.
When he played for Santa Cruz, Lin significantly contributed to the team by posting 19 points and 6.4 assists per game.
Besides, Lin recorded a score percentage of 50.5 percent and 42.6 percent three-point percentage, including an 87.9 score rate from free throws. He recorded these in nine matches that he appeared for Santa Cruz.
In August 2019, Lin signed with Beijing Ducks for $ 33 million annually. On November 3rd, while playing for Ducks, he led his team to a 103-81 win against Tianjin Gold Lions.
After this game, the Coronavirus pandemic led to the postponement of NCA, and Lin went back to NBA by joining Gold State in January 2021 when he joined Santa Cruz.
3. Yi Jianlian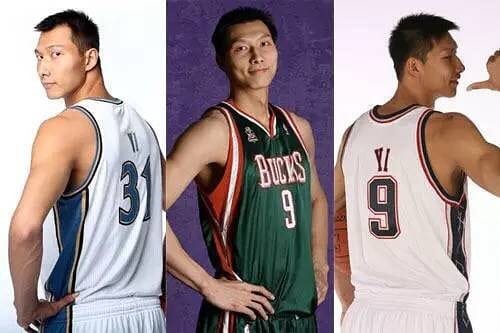 Position: Power Forward
7-0, 240lb (213cm, 108kg)
Draft: Milwaukee Bucks, 1st round (6th pick, 6th overall), 2007 NBA Draft
Career Length: 5 years
Career: 7.9PTS 4.9TRB 0.7AST
An online news article published at CGTN describes Yi Jianlian as a legend and a shining light in the darkness. The legend was born on October 27, 1987, and is a professional basketball player who has played for the Guangdong Southern Tigers of the CBA.
The star has also played in the NBA for the Milwaukee Bucks, Washington Wizards, New Jersey Nets, and the Dallas Mavericks.
The CBA enacted rule that players were not allowed to travel to foreign leagues denied Yi the chance to join NBA until 2009. However, the player wanted to join the NBA draft in 2006 before opting out, citing that he lacked enough experience to compete in the NBA league.
In 2007, Milwaukee Bucks selected Yi in the NBA draft with the sixth overall pick. In the same year, Milwaukee's head coach named Yi in the starting lineup for the 2007-07 season.
He recorded remarkable nine points and three rebounds when they played against Orlando Magic. Three days later, Yi played the first home game against Chicago Bulls, and he scored incredible 16 points, and his team won 78-72 points. The match was aired on television nationally in China, and it recorded a whopping 10 million views.
When Yi played against Yao for the first time when his team met Yao's team, Houston Rockets, Yi recorded 19 points, nine rebounds, and two three-pointers.
On the other hand, Yao recorded 28 points and nine rebounds; the game attracted over 200 million views in China, making it one of the most-watched games in the history of the NBA league.
In the same year, Yi was named the NBA Rookie of the month in December following his incredible stats of averaging 12.1 points and 6.6 rebounds per game.
Yi struggled with injuries through the 2008-2009 seasons that drastically reduced his lethality. He later joined Washington Wizards in 20210, averaging 5.6 points and rebounds at 3.9 per game in the 2010-2011 season.
Here are the top 10 plays by Yi Jianlian:
4. Omri Casspi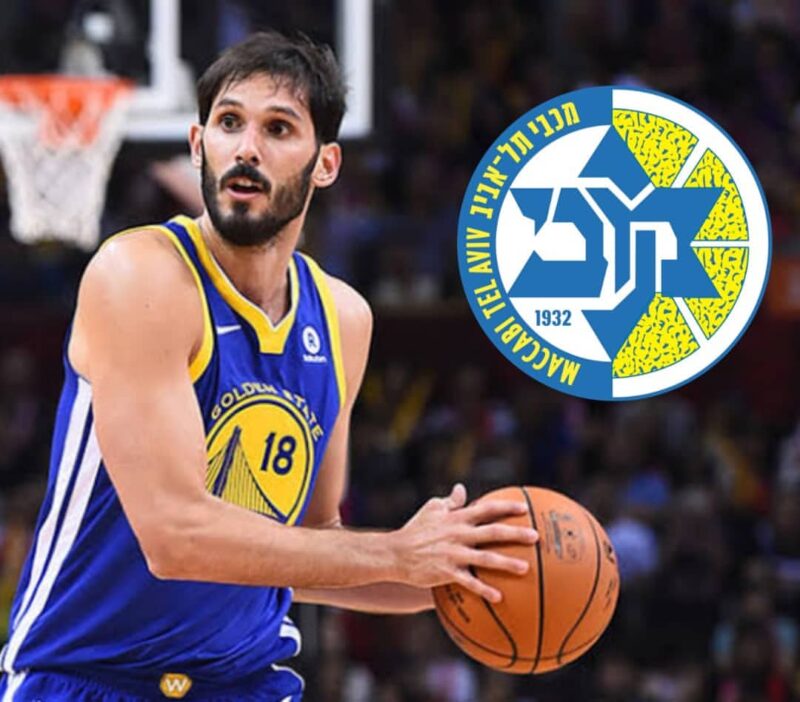 Position: Small Forward and Power Forward
6-9, 225lb (206cm, 102kg)
Draft: Sacramento Kings, 1st round (23rd pick, 23rd overall), 2009 NBA Draft
Career Length: 10 years
Career: 7.9PTS 4.0TRB 1.1AST
Born in 1988, Omri Moshe Casspi is an Israeli professional basketball player playing for Maccabi Tel Aviv. Omri plays can play for not only the forward position but also the power forward position.
He was drafted by the Sacramento Kings 23rd overall in the 2009 NBA contract, thus becoming the first-ever Israeli chosen in the first round of the NBA draft. He made his first debut in 2009, playing for the Kings in the NBA game.
Later on, in June 2011, The Cleveland Cavaliers traded for him. He went on to sign with the Houston Rockets in July 2013. In June of 2014, he was again sold to the New Orleans Pelicans being part of a three-team trade that would soon be waived.
Omri would go back to Sacramento before the 2014-15 season, and later in February 2017, he and DeMarcus Cousins would be sold to the Pelicans and later signed with the Warriors in the offseason. He incurred an injury in April, which saw him being waived again, consequently signing with Memphis Grizzlies in 2018 July.
He is the second born of three children born to Shimon and Llana in Holon, Israel. His brother Eitan is the oldest, while his sister, Aviv, the youngest.
Besides playing tennis, his other hobbies are playing tennis and spending time with friends and family. He is married to an Israeli heritage wife, Shani Ruderman, in a colorful wedding that happened in June 2016 in Tel Aviv, Israel.
In 2017 July, the couple welcomed an adoring daughter by the name Sarai Casspi. He runs a foundation, Omri Casspi Foundation, focused on showcasing the beauty and architecture of Israel.
5. Wang Zhizhi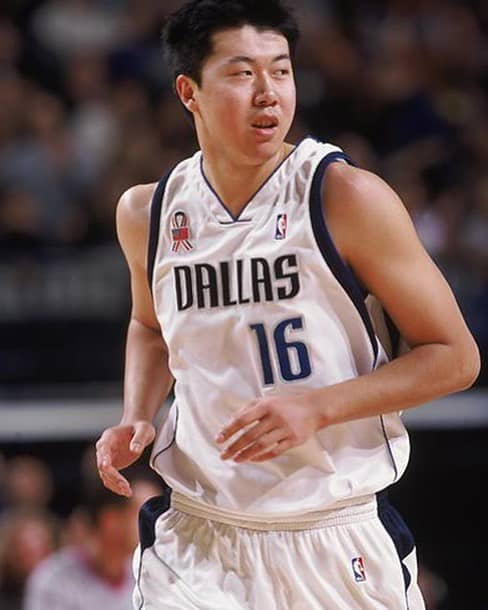 Position: Center
7-0, 255lb (213cm, 115kg)
Draft: Dallas Mavericks, 2nd round (7th pick, 36th overall), 1999 NBA Draft
Career Length: 5 years
Career: 4.4PTS 1.7TRB 0.3AST
Wang Zhizhi's name will go down as the first Chinese NBA player who almost caused a diplomatic disaster. Drafted in 1999 by the Mavericks, his transfer from his former Chinese club took two years of negotiation.
Even after the talks, it is one player that China did not want to let go easily, and there was still a lot of buzz from china's side during his first debut in 2001.
This took a toll on him that he felt uneasy to get back to his home country to play for the Chinese national team. This prompted the Chinese government to send two soldiers to the States to find him.
Wang Zhizhi was born on born 8 July 1977 as the son of two former basketballers. He started playing basketball when he was eight years, and by the time he was 14, his parents would sign him up for the People's Liberation Army, which was deemed to have the best coaching facilities in the country.
He would grow up watching weekly NBA game broadcast on TV and getting inspiration from the likes of Charles Barkley and Hakeem Olajuwon.
He signed his first professional contract in 1994 with the Bayi Rockets. When the CBA staged its first season in 1995-96, he was the youngest in the league who would soon become a starter and vital member of the squad.
He left CBA after the 2000-01 season after winning the first six CBA championships before leaving for NBA.
6. Mengke Bateer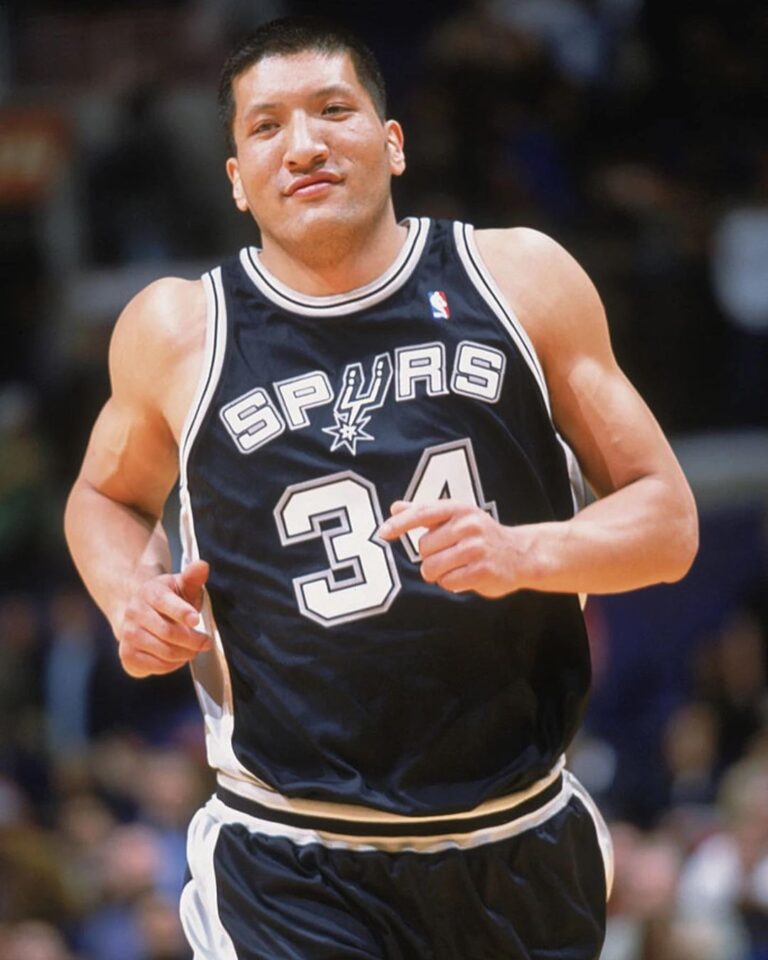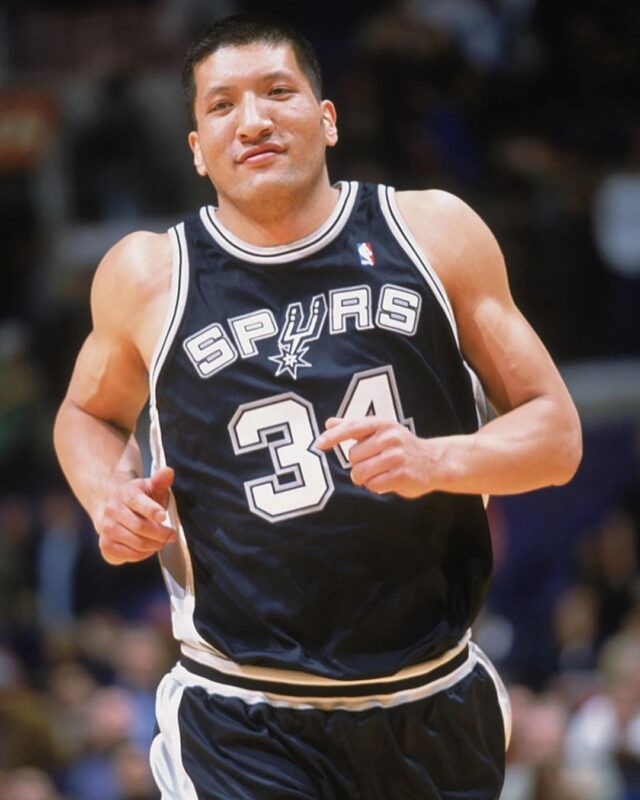 Position: Center
6-11, 290lb (211cm, 131kg)
Career Length: 3 years
Career: 3.4PTS 2.5TRB 0.6AST
Mengke Bateer is yet another Asian basketball legend born on 20th November 1975. The tall and imposing star used to play at the centre position and played the part of three NBA seasons. He won one of the finals during one of the seasons.
Mengke spent a bigger chank of his career playing for the Beijing Ducks in the Chinese Basketball Association. Later he joined the Xinjiang Flying Tigers and later with the Sichuan Blue Whales before retiring to the lesser National Basketball League.
Mengke, while playing with the Toronto Raptors on his final season in the NBA, scored a total of 8 points.
He is very strong and once takedown Shaq with one hand:
He is a member of an ethnic minority group that resides in Inner Mongolia, China; like several other Mongols, he does not have a family name. His name is composed of two words with a meaning, where Monkh means Eternal while Baatar stands for Strong.
7. Hamed Haddadi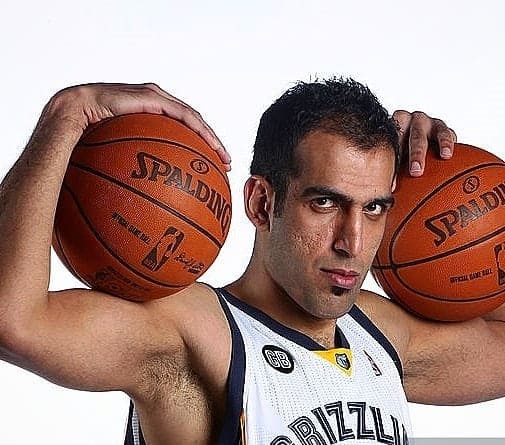 Position: Center
7-2, 254lb (218cm, 115kg)
Career Length: 5 years
Career: 2.2PTS 2.5TRB 0.3AST
Hamed E. Haddadi is an Iranian professional basketballer for Sihuan Blue Whales of the CBA. Like a few other Asian basketball players, he was the first-ever Iranian to appear in the NBA when he debited in 2008 with the Memphis Grizzlies. He is a center position and has a height of 7'2''and weighs 280 lbs (127kgs).
He started his basketball carrier with a local team called Shahin Ahvaz. His basketball prowess will see him admitted to Paykan Tehran and Saba Battery to play in the Iranian Basketball Super League.
He also played for the Sanam Tehran in 2004. During his career, he declined a contract offer by the Serbian League that would have otherwise jeopardized his ambitions to play for Saba Battey.
He won the Asian Club Championship with Saba battery, and in the 2011 NBA lockout, he signed a short-lived contract with Melli Haffari Ahvaz, a hometown team where he played without salary.
He also signed another short-term contract with Foolad Mahan Isfahan in the 2013 offseason. He led the to win the 2013 FIBA Asia Championship Cup over Qatar's Al Rayyan basketball team.
8. Yuta Tabuse
Position: Point Guard
5-9, 165lb (175cm, 74kg)
Career Length: 1 year
Career: 1.8PTS 1.0TRB 0.8AST
Yuta Tabuse was born on October 5th, 1980. He is a Japanese professional basketball player playing for Utsunomya Brex of B. League. The point guard is 1.75 meters tall and weighs 75 kilograms.
Yuta, who is Matsuza Generation, was the first-ever Japanese-born basketballer to play in the NBA game.
His basketball prowess started since high school years when he propelled his team in scooping three national championships. He was referred to as the Michael Jordan of Japan.
Born in Yoklahoma, he grew up in what he refers to as 'a sports family.' He started playing his favorite sports from the age of nine as he proved to be poor in baseball and not interested in soccer either. He went to Noshiro Technical High school, only losing in a single game.
He graduated from high school in March of 1999 and joined Brigham Young University in Hawaii to pursue English as an International Language program.
He played at BYUH given the eligibility rules, and it took him only a single season to become a pro. He then joined the Toyota Alwark, scooping the Japanese Basketball League Rookie award for the year in the 2002-03 season.
He left Toyota Alvark in 2003 and became the first Japanese basketball player to play in the NBA summer league. His making into the NBA drew large media attention in Japan and consequently making headlines. He did six games with the Rocky Mountain Revue for the Dallas Mavericks.
He averaged 4.5 points, 1.0 assists in 13 minutes per game, and 1.7 rebounds. He later joined the Denver Nuggets training camp on September 27 of 2003.
He spent the 2003-04 season with Long Beach Jam of the American Basketball Association, where he averaged 2.4 rebounds, 5.3 points, and a team-high of 6.3 assists per game in up to 18 games.
9. Ha Seung-Jin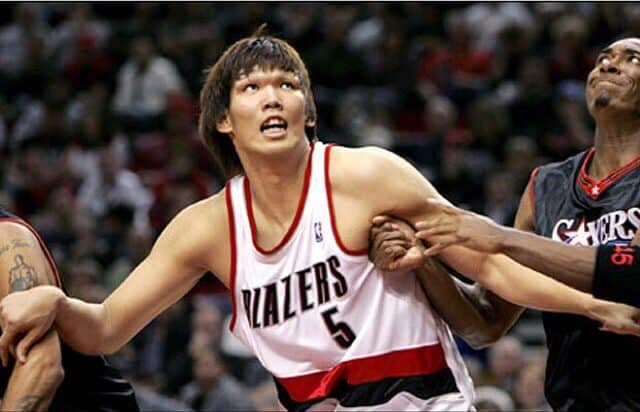 Position: Center
7-3, 305lb (221cm, 138kg)
Draft: Portland Trail Blazers, 2nd round (17th pick, 46th overall), 2004 NBA Draft
Career Length: 2 years
Career: 1.5PTS 1.5TRB 0.1AST
Ha Seung-Jin's name will go down as the first South Korean professional basketball player ever to play NBA. Born on the 4th of August 1985, Seung-Jin is a man who wears more than two hats. Besides being a former basketball player, he has made a name for himself as a YouTuber.
He played in both the NBA and NBA D-League. Seung-Jin was the second-round draft pick of the Portland Trail Blazers, 2004 NBA Draft. He weighed 305 lbs and stood 7ft 3in, making him the largest player in the NBA.
His career started in high school, where he used to play for the Samil Commercial School. In college, he played for the Yonsei University in Seoul, South Korea. He played up to 7 tournaments while with the Yonsei basketball team averaging 12.6 points, 1.6 blocks, and 8.6 rebounds.
He went to Los Angeles, California, in 2004 in preparation for the 2005 NBA draft. He played for a short while in the Portland Reign of the ABA, thereafter he joined Portland Trail Blazers amid the 2004-05 season.
When playing against the Los Angeles Lakers on April 20, Ha scored a career-high 13 points giving his team a win. On March 28, 2006, in the 2005-06 season, he was assigned to the NBA D-League's Fort Worth Flyers. However, he did not make an impact even after playing for five games.
She has an older sister called Ha Eun-Joo, who also plays professional basketball. On February 6, 2006, Eun-Joo signed with the Los Angeles Sparks of the WNBA. She was waived on May 19 after failing to show up in Los Angeles following a conflicting contract with Chanson Cosmetics.
Also Read:
Conclusion
These and more Asian basketball players have put the Asian continent on the map. They have done the Asian race proud. The NBA is arguably the biggest sports league in western sports.
To make your way into the league means you are one of the world's finest. These legends and active players have proved beyond any doubt that they have all it takes to take part in the league. Their effort is pricey and immeasurable.