The nicknames 'Air Jordan' and 'His Airness' can give you a glimpse of what position Michael Jordan played during his NBA career. Regardless of the position he played, Michel Jordan excelled at the game so much that the NBA wrote his biography, quoting: "…he is the greatest basketball player of all time."
Michel Jordan played for several teams throughout his career, starting from junior leagues to college basketball and eventually with the National Basketball Association (NBA). He has played as a shooting guard, small forward, and point guard.
He was able to play all of these positions with the uttermost skill, all he had to do was flip a switch, and then boom! The game would be his. We will dive into his career background in this article; the teams he played, the positions, and the incredible performances he made in each position.
Michael Jordan's Basketball Career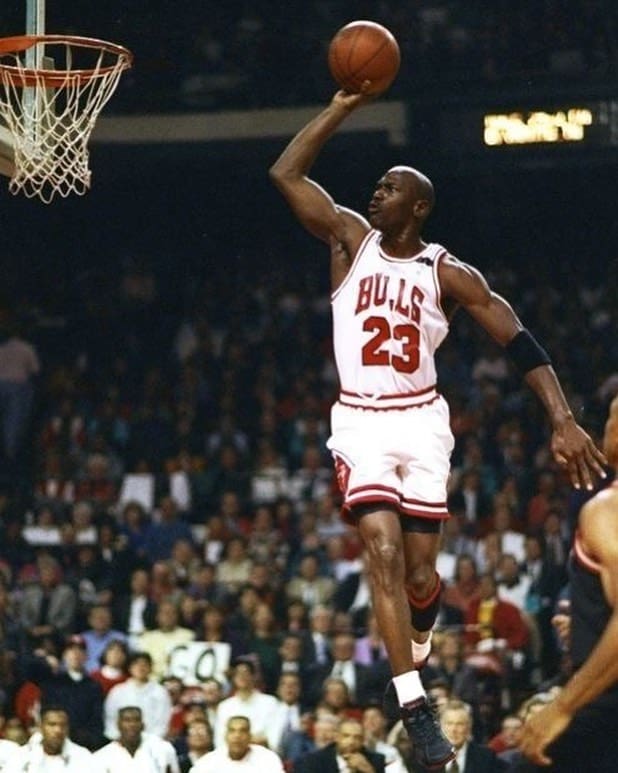 Michael Jeffrey Jordan was born on February 17, 1963, to Deloris and James Jordan. He began his athletic career in Emsley A. Laney High School where he played in the basketball, baseball, and football team. He became motivated to enroll in Laney's junior varsity team, where he tallied over 40-point games.
His prowess impressed so many colleges that he was bombarded with numerous college basketball programs. Some of which came from Duke, South Carolina, North Carolina, and Virginia. He opted for the University of North Carolina where he played for Tar Heels.
It was while playing for the college team that he had his major turning point at the 1982 NCAA championship against Georgetown. He came through with the game-winning jump shot that made him dedicate his whole career to be the best. Jordan played for three seasons with Tar Heels where he centered 17.7 ppg on 54.0% shooting and 5.0 RPG.
The 1984 draft put Jordan in the Chicago Bulls roaster where he averaged 28.2 ppg on 51.5% shooting in his rookie season. He went on to improve his craft, so much that he shattered the glass of the backboard with a dunk on 26th August 1985. The shoes he wore that day went on auction for a whopping $615,000.
Jordan continued playing for the Chicago Bulls till 1993 when he announced his retirement out of the blue. He would later return to his former team after trying out baseball in the Minor League Baseball. Jordan played for the Chicago White Sox but later saw it fit to return to basketball.
The Chicago Bulls were more than happy to have him back in 1995. They wouldn't regret their decision as Jordan went ahead to score 19 points in his very first game. Michael continued playing for the Bulls till 1999 where he retired, again. This would also be short-lived since it wasn't long until he returned to the NBA as a part-owner and president of basketball operations for the Washington Wizards.
In 2001, Jordan decided to not only be a part-owner, but also a player for his team. This went on till 2003, when he finally retired, sadly for good.
Michael Jordan's Positions in the NBA
1. Point Guard
Very few people know that Jordan played as a point guard for the Chicago Bulls during the end of the 1988-1989 season. The point guard position is not suited for a man with the physique of Michael Jordan. Most point guards are rarely taller than 6' 1" and are pass first small guys. Jordan on the other hand was 6' 6", a beast compared to the other players in his position.
Sam Vincent, the point guard of the Bulls at the time, was not performing according to the expected standards. Coach Doug Collins had to make a tough choice to change the player's roles. Lucky for him, Jordan performed flawlessly in all the remaining 24 games of the season.
Michael averaged 10.7 assists, 30.4 points, 9.2 rebounds, and 2.4 steals as the Bulls' point guard. His sharpness and tactical mind game him the ability to own the position as if he had played it his entire career.
2. Small Forward
Age is a huge factor when it comes to basketball, especially when you are dealing with positions such as the shooting guard. Michael Jordan didn't have the same explosive energy and speed in 2001 as compared to the 1980s-1990s. The Washington Wizards would have loved to have him as their shooting guard but he was only fit to be the small forward.
The small forward position meant that Jordan had more space on the wing to take advantage of his mid-range fadeaway. He did not use a lot of chances to drive to the bucket, he instead opted to focus his chances on numerous mid-range jump shots.
In the two-season he played for the Wizards, Jordan averaged 20 points per game, an impressive feat for his age.
3. Shooting Guard
The shooting guard was Michael Jordan's best and main position in the game. He only played this position with the Chicago Bulls throughout his career from 1989-1993. The job of the shooting guard is to score as many points as possible and steal the ball on defense. Any good offense must have a strong shooting guard who is probably the most athletic and explosive player on the team.
Michael Jordan owned this position, making him the best shooting guard of all time. He was the deadliest shooter averaging a whopping 30.12 points per game. He became famous for his dunks and jump shots that left the crowd going wild.
His position was critical in helping the Bulls finish first place in their division during the 1990-1991 season, a fit that took them 16 years. He gunned several MVP awards for his spectacular performances. He was also named Finals MVP for the second year in a row before the 1992-1993 season.
His skills in the shooting guard position earned him more awards for seven years straight. He was able to achieve seven scoring titles and three championships for those seven years. Jordan's achievements in the most volatile and fastest position are so great that we often compare him to Kobe Bryant. They are both so similar since they spent most of the careers as shooting guards. Their similarity is so uncanny but it's clear Jordan was the best since he scored more times
Before we wrap this up, did you know that Michael Jordan also played baseball?
Michael Jordan's Baseball Career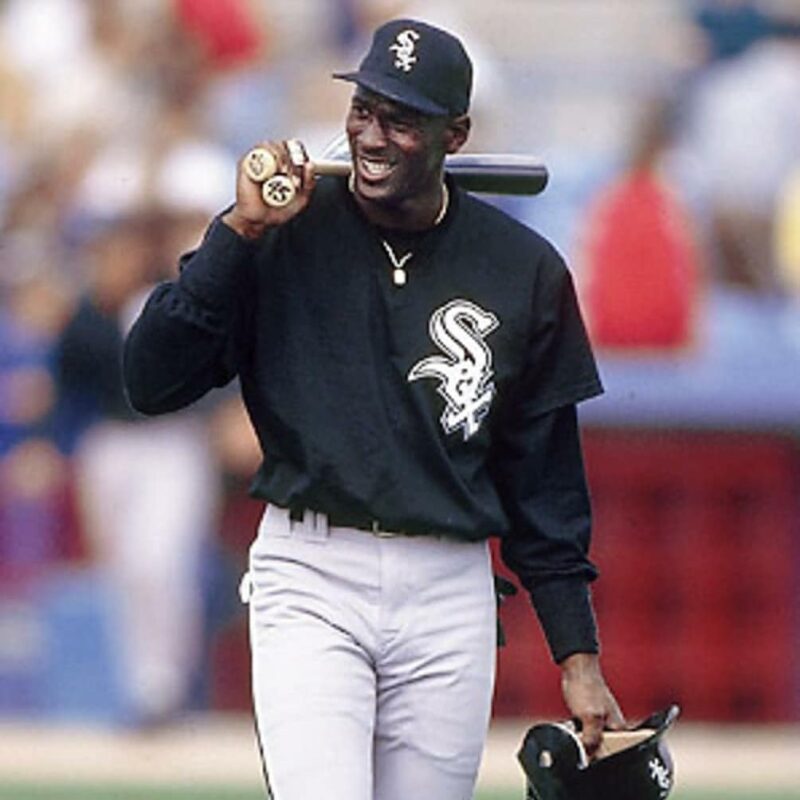 Very few people know that Michael Jordan also played baseball. You are now one of those few. Some say he went into the game because he was already the best in basketball and wanted a challenge. The most notable reasons remain to be his father's death (which happened three months earlier), his need to play in the baseball league, and his lost desire in basketball.
As much as these reasons pushed Jordan to his decision, he stated in his autobiography For the Love of the Game that he had planned it since the conception of the 1992 United States men's Olympic basketball team. He noted that the conception of the 'Dream Team' exhausted him and solidified his decision to retire from basketball. Apart from that, Jordan also wanted to fulfill his father's wishes of him playing as a Minor League Baseball player.
Michael Jordan's first retirement, before the 1993-1994 season, allowed him to play in the Baseball League. The retirement broke the news since it was unexpected, especially because he was at his prime and the greatest at the time. On February 7th, 1994, he signed a contract with the Chicago White Sox which gave him the chance to play in the Minor League Baseball (MiLB).
He was assigned the right field position in the game, a position that didn't highlight a lot of his physical strength. His notable accomplishments in baseball found him playing for the Birmingham Barons, an affiliate of the Chicago White Sox, in 1994:
51 runs batted in.
114 strikeouts.
11 errors.
51 bases on balls.
Batted .202 with just three home runs.
30 stolen bases.
Michael Jordans' baseball career was quite uneventful and short-lived. The only other team he played for was the Scottsdale Scorpions, an Arizona Fall League team, in 1994. He announced his retirement from baseball and return to basketball in March 1995. It is said that this was due to his fears of being served as a replacement player in the baseball league strike.
Read More: What Does Michael Jordan Own?
Final Words
Michael Jordan has gone down as one of the best shooting guards of all time. This was the famously known role that earned him the 'Air Jordan' name. He has shaped the basketball world, especially NBA in the early 1980s, solidifying him as a household name.
Let's check out his top 50 all time plays:
His versatile nature was key in helping him switch between the three positions, making him a key player in any match. Despite his many talents, Jordan did not fare well in baseball, a feat that shows how giants can also have weaknesses.