Have you ever wondered how many light skin basketball players there are? Basketball is widely dominated by black players who, according to racial equality activist Richard Lapchick, make up about 74.2 percent of the players as of 2020. They were followed by white players who make up 16.9 percent, Latino players who make up 2.2 percent, and 0.4 percent Asian players.
The Merriam Webster dictionary describes light skin as 'having a light olive to medium brown complexion, especially in A black, Latinx, Indigenous, mixed-race, or other person of color with such a complexion'. On a general pop culture basis, the public considers a light skin person to be of African American descent or a black person with a light skin tone.
Why Do Skin Tone Matter?
According to a study done by RunRepeat, it was discovered that NBA players with light skin complexion were more likely to be perceived as more intelligent and industrious. On the other hand, dark skinned NBA players were perceived to be dominant when it came to athletics and physical capabilities. These perceptions were only painted by the media rather than the game participants or the general public.
Needless to say, the skin complexion has zero effects and does not matter when it comes to a player's performance on the field. However, it is important to highlight a few aspects of the light skin demographic; in terms of their attractiveness, performance, and overall reputation for public knowledge.
Without further ado, here is the list of the top 10 light skin basketball players:
Most famous Light Skin Basketball Players
In no given order, we have curated the list of who you may consider light skin in terms of ethnicity and overall skin tone. Let us start off with the goat himself, Stephen Curry.
1. Stephen Curry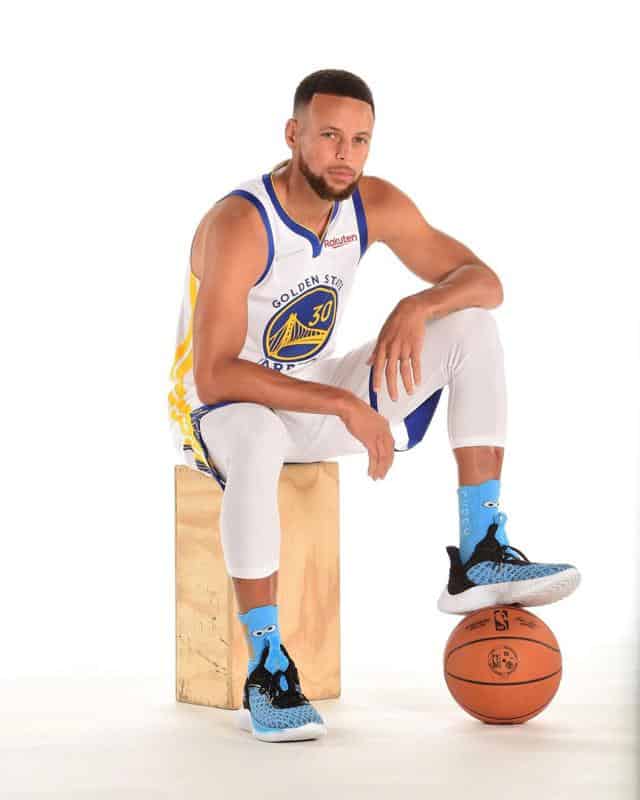 Ethnicity/Nationality: African American
Date of Birth: March 14, 1988
Team: Golden State Warriors
Position: Point Guard
One of the most synonymous names in the NBA and basketball in general is Stephen Curry. He is one of the most prolific NBA shooters of all time and die-hard fans, as well as casual watchers of the game, are in love with him. On December 2021, he overtook Ray Allen for NBA's all-time 3-point lead making history on the sport against the Knicks at Madison Square Garden.
Stephen Curry is light skin based on the African American and Haitian decent he gets from his father Dell Curry and mother Sonya Curry. Dell Curry had a long basketball history with dozen achievement and his mother Sonya was also a great athlete indulging in both basketball and volleyball. Greatness runs in the blood and not just good looks.
2. Klay Thompson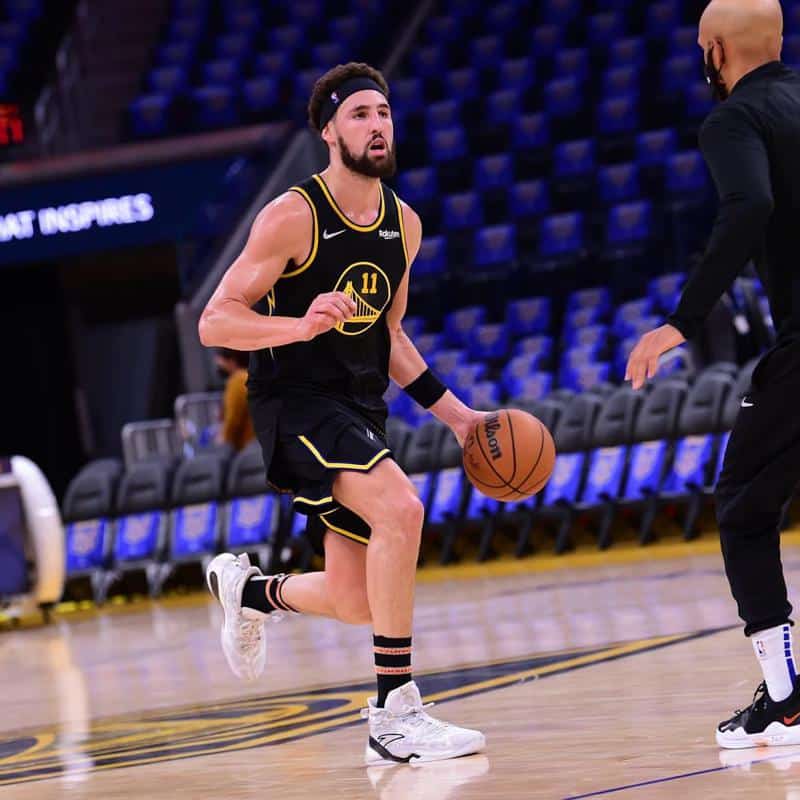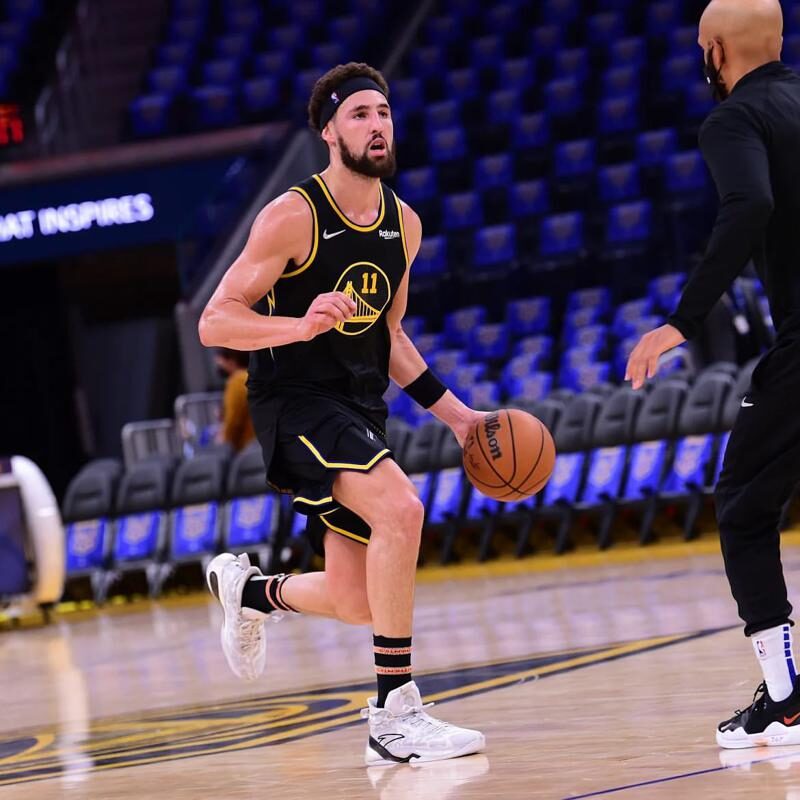 Ethnicity/nationality: American, half Bahamian, half Caucasian
Date of birth: February 8, 1990
Team: Golden State Warriors
Position: Shooting Guard
Klay Thompson is the son of Mychal Thompson, a Bahamian-American former basketball player. His father's basketball fame and prowess inspired the 6 ft 6 in the player to get into the game. Mychal was one of the best, having been the top overall pick in the 1978 NBA draft. On the other hand, his mother, Julie, is a Caucasian-European former volleyball player at the University of Portland and the University of San Francisco.
Since freshman year, the current Golden State shooting guard has been playing basketball, where he averaged 12.5 points per game. He got selected 11th overall by Golden State Warriors in the 2011 draft. In 2013, he scored a season-high 32 points in their match against Cleveland Cavaliers, which solidified his prowess. This goes to show why the team has kept him in their group all these years.
3. Rudy Gobert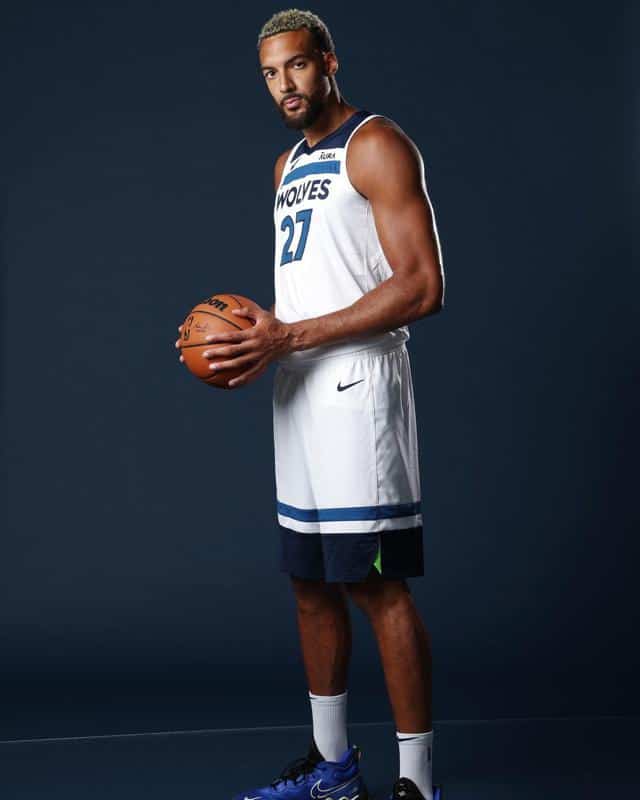 Ethnicity/Nationality: Black, French
Date of birth: June 26, 1992
Team: Minnesota Timberwolves
Position: Center
Rudy Gobert is considered one of the most attractive players in basketball and one may wonder if his light skin complexion has something to do with it. At 7-foot 1 inch, he is a champ at every level playing as a center for Utah.
Gobert was raised by his parents, Rudy Bourgarel (Black) and Corinne Gobert (White), in Saint-Quentin, France. He is a former basketball player who played for Marist College from 1985 to 1988 but never got drafted into the NBA due to commitments in the French Men's national basketball team.
Rudy Gobert has been able to live his father's dream with his latest achievement being his extension at Utah which is ranked as the third largest contract in NBA history at $205 million. The contract is so far the largest ever for any center in the NBA history.
4. Devin Booker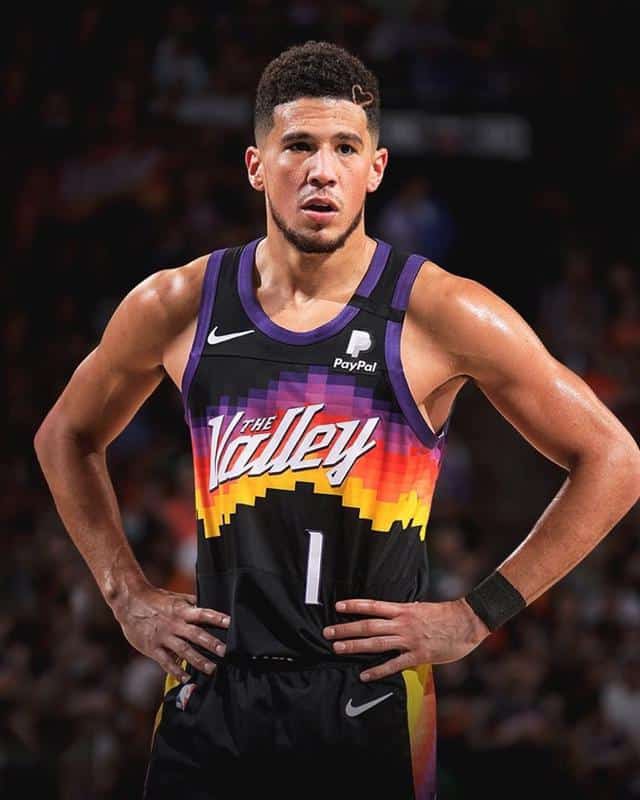 Ethnicity/nationality: African American
Date of birth: October 30, 1996
Team: Phoenix Suns
Position: Shooting Guard
Devin Booker weighs 206 pounds and is one of the most prolific young NBA scorers of all time. He is loved, not only for his looks and charismatic demeanor but also his extreme dedication to the sport.
One of his notable quotes said, 'I do not care anymore about scoring. At this point of my career, I just want to be a winner. I have done the individual accolades countless number of times, so for me now, it is figuring out how to win and we are not doing that at the moment. So, until we start winning, that is when all those things will matter to me.'
He is the son of Melvin Booker and Veronica Gutierrez. His father is African American who briefly played in the NBA for the Houston Rockets. His mother on the other hand is a white American cosmetologist who raised him by herself since his father moved around a lot for his career.
5. Blake Griffin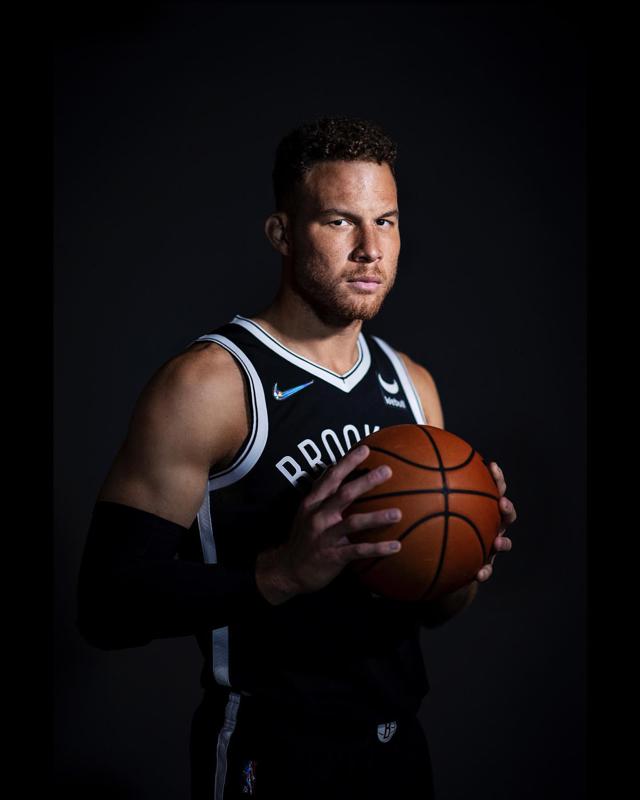 Ethnicity/nationality: Afro-Haitian, White, American
Date of birth: March 16, 1989
Team: Boston Celtics
Position: Power forward
Blake Griffin is a light skin basketball player with an Afro-Haitian father, Tommy Griffin, and white mother, Gail Griffin. He was raised in Oklahoma City, Oklahoma and took his basketball roots from his father who played as a center at the Northwestern Oklahoma State University.
At 6'9 and weighing 250 pounds, Blake Griffin is a beast in real life and at the court with dozens of notable accomplishments. He was ranked by Sports Illustrated as NBA's 15 Greatest Rookies of All Time due to his unanimous selection to the NBA All-Rookie First team.
6. Zach LaVine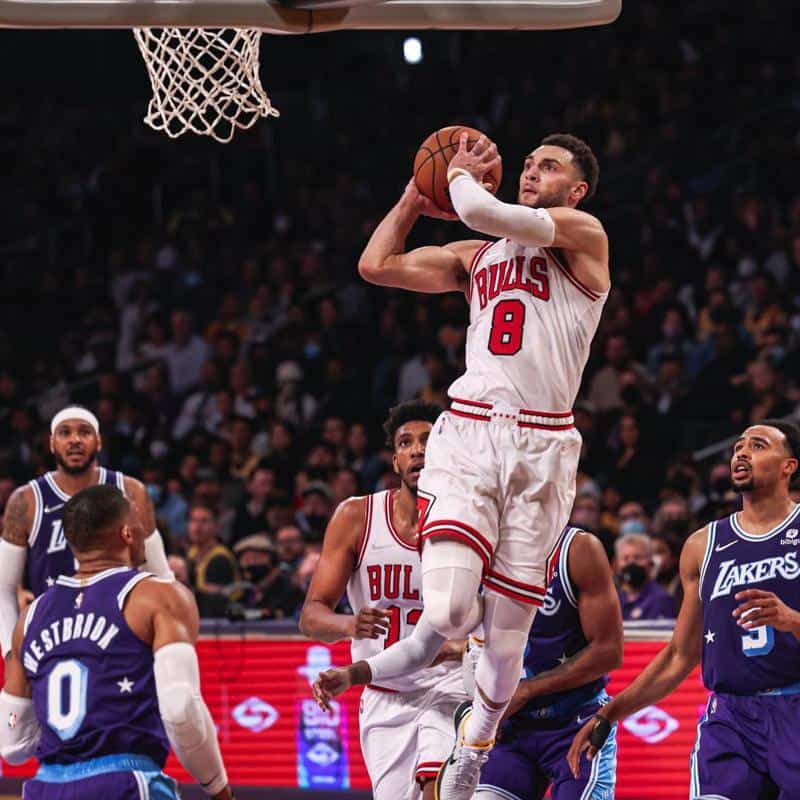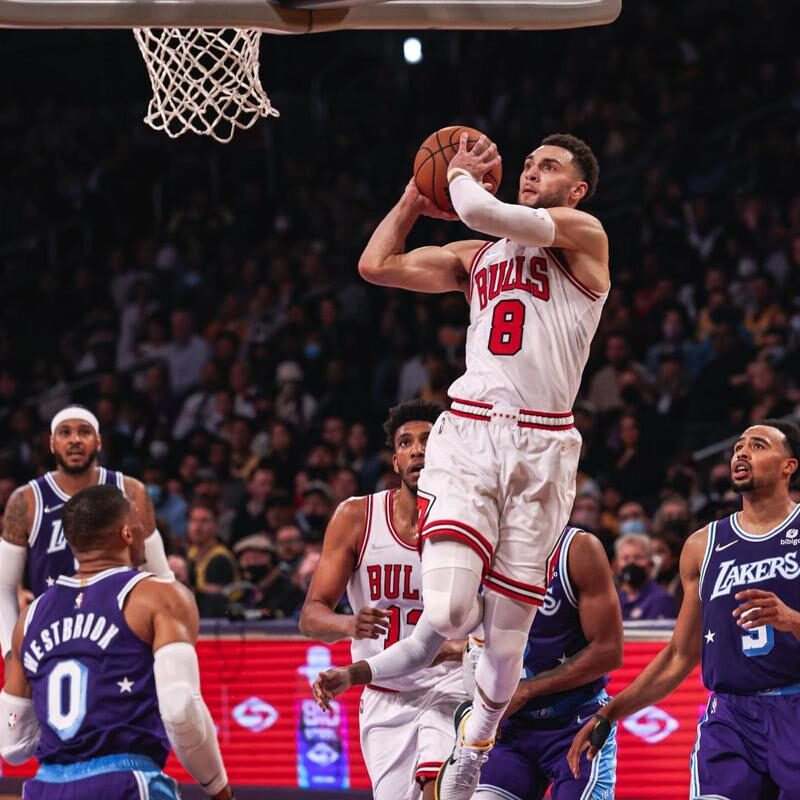 Ethnicity/nationality: African American
Date of birth: March 10, 1995
Team: Chicago Bulls
Position: Shooting guard/Small forward
The 6'5 Chicago Bulls player is a 2021 NBA All-Star, NBA Rising Stars Challenge MVP 2016, and a two-time NBA Slam Dunk Contest champion. Zach Lavine was raised in Renton, Washington by his two athletic parents, Paul Lavine, and CJ (Cheryl Johnson) Lavine. His father is African American and his mother is Caucasian which is where he gets his bi-racial light skin tone.
As of 2021, Zach Lavine is engaged to the lovely Hunter Mar who is a model. The high school sweet hearts have been together for a long time and seen each other through their thriving careers. He continues to show exemplary performance with his latest achievement being a season-high 36 points score in a 114-108 victory against Denver Nuggets.
7. Trae Young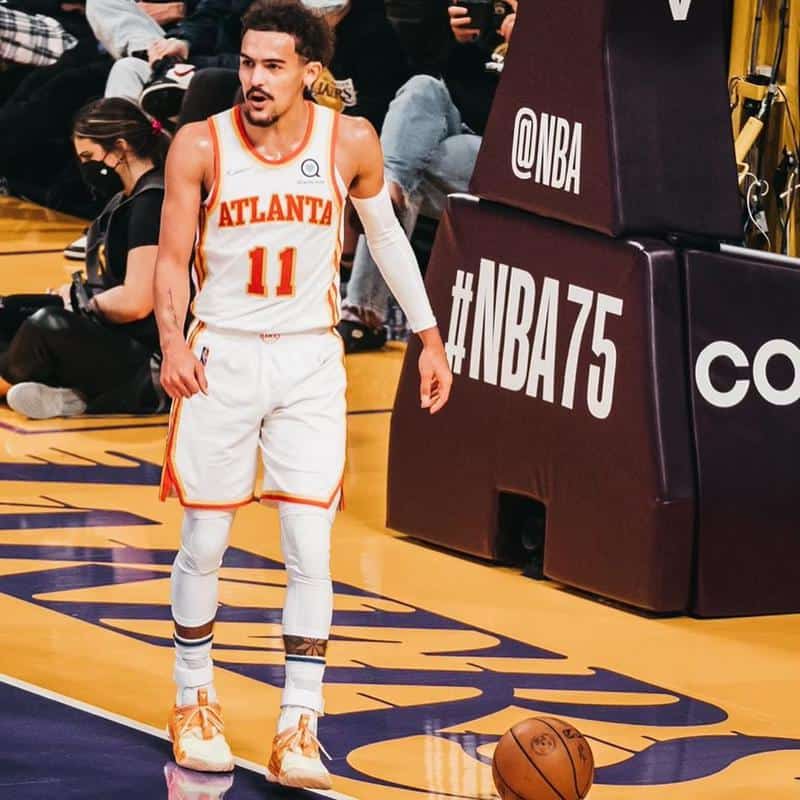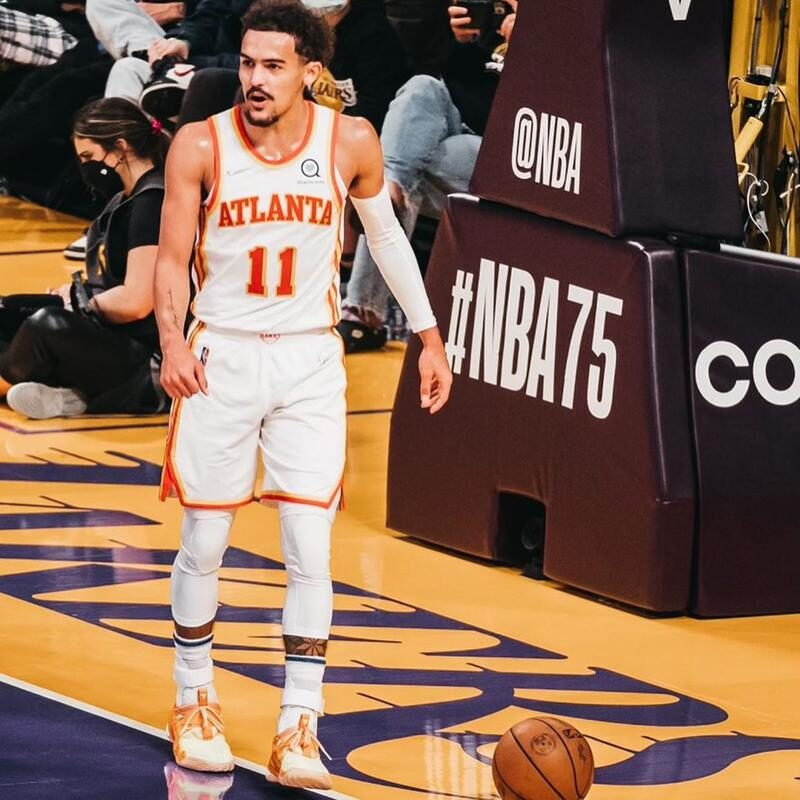 Ethnicity/nationality: African-American, Caucasian
Date of birth: September 19, 1998
Team: Atlanta Hawks
Position: Point Guard
Trae Young is an American basketball player who has been playing for the Atlanta Hawks since 2018. The young point guard is the only basketball player to have ever led the NCAA in both assists and points in just one season.
His father, Rayford Young, is an African American former basketball player who played for Texas Tech and a few teams in Europe. His mother, Candice Young, is Caucasian and arguably his biggest fan. Young also has siblings: Caitlyn, Camryn, and Timothy.
8. Lonzo Ball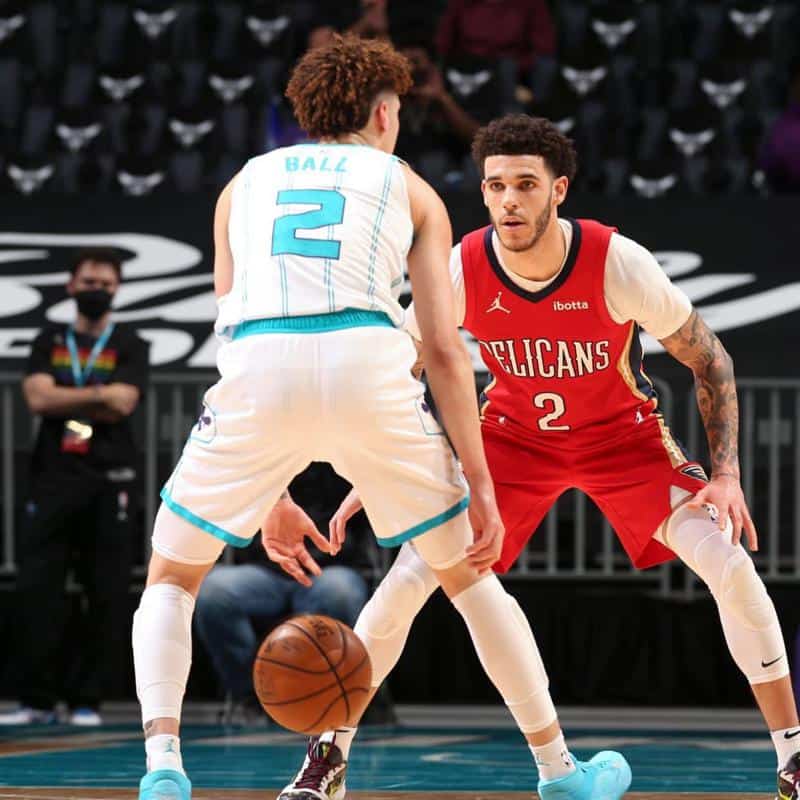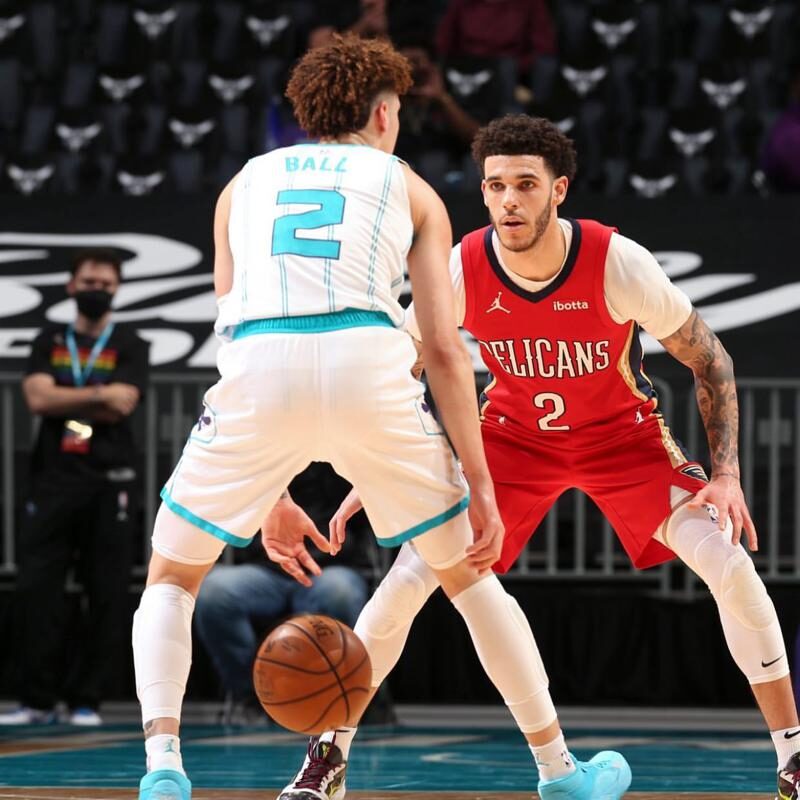 Ethnicity/nationality: African-American, Caucasian
Date of birth: October 27, 1997
Team: Chicago Bulls
Position: Point Guard
Lonzo Ball is one of the famous sons of LaVar Ball. LaVar Ball is an African American trainer and former football player for London Monarchs of the World League of American Football. He is the father to Lonzo, as well as two other basketball prodigies: LaMelo Ball and LiAngelo Ball. Their mother, Tina Ball, is of Caucasian decent and used to play college basketball.
Lonzo was one of the most-watched college basketball players in the 2017 NCAA season due to his immense talent at such a young age. At 24, he was named in the NBA All-Rookie Second team in 2018, NCAA seasons assists leader in 2017, and won the 2017 Wayman Tisdale Award as the best freshman in the United States.
9. LaMelo Ball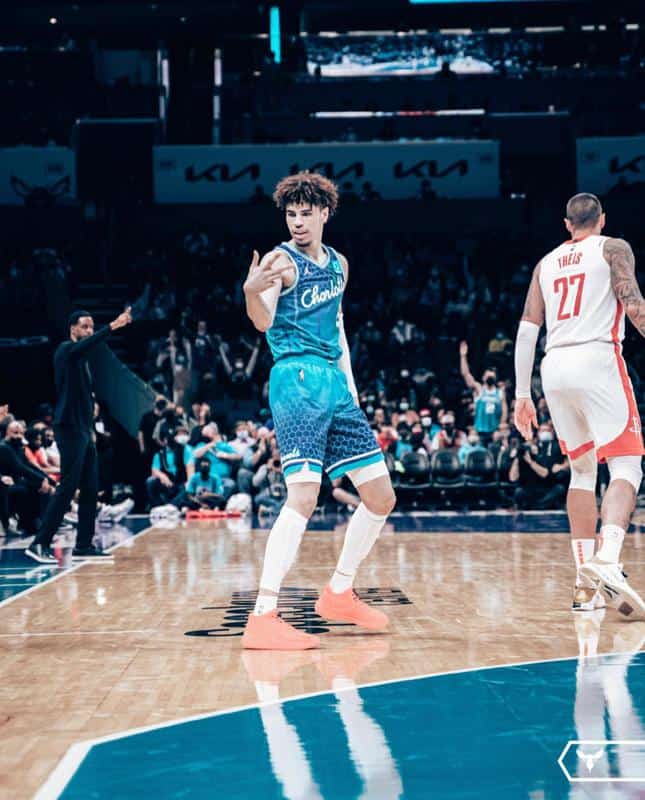 Ethnicity/nationality: African-American, Caucasian
Date of birth: August 22, 2001
Team: Charlotte Hornets
Position: Point Guard
The younger brother to Lonzo and LiAngelo Ball was picked as the third overall pick in the 2020 NBA draft to the Charlotte Hornets. He is half Caucasian, half African American, which gave him his light skin complexion and his good looks.
He was named in the 2021 NBA Rookie of the year, the NBA All-Rookie First Team, and the 2020 NBL Rookie of the Year. He was recruited in 2019 with most recruiting services, calling him a five-star candidate and one of the best point guards in the 2019 class.
10. Aaron Gordon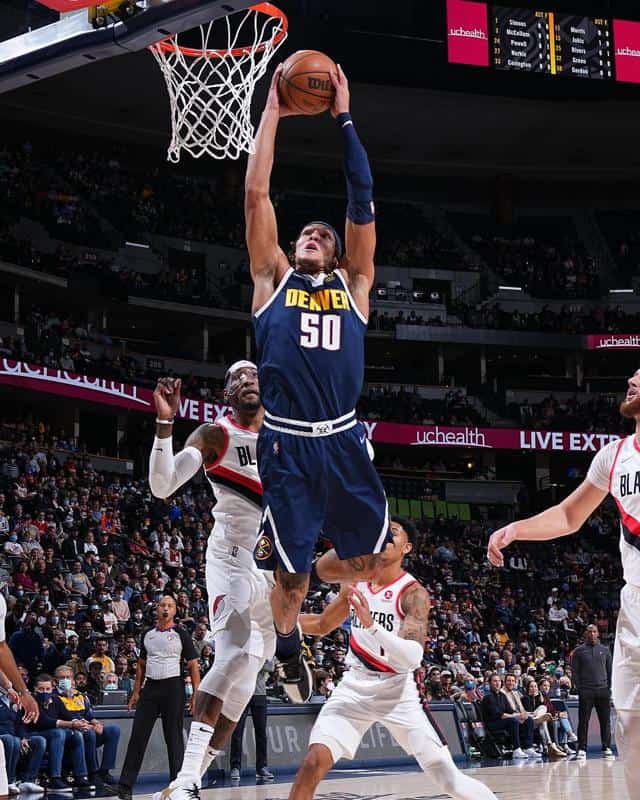 Ethnicity/nationality: African American, Caucasian, Native American, Osage Indian
Date of birth: September 16, 1995
Team: Denver Nuggets
Position: Power forward/small forward
You may be wondering, is Aaron Gordon white? Well, he is not. He is of mixed race. Ed Gordon's father is part African and part Native-American (Aaron's great-grandfather was a Native American Osage Indian). His father played for the San Diego State basketball team but is now a school teacher at San Jose. Aaron's mother, Shelly Davis, is of Caucasian descent (Scottish and Irish).
Aaron became a basketball prospect from high school at Archbishop Mitty High School. He went on to play for Arizona's college team, where he got drafted from into the 2016 NBA draft. Apart from playing ball, Gordon is a philanthropist who helps the community in projects that look after children, like the Homeless Education Fund at the Foundation for Orange County.
11. Ben Simmons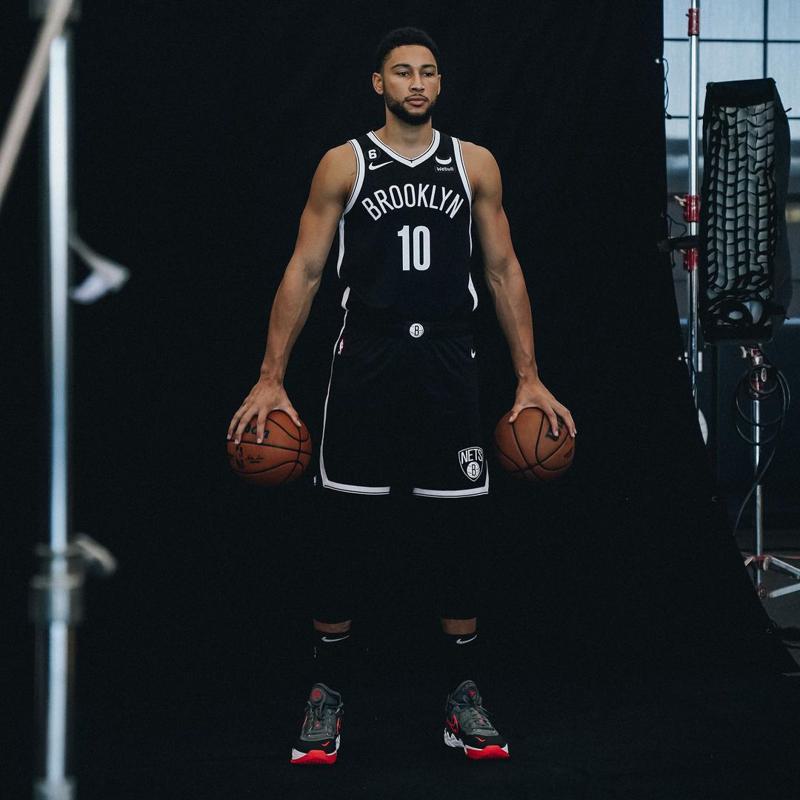 Ethnicity/Nationality: Black, Australian
Date of birth: July 20, 1996
Team: Brooklyn Nets
Position: Point Guard/Point forward
Ben Simmons is a 6-foot 11-inch Brooklyn Nets player who weighs 240 pounds. Simmons became one of the greats from the first day when he got the number one draft pick in the 2016 draft. He proceeded to record the first rookie playoff triple double since 1980 in 2018 against Miami Heat.
This was a great feat since the last basketball player to set the record was Magic Johnson in 1980. Even Lebron James couldn't accomplish that. As if that was not enough, Ben Simmons will go down in history as the first Australian to get drafted into the NBA All-Star.
His light skin complexion comes from his African American father, Dave, and his white Australian mother Julie who are naturalized citizens of Australia.
Also Read: Tallest Point Guards in The NBA
12. Danny Green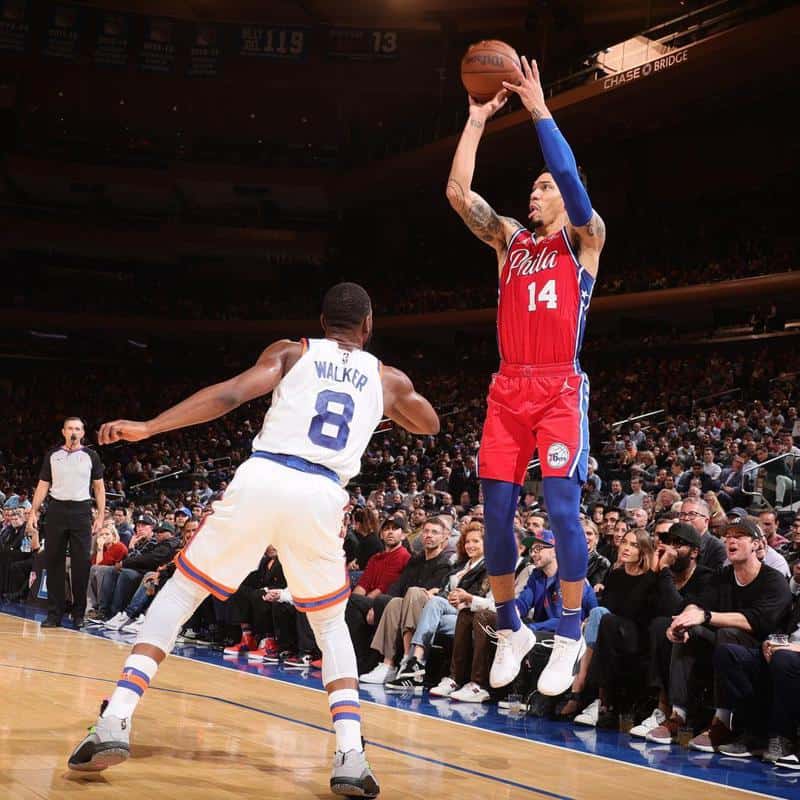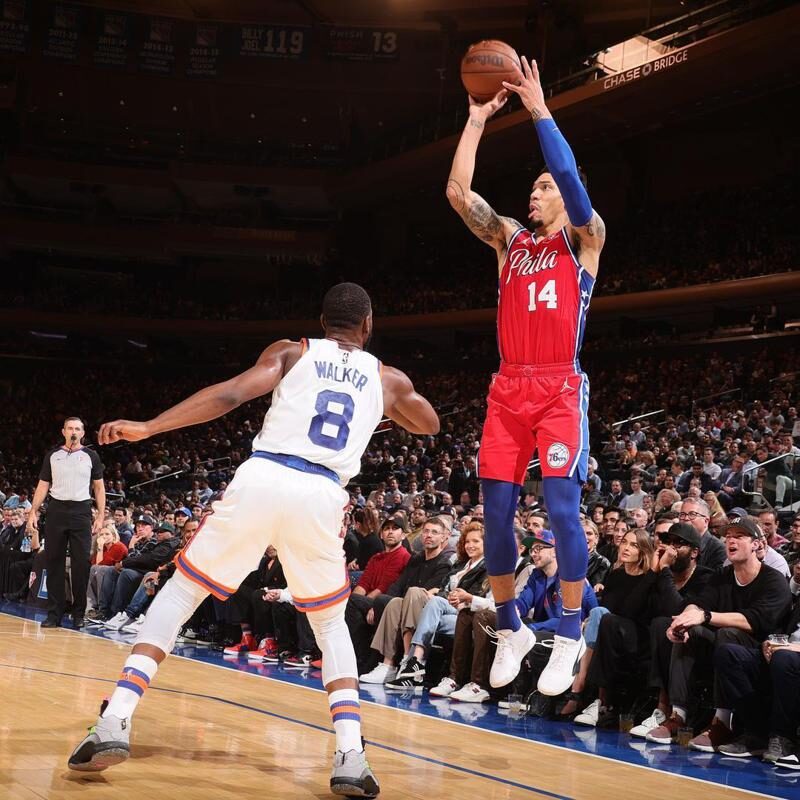 Ethnicity/nationality: African American
Date of birth: June 22, 1987
Team: Memphis Grizzlies
Position: Shooting Guard/Small forward
Little is known about Danny Green's mother let alone her own ethnicity. From a few pictures in the public light, we know that he is African American from his father's side and Caucasian on his grandmother's side. Him and his two brothers were raised by their single father who used his basketball coaching skills to entice Danny Green into the game.
The light skin bi-racial player has been able to achieve substantial accolades in his career. He is known for his perimeter defense and three-point shooting which make him a key contributor on the court. Danny Green's most prolific accomplishment is his selection to the first NBA All-Defensive Second Team in the 2016-2017 season.
13. Kyle Kuzma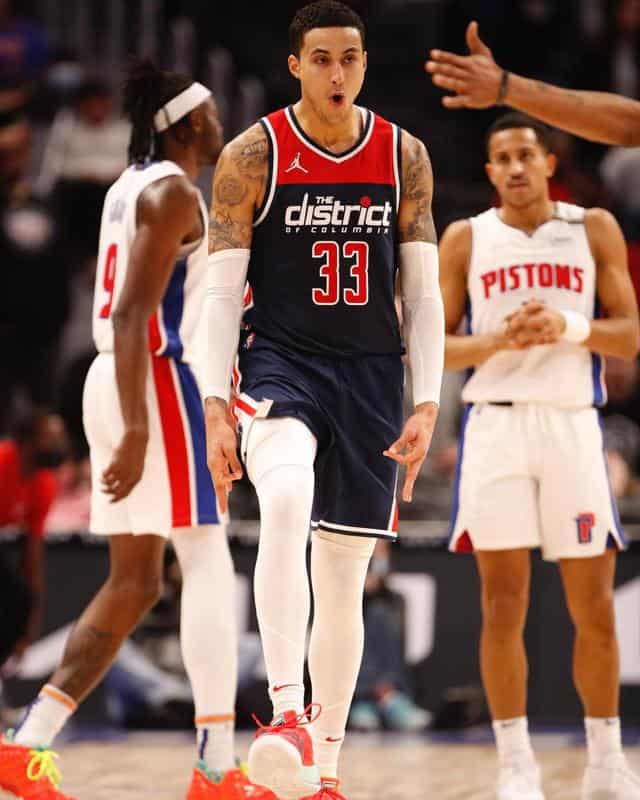 Ethnicity/nationality: African American
Date of birth: July 24, 1995
Team: Washington Wizards
Position: Power forward/ Small forward
Kyle Kuzma was traded to the Washington Wizards in 2021, prior to which he played for the Los Angeles Lakers. He recorded averages of 21.9 points, 6.4 rebounds, 2.7 assists, 1.4 blocks, and 1.1 steals per game and was named to the All-Summer League Second Team that year. He was also named the Summer League Championship Game MVP after recording a double-double of 30 points and 10 rebounds in a 110–98 win over the Portland Trail Blazers in the championship match.
Kuzma is a multi-racial basketball player born to an African American father, Karri Kuzma, and a white mother. He was raised in Flint, Michigan where he had a rough childhood due to the violent nature of the place at the time. He retreated into basketball as his safe heaven only to become a great success at it.
14. Austin Rivers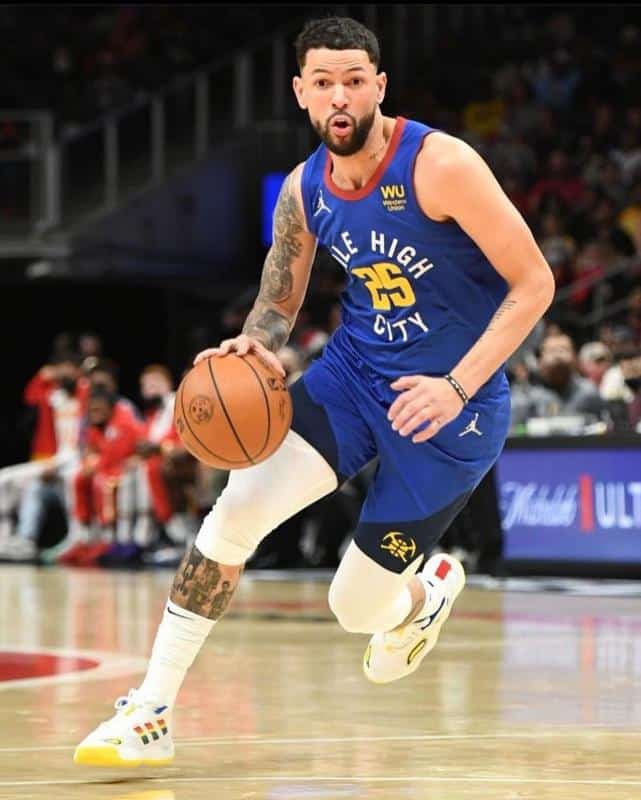 Ethnicity/nationality: African American, Caucasian
Date of birth: August 1, 1992
Team: Minnesota Timberwolves
Position: Point Guard/Shooting Guard
Austin Rivers Plays alongside Rudy Gobert in the Minnesota Timberwolves team. His father, Doc Rivers, is an African American who played as a point guard in the NBA with teams like Atlanta Hawks and San Antonio Spurs. His mother, Kristen Campion, is Caucasian with French European origins.
Austin was one of the top candidates in 2011, which earned him the number one sport in the Rivals.com ranking. He shot to fame while playing for Duke University when he made a winning 3-pointer against North Carolina.
15. Killian Hayes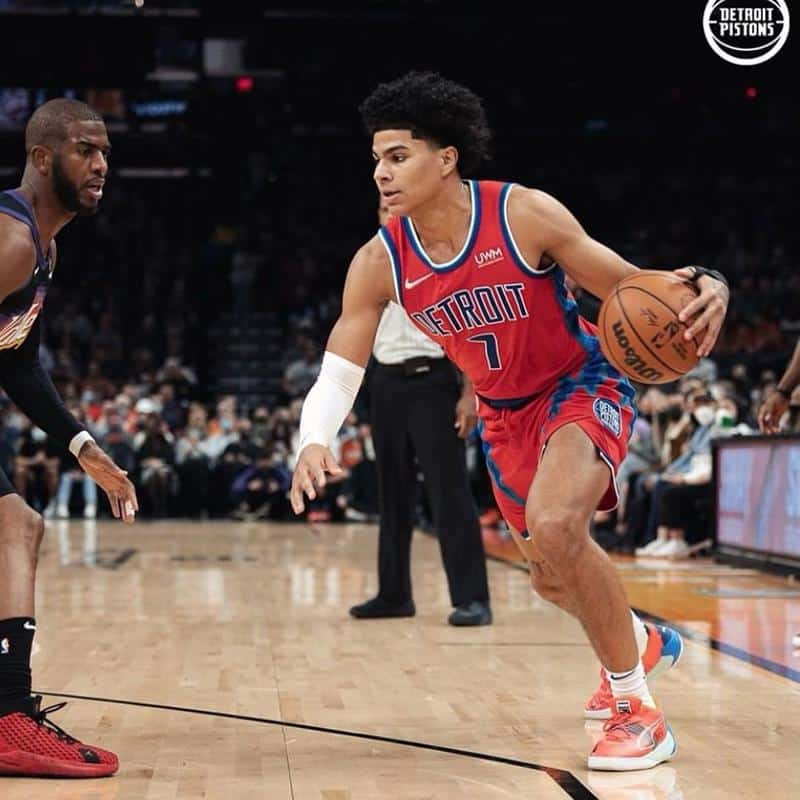 Ethnicity/nationality: Black, French-American
Date of birth: July 27, 2001
Team: Detroit Pistons

Position: Point guard, Shooting guard
Killian Hayes is a French professional basketball player for the Detroit Pistons. The young stud is not short of attractive qualities with his long 6'5 frame and square jawline that adds to his light skin complexion. At such a young age, he has been able to turn the world upside down with his extreme performance in the NBA courts.
His father, DeRon Hayes, is an African American who also played basketball. He was a forward for Penn State Nittany Lions in the 1990s, where he became one of the most outstanding scorers. His mother, Sandrine Demiannay, is Caucasian who natively came from Cholet in France. She also was a basketball player, which contributed to Killian Hayes's pursuit for the sport as it ran in the family.
16. Michael Porter Jr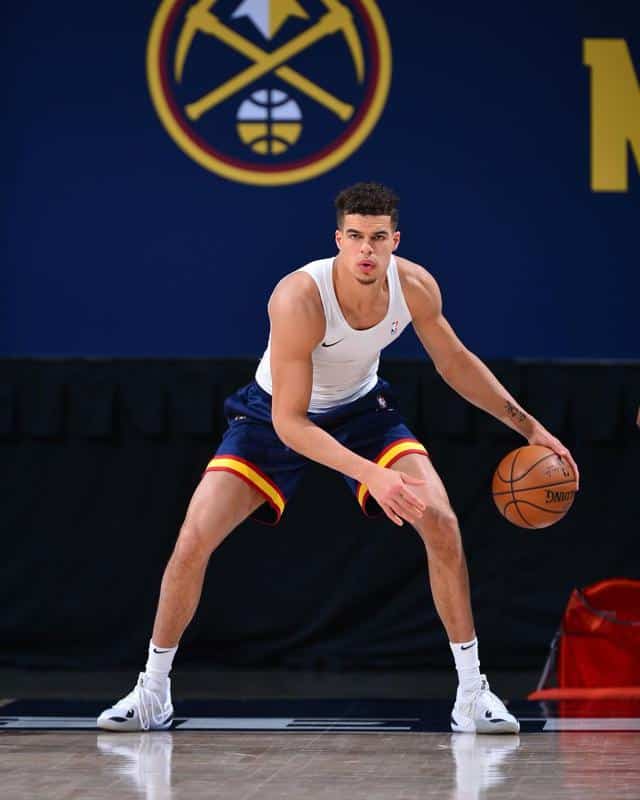 Ethnicity/nationality: African American, Caucasian
Date of birth: June, 29 1998
Team: Denver Nuggets
Position: Small forward
Michael Porter Jr is the son of Michael Porter Sr who is African American and Lisa Becker who is of Caucasian descent. Porter was registered as one of the top candidates of the class of 2017 and got selected 14th overall by the Denver Nuggets in 2018 where he has played for ever since.
Some of his notable achievements include getting named 2017 Washington Mr. Basketball, 2017 McDonald All-American MVP, and National High school player of the year in 2017.