When you consider the list of greatest NBA players of all time, Steph Curry ranks very high on that list. Similarly, when you draw up a list of this season's most injury-prone NBA players, Steph Curry is without a doubt also near the top of that record. The Golden State Warriors point guard has an extensive and well-documented injury history, often throwing him in the most injury-prone category.
It all began in his 2008-2009 rookie season and in 2021 his injuries are still fierce and frequent. Many people have been noted as saying that Steph Curry is experiencing the Groundhog Day phenomena. Every game is the same, with similar injuries happening in the very same ways.
Despite injury, Curry still manages to maintain his average of 0.2 blocks per game. Regarded as one of the best NBA players of all time, he hasn't let a series of injuries slow him down. Read on to see how extensive this phenomenal point guard's injuries have been throughout his career.
Injuries From the Beginning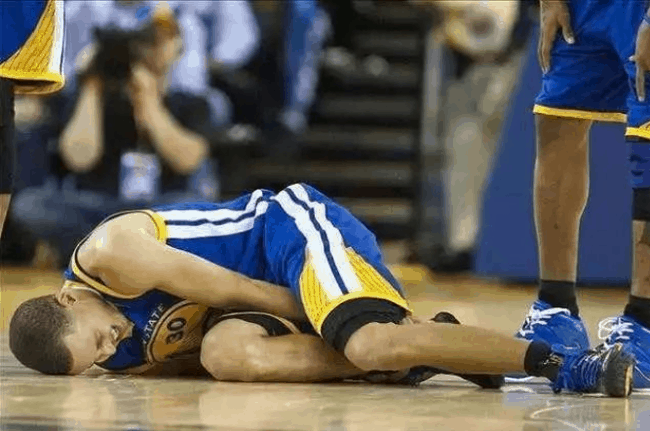 Steph Curry made his debut in the NBA in June 2009. He appeared in 80 games during his 2009-2010 season and he seemed to be off to a brilliant start. Not only was he showcasing his amazing talent during his rookie season, but December 2010 saw the first of his injuries.
He managed to roll his right ankle without anyone being around him. Deemed as a fluke, the injury happened without Curry chasing anyone, tripping over anyone else or encountering any obstacle.
The Ankle Woes Begin: 2010 – 2012
No discussion about Steph Curry's extensive list of injuries will be complete without delving into the story of that dreaded ankle injury. Ankle injuries are by far the most common and possibly worst basketball injuries. And Steph Curry's ankle has been no different.
Since the akward injury of 2010, Curry has been plagued by his right ankle. His 2011 season saw him struggling extensively with the ankle which eventually resulted in offseason surgery to reattach and strengthen torn ligaments. It was only the beginning of the continuous thorn in his side.
The 2012 season was filled with different twists and sprains to the same ankle and ended with another surgery to clear out scar tissue. 2013 saw him sacrifice four games as a result of ankle injury.
The Ankle Injuries Continue: 2015 – 2019
Curry managed to get through 3 years without any major ankle issues. But his euphoria was short-lived. In 2016 he sprained his ankle in the first game resulting in him missing two games but he managed to be strong enough for the finals.
The 2017-2018 season saw another four injuries to the same ankle resulting in Curry only playing 51 games that season. The 2018-2019 season was filled with a few minor tweaks but nothing the basketball giant couldn't handle.
In total, Curry has had two major surgeries on his right ankle. At one point Curry announced:
"I feel like I've been doing nothing but rehabbing for two years. I feel like I'm never going to be able to play again."
A New Approach to the Ankle Injury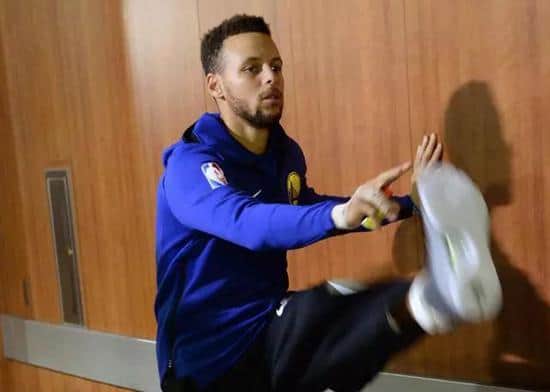 After his second ankle surgery, Curry decided it was time to try a different approach. Strenuous bouts of rehab and physical therapy combined with a new muscle-building exericse routine were on Curry's agenda for potential recovery.
With the help of his personal trainer, Curry started focusing on a new strategy to keep the bulk of his weight off his ankle. By utilizing his hips more and strengthening his core it became easier to ease the tweaks in the sensitive ankle. The strategy worked well and he only suffered minor ankle tweaks after that.
Other Injuries that Have Plagued Curry: 2011 – 2022
Unfortunately, ankle issues aren't the only injuries Curry has been plagued with during his career. He is reputed to have suffered several serious injuries during the span of his career. Let's have a look at some of the most prevalent injuries that he endured on the basketball court.
| | |
| --- | --- |
| Date | Injury Sustained |
| 12/11/2017 | Right thigh contusion |
| 26/11/2017 | Sore right-hand |
| 30/11/2017 | Right-hand contusion |
| 02/12/2017 | Right-hand contusion |
| 23/03/2018 | Sprained left MCL |
| 08/11/2018 | Left groin strain |
| 22/03/2019 | Rest |
| 09/04/2019 | Foot |
| 30/04/2019 | Hand |
| 30/10/2019 | Hand |
| O7/03/2019 | Illness |
| 20/02/2021 | Illness |
| 17/03/2021 | Tailbone |
| 02/04/2021 | Tailbone |
| 13/05/2021 | Tailbone |
| 17/11/2021 | Hip |
| 19/11/2021 | Hip |
| 19/11/2021 | Hip |
| 01/06/2022 | Quad |
| 01/15/2022 | Hand |
| 03/17/2022 | Sprained ligament left foot |
A Not So Serious Sprained Left MCL
In 2018, Curry injured his left knee which an MRI later revealed to be a Grade 2 MCL sprain. The game was in the playoff series against the Houston Rockets and during a 2-1 series lead, Curry inadvertently suffered the painful injury. It ultimately kept him on the bench for 15 days.
Moderate Groin Strain
2018 also saw Curry suffering from a moderate groin strain injury in the Milwaukee Bucks game. Midway through the third quarter, Curry was seen grabbing his inner thigh as he tried to contest Eric Bledsoe's transition shot around the 6:50 mark.
As it turned out, the incident was not as significant as some of Curry's other injuries. His progress was monitored and he was good to go with the following game, much to Curry's relief.
Playing Through a Tailbone Injury
As an inspiring player with a remarkable track record, Steph Curry's winning streak becomes even more impressive when you learn that he played through a serious tailbone injury.
Curry played through the final two months of the Warriors' latest season with a hairline fracture to his tailbone. If he was experiencing any pain, he wasn't showing it. Teammates have said that he simply goes out onto the court and gets the job done.
March 17 saw the initial tailbone injury when he fell on his backside after tripping over a series of risers next to the Rockets' court. While he missed the following five games, he returned in April averaging 37.3 points per game. May saw him achieve an average of 36.8 points despite the injury.
Nerve Damage to His Left Hand
Curry broke his left hand in a game against the Suns. It happened during the third quarter when Curry drove directly toward the basket and collided in mid-air with Sun center Aaron Baynes.
The burly center landed hard on Curry's left arm, breaking the point guard's hand. Suffering severe nerve damage and a second metacarpal fracture meant he would require surgery.
While his hand has healed, he is still dealing with nerve damage which could linger for some time. Curry said he still feels a slight "tingling" in his hand and continued to say that he has learned to accept the new state of his hand as a "new normal."
If you missed the gameplay that resulted in Curry's broken hand, you can see it here on this YouTube clip. Notice how Curry appears to shake it off as if it was perhaps just a minor bump!
Awards Despite Multiple Injuries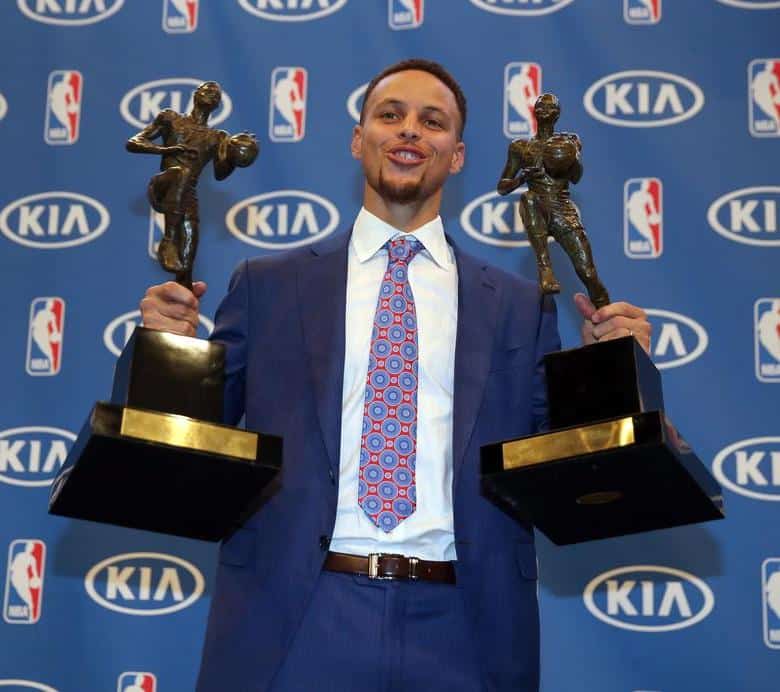 It seems almost unfair to label Steph Curry as the injury-prone athlete as he often is. The reason for this is many records, awards and accolades. Injuries that might have benched other players for an entire season have only seemed to make Steph Curry stronger.
Let's have a look at the more prominent accolades Steph Curry has earned his illustrious career, despite his many injuries and what appears to be a very sensitive ankle.
| | |
| --- | --- |
| Award Achieved | Year |
| Southern Conference Men's Basketball Player of the Year | 2008/2009 |
| NBA All-Rookie Team | 2010 |
| NBA Sportsmanship Award | 2011 |
| Associated Press Male Athlete of the Year | 2015 |
| Best Male Athlete ESPY Award | 2015 |
| Shorty Award for Best in Sports | 2016 |
| BET Award for Sportsman of the Year | 2016/2017/2019 |
| Teen Choice Award for Choice Male Athlete | 2016/2017/2019 |
| Best Record-Breaking Performance ESPY Award | 2016 |
| NBA Most Valuable Player Award | 2016/2015 |
| All NBA team | 2017/2018/2019 |
| Assist of the Year Fan Award | 2017 |
| NAACP Image Award – Jackie Robinson Sports Award | 2021 |
| All-star MVP | 2022 |
| Western Conference Finals MVP(Magic Johnson Trophy) | 2022 |
| Bill Russell NBA Finals MVP | 2022 |
Note: On Dec 15, 2021, Steph Curry overtakes Ray Allen's record(2973), becomes NBA's all-time 3-point leader.
Final Thoughts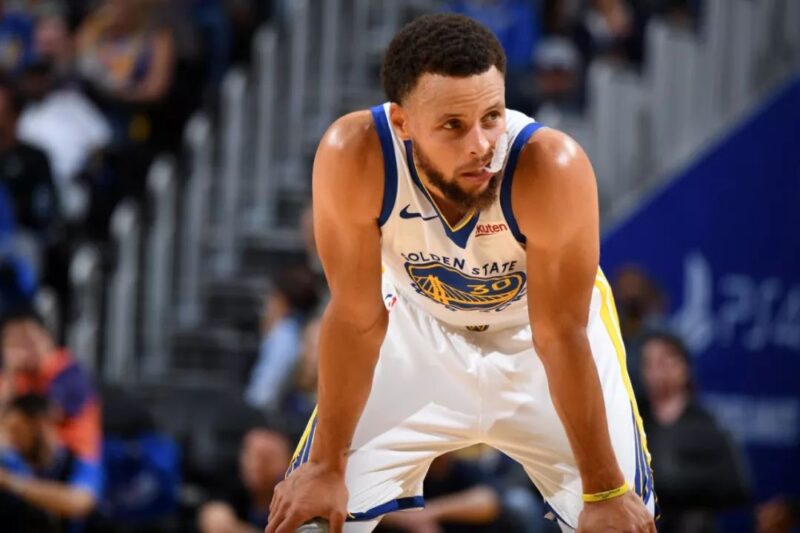 As two-time NBA MVP and three-time champion, Curry is often hailed as the greatest player of all time. In his illustrious career, he has played in 826 NBA games. He is also ranked 10th in the all-time rankings.
With every injury comes the risk of it finally being the one to bench a player for good. It can be difficult for players to come back from injuries as severe as the ones suffered by Curry. Sports injuries are not only physically painful but cause mental debilitation as well.
But, while Steph Curry seems more prone to injury than many of his teammates, he also has a phenomenal way of bouncing back. He's living proof that determination and hard work can easily overcome the most severe injuries. Clearly, his injuries don't define him or slow him down!
Leave us a comment below with your opinion. We'd love to know what you think about Stephen Curry's extensive injury list!
Also Read: