Kyrie Irving and Stephen Curry are both excellent point guards for their respective teams. But there has been a long-winded debate about which basketball player is better. Some people base their opinions around how many points each player has earned and other's discuss how many award's each point guard has got.
So we've decided to give you a comparison on Stephen Curry vs Kyrie Irving so you can make an informed decision on which basketball player you think is the best. We'll discuss how both players became NBA stars and what their stats and achievements are.
Keep reading to find out why fans are always comparing the two players and more about their playing style.
Stephen Curry vs. Kyrie Irving Achievements
| | |
| --- | --- |
| Stephen Curry | Kyrie Irving |
| Played 3 NBA Championships | Played 1 NBA Championships |
| Played 12 NBA Seasons | Played 10 NBA Seasons |
| 7 Playoffs played | 5 Playoffs played |
| 2 Season MVP Awards | 0 Season MVP Awards |
| 3 All-NBA First Teams Awards | 0 All-NBA First Teams Awards |
Stephen Curry vs. Kyrie Irving Game Play
| | |
| --- | --- |
| Stephen Curry | Kyrie Irving |
| In the lead with 32 points per game in season 2020-2021 | Kyrie Irving's average points per game in season 2020-2021 is 26.9 |
| Better leadership skills | More athletic |
| Excellent outside scoring | Better inside scoring |
| Superior playmaker | Ideal rim protector |
| Talented rebounder | Superior ball handling |
| Average clutch 3.9 | Average clutch 4.2 |
| Average defense 1.8 steals | Average defense 1.3 steals |
| Defensive win shares 24.1 | Defensive win shares 11.8 |
| Record on three-pointer for scoring 402 shots in a single season | 38.3% Three shooters |
Why Fans Always Compare Stephen Curry vs. Kyrie Irving
In the 2015 and 2016 NBA finals Stephen and Kyrie played against each other in their respective basketball teams. Irving managed to outplay Curry by taking shots that boosted his team's score. After this game, basketball fans started comparing the two point guards and their playing abilities.
The Start of Stephen Curry's Basketball Career
It would seem that Curry's future in basketball was inevitable because he was already born into it. His father is NBA veteran sharpshooter Dell Curry. Stephen learnt how to play basketball from his father at a young age.
Despite his knowledge of basketball Curry was not offered scholarships from basketball colleges so he attended Davidson College in North Carolina. He quickly earned his reputation by averaging 21.5 points per basketball game in his freshman year.
Soon after his sophomore years Curry entered the 2009 NBA draft and was chosen by the Warriors. And there after played 12 seasons in the NBA and became three-time NBA champion with the Warriors team.
The Start of Kyrie Irving's Basketball Career
Similar to Curry, Kyrie Irving was also born into basketball. The famous NBA player's father, Drederick Irving played basketball in college and then went on to play professionally for the Bulleen Boomers.
Kyrie learnt about the game of basketball from his father and was an active sportsman in high school. He's excellent playing ability got him selected to play in the NBA in 2011. Over the course of Irving's career he has won one NBA Championship.
What's more, Kyrie also played for the United States National team and helped them win a gold medal at the 2016 Olympics.
Statistics and Achievements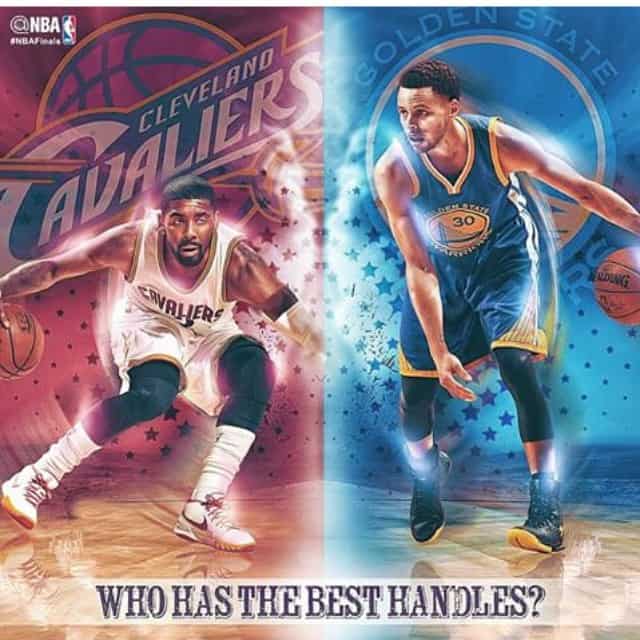 Even though Kyrie Irving and Stephen Curry are both exception point guards, their basketball game play is completely different. Curry get's plenty of rebounds, his defenses are tight and he mainly focuses on getting shots.
On the other hand Kyrie Irving's ball handling is better than Stephen's. What's more, Irving's offense is built around dribbling and finishing at the rim through layups. Let's take a look at more comparisons between these two point guards below.
Athleticism
To compare the two players based on their athleticism Irving takes the round. He is said to be one of the fittest NBA players because of his flexibility, agility and strength. His athleticism on the court allows him to play with an effective offense and he can dunk successfully.
Although Stephen Curry is also agile and considered a phenomenal basketball player by his teammates, he isn't considered the fittest on the court by fans.
Defense
Point guards aren't well known for their defense capabilities. But if you were to pick a defender based on stats Curry would win this round. This is because Stephen has a stat of 1.8 steals per game and Irving only has 1.3. What's more, Stephen Curry has a 24.1 average on defensive wins whereas Kyrie only has 11.8
On the other hand, both point guards have almost identical defensive stats when it comes to plus-minus. Curry has -0.6 and Irving has -0.7.
Inside Scoring
Both Stephen Curry and Kyrie Irving have excellent inside scoring stats. But Irving has more impressive inside scoring compared to Curry. Kyrie attempts about 70% of his shots close range and most of his shots from the restricted area.
Nonetheless, Curry tends to shoot 63% of his shots close range and he is also known for his signature three-point scoring.
Outside Scoring
Irving may be an excellent inside scorer but Curry is undoubtedly the most impressive outside scorer. This is because Stephen Curry has a 43.6% shooting average from the three-pointer line and earns 3.4 three-pointer shots per game. In all of the three-point track records in the NBA you're most likely to find Curry in all of them.
However, Irving is also a good outside shooter because he succeeds in every 2 out of 5 shooting attempts from the line. But comparing the two players, Curry is still the superior outside scorer.
Playmaking
Stephen Curry is admired for his playmaking by his teammates. Curry knows when the game isn't in his favor and instead of being arrogant he will pass the ball to a teammate who has a better chance of scoring.
Kyrie does well at passing the ball too but he prefers not to be a playmaker and tries to score on his own. But that's because offensive skill doesn't allow the basketball player to be playmaker. So to compare the two players Kyrie's average dime per game is 5.5 and Stephen's is 6.8 dimes.
Rebounding
Stephen Curry is known to be one of the ultimate rebounder's on the court. That's because the Warriors prefer to play fast-paced games on the offense which results in plenty of rebounds. This makes Stephen Curry's average 4.4 rebounds per game.
However Kyrie's playing style doesn't allow him to be as good at rebounds so his average per game is 3.4 rebounds.
Rim Protection
A point guard's duty isn't to protect the rim from the opposing team however Irving seems to be better at protecting the rim compared to Curry. Irving has an average of 0.3 blocks per game. He also recorded a maximum of four blocks in a game of basketball.
Curry isn't far behind because he averages 0.2 blocks per game. But as you can see Irving is the ideal rim protector based on his stats.
Clutch
A clutch in basketball is used to describe a player's shots that win the game. The term describes scoring in the last few minutes on the court. In this round Kyrie is superior at clutch because he has an average score of 4.2 points and Stephen only has an average of 3.9.
Ball Handling
The most debatable point is Irving's and Curry's ball handling skills. Both basketball professionals are excellent at handling the ball but Irving is more advanced. This is because Kyrie can dribble a ball past defenders easily even when he is stuck in a spot that looks impossible to get out of.
Kyrie Irving has a versatile ability when it comes to handling the ball and that's probably why he prefers not to be a playmaker.
Basketball IQ
Stephen Curry may have developed his basketball IQ from his famous father. He knows how to handle any situation that will benefit his team in the end. He is effective at handling and passing the ball to his teammates because of his off-ball movement.
Irving doesn't seem to be able to solve problems effectively on the court and was known to complain rather than to find solutions. But fans have stated that after he started playing for the Nets he became a lot better.
Leadership
The most effective team leader in this round is Stephen Curry because he always concentrates on his team's wellbeing. His leadership abilities help his team even in the toughest of situations. Maybe it's because Curry has been in the professional game of basketball longer than Kyrie.
Also Read: What Race is Stephen Curry: Black or White?
Who is The Better Player?
Based on the above stats and achievements Stephen Curry seems to be the better basketball player. He has superior shooting skills compared to Irving. He's also excellent at rebounding, defence and playmaking.
Some fans may argue that Kyrie is still the superior player because he outplayed Curry at the NBA championships. But that's not enough to say that he is the superior basketball player.
What's more, fans also prefer Irving because of his fitness on the court, his clutch abilities and ball handling skills. However Stephen Curry does have more of an impact due to his high Basketball IQ and his three-pointer scoring. He's also won 3 NBA championships whereas Kyrie has only won a single championship.
On the other hand, both of these point guards are excellent basketball players and you'll enjoy watching them both play. Take a look at this YouTube video to see Kyrie and Stephen's skills.
Who do you think is the better basketball player: Stephen Curry or Kyrie Irving? Let us know what you think in the comment section below.