Akron is flaunted for being home to some of the best basketball natives of the city.
Teams such as the Cleveland Cavaliers became a dominant force within the Eastern Conference after the entry of LeBron James in the league when he was alive. It was a shining moment for NBA teams in Ohio and players, fans, and the state during his reign.
Other than LeBron, other renowned basketball players born in Akron have kept the flame burning.
Top 5 Best Basketball Players From Akron
Here we look at the top five NBA players from Akron and how they have created fame in the sport.
1. LeBron James: Son of Akron
LeBron James is Ohio's best basketball player. He is also their greatest athlete, often referred to as The Man in the Arena.
Being one of the most significant faces in the world of Ohio's basketball seasons, James is a guy who gave what he promised the city fans. He delivered a Championship when he came back from the Miami Heat.
Ever since he entered the spotlight during his high school days, James put Akron on his sleeve and nearly single-handedly created a household name for the city across the world.
At 35, James would get himself at the lead of the basketball's Mt. Rushmore, claiming his fourth NBA ring while playing for Los Angeles Lakers. He has held numerous youngest reached distinctions, including being the youngest basketballer to record 30,000 career points.
Let's check out King James moments:
When it comes to James, no other sports iconic face has put Akron city on the map as he did. He is considered a top 5 player in basketball history, winning 4 NBA Championships, 4 Finals MVPs, 4 MVPs, 6 NBA Rookie of the Month, and 1 NBA Rookie of the Year.
He also has won 1 Scoring title, 17 All-NBA teams, 3 NBA All-Star MVPs, and 6 All-Defensive teams. James has been the Cav's all-time scoring star.
2. Stephen Curry
As a hardcore fan of the Panthers, many people think Stephen is a native of Carolina. However, he was born in Akron, Ohio, in March 1988. Many players and analysts accord him the title of the greatest shooter in NBA history.
Curry has earned his name as a player who revolutionized the basketball game by inspiring players and teams to utilize the three-point shoot frequently.
Let's check out Stephen Curry's deepest threes :
He is a 8-time NBA All-Star, 1 NBA All-Star MVP, 1 NBA Finals MVP, often being dubbed the NBA Most Valuable Player (MVP) two ties. Curry has also won 4 NBA Championships with the Warriors.
Being the son of Dell, a former NBA player, and older brother to Seth, another NBA player, Curry was in Davidson Wildcats, where he played college basketball. Besides, he set an all-time scoring record for Southern Conference and the Davidson.
Curry was named the Conference's Player of the Year twice. He set a record for the single-season NCAA for 3-pointers made before Warriors selected him with the seventh pick in the 2009 NBA Draft during his sophomore year.
Curry's first MVP award was during 2014 – 2015. Additionally, he led the Warriors to their first championship from 1975.
The All-Star has recorded an average of 22.5 points, 5.8 assists, 5.6 rebounds, and 1.4 steals per game. He pretty much owned every single 3-point shooting record.
Also Read:
3. Nate Thurmond
Dubbed "Nate the Great," Thurmond is famous for his authoritative defensive force in the game. He is even feared and respected by professional basketball legends like Bob Pettit, Wilt Chamberlain, and Kareem Abdul-Jabbar.
Thurmond had a successful 14-year career spending most of his days in the NBA playing the center and power forward positions. He played for Golden State Warriors and was a 7-time All-Star. Interestingly, Thurmond is regarded as the first player within NBA history to set an official quadruple-double.
Thurmond began his basketball playing at Central High School in Akron, where we played together with NBA star Gus Johnson. He opted to play college basketball after passing up a scholarship Ohio State offered him.
He has played for other teams like Chicago Bulls and Cleveland Cavaliers. With a college basketball career averaging 17.0 rebounds per game, Thurmond spearheaded the Mid-American Conference in rebounds in three of his university seasons. In 1963, The Sporting News named him a first-team All-Star American.
Thurmond posted a career average of 15 points, 2.1 blocks per game, and 15 boards.
4. Gus Johnson
Nicknamed "Honeycomb" and regarded as one of the most exciting players in the early days of basketball, Gus Johnson was an explosive dunker as well as a physical scorer. He shattered three backboards using his emphatic dunks during his career.
Gus was born in Dec 1938 in Akron and became a basketball star famous for his passing, strength, and dunking abilities. Both Nate Thurmond, an Hall of Fame member, and Gus played together in high school.
Gus is also touted as one of the fiercest defenders of the league during his prime. He was athletic and could run the floor. Gus could rebound, and as an assistant coach serving at the Firestone boys' basketball team, Lane said, "I once saw him grab a rebound off the backboard and throw the ball and hit the other backboard."
He made it to 2 All-Defensive teams during his 14 season career, playing for the Baltimore Bullets, the Cleveland Carneys, Indiana Pacers, and Phoenix Suns. Honeycomb posted career averages of 16.2 points, 2.5 dimes per game, and 12.1 rebounds.
5. Stephen Johnson
Playing the center and power forward, Clarence Stephen Johnson was regarded as a superior low-post attacker. He had a season with the San Antonio Spurs where he led the league in terms of the percentage of touchdowns. He has a 0.632, which is regarded as one of the highest in the NBA history.
Stephen played for the Kansas City Kings for two and half seasons before being traded to Chicago Bulls. Before joining the Spurs, he was with the Bulls.
Stephen has held the NCCA single season. He also boasts of career records regarding field goal percentage.
How Two Akron Superstars Shined in the 2022 NBA All-Stars Game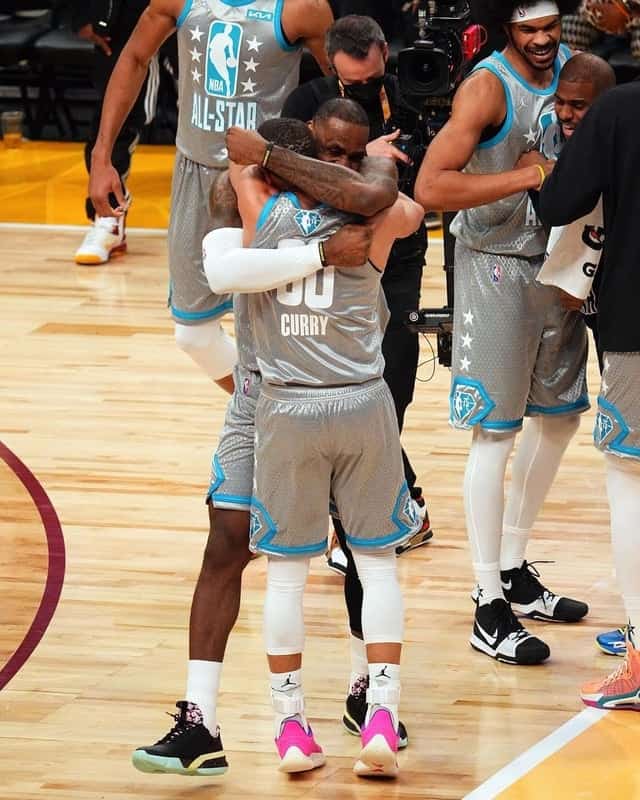 The 2022 NBA All-Star game was a spectacle to watch. In particular, two stars from Akron – Stephen Curry and Lebron James were excellent on the court. Let's examine each of their performances, starting with Stephen Curry.
Stephen Curry
Heading into the All-Star Game, Stephen Curry led the league in 3-point makes and 3-point attempts. He had also consistently made 3-pointers in 179 straight games, a crazy record. The season had only seen a bit of a more prominent drop from last season in his catch-and-shoot 3-point percentage. He still led the league in cumulative plus-minus.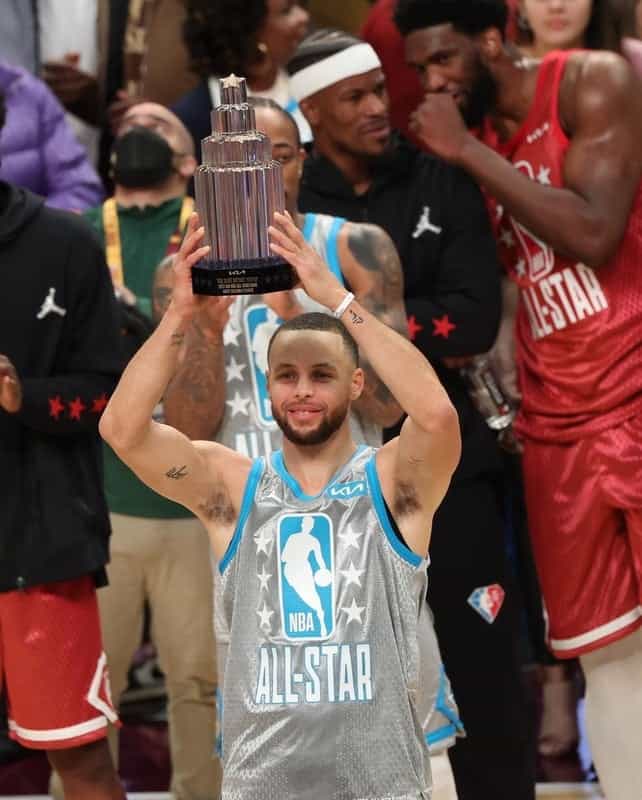 In the 2022 NBA All-Stars game, Stephen Curry led his team to victory and won the 2022 NBA All-Star Game Most Valuable Player Award. He kicked off the game by giving Team Lebron an early lead with a three-pointer after Giannis Antetokounmpo's dunk. In the second quarter, Stephen Curry hit another 3-pointer for Team LeBron, followed by a couple of logo shots to reduce his team's deficit to five.
At the end of the game, he broke the record for the highest number of 3-pointers in an All-Star game and was only two points shy of breaking the ASL scoring record. Check out some of his stats from the game:
Scored 50 points
Hit 15 triples
Got 16 3-pointers in 27 attempts
2 Blocks
LeBron James
LeBron James needs no introduction and currently ranks third in scoring in the NBA with an impressive 29.1 points per game. He now leads the league with 4.8 fast break points per game and has been doing excellently in preseason games. It Is the fifth year in a row where LeBron is a captain and heading into this year's All-Star Game, and he was hoping to have a repeat of last year's victory.
In the 2022 NBA All-Stars game, as soon as LeBron entered the court, he got an enormous ovation along with Jarrett Allen. LeBron James gave the game's first assist, leading to a Giannis Antetokounmpo dunk. At the end of the first half, LeBron James has 13 points. LeBron hit the game-winner in the end and was excellent throughout the game. Check out some of his stats from the game:
Scored 24 points
Had eight-game assists
6 Rebounds
Three steals
Final Words
Basketball is a game loved by many. Many states have produced reputable players, but for Ohio, its tea break. Basketball medals exchange hands here. No one questions the proficiency of the few selected.
The state will remain to be a hub for recruiters looking to fetch some of the world's finest, and talented basketball players the world over.