Grayson Boucher, better known as The Professor, made a name for himself as a street basketball player. He is known for his handles and ability to break the ankles of almost any defender. This reputation has landed him roles in movies, landed him in celebrity streetball leagues, and made him into a social media star.
The Professor Grayson Boucher Background
Boucher was described as a gym rat that lived and breathed basketball. He thrived on knowing that he outworked not only every opponent he played against but also the fact that he outworked all of his teammates at every level he played at.
Despite the hard work that he put into his craft, he was put on the junior varsity basketball team at his high school every season through his junior year. This let down led Boucher to work and push himself even harder.
He transferred to a smaller high school in hopes of playing a bigger role there and being noticed by colleges to play at the next level. Boucher got his wish and he was named as an All-State selection. He averaged a very respectable 20 points and 7 assists in his senior year of high school.
Despite this, no colleges offered him a scholarship. As a result of this, Boucher walked on at Chemeketa Community College in hopes that he could work his way to earning a scholarship.
Boucher did not end up putting up big stats in college that would get him noticed by NBA scouts.
Although he did not make the jump to the NBA, he did go on to continue living his dream and playing basketball for a living. When the And 1 Mixtape Tour stopped in the nearby city of Portland, Oregon, Boucher brought his brother to spectate the event.
While there, Boucher made the decision that he would do whatever it took to become a part of the And1 crew.
After turning heads at the main game of the And 1event, Boucher was invited to be on an ESPN show called Streetball. While on this show, Boucher once again caught the eye of many fans at home and he was voted in a landslide decision to be kept on the show. It was during his time on Streetball that he was given the nickname "The Professor" as a result of the way that he "schooled" his opponents on the court.
After this big break, Boucher continued on a run with And 1. He also went on to play in over 40 countries and has been featured in 6 seasons of "Streetball" on ESPN, 5 AND 1 Mixtape DVD's, 4 And 1 Commercials and an And 1 Video Game.
His popularity with fans also launched an acting career for The Professor. He was featured in Semi-Pro, Phenom, and Ball Don't Lie. All movies that cast The Professor in roles that allowed him to do what he loved on the big screen.
Later on, he became a social media superstar. His videos of going to local courts dressed up in various characters costumes amassed him millions of views and followers on multiple social media platforms. The final major accomplishment that Boucher pulled off during his basketball career was playing overseas along with playing in a semi-pro basketball league.
With all of these on and off the court accomplishments paired with an unmatched work ethic, Why didn't the professor make the NBA. Here is the professor answers top google questions:
Could The Professor have played in the NBA?
What it Takes to Play in the NBA?
Before diving into if The Professor could have made it to the NBA, we must first break down truly what it takes to make it to the league.
There are countless high school and even college phenoms that did not make the cut. Through the NBA draft, only 60 players in the entire world earn the privilege of having their name called to go on stage and become a member of one of the most selective professional sports leagues in the world.
Skillset
The Professor is currently 36 years old. If he was drafted after his final year of college, he would have been a part of the 2006 NBA draft class. This is an era of basketball in which iso ball, the midrange shot, and defense were the keys to success. There are a handful of requirements that it took to be a successful point guard in this era.
Size
The first requirement of a point guard in the early 2000s is to be around 6'0" at least and built enough to defend against the bigger guards of the era. While there were some exceptions to this rule, they were few and far between. With point guards like Jason Kidd and Gilbert Arenas being some of the best at their position during this era, being tall and strong enough to defend them is a requirement.
Along with this, smaller guards would have been heavily targeted in the pick and roll. The early 2000s were dominated by Shaquille O'Neal along with other dominant centers. If a team had a point guard that was too small and had no hope of stopping paint dominant centers, they would give up an almost guaranteed basket every single time down the court.
Also Read:
Playstyle
Lastly, his playstyle would get him automatically benched in this era. While it was a time in basketball that was dominated by isolation, only certain players had the green light to play iso ball. Oftentimes, these were the star players like Kobe Bryant and Allen Iverson.
Role players in this era were simply there to watch the star players play offense and to pass them the ball. Unless you were a star in the early 2000s, being ball dominant or isolation heavy would give you a one way ticket to the bench.
Why The Professor Could Play in the NBA?
If The Professor would have caught one or two more breaks during his life, there is a chance that he could have made the NBA. If he was given the chance to play varsity basketball in high school earlier in his career or got a shot at a bigger school than Chemeketa Community College, if the right person saw him play, he could have made it to the league.
Considering the ridiculous averages that he put up in his senior year of high school along with the insane work ethic that Boucher was described to have, it is possible that he could have made the NBA if that was what he solely set his mind to rather than going the route of trying out for And 1. By no means would he be a star player, if he were to have made the NBA, he would have been a role player. However, that is still an amazing accomplishment.
Boucher would have been one of the smaller players in the league during his time of playing. He has been listed from various sources as either 5'6" or 5'9". Using the generous listing of his height and weight, he is listed as 5'9" and 155 lbs.
The closest player to this build that had a successful career in the NBA was Isaiah Thomas. Thomas was listed at 5'9" and 185 lbs. If he were in an NBA weight room, it is not a long shot to believe that Boucher would have been able to add 30 lbs of muscle to make him stronger and more durable for the NBA.
Considering the playstyle that he had, if he were in the NBA, The Professor would likely have been the second coming of Jason Williams. Both players were flashy players with a pass first playstyle. Along with this, both have outstanding handles along with the ability to make circus passes that put them both on a handful of highlight films.
Why The Professor Could not Play in the NBA?
While there is a case to be made as to why The Professor could have made it to the NBA, it is much easier to make an argument as to why he could not have made it in the NBA.
The first and biggest reason as to why is that while his skillset makes streetball players look silly and makes them easy to score on, those same moves do not work on professional athletes in the NBA. There are plenty of clips of streetball legends trying their best moves on NBA superstars and almost every time they are clamped up by the pros.
Along with this, Boucher does not have the build and God given ability or frame to make it in the NBA. While it is possible to make it to the league with his frame, it is extremely unlikely.
When looking at small players like Isaiah Thomas, Nate Robinson, and Spud Webb, they all have one major thing in common that The Professor is lacking. That being incredible athleticism, a very quick first step, and the ability to contort their bodies to be crafty finishers around the rim.
Secondly, although the story of The Professor is a very inspiring one, it shows exactly why he would not be able to play in the NBA. Although he is by all accounts a hard worker and a gym rat, that can only get you so far.
Despite working his tail off, he was not given the role that he thought he deserved in high school, he was not given any scholarship offers coming out of high school even after having a remarkable season, and he was not drafted or signed to the NBA after graduating from college.
Lastly, when looking at his stats in semi pro leagues, it is clear that he is not talented enough to make it in the NBA. When playing with the Atlanta Krunk, The Professor averaged a rather disappointing 4.5 points, 0.8 rebounds, and 2.3 assists per game that he played with the team in the 2007 season.
This would have been his rookie season in the NBA if he made the jump to the league after his senior season of college. If these are the numbers that he put up against nonprofessionals, it is safe to say that he would not have seen the floor in the NBA.
Conclusion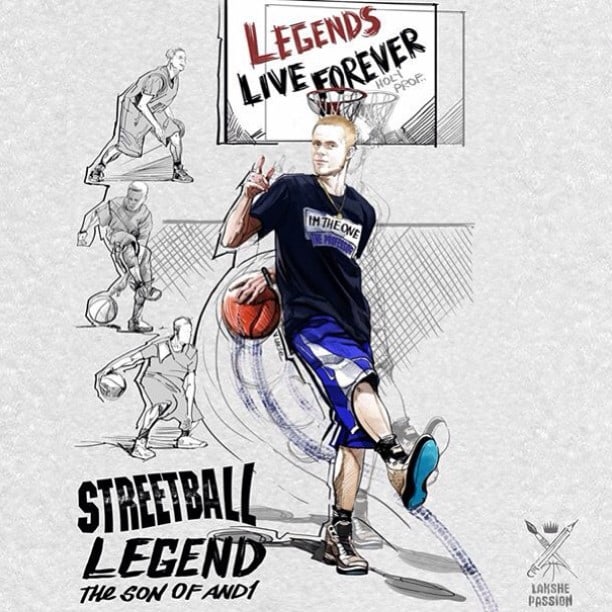 In conclusion, if it were something that he set his mind to and solely focused on his entire life, Chris Boucher may have been able to make it to the NBA. If he were able to catch a few more breaks in life like getting more time to shine in high school or the right person seeing him play in high school or college, he may have been able to play in the NBA.
However, given his build and style of play, he would not be able to play in the league.
Dispute this, The Professor achieved his dreams and was able to play a sport that he loved for his entire life for a career. It led to him being featured on TV shows, playing basketball overseas, being featured in a handful of movies, and becoming a social media superstar.
ALSO READ: