Shaquille O'Neal is one of the most popular basketball players ever to grace the court. Even years after his retirement, he is still the topic of conversations amongst basketball lovers everywhere, and it's not hard to see why. During his Legendary run, he was a Lakers legend winning four championships and many other personal accolades in his run.
His career outside the court has been very successful, making him one of the wealthiest retired basketball players because of his ownership of many businesses. He works as a DJ using the moniker 'DJ Diesel', and he works as a presenter for TNT. But how many businesses does Shaq own?
Shaquille O'Neal owns a diverse list of over 50 businesses. His investments include brands like Rings, Vitaminwater and Lyft. Also, he owns 150 car washes, 40 24-hour fitness centres, Big Chicken, a shopping centre, a movie theatre, and several Las Vegas nightclubs. He is also part owner of several medium to large-sized commercial companies.
Check out this article below for a full breakdown of Shaq's businesses, his net worth and how much he made in his NBA career.
What Does Shaq Own: All Businesses Owned By the NBA Legend
After his basketball career, Shaq bagged several endorsement deals from different brands and companies. He has also explained on talk shows that owning brands is his main business, and he has accumulated quite a number over the years. Check out all the businesses that Shaquille O'Neal owns below:
Papa Johns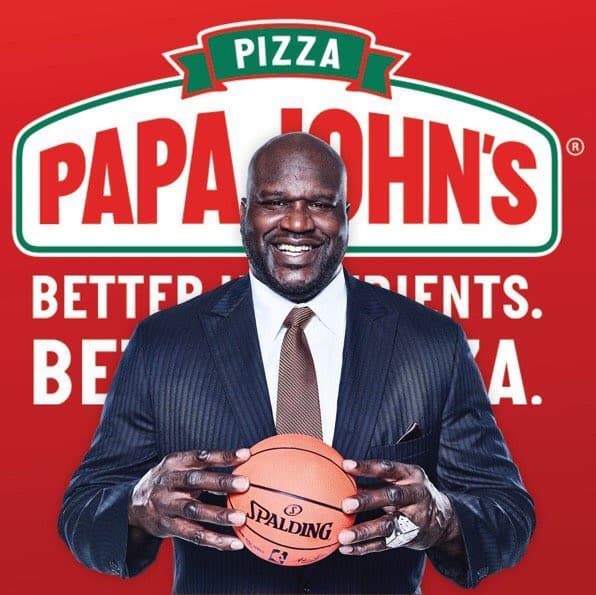 The Papa John's franchise is on the list of one of Shaq's many investments. In 2019, he joined the brand as an investor and board member. In three years, Papa John's announced that Shaq would receive $8.5 million due to his deal with them. As a result, Papa John's had the right to use his voice, name, pseudonym and photographs in their advertisement campaigns for $8.5 million. What is notable about this deal is that Shaq only requested half of the amount in cash.
After that, he joined the company as an investor and board member, investing about $840,000 in 9 restaurants across Atlanta. When they published the news of their deal with Shaq, their network shares increased by about 5%.
Five Guys
You probably already knew that Shaq owns Five Guys franchises, as they're one of the most publicized investments he has entered. But did you know that he owns 155 locations? Just by the number of locations he owns, Shaq owns more than 10% of the company's entire franchises, which generate a lot of profit for him. In a talk with CNBC, Shaq has said that the burger business has been good to him and not just the perks of having access to free food.
However, some reports state that he may have sold his stake in the Five Guys restaurants.
Auntie Anne's
It seems like Shaq has a knack for investing in many fast-food franchises. Another notable franchise Shaq made investments in is Auntie Anne's. He owns at least 17 of their stands across America. You will find 8 of these in Buffalo, NY and nine located across areas in Michigan.
Krispy Kreme
Shaq has described himself as the ultimate Krispy Kreme fan, and TMZ reports that he plans to own 100 Krispy Kreme outlets. Presently, he owns just one outlet in Atlanta, which has an estimated investment value of $2,750,000, and he is actively looking to expand his doughnut business.
Big Chicken
Apart from investing or having part ownership in other restaurant chains, Shaq also has a restaurant of his own – Big Chicken. Shaq founded this restaurant in 2018 with a team of partners – JRS Hospitality and Authentic Brands Group.
He announced last month, in April 2022, that the brand is planning a move into the four largest markets in Texas massively. He has signed a multiunit development agreement which allows a Texas-based owner/operator to bring Big Chicken to San Antonio, Houston, Austin, and Dallas. These cities are four of the top 11 markets by population in America.
Fitness Centers
We don't have the full names of all Shaq's fitness centres, but we know there are up to 40 24-hour fitness locations. These gyms aren't your run-of-the-mill setup, as Shaq put his personal touch into all of the gyms to give them a unique look.
CityPlex12
Shaq has also made a foray into the movie industry. He bought a CityPlex12 movie theatre in his hometown – Newark, NJ, in 2012. He's made significant renovations to the building since he purchased it, and business has been exciting. Even though this might have been a sentimental investment, it has paid off.
Car Washes
Car washes are probably the establishment where Shaq has the most locations, and it is one of the first businesses he made investments in. He owns about 150 car washes across America.
Google Stocks
Shaq has told how he invested in Google on numerous occasions. When Shaq first got to LA in the late 90s, he checked into the Four-Season Hotel. He was babysitting a child in the lobby that was waiting for his dad to finish a business meeting.
After the meeting, the man spoke to him about Google and urged him to invest. Shaq invested in 2004 when Google went public at $75/share. Today Google stocks are worth about $1200/share, and even though it is unclear how many stocks Shaq initially bought, he did say he made a sizable return. Like everyone who had Google stocks, Shaq says his only regret was not buying more of the stocks.
Sacramento Kings
Even though he rarely talks about it, Shaq owns a stake in the Sacramento Kings. He has held a minority stake since his playing career, and it is unknown to what extent or the value of the stake. However, estimates place his stake in the Sacramento Kings as about 2-4%. We assume he doesn't talk about his stake in the Sacramento Kings because of his job as an NBA TV analyst.
Note: On Jan 13, 2022, Shaquille O'Neal announced on social media that he has officially sold his interest in Sacramento Kings.
Real Estate
Many athletes have found investing in real estate profitable, and Shaq is no exception. He has stakes in residential and commercial properties all over. In 2006, the former basketball star created The O'Neal Group, which has a fantastic portfolio. The first project he invested in through the O'Neal Group was The Met Miami. This is a residential high-rise building with over 1,000 units and is about 866 feet tall.
Authentic Brands
Shaq has held shares in Authentic Brand Group (ABG) since 2015 in a deal where he sold his name rights to the company so they could use it in advertisements and other promotional material. He is the second-largest individual shareholder in Authentic Brands Group. You might know ABG from brands like Barneys New York, Forever 21, JCPenney, etc.
Reebok
Reebok has partnered with Shaq for many years, and he was one of the earliest ambassadors of the brand. Just about when Authentic Brands Group wanted to purchase Reebok, they renewed their relationship with Shaq. As we explained above, Shaq also has a long-standing relationship with Authentic Brands Group.
Shaq's partnership with Reebok goes as far back as 1992 when he signed a multi-year deal worth approximately $15 million. Through this partnership, he launched the wildly popular Reebok Shaq Attaq. Recently, he has talked about his desire to purchase Reebok through his ABG partnership.
Buick
One of Shaq's most hilarious endorsements is his collaboration with Buick, which aired in 2012 on national TV. This relationship was perhaps due to his role as a genie in the film Kazaam which helped him get a couple of endorsements, including this one for Buick.
The commercial was supposed to show that the Buick LaCrosse had a spacious interior compared to other hybrids. However, it was apparent that Shaq couldn't fit inside the vehicle and the footage of him in it was hilarious. His legs looked seriously clamped, and it was a claustrophobic position.
Sneakers
Walmart produces shoes for Shaq that have sold over 120 million pairs. His shoe brand started in the 90s, and they weren't received as favourably as expected despite how big Shaquille O'Neal was. Shaq has famously said it was an interaction with a fan that pushed him to create his shoe brand.
A mother confronted him and said it was a shame that NBA players only endorsed sneakers that were $150 and higher. So, Shaq took this to heart and decided to make a change asking his team to make the shoes affordable without losing any comfort or style.
A significant part of his shoes was the marketing which Shaq handled himself. At intervals, Shaq uncovered a couple of funny accessories for the public's and celebrities' amusement, which gradually built the brand's popularity.
Forest Road Acquisition
Some of his most recent investments include Forest Road Acquisition and Beachbody & Myx Fitness merger. The combined company had a value of about $3 billion after the merger. Even though Shaq was just a strategic advisor, according to the information put out, there is a high chance he owns a share knowing his business acumen. It is also not improbable that his public brand will help push the company's value higher.
Majority
Shaq is a co-founder of an ad agency with a focus on Diversity. The CEO is Omid Farhang, the former chief creative of Momentum Worldwide. Shaq is taking an active role in the company with the following quote released to the public: "Most agencies still struggle to meet a 25% diversity target; we want to flip that diversity ratio to turn the minority into the majority." This business aligns with his roots of high-tech fitness kits and promoting Diversity.
How Much Did Shaq Make in His NBA Career?
Shaq had a successful run in the NBA, and he was one of the most successful players of his time. When Shaq retired from the NBA, he had made over $292 million across six teams, if you're counting his salary from basketball. Investments and several endorsement deals brought in an extra $220 million at the end of his NBA career.
Also Read:
Shaq's Net Worth
After the numerous great investments we have listed above, Shaquille O'Neal's net worth is approximately $400 million. Finance estimates place his yearly earnings as around $60 million, which has consistently increased. We fully expect that his net worth will increase in the coming years as Shaq hasn't stopped making investments.
Related Read: What Does Michael Jordan Own?
Conclusion
As you can see above, Shaq owns many businesses and investments across several fields and industries, and it doesn't seem like he plans to slow down anytime soon.
Shaq has established himself as a business mogul and has carefully invested the money he spent from his days on the court. He also has a show called Shaq Life, a reality TV show narrated by Samuel L. Jackson that focuses on his life.