It is crucial for a basketballer to have outdoor and indoor basketball shoes since playing on a concrete surface and hardwood floors is completely different. Any pro baller, or any basketball player for that matter, can tell you why you need specialized shoes for playing ball on concrete or asphalt.
Concrete surfaces outdoor are harder and not very flexible which means they will harder on your feet and shoes than hardwood floors. With this in mind, basketball shoes manufacturers such as Adidas and Nike have invested in making specialized outdoor basketball shoes that are more durable and come with extra support and cushioning.
We will take a look at the best outdoor basketball shoes in the market. Our list is in terms of durability and affordability to give you the best of both worlds. Keep in mind that there are tons of multi-purpose shoes you can use to play basketball outdoors but having a specifically made outdoor basketball shoe can increase your game and make it easy on your legs.
Best Outdoor Basketball Shoes: Quick Summary
What You Should Consider When Buying Outdoor Basketball Shoes
You should first know what you need to consider before getting a new pair of outdoor basketball shoes. These factors listed below will help you know which outdoor shoes are fit for your court and which ones you should not get for long term use. Moreover, these considerations vary from the considerations you will need for indoor basketball shoes, bear that in mind when you decide to get the indoor shoes.
Shoe Material
The shoe material contributes to the breathability, comfort, and stability of your basketball shoe. Synthetic materials are the most popular today since they provide the most benefits when compared to materials like leather. However, great basketball shoes opt to combine both leather and synthetic material in order to maximize the benefits of both substances.
Traction Pattern
Deep grooves on the sole patterns are essential for heavy grip on the concrete outdoor courts. You do not want to get an outdoor basketball shoe with shallow grooves since the pattern will wear out quickly. Additionally, narrow traction patterns will accumulate a lot of dirt from the court and have less grip which is not ideal for any player.
Cushion
Basketball shoes will give you soar legs if they do not have enough cushioning that is befitting your weight and usage. Indoor hardwood floors do not require you to get shoes with thick cushions since there is less stress on your legs.
Outsole Durability
Shoes with rubber outsole tend to last longer due to their thick and solid construction. Thin rubber outsole will not last nearly as long as thick ones but they are lighter, thus providing less weight and more performance.
Weight
All basketball shoes are made to be as lightweight as possible while providing the most comfort, durability, and performance. However, a shoe's weight can be higher depending on your performance and strength.
Pick a shoe with a light enough weight so that you do not use more energy to lift your foot from the ground. A heavy shoe will get you tired quickly since you will be doing more work. This will add to your competitive advantage and lessen your chances of getting fatigued quicker than other players.
Price
Basketball shoes, whether indoor or outdoor shoes, are not meant to last very long, especially if you use them at least 5 times a week. You may find yourself needing a new pair every month or owning multiple pairs to ensure they don't get worn out faster.
Price is a big determiner when it comes to buying basketball shoes. Look for affordable options that have the most durability features to avoid spending more than you need.
Top 10 Outdoor Basketball Shoes
1. Nike Lebron 19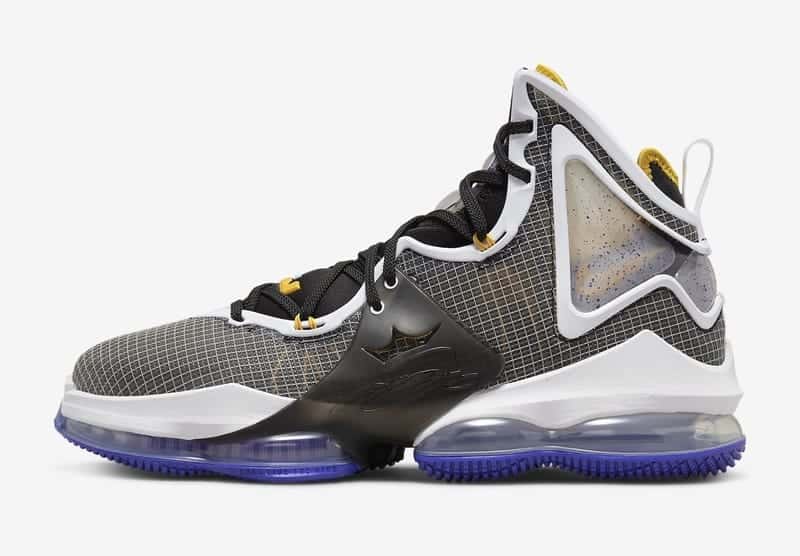 Features:
Material – HyperPosite, TPU, and Mesh
Sole – Dynamic Flywire and TPU
Weight – 454 g/1 pound
The Nike Lebron 19 is the perfect shoe for centers who want a heavy shoe that is also a tight fit. This shoe tops our list because of its versatility and overall performance enhancements that make it the best choice for outdoor use.
The Nike Lebron 19 is a relatively heavy shoe, it comes with a sole that is rigid and the middle part of the sole is made of plastic which adds to less flexibility. The air units and the shoe in general will need some break in but it will become bouncier and more comfortable over time.
The traction pattern consists of hex pods that cover the entire outsole and have large bars acting like herringbone tractions. The grooves are thin but not so thin that you will get dust and debris in them on a moderately dusty outside court. The zoom unit in this shoe is bouncy and quite responsive with every stride you make.
The sole has the Dynamite Flywire that gives you comfort and lockdown support. The TPU material is applied in various areas on the surface of the shoe which means you will have zero stretchability. The good part is that you have enough room between the TPU elements to avoid losing balance on hard cuts or when changing direction.
The shoes fit well with a little bit of room for your toes. The base is wide and very stable with enough room for flexing and mobility.
What customers and reviewers say:
"The cushioning setup is great without sacrificing the impact protection. It is fairly heavy but great for a sturdy stance and long periods of use" – Markches
"The Nike Lebron 19 are a great pick for those who want extra cushioning. The style may not be for every one but the impact protection makes you overlook that." – Soled out reviews
"Nike Lebron 19 are very fun to wear and have a unique style that will impress most basketball fans. The bounce is enough and the cushioning is fantastic. The weight may be too much and the traction is a bit lacking for its standards." – The Sole Brothers
2. Adidas Men's Dame 8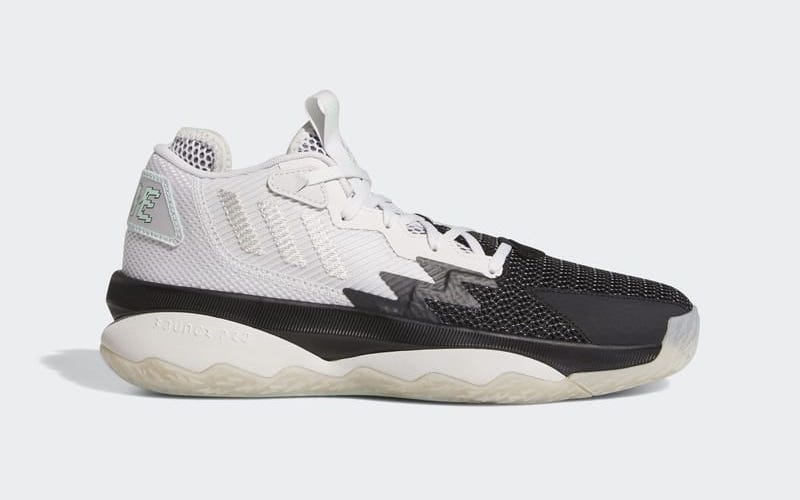 Features:
Material – 2 upper options: Full leather(synthetic) and Mesh-Suede combo
Sole – Rubber
Weight – 361 grams
Talk of affordable and a higher performer and you will have the Adidas Men's Dame 8 on top of your mind. This outdoor basketball shoe comes with the Dame style that is known for fast and low design. The herringbone traction pattern is well implemented from the heel to the toe with thick patterns that are largely spaced. Dust and debris on the court will have a hard time sticking to the sole because of this.
The Dame 8 carries similar features plus improvements to the Dame 5, 6, and 7. One of the similarities is the full-length Bounce Pro cushion that offers a highly responsive experience. The bounce cushioning has served the line well since it offers great impact protection and energy return.
New customers are advised to try the shoes first in the store since the size fit is dependent on the wearer. There is thermo polyurethan panel that helps keep the foot in place from both side of the shoes. This material enhances the support of the shoe and you will not worry about foot slippage in one of these.
What customers and reviewers say:
"The shoes are not for those who have narrow or want lots of traction. The Dame 8 basketball shoes are dependable and suitable for those who have wide feet, are Damian Lillard fans, and want to play on clean courts whether indoors or outdoors." – RunRepeat
"The Adidas Dame 8 are may be the best-looking shoes in the Dame line up. The Bounce Pro cushioning is revolutionary which adds more potential to the wearer." – Weartesters
3. Nike Lebron Soldier 14 SFG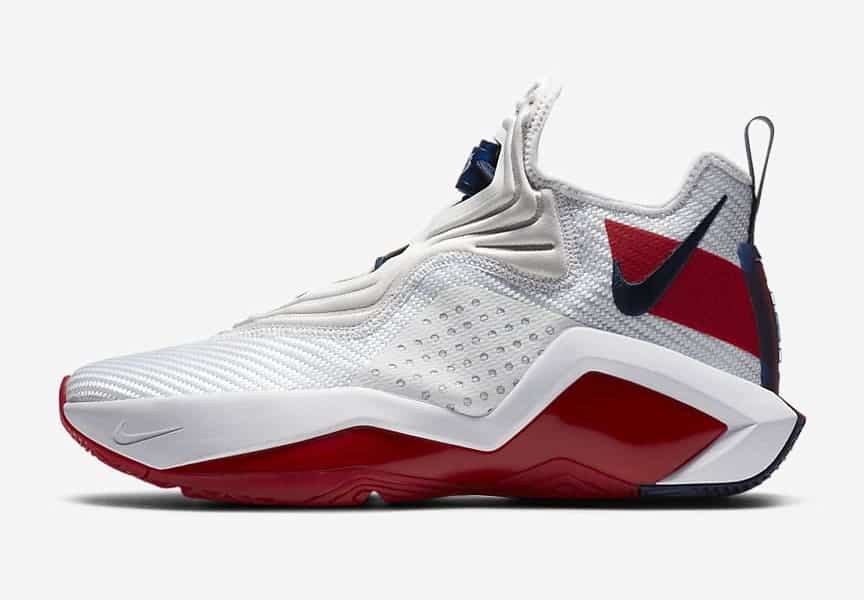 Features:
Durable woven material in forefoot
Gelled swoosh design
Laces with toggle
Padded collar
Colorways – white/team red/midnight navy/university red
The Nike Lebron Soldier 14 is the latest addition to the Lebron Soldier line up from Nike. It comes with Zoom Air cushioning that is very popular among users who want responsive and springy basketball shoes. This is the sneaker for you if you are looking to make quick runs, jumps, and reversals.
The standout feature of this shoe is the Lebron signature and the lace less enclosure with adjustable lock straps. The traction of this outdoor basketball shoe is as expected with the herringbone outsole. The rubber sole has wide gaps that won't trap debris when playing outside.
What customers and reviewers say:
"The traction is pretty well done but needs some break in due to the stiff heel cushion." – The Hoops Geek
"Nike Lebron Soldier 14 is a great performing shoe in terms of adequate traction, the grip is amazing, and the cushioning is to die for." – Markches
"Lebron Soldier 14 are great for bigger players but we do not recommend them for guards. The cushioning is fantastic and the design is one of the most stylish in the market today." – The Sole Brothers
4. Nike KD 14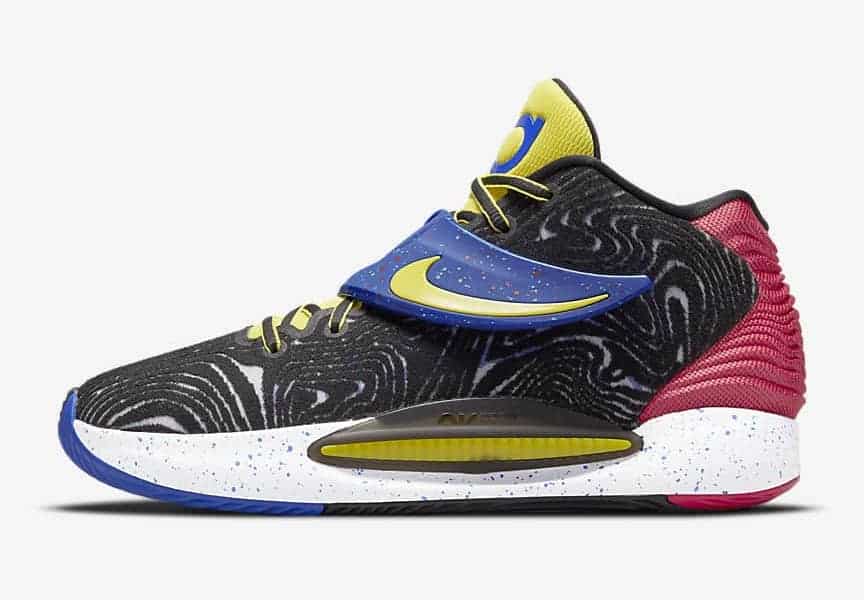 Features:
Hook and loop strap wraps
Full-length air zoom Strobel
Multilayer mesh and midfoot strap
The Nike KD 14 takes over the amazing legacy of the Nike KD 13. These shoes are considered one of the best outdoor performers with the comfortable full-length cushioning, and amazing traction from the herringbone traction patterns. One thing that may bring it down is the material which isn't so premium for a fourteenth edition Kevin Durant shoe. Despite the material quality, the shoe is lightweight and thin to provide more power to the wearer.
The full length Zoom Strobel is perfect for cushioning your feet on the hard concrete floors outside. The colorways include white/obsidian/sport red, black/white/wolf grey, white/black, university red/black/white, and arctic pink/blue void/light Orewood/brown.
What customers and reviewers say:
"Great basketball shoes, especially if you have long narrow feet." – Verified Customer, Nike.com
"Hands down my favorite pair of sneakers. The only downside is the hard stock insole that you may want to remove if you are going to casually wear it. The colors are amazing and the glow in the dark feature was a great surprise to me." – Verified Customer, Nike.com
5. Adidas Men's Dame 7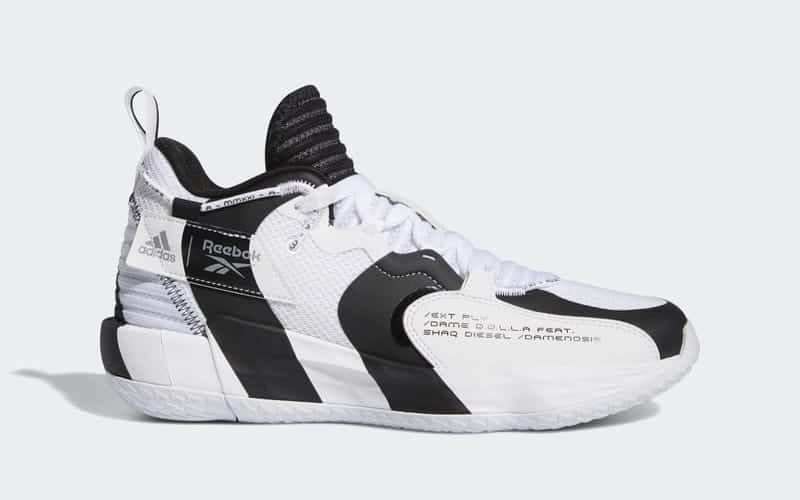 Features:
Material – 100% Synthetic
Sole – Synthetic
Weight – 2.14 pounds
Dimensions – 13.07 x 8.86 x 5 inches
We have talked about the Dame 8 but we had to include the predecessors, the Dame 7 which set the stage for Dame 8's success. The colors for the Adidas Dame 7 include collegiate Navy-silver metallic, white-silver Metallic-core Black, solar red, glory purple-white, solar green white, and core black-silver metallic.
This Damian Lillard inspired shoe comes with solid traction for both outdoor and indoor use cases. The outsole is very durable with a tough traction pattern that will keep you grounded. The cushion type is the Lightstrike which was upgraded from the one in Dame 6 to provide better responsiveness and springy court feel. The upper mesh material is ventilated well and is tough to give you the best performance.
What customers and reviewers say:
"The $110 price point of the Dame 7 is a steal. You will not be disappointed with this pick considering it's a Damian Lillard favorite." – RicheeKim
"Love these sneakers they are sharp looking and fit well. You will get noticed a lot since they stand out." – Verified customer, Adidas.com
"I really loved playing with the Dame 7. They are great performers and any player of any position can use them." – The Sole Brothers
6. Nike Kyrie 7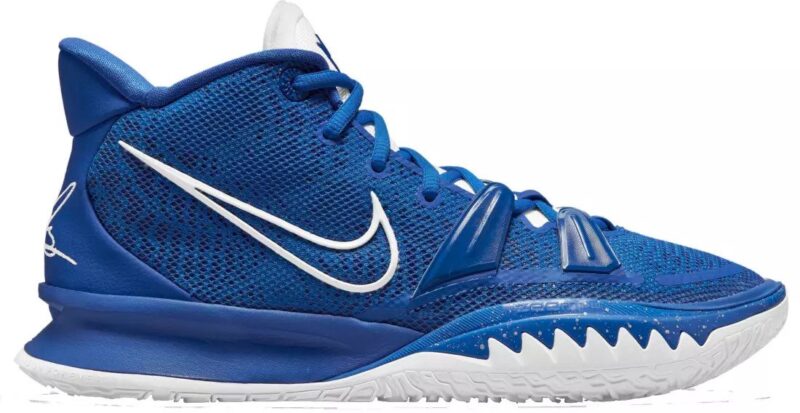 Features:
Material – Synthetic
Sole – Rubber
Lace-up lockdown
Weight – 340 grams
13 colorways available
Has ankle support
The Nike kyrie 7 comes with laces with adjustable straps for better foot stability. It has a collar that is padded for maximum comfort. There is also a heel counter lock that provides better alignment of the ankle to the foot. This is important because it helps you make hard cuts without using a lot of energy and power.
The sole rubber is soft, supportive, and lightweight enough to give you that speed you need at the court. Moreover, Nike Kyrie 7 comes with multi-angle blade patterns on the outsole to give better traction on the field and prevent picking up dust.
Overall, the Kyrie 7 is an all-round performer that is very fashionable with its many color options that include black/black, black/black/university red, black/white-soar-dynamic Yellow, black, midnight Navy/Laser Crimson-psychic blue, oracle aqua/black-opti yellow, and black/soar/dynamic yellow/white, etc.
What customers and reviewers say:
"The Kyrie 7 are fit for those looking for a responsive shoe that feels light and has ankle support. It is a durable shoe that will last without feeling heavy." – RunRepeat
"Kyrie 7 upholds the legacy of the previous Kyrie shoes. It is a great performer with consistent traction, and responsive cushioning." – PureKicks
"I like the Kyrie 7 as the upgrade from the Kyrie 6 is very evident especially with the traction. It's a great overall performer." – The Sole Brothers
7. Adidas D Rose 11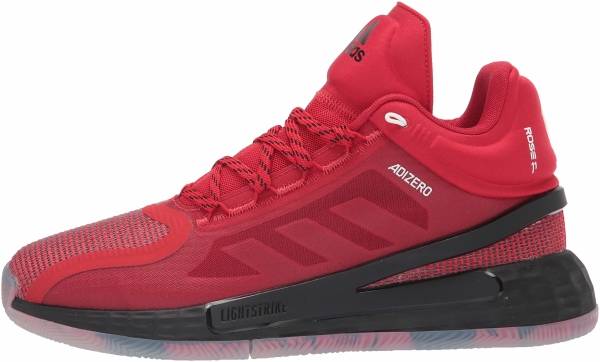 Features:
Lightstrike midsole
Light B-ball shoes for D-Rose fans
Adizero textile upper
Rubber outsole
Extended heel counter
The D Rose 11 are the latest 2022 addition to the signature shoes from the youngest MVP in history. The 11s blend the style and speed of Adidas shoes with a combination of a lightweight design. The upper is made of superlight Adizero to keep your sprints up during those fast dashes.
The light strike cushioning is superlight with traction that will improve your explosive motions. The stability of the D Rose 11 is superb due to its wide base and extended heel counter. The colorways are noteworthy because of their tribute to special players and events in Derrick Rose's life.
What customers and reviewers say:
"The $120 price point is sweet for the D Rose 11. They are improvement on the 10s and you will not be disappointed with them unless you have smaller feet than average." – RicheeKim
"D Rose 11 are great for players with big wide feet. The traction and cushion are excellent for outdoor use." – The Sole Brothers
8. Under Armor Men's Lockdown 5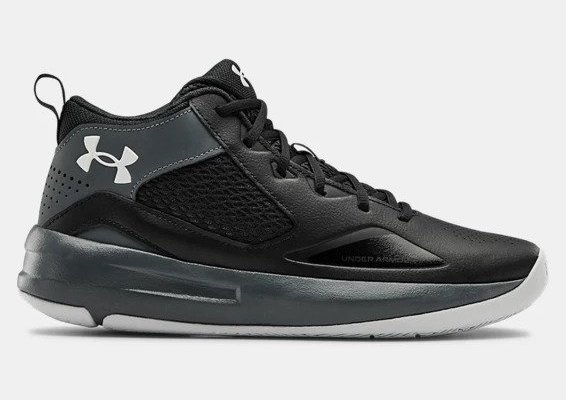 Features:
Plush sockliner
Breathable mess upper with synthetic overlays
Anti-odor technology
TPU film toe cap
Engineered perforations for ventilation
Durable solid rubber outsole
Air mesh tongue for breathability
The Under Armor Lockdown 5 are made of 100% synthetic leather that is perforated to provide a breathable feel when you are playing. The shoe fits perfectly on each size but some may find it too narrow which may lead to swelling of the feet after hours of playing. Despite that, the shoe is responsive and fast on the court.
The rubber sole has multi-level adaptive traction that gives the shoe impeccable traction on the court during control and movements. Moreover, it is super lightweight at just 0.769 pounds which makes it an ideal choice for those who want outdoor basketball shoes that can help them make those fast moves.
What customers and reviewers say:
"The grip is amazing and perfect for hard concrete courts. Its comfortable for every day use and supportive – after all it is a lockdown. The only reasons not to buy it is the narrow design and the minimal cushioning that offers minimal impact protection" – RunRepeat
"Lockdown 5 are very comfortable and the color choices are excellent." – Amazon Customer
"They are comfy and support my ankles. The material is comparable to the puma trainers which makes them a buck for the buck." – Amazon Customer
9. Under Armor Curry Flow 9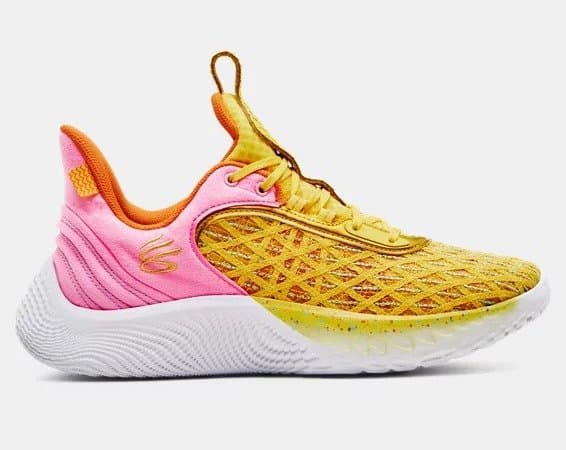 Features:
Material – Synthetic Leather and Fully Knit mesh
Sole – Rubber
Weight – 0.75 pounds
Rubber less UA flow
UA Warp upper
TPE blend sock liner
This Stephen Curry inspired shoe brings to the table much needed features like a breathable upper mesh that is fully knit, lightweight directional strength, heel counter for more support, and split outsole pattern for more contact and traction.
The Curry Flow 9 are the type of shoes you can wear for over 10 hours a day and not feel any sort of discomfort. They are a size fit, lightweight, and well built for explosive runs.
What customers and reviewers say:
"The cushioning setup provides enough impact protection and you can easily use them for hours on the court – whether outside or indoors." – RicheeKim
"The traction performs great and the pattern is identical to the Curry 8. It continues to uplift the legacy of the Curry line with its great traction and bouncy responsiveness." – The Sole Brothers
10. Nike Mamba Rage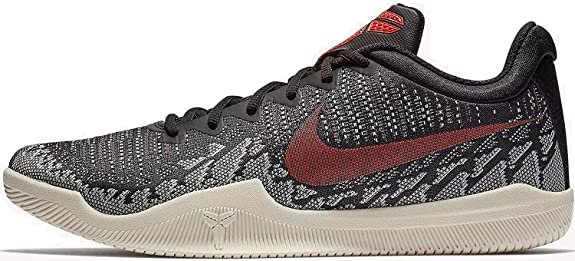 Features:
Material – Synthetic
Sole – Rubber
Weight – 15 pounds
Dimensions – 39 x 4.72 x 9.06 inches
Kobe Bryant will forever be remembered as one of the court's legends of all time. Nike is keeping his legacy alive with the Nike Mamba rage specifically designed for outdoor basketball courts. It is the shoe you need for those rough concrete surfaces outside.
The mesh upper comes from a Fly weave which provides sufficient balance and support. It is well breathable so that you do not experience any excessive sweating after hours of use. The Mamba rage has micro-tread traction that keeps you grounded and makes lateral moves much easier.
The low-top design and the low-arch distance in the Mamba range makes it easier for players to speed aggressively while keeping the ankles safe.
What customers and reviewers say:
"They are a bit narrow for people with big feet. However, the design is great and the solid rubber has great traction on the outsider court. They are very cool but beware they may feel uncomfortable." – Amazon Customer.
"The Mamba Rage were a great purchase for me. They are very beautiful looking. I bought them in honor of Kobe Bryant and love how comfortable they feel on my feet. They are amazing for everyday use even when running on concrete." – Amazon Customer
Also Read:

7 Best Under Armour Basketball Shoes (2021 Updated)
8 Best Jordans for Wide Feet
Frequently Asked Questions
1. Is it OK to wear basketball shoes outside?
Indoor basketball shoes are not meant to be used outdoor. Ensure you get an outdoor pair in case you want to use it outside. Indoor basketball shoes will lose their color and grip faster on outside environments since they are made specifically for hardwood floors indoors, far away from exposure to the elements.
2. Are Kyrie shoes good for outdoor?
The Kyrie brand is infamous for making amazing traction patterns on their shoes. The patterns are usually multidirectional and are efficient for both outdoor and indoor use cases. Kyrie shoes are good for outdoor because of their traction and can be safely used on the concrete surfaces without any worries.
3. What are some of the tips on making a basketball shoe more durable?
Basketball shoes are made to be lightweight which means they do not tend to last very long. So, what are the few tips to increase your shoe's lifespan? First you will need to get a higher quality shoe to begin with. Secondly, you will need to have multiple basketball shoes to alternate with. This will decrease the chances that one gets worn quicker than the other.
Dry clean the shoes instead of soaking them in water. Soaking affects the support of the shoe and will eventually deteriorate its structure. Additionally, do not wear indoor basketball shoes while playing outside on the concrete surface.
Storage is also as important as cleaning. Store the shoes in a place where air flows freely to avoid losing the shoe's shape. Lastly, ensure you buy a basketball shoe that fits your feet perfectly.
4. What is the importance of breaking-in a basketball shoe?
The break-in process is when you wear the basketball shoe for quite sometime before you take it to the court. The process allows your feet to be well moulded into the shoe to provide a comfortable and free feel. To break-in a shoe, all you will need to do is wear it regularly when taking walks or working out. You will start to feel the shoe getting comfier, that is when the break-in is done.
5. How long does a typical basketball shoe last?
The time it takes to wear out a basketball shoe depends on various factors such as the wearability conditions of the player, indoor or outdoor usage, and the type of shoe you have. According to the NBA, players will rarely use the same basketball shoe for more than 20 games before getting a different pair. In fact, players will usually go through about 50 shoe pairs in one season.
Your shoes will wear off quickly if you use them outdoor compared to indoor usage on hardwood floors. As a general rule, it is recommended you buy new basketball shoes every month if you play ball at least 5 to 6 times in one week.