Basketball is a fast-paced game and referees clock three to five miles of running per game. This means that a referee's shoes are one of the most important aspects of their uniform. To stay on their feet for hours at a time, referees need comfortable shoes with superior cushioning. Fortunately, there is a wide range of referee shoes available. But what exactly makes the best basketball referee shoes?
Top 10 Best Basketball Referee Shoes
If you are looking for a great shoe to make your job a lot easier, it is important to pay attention to the details. Lightweight design, breathability, and cushioning are just some of the features you need to look out for. Our top ten recommendations for the best basketball referee shoes meet all these criteria and more.
1. Reebok Zig Energy Ref Mens Basketball Shoe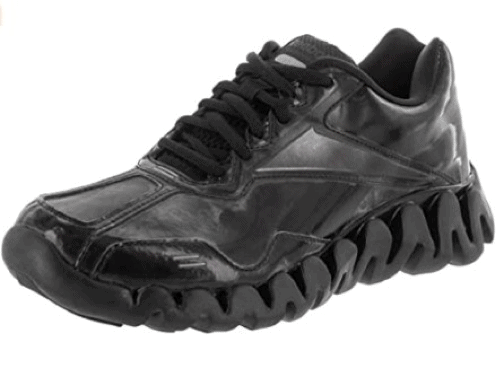 The enhanced comfort and superior cushioning of the Zig Energy are ideal for referees who spend long hours on the court. This shoe is designed to offer comfort by absorbing the impact of the heel and propelling you forward for more bounce.
Key Features:
Designed with a glossy patent leather upper
ZigTech Technology sole that absorbs impact from the heel and provides superior bounce
Synthetic mesh upper and tongue for enhanced breathability and comfort
Comes with an Ortholite foam sock liner that can be replaced with custom orthotics
Pros:
Superior comfort and impact absorption
Zigzag sole reduces strain on leg muscles
Can accommodate custom orthotics
Durable
Cons:
2. Under Armour Charged Assert 8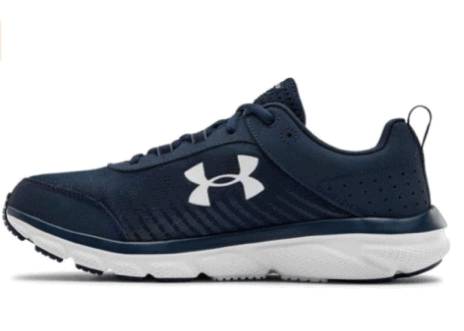 The Under Armour Charged Assert delivers comfort in a lightweight design that will make you feel like you are floating. No matter how much running around you need to do this comfortable shoe will not bog you down.
Key Features:
Ultra-lightweight design at only 9.9 oz.
Made with compression molded foam to provide optimum cushioning for comfort and ease of movement
Comes with a breathable mesh upper
Durable leather overlays for stability & that locks in your midfoot
Designed with Eva sock liner to ensure soft, step-in comfort
Charged cushioning midsole for enhanced responsiveness
Designed with a solid rubber outsole to enhance durability with less weight
Pros:
Comfortable lightweight design
Perfect breathability for enhanced comfort
Great fit
Cons
The mesh upper can break down easily
3. ASICS Men's GT-1000 8 Shoes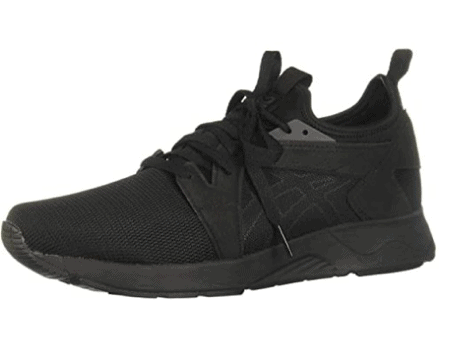 If you are looking for basketball referee shoes with a wide fit, this pair from ASICS is a great choice. The comfortable ASICS GT-1000 comes in an ultra-lightweight design with gel technology for maximum impact absorption.
Key Features:
Made with FlyteFoam Propel technology for extra bounce and enhanced lightweight feel for ease of movement
Comes with a jacquard mesh upper for optimum breathability
A dual-density midsole system positioned to enhance support and stability
Designed with gel technology to provide maximum shock absorption
Comes with an EVA foam sock liner which provides excellent cushioning and bounce
Pros:
Superior impact absorption and cushioning
Ideal for people with wide feet
Great breathability
Lightweight and plenty of bounce for ease of movement
Cons:
4. Nike Men's Air Monarch IV Cross Trainer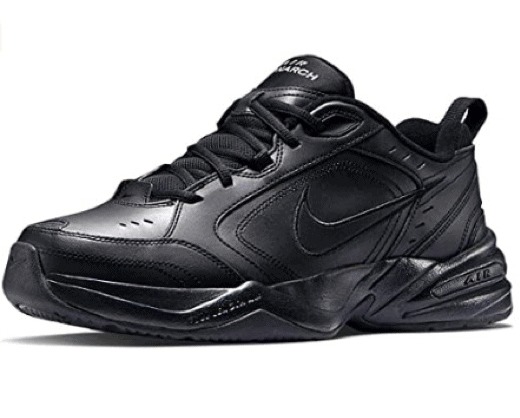 The Air Monarchs are Nike's best-selling model and one of the best basketball referee shoes. Designed for comfort and superior shock absorbency, these shoes are ideal for referees who spend hours on the floor.
Key Features:
Leather upper with overlays for support
Enhanced breathability with perforations for airflow on the leather upper
The midsole is designed with Nike's Air-Sole technology that ensures maximum impact absorption
The midsole of the Air Monarch is made of full-length Phylon for enhanced durability and comfort
The outsole is made of non-marking solid rubber that doesn't leave residue on hardwood
Pros
Great fit even for wide feet
Superior cushioning and impact absorption
Durable
Great traction on a variety of terrain and surfaces
Cons
5. New Balance Men's 623 V3 Casual Comfort Cross Trainer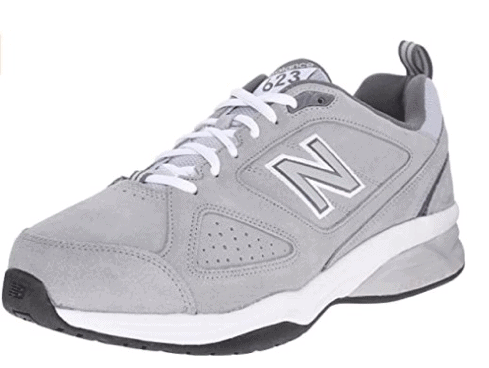 The non-marking outsole of the New Balance 623s makes them ideal for both indoor and outdoor basketball courts. This pair is designed to provide maximum comfort and even comes with removable insoles which you can replace with specialized insoles.
Key features:
Made with 100% leather for quality and durability
Designed with a non-marking rubber sole that does not leave any residue or markings
Comes with a flexible foam midsole made with injection-molded EVA foam
Water-resistant leather uppers that make them ideal for any weather conditions
Comes with superior impact protection and compression resistance for maximum comfort
Pros:
Comfortable and snug fit
Durable leather uppers
Superior traction
Non-marking rubber soles
Removable insoles
Cons:
6. PUMA Men's Cell Regulate Nature Tech Sneaker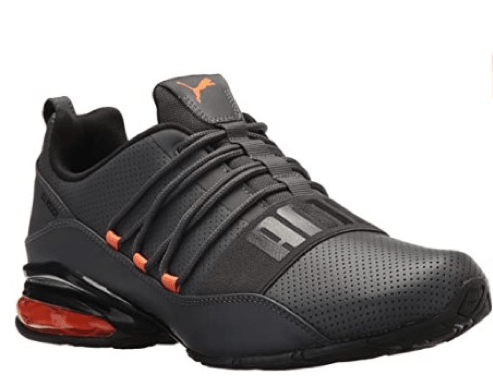 With all the running around that basketball referees do, a pair designed for running is always a good choice. The Puma Cell Regulate sneakers are a lightweight comfortable pair of shoes with great traction for both indoor and outdoor courts.
Key Features:
Designed with EverTrack rubber outsole that ensures maximum traction on a variety of surfaces
The upper is made of breathable mesh which is also soft and flexible for ease of movement
Made with ArchTec midsole for superior cushioning and impact resistance for enhanced comfort
Designed with a Softfoam dual-density footbed that maximizes comfort with superior cushioning
The shaft measures approximately low-top from arch
Pros:
Beautiful design
Enhanced comfort and cushioning
Durable
Cons:
7. Feetmat Men's Non-Slip Gym Sneakers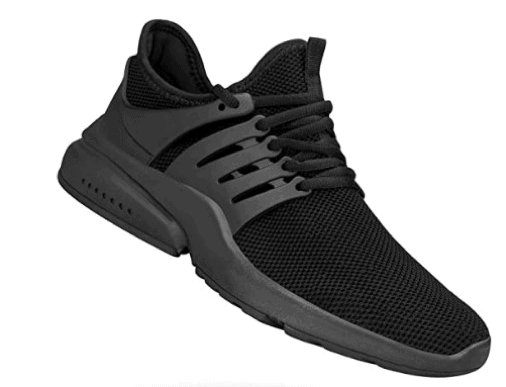 For basketball referees who want a shoe that works both on and off the court, Feetmat's gym sneakers are a great option. These lightweight athletic shoes are designed for maximum comfort while still providing ample impact resistance.
Key Features:
Comes with a rubber outsole which offers impact resistance and ensures great traction on a variety of surfaces.
Designed for maximum safety with a non-slip sole that keeps you on your feet on smooth and uneven surfaces.
Lightweight design for flexibility and ease of movement
Comes with padded comfortable insoles for enhanced cushioning
Made with a breathable upper mesh for comfort even after hours of wear
Pros:
Versatile shoes suited for running, walking, gym and other athletic activities
Comfortable and light feel
Anti-slip soles
Breathable
Great fit
Cons:
Mesh uppers are not very durable
8. Reebok Men's ZigWild Tr 5.0
Reebok's shoes come with superior cushioning and impact resistance which makes them one of the best basketball referee shoes. The extra bounce and superior traction of the zigzag sole make the ZigWild Tr 5.0 makes it a great pair for basketball.
Key Features:
Comes with ZigTech outsole technology which provides great traction and impact absorption
The upper is made of lightweight breathable mesh for enhanced comfort
The ZigTech midsole is designed to distribute energy along the length of the shoe for enhanced cushioning from heel-strike to toe-off
Underfoot cushioning gives support to the midsole area
Comes with a low-cut ankle collar for increased mobility
Pros:
Great bounce and flexibility
Breathable
Removable insoles
Great quality and durability
Cons:
9. Adidas Men's Pro Model 2g Low Basketball Shoe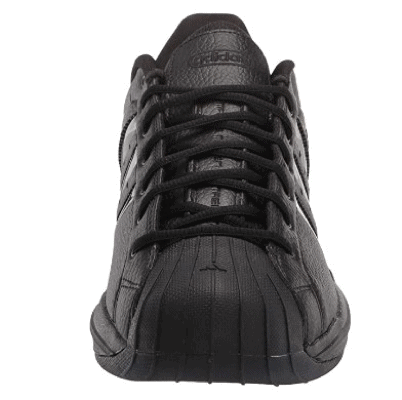 This versatile basketball shoe from Adidas works for both players and referees. The innovative design delivers a comfortable fit that ensures comfort and superior cushioning even after hours of wear.
Key Features:
Comes with a thick rubber sole for maximum impact absorption and enhanced traction
Superior cushioning to ensure comfort and ease of movement
Lightweight material with breathable uppers ideal.
High quality and durable design
Pros:
Snug comfortable fit
Durable
Versatile and work for any number of sports
Cons:
Tight fit that may be uncomfortable for wide feet
10. TSLA Men's Sports Running Shoes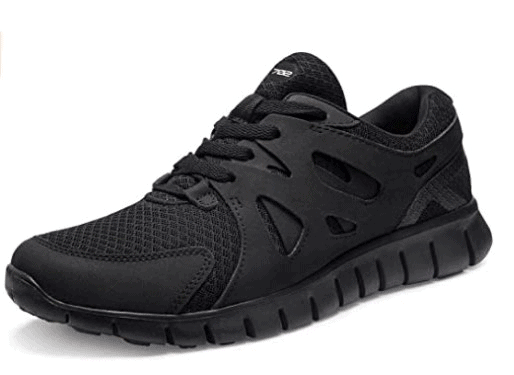 Flexibility and great bounce are some of the features that make great basketball referee shoes. This pair from TSLA has both these features and a lot more. This pair is designed to make sports easier and safer for the wearer.
Key Features:
Made with a groove design that delivers maximum grip and traction that works for indoor and outdoor courts
Low profile design that enhances flexibility and ease of movement
Deep cushioning for maximum impact resistance and enhanced comfort
Multi-directional flexible groove and cushioned insole provide superior balance
Made with breathable and durable Vamp materials
Pros:
Comfortable fit
Excellent traction
Sleek design
Breathable
True to size
Cons:
How to Choose the Basketball Referee Shoes?
In fast-paced sports like basketball, referees need to move fast and with ease. That is why the right shoe can make a huge difference to your referring experience. While there are many basketball shoes for referees available in the market, choosing the right one comes down to several factors. Here are some considerations to keep in mind when shopping for the perfect basketball shoes.
Comfort
Standing or running around for hours on uncomfortable shoes can be a nightmare. That is why the first consideration when picking basketball referee shoes should be comfort. Consider the kind of cushioning the shoe comes with and the level of impact absorption it provides. If the insoles are flimsy, chances are you will not get much cushioning from the shoe.
If you have custom orthotics, go for shoes with removal insoles that you can replace with your customized ones. It is also important to consider the type of fit a particular shoe comes in. Some models have a tight fit which can be uncomfortable for people with wide feet. Also, make sure to consider whether the sizing of the shoe is true to size or whether you will need to order a size or two up to get the perfect fit.
Traction
Basketball courts can be quite slippery so you will need a shoe with a superior grip. This means checking out the quality of the sole. Rubber soles are usually a great option. Although they are lightweight they usually offer great anti-slip qualities and superior traction.
Choose a pair of shoes that ensures that you are cushioned from impact and also have enough traction to avoid nasty falls.
Breathability
Shoes can get pretty hot especially if you are running around in them for hours. Breathable shoes ensure that there is sufficient air circulation so that your feet do not get too hot and sweaty. Mesh uppers usually offer great breathability and also provide a flexible fit.
Durability
If you have several games to officiate in a week, you need a pair of shoes that will stand up to the wear and tear. Go for shoes made from high-quality materials that are designed to last. Lightweight designs are great for bounce and movement but always make sure that the material will stand the test of time.
Conclusion
In sports, shoes make a lot of difference in terms of performance. Referees need shoes that enable them to move with ease and comfort. The best basketball shoes will help you function at your optimum without worrying about injuring your feet, falling, or leaving residue on indoor courts. Try any of our top ten recommendations for the perfect basketball referee shoes.