There are many ways to win basketball games from being tall to run fast and getting a flexible physique. But basketball insoles are the ultimate solution if you want to protect your ankles, your toes, and even jump a little higher.
Today, you will discover the absolute best sports insoles that you should consider for all your basketball games.
On top of that, we've got you covered about the most common foot problems in basketball and why you need them to get all victories home.
Quick Summary
Here is our selection of best insoles for basketball based on criteria:
Overall Best Insoles for Basketball
Walk Hero Plantar Fasciitis Feet Insoles:The insoles from Walk Hero are simply the best overall. They are able to treat medical conditions such as Plantar Fasciitis, they provide a lot of stress resistance, and they are inexpensive for the built quality.
Best Insoles Based on Comfort and Durability
EASYFEET Plantar Fasciitis Arch Support Insoles: If you're looking for durable and comfortable insoles for all your basketball matches, the EASYFEET insoles are your best bet. Durable, comfortable, and equipped with cushioning with a memory foam base, you simply can't go wrong with those.
Best Insoles for Heel Support
Spenco Polysorb Cross Trainer Athletic Cushioning Insoles: Whether you want more foot support during basketball games or heel support for the rest of the day, the Spenco insoles are everything you need.Equipped with shock absorption material and lightweight for the most intense basketball matches, even professional players would consider getting these insoles.
What are the Benefits of Insoles?
Before jumping into the best basketball insoles, let's go through the main benefits and how exactly they can help you.
First of all, they provide improved stability which is instrumental for both basketball games and everyday life. In addition, by improving stability, you will also improve your posture and overall performance which is definitely a great feature.
Secondly, you will experience reduced stress on heels and forefeet which, again, is certainly something you want to consider if you want to be more comfortable.
Last but not least, insoles help decrease pain and treat medical conditions. The most common examples are Plantar Fasciitis, Achilles Tendonitis, and broken toes, which take us to our following point, the common foot problems for basketball players.
Foot Problems Basketball Players Can Experience
If you have ever experienced one or more common foot problems in basketball, it does not mean that you are doomed to having the same problems in the future.
There are a number of different things that can be done to prevent problems in this area.
Below is a look at some of the most common foot problems in basketball that can be partially prevented using insoles.
Plantar Fasciitis
If you've ever played basketball, or any kind of intense sport, you've certainly heard about Plantar Fasciitis.
Plantar Fasciitis is essentially the injury of the ligament on the foot sole. It affects the part between the heel and arch. While this problem usually goes away on its own after a few weeks, it is surely better to prevent it as the pain caused by it can often last all day. Other than that, the treatment can be lengthy and, therefore, will make you miss important basketball games.
Sprained Ankle
A sprained ankle is an extremely painful injury that occurs when you turn, twist or roll your ankle too much in an awkward manner. Of course, all of these movements happen and can hurt your mobility during a basketball game.
Sprained ankles are most often caused by trauma to the outside of the foot. It can also be an injury to your ligaments that has stretched too much due to excessive activity or weight-bearing. Most sprained ankle injuries involve injuries to either the outer or inner side of the ankle.
Sprained ankles are usually caused by an uncharacteristic reaction to too much physical activity such as walking, running, soccer or basketball.
You can tell if you have sprained an ankle through a number of symptoms. The most common symptoms include pain in the affected joint, swelling, bruising, and tenderness when touching the area around the joint.
If it happens, and if possible, get some ice or rest and avoid strenuous activity for a few days to allow your body to recover from the injury.
The role that insoles have is also to protect your ankle from getting twisted during a match and this is certainly a reason to consider when buying them.
Achilles Tendinitis
When the Achilles tendon becomes inflamed, it is often referred to as Achilles tendinitis. The medical condition causes very sharp, stabbing pain usually on the back of your leg.
As strong as the tendon can be, it may be prone to rupture or tendonitis when running too much or changing the duration of your workout.
How can insoles protect your foot from Achilles tendinitis? While insoles don't make your feet immune from tendonitis, they do reduce the loading rate coming on your Achilles tendon as well as reducing pronation-related stress, and also improving foot position.
For mild to moderate tendonitis, treatment consists of icing and resting the foot and, of course, stopping basketball for a few days.
Anti-inflammatory medications will alleviate the pain, while other, more invasive treatments such as steroid injections, although usually not recommended, may be necessary for more severe cases.
Broken Toes
Breaking your toes is another one of the common foot problems that can happen when playing basketball.
While most broken toe cases heal by themselves and by resting your feet, avoiding such a situation is much better, and insoles can partially prevent it.
Other than insoles, there are several different things that you can do to keep your feet protected and help you play the best game possible. For instance, you will need to make sure that you are wearing the proper shoes for basketball.
Another great way to take care of your broken toes when you are playing basketball is to make sure that you have good arch support shoes. Obviously, some insoles have very good arch support and will certainly help you prevent further problems.
Make sure to keep reading for our best insoles for basketball in 2021.
Best Basketball Insoles
Insoles are arguably one of the most essential accessories that a basketball player can invest in.
These best insoles for basketball that we selected are some of the easiest investments that you can make for your own health and to minimize the risk of injury on the basketball court.
Knowing which are the best insoles for sports would surely aid you to improve your game so let's dive in.
Walk Hero Plantar Fasciitis Feet Insoles Arch Supports Orthotics Inserts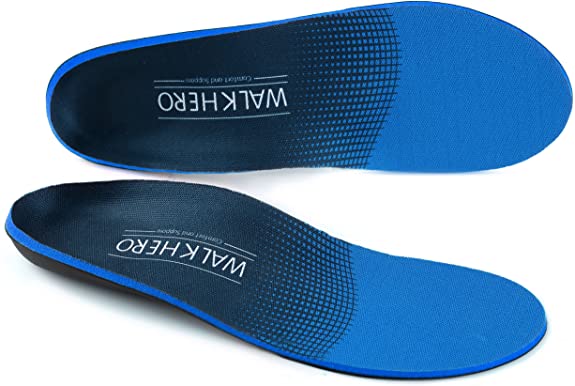 The insoles designed by Walk Hero provide the support your feet need in order to prevent the painful episodes of severe foot pain that leave most patients in tears.
Walk Hero came up with some of the best insoles for basketball and for different reasons. To start off, they are extremely comfortable to the foot and provide high-quality shock absorption which is important for all basketball matches.
In addition, the cushioning level that these insoles are equipped with is great and is appropriate for all activities from playing sports to walking around town.
Lastly, they can prevent Plantar fasciitis that causes inflammation in the plantar fascia, the connective tissue that wraps your feet. As this area of your foot becomes inflamed, it pulls on the bottom of the heel bone causing tremendous pain.
Your doctor may recommend surgery if you have severe cases of this condition. However, with the right Walk Hero inserts, you can free yourself of your misery without resorting to invasive surgery.
With over 37,000 positive reviews on Amazon and its design created for all types of shoes, they are simply the best insoles for basketball in 2021.
To sum up, It's easy to understand why Walk Hero decided to come up with miraculous orthotics and excellent insoles for basketball. When you finally get your new insoles, you'll be able to start walking your way to health once and for all.
Pros:
Fantastic support arch
Extremely comfortable
Reasonable price for high-quality material
Cons:
Arch somewhat high and might not fit everyone
Some users experienced further foot pain and issues
EASYFEET Plantar Fasciitis Arch Support Insoles for Men and Women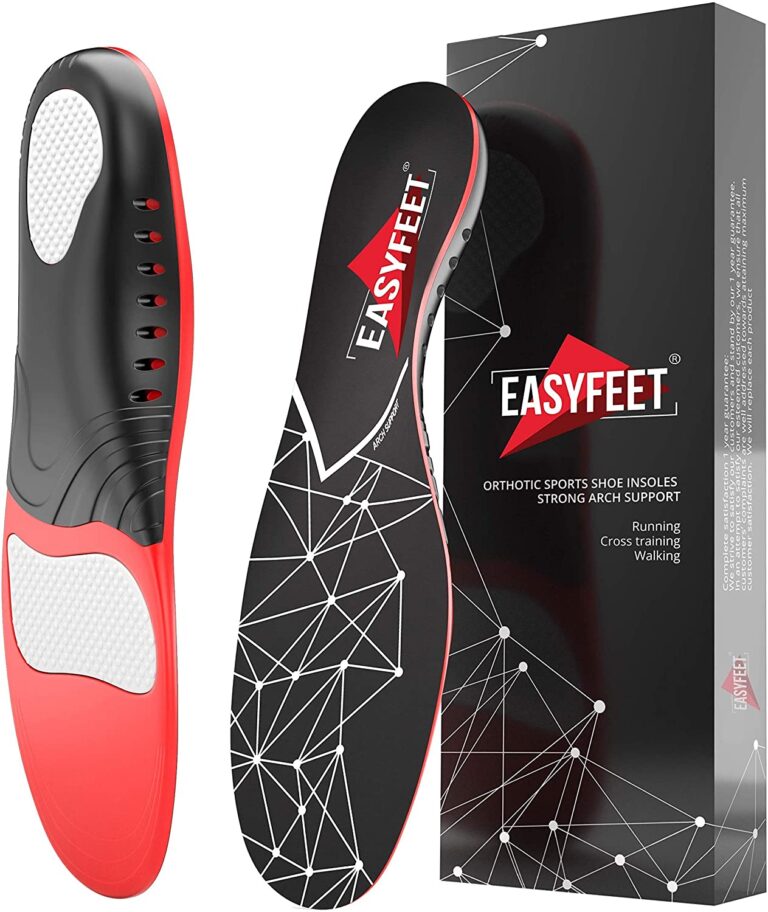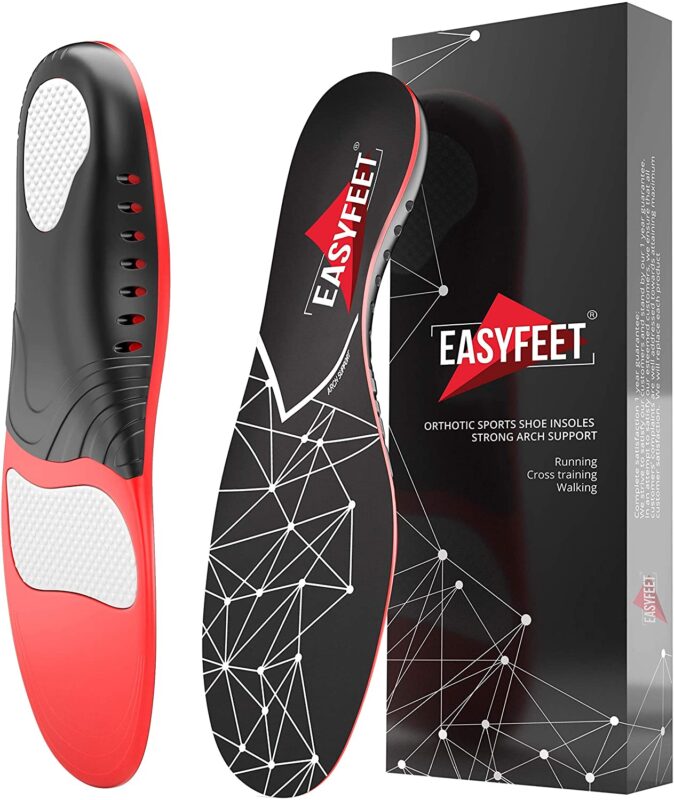 The Plantar Fasciitis arch support insoles by EASYFEET are special orthotic ones designed to relieve pain and inflammation caused by a number of sports, including basketball.
The arch supports are specifically designed for people who stand for long periods of time, for the ones that walk long distances, and for the ones that need some spinal stress relief.
Also, they are some of the best insoles for heel spurs, shin splints, bunions, and flat feet. Needless to say, if you have any kind of feet issues, these insoles from EASYFEET can certainly help.
Furthermore, they are made of hard TPU as well as cushioning with a memory foam base which is another important factor when it comes to relieving stress on your feet.
Pros:
Strong and long-lasting support
Very comfortable and lightweight
No-smell breathable insoles that are excellent for basketball players
It will last you from 6 months to a year depending on the use and frequency
Cons:
Not very high in shoes
Too cushiony for shin splints issues
Physix Gear Sport Full Length Orthotic Inserts with Arch Support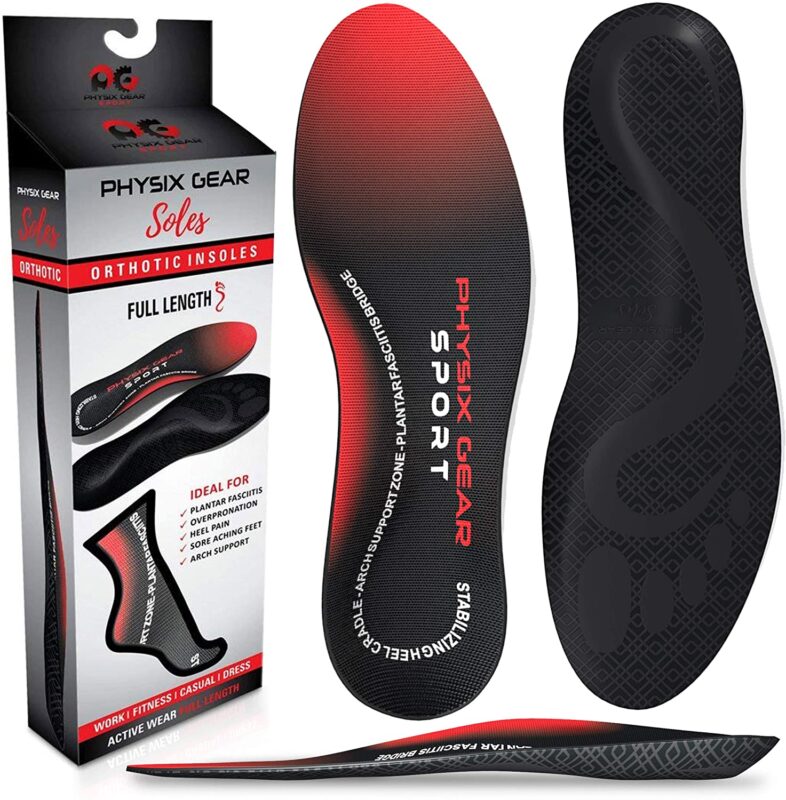 The Physix gear sport orthotic inserts are designed in a manner to provide maximum insole flex to the toes and increase natural arch strength. This will aid in running, jumping, and overall performance that is so needed in basketball.
They offer a high degree of comfort and outstanding traction for the longest period possible, guaranteeing an extremely comfortable fit.
The inside of the shoe is made from premium EVA foam as well as PU material, making it one of the most durable and long-lasting basketball insoles you can get. It also offers unparalleled support for the front part of the feet, including the arch.
These inserts have some of the most advanced shock absorption ability and are able to incredibly improve stability when playing sports or wandering around town.
Also, Physix's insoles are able to relieve all pain from plantar fasciitis and that is certainly another factor to consider.
Pros:
Very comfortable
Robust material that makes them perfect for all sports
The durability is great and they will last a few months at least
Cons:
The cushioning is somewhat low
Not the best insoles for wide feet
Spenco Polysorb Cross Trainer Athletic Cushioning Insoles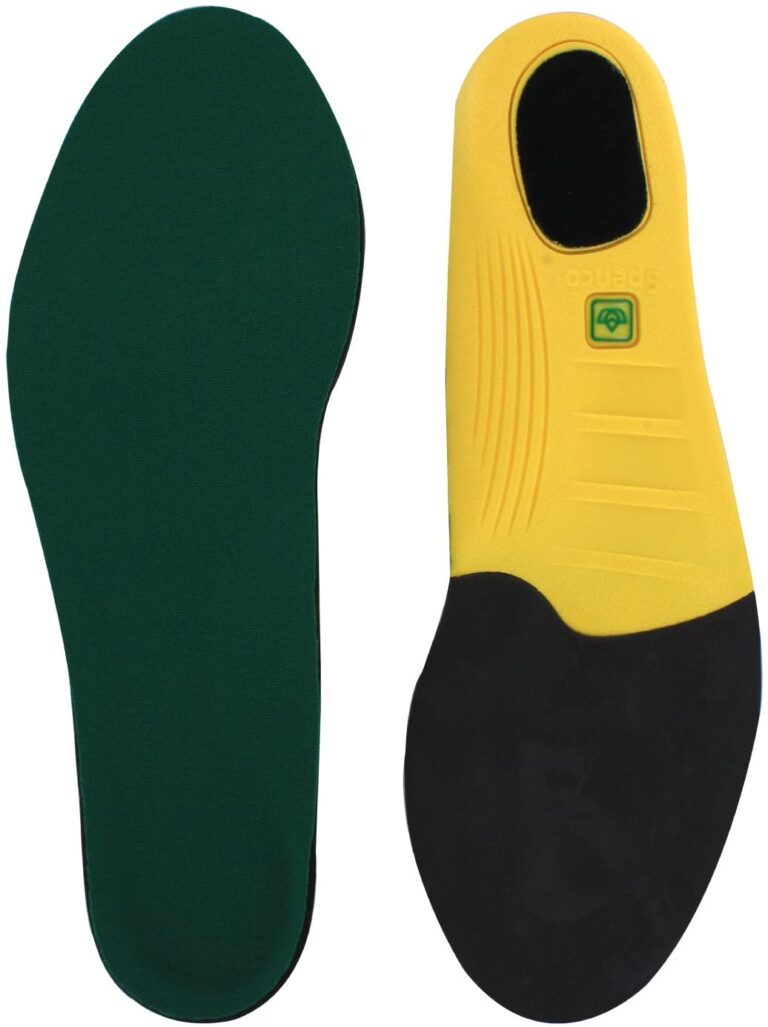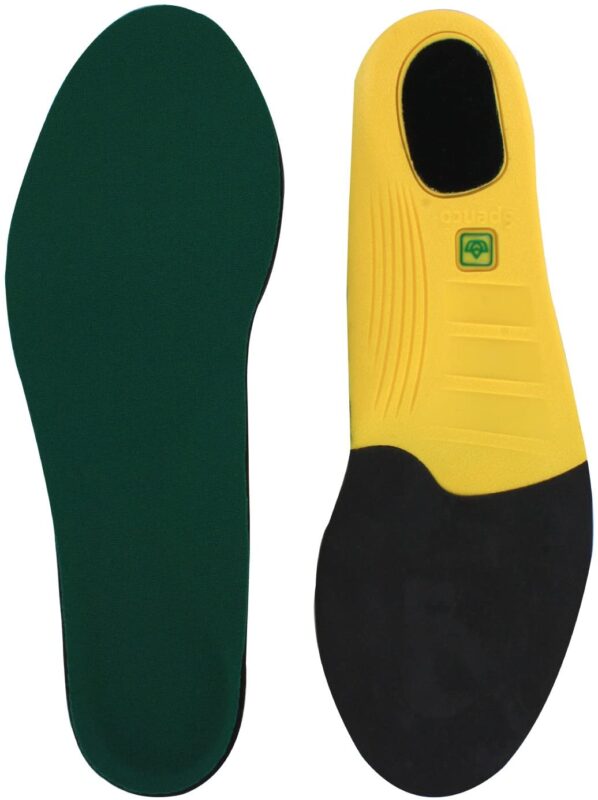 The Spenco Polysorb cross trainer insoles were specifically designed to provide a unique blend of shock-absorbing and energy-deflecting comfort.
Ideal for active or athletic people seeking a high level of cushioning in both the heel or forefoot, this insole functions best in training, tennis, basketball, and most other sports.
Effective enough to be used in almost all training and competition sports, the Spenco Polysorb Cross Trainer provides superior energy return for even better athletic performance.
Ideal for basketball, this innovative insole boasts durable durability and superb shock absorbency that will keep your feet healthy and safe from Plantar Fasciitis when playing.
When you're ready to get a workout with a shoe that can take it all on and handle everything that comes at you, this is the basketball insole you'll want to look at.
With an ergonomic design and an advanced cushioning system, the Spenco Polysorb Cross Trainer is designed to give you everything you need for a great workout.
Pros:
Excellent heel support
Great quality for a low price
Comfortable and lightweight
Cons:
Good arch support but doesn't sit very high in shoes
Dr. Scholl's Sport Insoles Superior Shock Absorption and Arch Support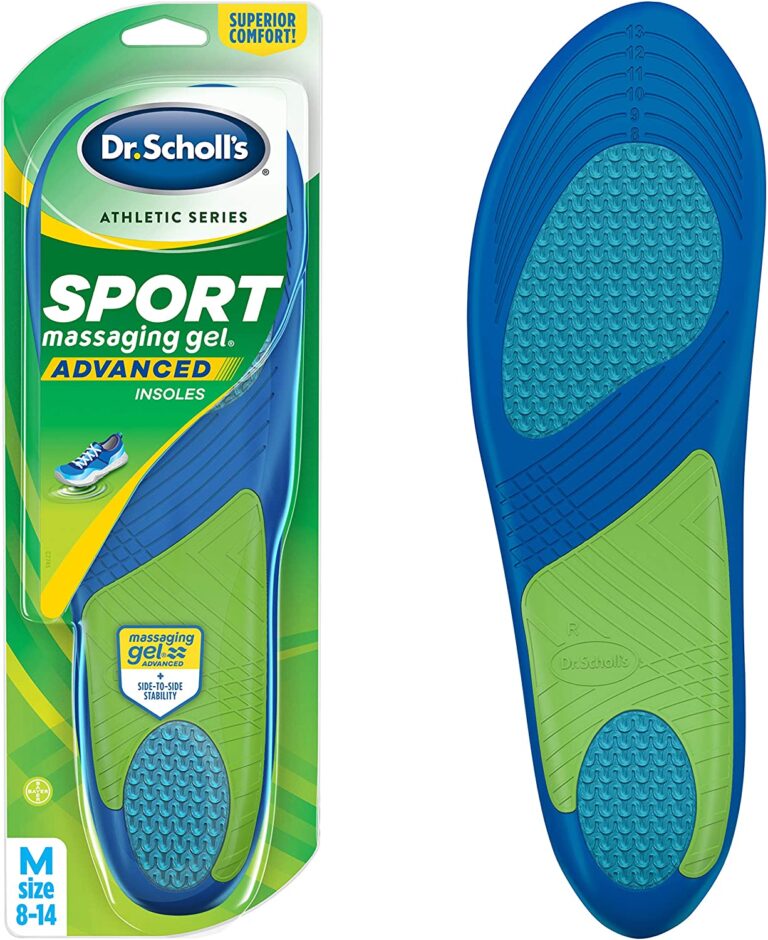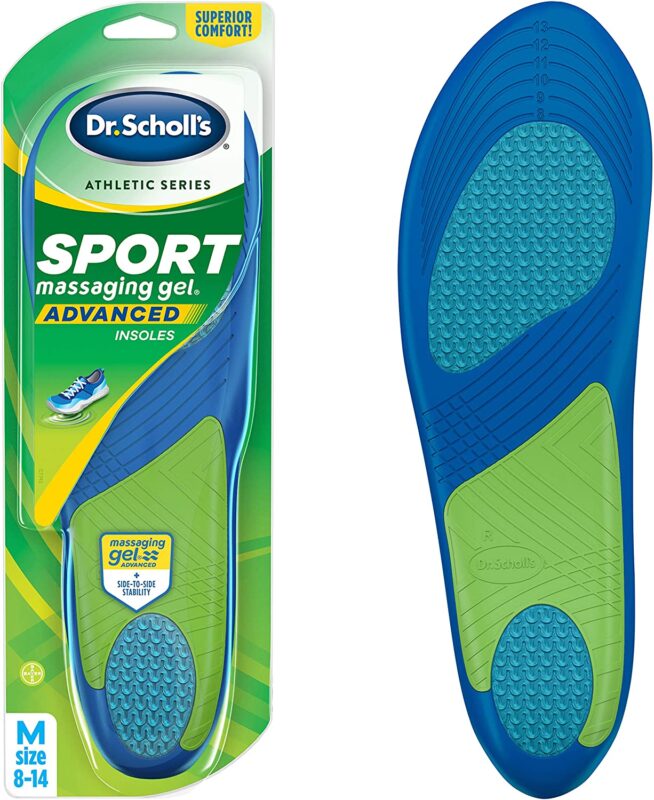 Dr. Scholl's sports insoles have won many loyal customers over the years. Their high quality and unique designs make them a preferred choice by athletes and professional basketball players.
The insoles are made of a special foam that provides maximum support for your feet while you're playing an intensive basketball game.
The insoles have lightweight which makes it easy to walk but firm enough to provide maximum stability. It is designed with a responsive-wave cushioning that provides a solid base for shock absorption while also allowing it to reduce stress on heels.
Some of the most common injuries of people who wear orthotics are plantar fasciitis, corns and calluses, hammertoes, tendonitis, bursitis, and more. These sports-related injuries can be quite painful and some can even require surgery to correct.
Most people who have used Dr. Scholl's best basketball insoles have given positive feedback about their product generating over 3,800 reviews on Amazon alone.
If you're willing to reduce your feet issues and prevent damaging them even more, Dr. Scholl's are some of the best basketball insoles you should get.
Pros:
Able to prevent all kinds of feet and knee aches and pain
Cushioning specifically designed for reducing stress in heels
Cushioning reduces stress on heels
Cons:
The plastic part in the insoles can hurt depending on the shoes used
Some users experienced short duration after intensive basketball usage
Final Words
Basketball is a sport where you need to move fast, agile, explosive, and balanced. You need to have the right posture, flexibility, and strength in order to execute flawless jumping, pivoting, and rotating skills and this is all possible only if you have proper footwear.
When it comes to good basketball, they are designed specifically to give you maximum foot support, stability, and eventually even treat your medical condition.
To conclude, if you want to avoid all pains, aches, and conditions, and rather improve your health and stability, these are the best insoles for basketball you should buy.