Winning an NBA championship ring is one of the biggest feats for any team. But these rings don't just hold enormous personal value. The numerical value of one is pretty big, so when players decide to auction their NBA ring off, you can expect it to go for a rather hefty sum.
So, how much is an NBA ring worth? There's a lot of factors involved when working out the cost of an NBA ring, which we'll be covering below. If you're thinking of getting a hold of an NBA ring or simply curious of their worth, be sure to stick around!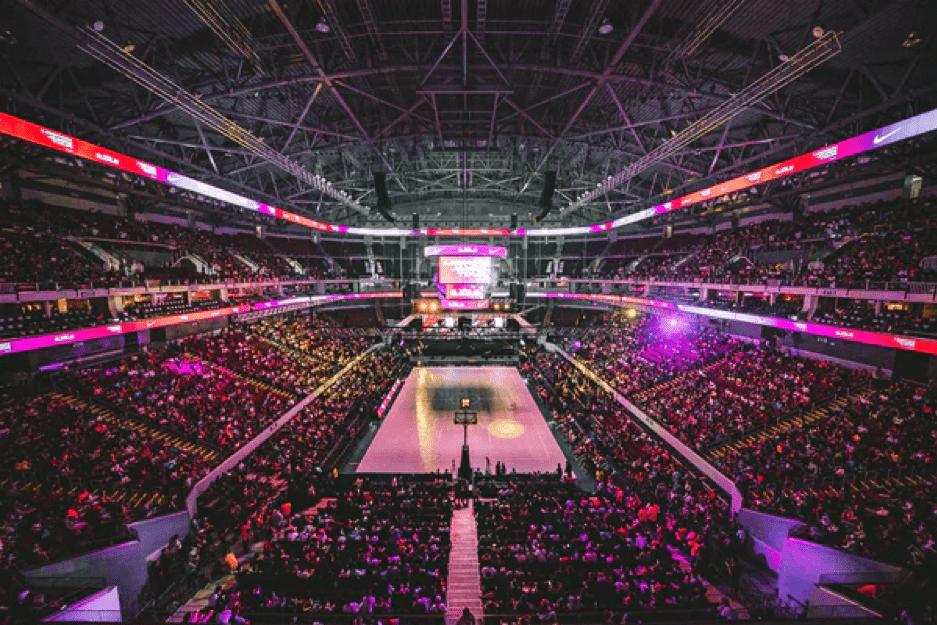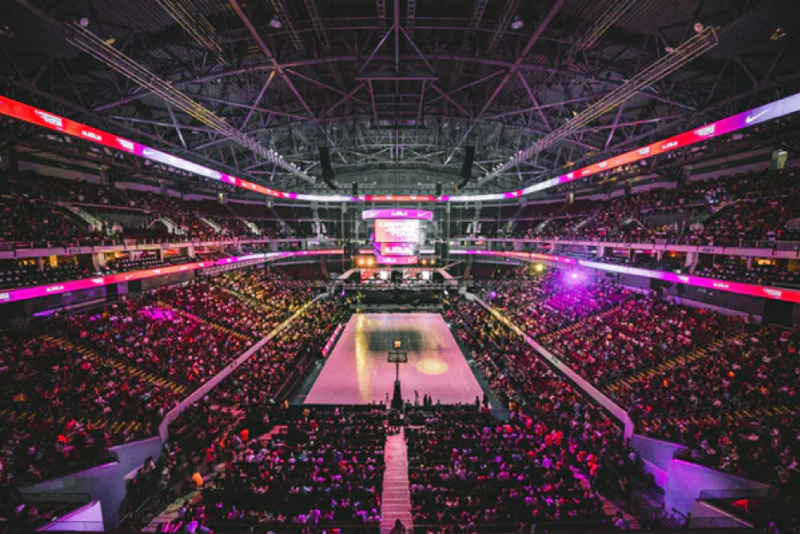 What is an NBA Championship Ring?
If you didn't already know, an NBA championship ring is an award from the NBA that is presented to the team that wins the Finals. NBA rings are given to the champion team's players, coaches, and members of the executive front office.
What do NBA Championship Rings Look Like?
NBA Championship Rings are extremely extravagant looking pieces of jewellery. Wearing one of these is sure to get you a few looks walking down the street.
Rings are either made from white or yellow gold and embedded with diamonds or other precious jewels. They will usually display the team's name and symbol, the player's name, and the year the team won the championship.
How to Work Out How Much an NBA Ring is Worth?
The value of an NBA ring depends on many things, so there isn't one price that fits all. Although it's hard to give an exact answer on how much an NBA ring is worth, the following points will give you a rough idea of how to work out the cost of one.
Which Team Won the NBA Ring?
Championship rings that belonged to a legendary team will influence its value by a large margin. Purchasing the ring that the 1996 Chicago Bulls, the 1987 Lakers, or other classic teams won is sure to cost a pretty penny.
If the team also performed exceptionally well the year they won it, the price of the ring only goes up.
Which Player Wore the NBA Ring?
While the NBA team that won the championship ring is a big determinator for its price, the player that wore it is also important. Getting a ring that LeBron James or Michael Jordan wore is definitely going to cost more than a lesser-known NBA player.
For example, an NBA ring that was owned by a player of the 1993 Chicago Bulls was reportedly up for grabs on eBay at $29,923 back in 2014. In '93, Chicago Bulls defeated the Phoenix Suns 4-2 in the championship finals.
Members of the team included greats like Michael Jordan, Scott Williams, Stacey King, B.J. Armstrong, and Horace Grant. 1993 was also the year when Jordan retired from basketball for the first time.
An NBA ring belonging to the 1993 Chicago Bulls would be worth a small fortune. But one that was owned by Michael Jordan would be worth even more.
What's the History Behind the NBA Ring?
If there's a story or history behind an NBA ring, such as a moment in an NBA final that's memorable or considered legendary, then it will impact its value.
For example, the 1994-1995 NBA Championship Finals was a tremendous game. Hakeem Olajuwon from the Houston Rockets destroyed Orlando Magics, who were thought to be the stronger out of the two.
The Houston Rockets secured a two-point win in the first game and went on to win the next three games by 8.6 points. Hakeem played fantastic that day with an average of 32.8 points, 5.5 assists, and 11.5 rebounds.
Tracking down an NBA ring that belonged to the Houston Rockets from 1994-1995 could cost anywhere from $20,000 to $300,000 (possibly even a million). It all boils down to which player wore it.
If you manage to find the championship ring that Hakeem wore during this NBA final, then be prepared to part with a lot of cash.
Which Championship NBA Rings Sold for the Most Money?
Now that you know what factors influence the value of the NBA ring, you might be wondering which rings have been sold for the most amount of money. Let's take a look at some of the priciest championship rings that have ever been sold.
1. $500,000 – The 2010 NBA Championship Ring of Metta Sandiford-Artest
Previously known as Ron Artest, Metta Sandiford-Artest was named the best Defensive player and NBA All-star in 2004. Since retiring, he has been a coach for the South Bay Lakers in the NBA G-League.
He auctioned off his championship ring to raise funds for the Xcel University charity, an organization that helps young people who struggle with mental health issues. The ring sold for an impressive $500,000.
2. $460,000 – The 1974 NBA Championship Ring of Julius Erving
The second-highest NBA ring to be sold at auction belonged to Julius Erving who played for the New York Jets. He took his team to the 1974 Finals and was crowned the best overall player in the league in the same year.
Erving sold his ring for $460,000 at auction. Many fans think the reason why he profited so much from his ring was that the New York Jets had just received their first championship trophy.
3. $2,947,872.25 – The 1980-1988 Championship Rings of Kareem Abdul-Jabaar
Don't worry, the figure above isn't just for one NBA ring that belonged to Abdul-Jabaar, but four. That said, each ring still went for a significant amount of money.
This basketball great sold four out of his six championship rings to raise money for a charity aimed at helping kids. His 1980 ring went for $245,000, the 1985 ring went for $343,700, the 1987 for $398,937, and the 1988 one for $245,000.
Altogether the rings sold for a staggering $2,947,872.25.
4. $91,000 – The 1971 NBA Championship Ring of Oscar Robertson
The last highest-grossing NBA ring was the prized possession of Oscar Robertson, or "The Big O". He's one of the most beloved NBA players of all time, even though it's been over 40 years since he retired from basketball.
His championship ring was sold recently at auction for just over $91,000, which is a reasonable amount for someone so legendary.
Which NBA Teams Have Won the Most Championship Rings?
Receiving an NBA ring is certainly a huge accomplishment for any team, but some teams have won so many that winning one becomes second nature. Which teams continue to triumph time and time again?
Boston Celtics – 17 NBA Championships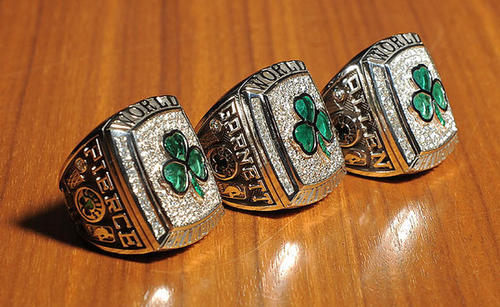 The Boston Celtics were the first NBA team that was completely unmatched in the league during the 1950s and 1960s. They won 11 titles between 1957 to 1970, and their power hasn't slowed down.
They've risen to success in the 1980s and 2000s, and are always considered a firm contender in the league.
Los Angeles Lakers – 17 NBA Championships
Formerly known as Minneapolis Lakers, the Los Angeles Lakers are another dominating team in the league. Their success spans throughout history from the 40s and 50s all the way to the 2000s and last couple of years.
In fact, the Los Angeles Lakers snagged the Championship for the 2019-2020 season. They were led by LeBron James, Anthony Davis, and coach Frank Vogel. LeBron James earned the MVP (Most Valuable Player) title for the fourth time in his career too.
Golden State Warriors – 7 NBA Championships
The Warriors have been more successful in recent years. In just the last eight years, they've earned 4 titles.
Notes: Steph Curry and the Warriors are champions once again, blast Boston Celtics in Game 6 on Jun 16, 2022.
Chicago Bulls – 6 NBA Championships
Chicago Bulls have 6 championships under their belt. The Bulls are well-known for their glory years in 1991-1993 and 1996-1998.
Which NBA Player Has Won the Most Championship Rings?
The NBA player who has won the most championship rings in history is none other than Bill Russell. And it should come as no surprise that he played for Boston Celtics, which as we mentioned above, have earned 17 Championships.
Bill Russell is considered one of the best defensive players in NBA history. He was also a fantastic guy to play with, according to many of his teammates.
So, how many championship rings does Bill Russell have? Elleven, all with the Boston Celtics. Despite all he achieved, Russell ran into some problems during his basketball career.
Let's take a look at the incredible career of the greatest champion in NBA history, Bill Russell.
He faced some social issues during his time in the league and was notoriously hard to interview. But even though his career wasn't smooth sailing, Russell is unmatched as a defensive player, and the huge number of NBA rings he has shows how much of an impact he had in each of his games.
Also Read:
Final Thoughts
After winning the NBA Championship Finals, being presented with a ring is an achievement that is no doubt memorable for any team. But sometimes players decide to put their treasures up for sale, and who can blame them?
Even NBA rings from lesser-known players can go for thousands and thousands of dollars. Although there's no straight answer when it comes to working out the cost of an NBA ring, hopefully, we helped you get a rough idea of the factors that make one so valuable.
NBA Championships rings are unbelievable feats for the teams and players that earn them. However, actually finding one for sale (and having that amount of money to splurge on one!) is probably an even bigger feat.