NBA sports teams have come up with some ideas over the years such as creating mascots to act out games and make them more entertaining in front of the television cameras.
However, How much do NBA mascots make? How are the mascot's salaries calculated?
You might wonder the kind of salary that professional sports teams have to pay for their NBA mascots, and this is what we'll cover in this article.
This article will help you learn how high NBA mascot salaries can be and why teams have to keep a certain quality standard for their crowd to be entertained.
Make sure to read until the end to check all boxes of your knowledge about NBA mascots and their income.
What are the Job Requirements to Become an NBA Mascot?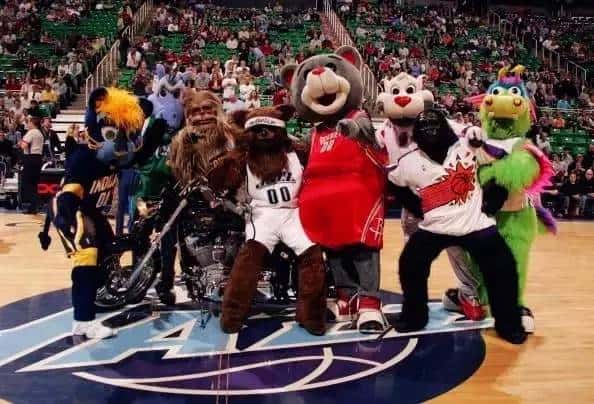 The job requirements to become a highly paid and skilled NBA mascot are many and can sometimes be difficult to achieve.
To start with, you should be in shape and able to run, dance, and jump endlessly for at least 30 minutes of the game, depending on the time required by the team.
Needless to say, this is one of the most important points and NBA mascots have strict training to follow to remain fit.
Moreover, you should be a people person. With some of the arenas, such as the United Center Stadium and its capacity of 23,500 basketball fans, it is instrumental to be able to play and interact with people.
Additionally, you should have a high level of adrenaline, enjoy crowds and get excited to prank people as well as daring to play with anyone from celebrities to complete strangers.
That is to say, you also need to be resistant to heat. In fact, when wearing the mascot costume, temperatures can get as high as 140°F, and keep moving around during basketball games isn't always an easy task.
How are the NBA Mascot Salaries Calculated?
Before going through the highest NBA mascot salaries and the average within the field, let's talk about how their wages are calculated and their job requirements.
As professional NBA mascots, they are charged with many duties, not the least of which is being an NBA game-time entertainer. The job description is very specific and, as mentioned in the requirements above, mascots must keep a high-quality performance during all games.
First of all, they have to know their role in helping everyone keep happy and entertained during the game. In fact, NBA mascots are responsible for hosting introductions between teams and performing various acts such as doing a funny dance or jumpy action.
Secondly, NBA mascots have sometimes difficult tasks such as jumping through hoops, leaping through burning rings, do backflips, or even dancing in front of millions of people watching their television.
Furthermore, they also should play with the public and team players in order to make the overall experience funnier, more appealing to watch, and ultimately entertain people of all ages.
Of course, being a mascot requires plenty of determination and enthusiasm, as they will be the main attraction for the team.
Therefore, all in all, the NBA mascot salaries are calculated based on all these criteria but also for keeping a high level of endurance and constantly practice their moves.
To sum up, and before jumping to the highest NBA mascot salaries, this was how they're calculated and most importantly, why some of the mascots have such a good income in 2021.
Most Popular and Highest Paid NBA Mascots
After creating the first mascot, Benny the Bull, there have been many more popular ones throughout the years.
Of course, their job requirements have become more complex and their salary therefore higher.
Some of the most popular NBA mascots have adopted colorful costumes, cartoon-like names, and champion moves and dances.
Below, we'll take a look at some of the more popular NBA mascots and their salaries that you might not have heard much about:
Rocky at the Denver Nuggets
Denver Nuggets' Rocky is one of the most popular NBA mascots and he receives the highest salary out of all his mascot colleagues.
Rocky the super mascot earns $625,000 per year and it is all due to his entertaining talent as well as his power to make his team go viral online.
Moreover, Rocky is just the best NBA mascot and no one can say the opposite. From endlessly playing with the public and players to dancing with the cheerleaders and more, no other mascot has ever managed to get to his level, hence why his higher salary.
Benny at the Chicago Bulls
Benny the Bull, as mentioned previously, was the first-created mascot and, he is, for this reason, one of the most popular with a high NBA mascot salary.
Benny earns a remarkable $200,000 a year and it is thanks to his shameless yet good taste performance with his audience during matches.
In 2010, Benny the Bull danced in front of Jay-Z and Diddy on "Single Ladies" by Beyonce but they were not impressed. Obviously, Benny got to meet internationally-known celebrities during his career.
In addition, and while the previous Benny the Bull persona, Barry Anderson, left in 2016, he was voted the NBA mascot of the year 2015 for being a talented entertainer and prankster.
Harry the Hawk at the Atlanta Hawks
Harry the Hawk, SuperMascot of the Atlanta Hawks and born in 1986, is another NBA mascot that receives a very respectable income although not a fixed salary such as Benny the Bull and Rocky.
While the real person by the mascot isn't publicly known, Harry is paid $250 for a 30-minute appearance which makes it $500 an hour when entertaining the crowd during NBA games.
Other than being the perfect mascot for an NBA team, Harry is also used as a marketing strategy as his moves became viral on YouTube during a dance in 2018.
It is important to note that, despite his salary is pretty high, risks on the job do exist. In 2016, Harry got badly injured, taken to the hospital, and eventually had to stop playing for 2 games.
Hugo at the Charlotte Hornets
Hugo has been the Charlotte Hornets' mascot for years, since, more precisely, 1988.
The person dressing as the mascot must have a lot of experience entertaining the team's audience to be able to earn the high salary assigned to this role.
Charlotte Hornets' Hugo earns from $250 to $1,500 per appearance depending on, rightfully, the experience and performance during the game.
The Super Mascot won the title of NBA Mascot Slam Dunk Championship 4 times as well as the NBA Best Mascot Award by NBA Inside Stuff 2 times.
Moondog at the Cleveland Cavaliers
The Cleveland Cavaliers have 2 official mascots, however, we will focus solely on the Moondog as the character is the highest paid of both.
While the Moondog's NBA mascot salary hasn't been made public, the unofficial amount he earns is $300 per hour. Sure, this translates to a quite nice NBA mascot salary per year, but the amount of work put into it surely makes it well deserved.
What is the Average NBA Mascot Salary?
Do NBA Mascots Make Good Money? The answer is a short yes. However, mascots have sometimes a hard job and, therefore, it is important to consider the bigger picture and not only the income.
Every year, the NBA gets more and more competitive as better and younger players enter the league and the older ones continue to gain experience.
Also, customers' expectations get higher every year and it's important for NBA mascots to stay on the top of the game and come up with original moves and fun for spectators.
According to a report by Yahoo! Finance, the average NBA mascot salary is about $60,000. However, as seen previously in this article, mascot celebrities such as Denver Nuggets' Rocky earn as much as $625,000 per year.
Related:
Conclusion
This was everything you needed about the NBA mascot salaries. Mascots, if talented and when they find the right role, can earn a remarkable amount of money.
Needless to say, being an NBA mascot is not easy and the job requirements are very complex to get to the A-team. If you're willing to take risks while having an entertaining and fun job full of rewards, then looking into becoming an NBA mascot is probably the right answer for you.
Also, you will also need to fake your mascot and it can be challenging as a lot of energy is always needed.
To conclude, mascots can drastically change an NBA game and we can only understand why they are so important to every team for both entertaining and celebrating purposes and, hence, their NBA mascot salaries at the end of the line.