If there aren't any public basketball courts near you or you simply want to play ball in the comfort of your own home, you might have toyed with the idea of building your own court.
But there are a lot of aspects you'll need to consider before you start building a basketball court, particularly the price. Even small professional basketball courts with basic features can still set you back thousands of dollars, so it's important to understand the full expenses.
The worst you'd want is to get halfway through construction of your court only to realize you lack the funds or time to complete the project.
So, how much does a basketball court cost? Here we'll be breaking down all the expenses involved with building a basketball court, both indoor and outdoor.
Indoor Basketball Court Price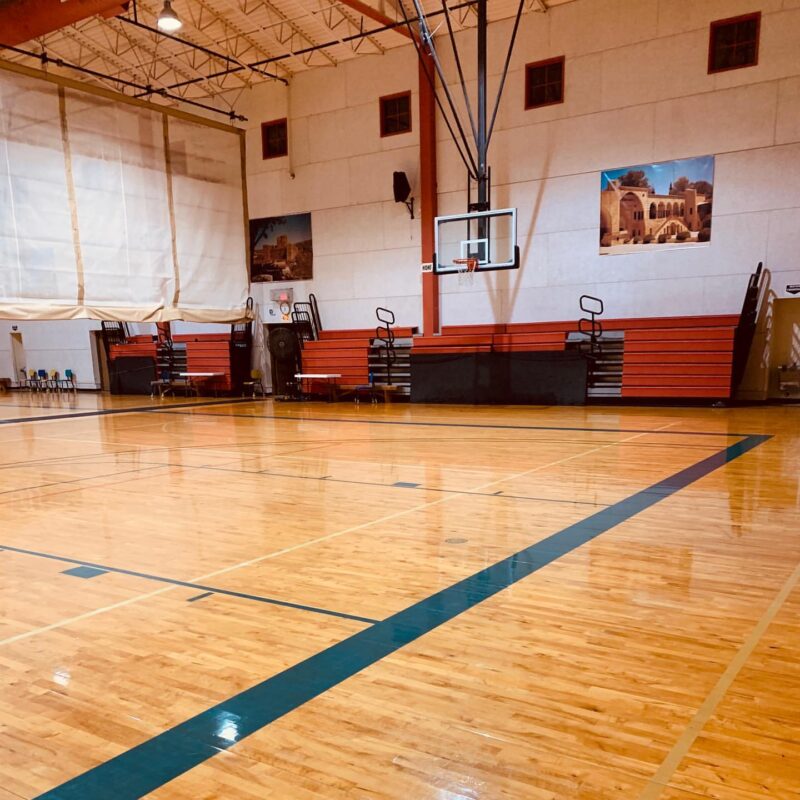 The average indoor basketball court price will differ depending on the type of materials used in the project, as well as the scale of the work.
According to Home Advisor, the total cost of an indoor basketball court falls between $16,650 and $70,700. This estimate largely depends on the quality of the build and materials.
If you already have a large open area in your home available to turn into a basketball court, then it will cut down on some of the initial starting expenses.
Here's a brief breakdown of the cost of materials for an indoor basketball court.
| | | |
| --- | --- | --- |
| Costs | Low | High |
| Hoop | $300 | $1,600 |
| Flooring | $3,300 | $29,000 |
| Paint for Marking | $50 | $100 |
| Labor | $13,000 | $40,000 |
| Total | $16,650 | $70,700 |
The cost of building an indoor basketball court is considerably different between low-end and high-end projects. Labor is the biggest expense you'll face, so it might be worth shopping around and getting several quotes from construction workers to get the best deal.
Hardwood Basketball Court Flooring
The standard flooring choice for indoor basketball courts is maple hardwood. It's strong, durable, and has an appealing appearance. If you decide on this type of flooring for your indoor court, it will usually cost around $3.50 to $6 per square foot.
On top of that, you'll have to spend $3 to $8 per square foot to install it. The total price for hardwood flooring is roughly $29,000 for a full-size court and $5,500 for a 3-on-3 size.
Laminate Basketball Court Flooring
Laminate flooring is a good substitute for maple hardwood as it's cheaper and easier to maintain. You should expect to pay about $0.70 to $2 per square foot, as well as $2 to $8 per square foot to install it.
A full-size court with laminate flooring will typically cost between $13,000 to $47,000, whereas a 3-on-3 size will cost around $2,500 to $9,000.
Concrete Basketball Court Flooring
If you want to save some money and limit the amount of work necessary for constructing an indoor basketball court, consider using your existing cement slab as a primary surface.
To help protect the concrete, you should add an epoxy floor coating. The cost of epoxy floor coating will vary depending on the size of the court and the type of epoxy.
That said, the total price should set you back around $2,000 to $3,000 for a small court.
Other Expenses
Alongside the expenses we've already covered, there are some other costs involved with building an indoor basketball court. If you need additional work done such as installing lighting and ventilation, it can increase the price even further.
Installing Lighting
This should cost around $450 to $550 per light fixture, not including electrical work.
Remodeling Basement
The total price to install lighting, plumbing, electrical, flooring, and walls should be roughly $19,000.
Adding Ductwork and Ventilation
These are important for keeping the court at the perfect temperature but can cost around $1,100 each.
Extensions
If you need to extend the square footage of the area for your indoor court, it could cost $40,000 in total.
Installing Paint Lines and Basketball Goals
Both of these features can cost anywhere from $800 to $2,400.
Outside Basketball Court Price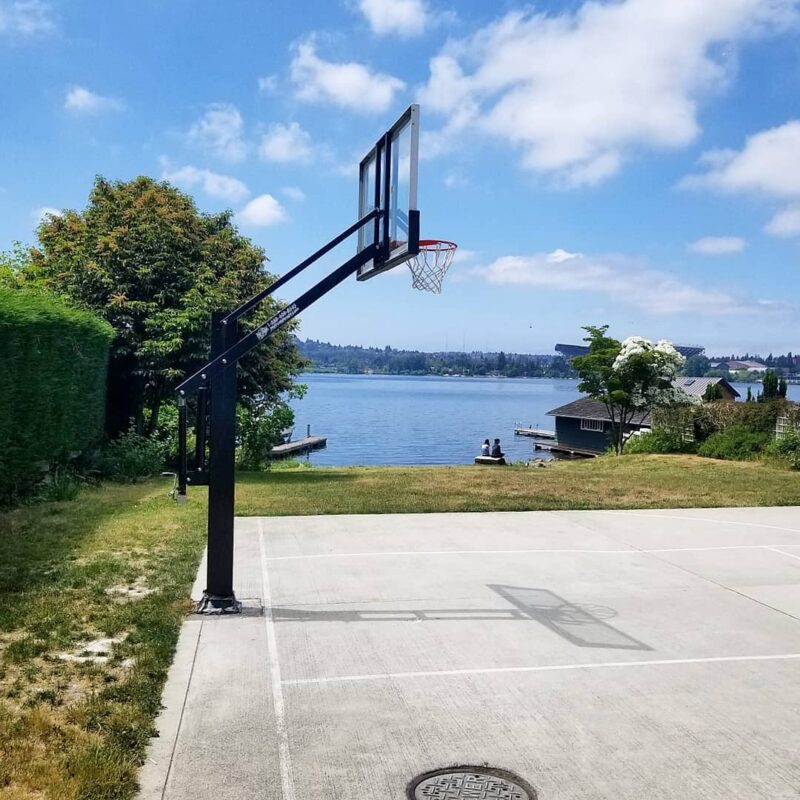 If you lack the space indoors, opting for an outside basketball court over an indoor one might be a better option. You'll have more control over the placement of the court as you won't be limited to a specific room.
Additionally, outside basketball courts usually take less time to build than indoor ones as less work is involved. So, what's the average outside basketball price?
While the cost of an outside court will differ depending on the number of renovations and type of materials needed to complete the project, you should expect to spend between $17,200 to $76,000 for a standard-sized court.
| | | |
| --- | --- | --- |
| Outdoor Court Features | Low | High |
| Land Leveling | $1,300 | $4,500 |
| Drainage | $1,900 | $5,000 |
| Flooring | $14,000 | $45,000 |
Outside Concrete Basketball Court
Installing concrete flooring for an outside basketball court costs roughly the same to put in a concrete patio. Poured concrete is usually priced at around $1.25 to $1.75 per square foot and between $2.50 to $8 per square foot to install it.
So, all in all, choosing an outside concrete basketball court will set you back roughly $15,000 to $45,000 for full size. A 3-on-3 size court, on the other hand, will cost around $3,500 to $9,000.
Asphalt Basketball Court Cost
Compared to concrete, asphalt doesn't require as much maintenance in high and low temperatures. It costs around $3 and $4 per square to install it, which comes to $14,000 to $18,000 overall for a full-size court.
That said, putting down asphalt does entail some extra work, including gravel, excavation and leveling, and a basecoat and topcoat. This will drive the overall price up, so you'll be looking to spend a lot more than just materials and installation costs.
Other Base Surface Choices
If you're unable to have permanent flooring for your outside basketball court, a portable base is a decent alternative. An interlocking sport base offers shock absorption and helps prevent injury from falls, in addition to being relatively simple to put down.
Interlocking sport bases usually cost more than concrete and asphalt flooring, but they are typically cheaper to install. If you decide to use this type of flooring for your outside basketball court, you'll need to make sure you install a snapping tile system to go on top.
Snapping Tiles
Snipping tiles are tiles that lock into place in a grid, providing a quick and straightforward installation. They can help prevent injury from falls due to their soft surface.
If you want to use snapping tiles for your outside basketball court, you'll need concrete or another sport base material for support. The average cost of sporting tiles is between $3.50 to $4.50 per square foot.
In total, that's $17,000 to $22,000 for a full-size court. A 3-on-3 size court will come to around $3,200 to $4,100.
Land Leveling
In order to play basketball efficiently, your court will need a level and stable surface. It would be hard to run, jump, and land shots on rocky and uneven terrain.
If your backyard has a slope to it, you might need to adjust the steepness of the area where you want to place your court. The price of re-sloping an area costs around $1,9000, while land leveling costs about $3,000.
Depending on the scale and difficulty of the project, the price may be lower or higher.
Drainage
Even if you have a flat surface for your court, you'll need grading to stop the area or your house from flooding during wet weather. Proper grading moves excess water away from your house and any other properties on your land.
It costs about $3,400 to install a drainage system for your backyard.
Other Expenses
In addition to the cost of materials and installation of certain features, there are some other expenses involved with building an outside basketball court.
Fencing
To help keep basketballs from straying too far from the court, you might want to install a fence. Depending on the type of material used, this can cost between $7 to $19 per linear foot.
Lighting
If you want to use your court in the evening, you'll need to install an outdoor lighting system to illuminate your court. This can cost up to $1,500.
Should I Build My Own Basketball Court or Hire a Professional?
Playing ball requires a fair amount of space, so if you want a professional and high-quality court, it's best to hire a professional to do this. Unfortunately, labor expenses are usually the highest costs of the project due to the scale of the work involved.
Additionally, a lot of the aspects involved with building a basketball court require multiple people. It's not exactly a one-person job! For this reason, building a professional court to a high standard by yourself isn't easy.
Furthermore, if you don't have a lot of experience in DIY projects, you could end up out of pocket with a poorly-made and unusable court.
But, if you're not picky regarding features and simply want a basic court for practicing ball, then all you really need is a hoop and maybe some paint for marking lines. We'll be going over the process for building a cheap basketball court in a little more detail below.
Check this video to learn how to build a backyard basketball court:

How to Make a Basketball Court Cheap?
If you're not bothered about having a top-of-the-range basketball court, then you can easily build one yourself for between $200 and $400. While you won't have the same level of features or quality as you would hiring a professional, you can still create a basic but fully functional court to practice your ball skills on.
Let's go over some small backyard basketball court ideas and how to make a basketball court cheap.
Choose the Location of the Court
Unless you have a huge backyard, your court is probably going to be half size. You only require around 20 feet of space for a half-court. If you want to build a full-size court, you'll need an area that's 100 feet in length and 60 feet in width.
Choose the Placement of the Hoop
Once you've figured out the location of your basketball court, next you'll need to select a position for your hoop. Outline the position using some chalk, then draw out the painted area, foul line, and the top of the key.
If you haven't already, purchase a basketball marking kit so you don't have to measure out the lines yourself.
Select a Basket
Now you'll need to decide on the type of basket you want to use for your court. Wall-mounted hoops are usually a bit cheaper than portable hoops, averaging at around $100.
Portable hoops can be a little pricey, but you should be able to get a decent one for around $150. In-ground basketball hoops, while much sturdier than other types of basketball hoops, are quite expensive. Even a basic one will set you back at least $400.
You could always check online marketplaces for preowned basketball hoops, but examine the condition and quality of the hoop first.
Additionally, if you're planning on dunking during play, make sure you get a breakaway rim.
Install the Basket
Once you've selected the type of basket you want for your court, it's time to install it. Simply follow the manufacturer instructions to get your hoop up and running.
However, if you have a portable hoop, you'll need to ensure the base has enough weight to prevent it from toppling over. Some units need the base to be filled with water or sand.
Put the portable hoop 2 to 3 feet from the baseline, out of bounds, as this will stop players running into the base or station during a game.
Paint the Court
This last step is entirely optional. If space allows it, paint the 3-point line and foul line. The college 3-point line is 20 feet, 9 inches, whereas the pro 3-point line is 23 feet, 9 inches. For both college and pro, the foul line is 15 feet.
Court Sizes for Each Level of Basketball
The dimensions of a basketball court is different depending on the level of play.
NBA
If you want to build a basketball court similar to an NBA court, you'll need a pretty big room or backyard. The outer dimensions of an NBA court are 94 feet long by 50 feet wide. The half-court line lies halfway between each end line.
WNBA and NCAA
Both WNBA and NCAA courts are the same dimensions as NBA courts: 94 feet long by 50 feet wide.
FIBA
FIBA (International Basketball Federation) and Olympic basketball courts are a little smaller than NBA and WNBA/NCAA courts, measuring 91.9 feet long by 49.2 feet wide.
High School
Most high school basketball courts measure 84 feet long by 50 feet wide.
Junior High
Junior high basketball courts are usually around 74 feet long and 42 feet wide.
Basketball Court Cost: FAQ
How Big is a Half-Court?
A half-court is half the length of a full-size court (the width is the same). Dimensions vary depending on the level of basketball.
NBA, WNBA, and NCAA half courts measure 47 feet long by 50 feet wide, 45.95 feet long by 49.2 feet wide for FIBA, 42 feet long by 50 feet wide for high school, and 37 feet long and 42 feet wide for junior high school.
Half-sized basketball courts include a single hoop, one free throw line, and one 3-point line. The free-throw line measures 15 feet from the front plane of the backboard.
For high school and women's college courts, the 3-point line arc is 18.75 feet from the middle of the basket. In contrast, the 3-point line is 20.75 feet from the middle of the basket on men's college courts.
Lastly, the 3-point line on professional courts is 23.75 feet from the basket.
How Much Does It Cost to Resurface or Refinish an Outdoor Basketball Court?
An outdoor basketball court needs to have a smooth surface, otherwise, you'll be tripping over left, right, and center. Every now and again, the flooring on your court will need to be refinished or repaired.
Depending on the damage, repairing concrete could cost anywhere from $300 to $3,500. If you have asphalt flooring, resurfacing it could cost $2,900 or around $2.25 per square foot.
How Much Does Hiring Someone to Install a Basketball Hoop Cost?
Hiring someone to install a basketball hoop for your court can cost around $450. As we mentioned earlier, hoops typically cost between $100 to $,1600 depending on the type and quality.
How to Paint Basketball Lines?
When you have the right surface and base for your basketball court, you'll need to paint the lines. You can do this yourself, but hiring a professional will give you a more accurate and precise outcome.
If you decide to go ahead and paint your own lines, you'll need paint, tape, primer for asphalt or concrete, non-skid additive, rollers, pads, and trays.
Final Thoughts
Basketball courts can definitely be a big and expensive project, particularly if you want it completed to a high-end and professional standard. That said, if you're happy with a more simple court to shoot a few hoops, you can easily build yourself one pretty cheap!