The indoor mini basketball hoops are built in a similar way as the full-sized versions that you would use at the park or at the stadium.
Whether you're locked inside for the current pandemic or want to have fun while sitting comfortably at the office or at home, mini basketball hoops are a good quick fix to your basketball cravings.
Are you looking for the best indoor mini basketball hoops?
Do you want to know what to consider when purchasing one?
There are so many basketball hoops on the market today, that it's hard to decide which one is right for you. The answers to your questions as well as everything you need to know about indoor mini basketball hoops is below in this article.
If you're looking for a full guide on mini indoor basketball hoops, we've got you covered. Some of these hoops have more advanced and practical features that allow you to compare prices and their pros and cons to use them indoors.
Are Portable Basketball Hoops Safe?
One of the very first questions that come to our mind when we think about mini indoor basketball hoops is if they are safe.
In fact, one of the most important things to consider is whether these hoops are made of any solid and reliable material that we can trust.
Well, just like all portable accessories and equipment, portable and indoor basketball hoops can have their less reliable part that you should consider.
First of all, it is easy for portable basketball hoops to fall over when playing. While this is a clear disadvantage, it is often overlooked by users and they can pose a risk when happening.
Imagine mounting your mini basketball hoop to the door and throwing the ball. If the hoop isn't sturdy enough, it might fall down and harm anyone passing by.
In addition, and remaining related to our first point, is the fact not to mount it properly to the door and it might, first, damage your door, but also make it fall more easily.
This is a mistake that can add another safety issue to the game as you would be adding more possibilities to hurt people around you while playing.
To sum up, make sure to invest in a proper basketball hoop as safety should always come first before anything.
What Should I Look for When Buying a Basketball Hoop?
If you're trying to decide on the requirements of a basketball hoop, you have several things to keep in mind.
The quality of the backboard is a factor to consider as the ball will continuously tap onto it and it, therefore, might be a problem when it comes to noise. Needless to say, children playing with their mini basketball hoop in the room will be loud if the quality is poor.
It's essential to check the safety of the indoor basketball hoop as it can fall down and, therefore, harm both kids and adults.
How Big are Mini Basketball Hoops?
While mini basketball hoops are great to be used indoors, their size matters. In fact, you don't only want to have fun with it, but you will also want to enjoy every throw you'll do.
The size of mini basketball hoops depends on the brand, the model, and the version of that specific model.
However, the average size for a standard mini basketball hoop's backboard is around 15 inches wide and 10 inches long.
If you have any requirements about the size of your future favorite indoor hoop, we recommend measuring your door or mount and comparing it with the size advertised.
Top 5 Best Mini Basketball Hoop
With the increasing popularity of basketball and the decreasing amount of time available, indoor basketball hoops have become a common accessory for many houses and offices.
All the mini basketball hoops below include the balls to play indoor while at the office or at home. However, some of them do not include the pump to inflate them so we recommend checking this before purchase.
Here below, you'll find the best mini basketball hoops that you can use anywhere to enjoy your break, burn some calories, and remain fit while staying indoor.
SKLZ Pro Mini Basketball Hoop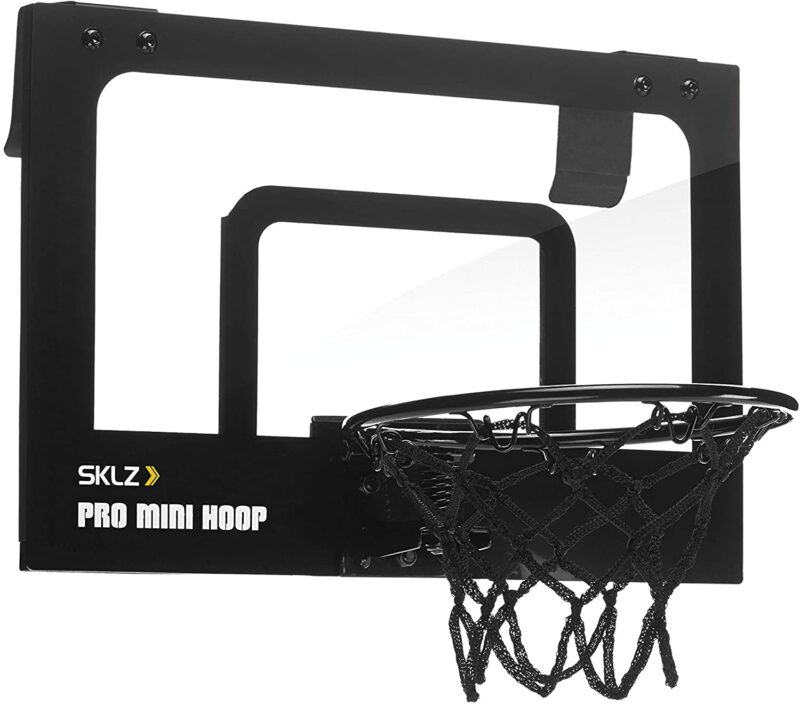 SKLZ is an internationally known brand that specializes in sports products. From golf items to football to soccer and ultimately basketball, they are experts in the field, and the thousands of reviews on their Amazon page is simply the proof of it.
The Sklz Pro Mini Basketball Hoop is the perfect tool for anyone who enjoys playing basketball indoors. You can practice all your moves, from lay-ups and free throws to driving to the hole, or for those who just want to get fit while staying home, the Sklz Pro Mini Basketball Hoop is the perfect hoops for you.
With the SKLZ Pro Mini Hoop, you can play any time, anywhere, with the utmost convenience.
Made with some of the best polycarbonate materials on the market, this high-quality basketball system features an easy-to-install design and an extremely quick installation. Simply set up the hoop and start practicing, even if it's raining or snowing outside!
The Sklz Pro Mini Basketball Hoop is designed with a durable clear, and shatterproof backboard, and a heavy-duty, 3-ply net frame.
Furthermore, this hoop is great for both kids and adults, and even small children can use the Pro mini basketball hoop.
Last but not least, their indoor hoop is made in 4 different versions with different features, dimensions, and balls:
Pro Mini Hoop Original priced at $29.99 – Dimensions: 18″ x 12″
Pro Mini Hoop XL for $39.99 – Dimensions: 23″ x 16″
Pro Mini Hoop Midnight that glows in the dark at $29.74 – Dimensions: 18″ x 12″
Pro Mini Hoop Micro priced at $24.99 – Dimensions: 15″ x 10"
You'll be able to enjoy a hoop workout while you're waiting for dinner or simply when you'll want to exercise before running errands. And because the hoop is so compact, you'll never miss a game because you had to leave the house!
Pros:
It is easy to assemble
The affordable price tag
Built with premium and durable materials
Cons:
Can be loud when throwing the ball
The door mount might not fit all the doors
Spalding NBA Jam Over-The-Door Mini Basketball Hoop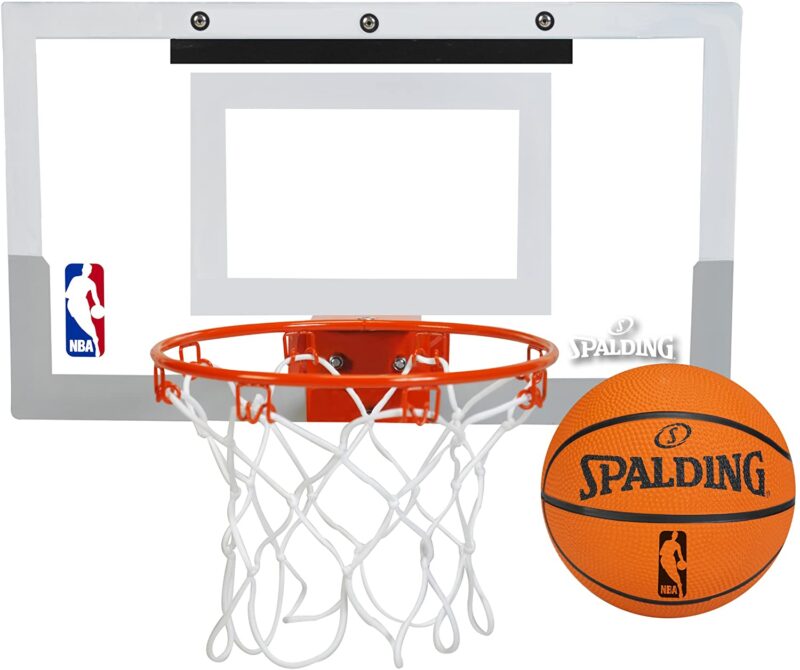 The Spalding NBA Jam over-the-door mini hoop will definitely be a good addition to your home if you love to play basketball.
This unit comes with a regulation basketball court that is installed in the garage of the house and it can be adjusted to a much larger size.
The cool feature of the Spalding indoor hoop is the fact that it's a replica of a real NBA hoop and, therefore, it will make you feel just like if you were at the stadium.
Other than that, it was built with premium materials which allow it to be sturdy enough to last all day and the only issue you'll notice is the noise coming out of it.
On the other hand, it is important to note that the rim does move but this is also expected from an indoor mini basketball hoop and not a professional one worth thousands of dollars.
All in all, it is one of the best mini basketball hoops you can get for all the design, durability, and reasonable price. Over 6,400 reviews on Amazon simply confirm the fact that it is a reliable indoor basketball hoop that deserves to be given an opportunity.
Pros:
Sturdiness and high-quality materials
The durability – It will last for a few months at least
The simplicity to assemble
Cons:
The hoop can get pretty loud when throwing the ball
The backboard is a little thin and could break when playing
You will need to inflate the ball by yourself – note that the air pump is not included
TREYWELL Indoor Mini Basketball Hoop for Kids and Adults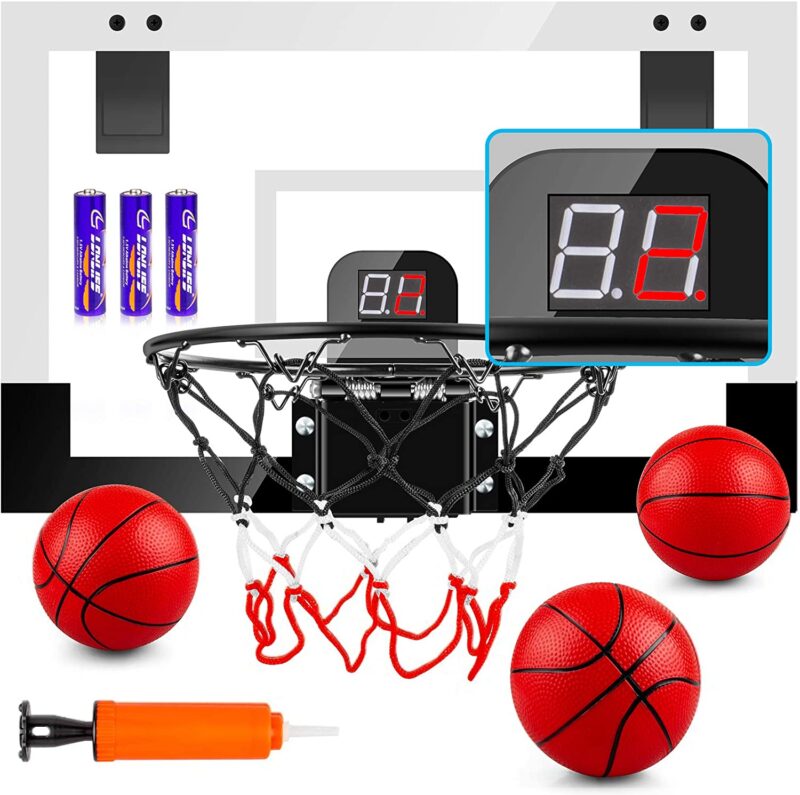 The TREYWELL Indoor Mini Basketball Hoop is one of the best when it comes to all-around indoor basketball hoops. This model is probably the best choice if you've got only a little space available.
To start off, the TREYWELL Indoor Mini Basketball Hoop features a sturdy frame that's built to handle the wear and tear that comes along with constant usage. Whether you're an adult playing at the office or your kids playing in their room, this won't break easily.
Also, there is a scoreboard on the indoor hoop that allows kids and adults to add a part of entertainment to the game. Did we mention that there's a remote control that will allow users to reset the score while remaining seated?
The same scoreboard will allow kids to play with their friends counting points and this is, especially for the ones that need to stay home during quarantine or because of cold weather, a very nice feature.
On the other hand, it is important to note that cheering sounds will come out of the indoor hoop and, therefore, make it relatively noisy and annoying for some users. Those cheering sounds cannot be turned off and this is definitely a point to consider
All in all, the indoor mini basketball hoop from TREYWELL is robust, made of steel, will last you a long time, and will certainly make your life more enjoyable.
Pros:
The scoreboard makes the hoop funnier to use
A durable and thick Aluminum rim and padding
The hoop can be attached anywhere on doors, on a bed, and even on railings
Cons:
Once hung to the door, the height cannot be adjusted
Cheering sounds cannot be turned off
AND1 Pre-Assembled Mini Basketball Hoop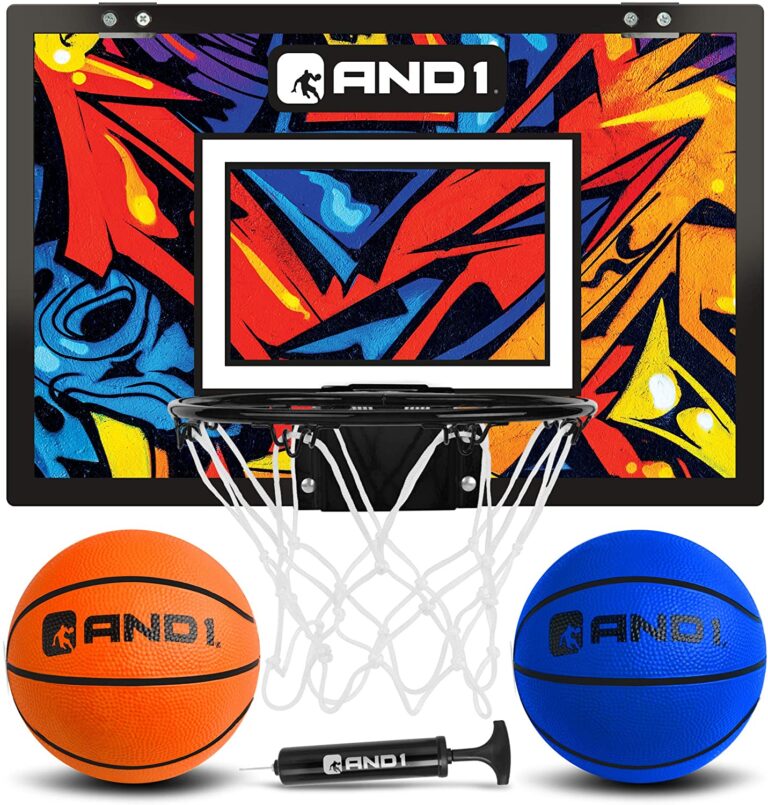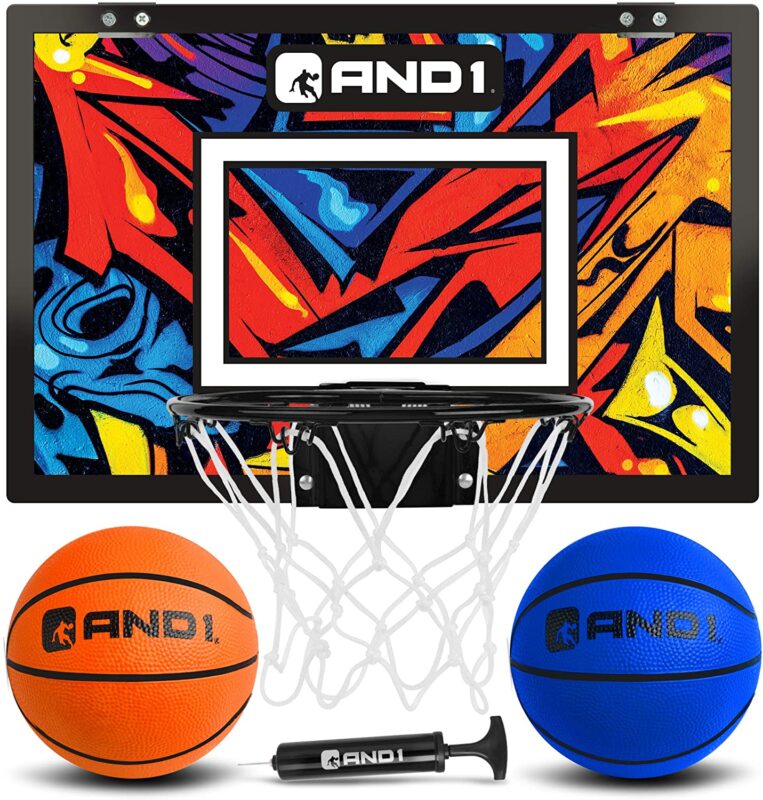 What makes the AND1 mini basketball hoop so special? Why should you invest in this one-of-a-kind basketball hoop? There are so many reasons.
First, and that's its most obvious feature, its design is colorful and can be matched any kid's room. It also comes with 2 balls, an orange and a blue one, to make it even more stylish.
Second of all, and while it is pre-assembled, It has an easy-to-follow instruction manual and you will still need to go through the minimal set-up. However, it is only a 3-step setup to be done and it will quickly be done.
While it is supposed to be hung at the door to ensure the highest safety, it is also possible to attach it to the wall with anchors.
Furthermore, and on a more negative side, the backboard is made of relatively flimsy hard plastic and might break over time.
In plain words, if you want to get a good value for your dollar and have the best in comfort and durability, the AND1 mini basketball hoop is your answer.
Just set it up, forget about everything else, and go play some hoops. You're ready to start exercising and having fun in no time!
Pros:
The hoop is easy to assemble
The cheering sounds aren't very loud
Its design is simply unique and different from all other indoor hoops
Cons:
The backboard is a little flimsy
More expensive compared to other indoor hoops
GoSports Basketball Door Hoop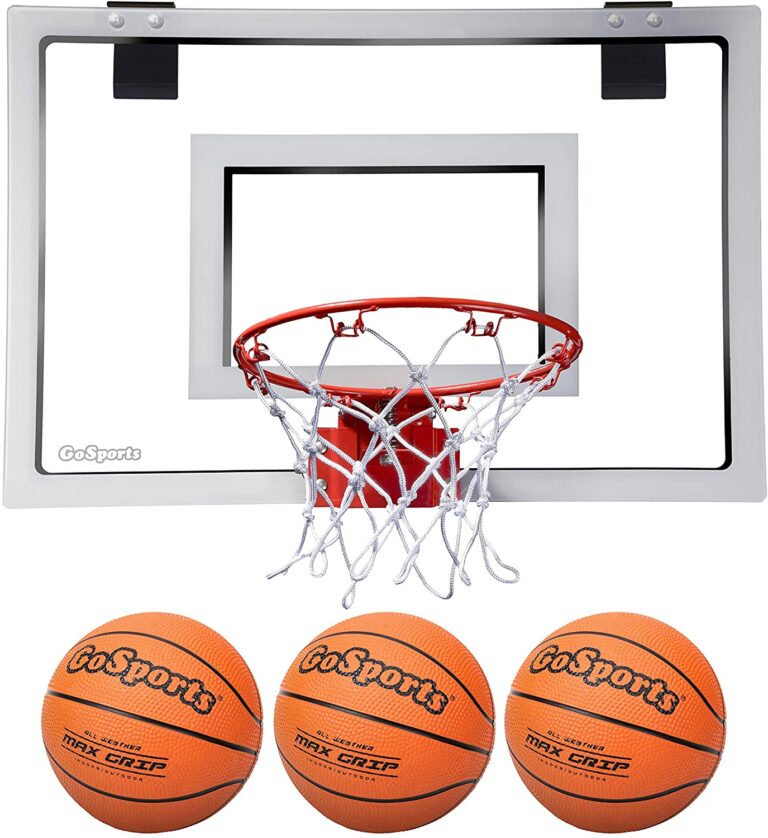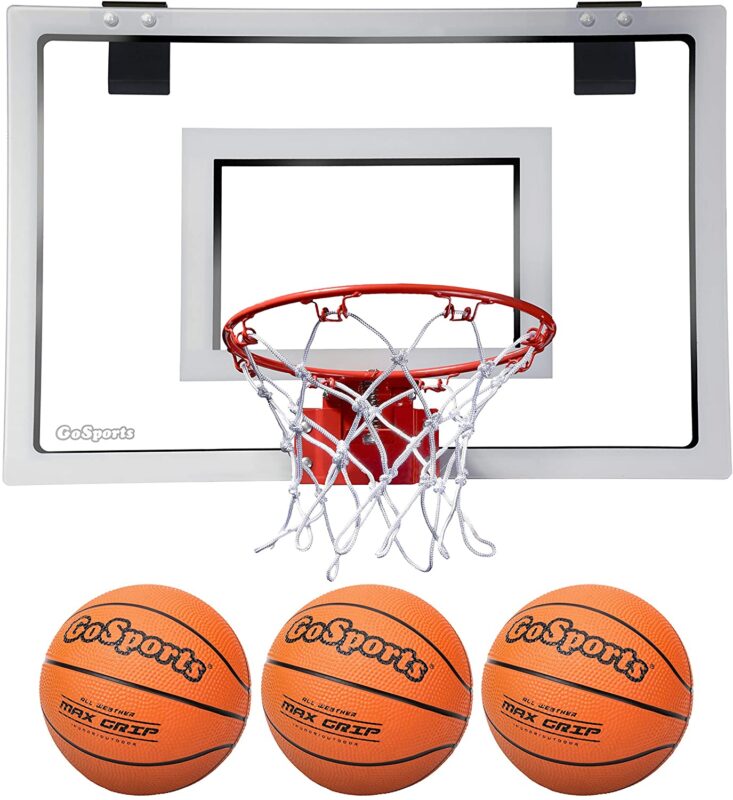 Playing basketball indoor has never felt this good with the mini hoop from GoSports! Hang it on any door at your house, dorm, or work to have the thrill and fun of an authentic NBA full-sized basketball court in just seconds.
The durable and innovative design and included basketballs provide the true feel of a real slam-dunking experience in your backyard.
This innovative mini basketball hoop stands out from the other ones simply because it's carefully designed to withstand the constant action of a bouncing mini-ball. With a sturdy metal frame and easy to pull laces for a secure fit every player on your team can participate and feel their best in a true championship game.
Moreover, with its 9.5 inches rim, it will be even more enjoyable throwing the ball into the net and that is certainly a factor to consider when choosing your next indoor basketball.
Additionally, the indoor hoop from GoSports has 2 sets of mounting brackets on each side which is convenient if you're willing to attach yours to the wall.
On a side note, the net is not the most durable and, therefore, might break over time if the hoop is used continuously throughout the day.
Last but not least, it's important to highlight the fact that 2 different versions are available, Standard and Pro. However, the only difference between both is the size. The built quality remains the same and nothing changes in terms of sturdiness nor durability.
Pros:
Sturdy shatterproof backboard
The air pump is included in the box
Very simple to assemble and to mount to the door
Cons:
Makes a loud bang when playing
The price of the Pro version at $39.99 which only provides bigger dimensions
How to Attach a Mini Basketball Hoop to Your Wall?
As we've previously seen in this article, the best way to mount your mini basketball hoop is to attach it to a door.
However, if done properly, it is totally possible to attach it to the wall and enjoy an indoor basketball game even more.
First of all, you will want to drill 4 holes in your wall in order to then screw the anchors. You should have one or two sets of mounting brackets on each side of your backboard.
Place the backboard on the wall, indicate with a marker where the holes are, and hammer the wall 4 times.
After that, place the screws on the backboard, position it correctly on your wall, and screw it into the anchors.
Since mini basketball hoops aren't that big in size, you don't necessarily need to mount yours to the wall. But, this will allow you to have a better grip when playing, to secure it more compared to your door, and eventually avoid damaging your door.
Our Bottom Line
This was our best selection of mini basketball hoops to play indoors at the office, at home, or from your swimming pool.
If you're looking for the best basketball hoops for both adults and kids, you need to understand that there is more to it than just a ball.
While there isn't, essentially, a big difference between the different types of hoops, there are a few factors that you need to keep in mind. For instance, the built quality and materials are certainly important points to keep in mind.
Most of the indoor basketball hoops are made from hard plastic, plexiglass, or aluminum, and, therefore, they're not easy to break down only by playing (unless you spend hours daily playing).
To sum up, check the pros and cons of every basketball hoop, choose the one that is best for you or for your kids, and start throwing the ball comfortably from your chair!
Also Read: Best In-Ground Basketball Hoops