Who doesn't love some good memes to mock your favorite NCAA basketball teams? Want to make fun of Duke or Michigan State? Do not worry, we got you. Here are funny college (NCAA) basketball memes to crack some ribs. We have included some march madness banter in there to troll your friends about their brackets and seeds.
March Madness Memes
What better way to start this list off than with march madness memes? Let's discover the best memes to make fun of your friend's ambitious brackets and watch them fail spectacularly.
The Ambitious Brackets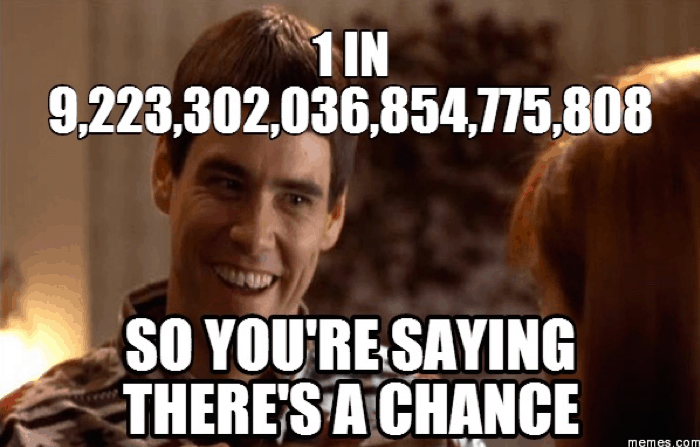 There are those friends of yours who don't know if games were in 50/50 propositions, then the chances of having a perfect bracket would be 1 in 9,223,302,036,854,775,808. Or, they know but still remain optimistic about their odds, this is for them.
The Sore Loser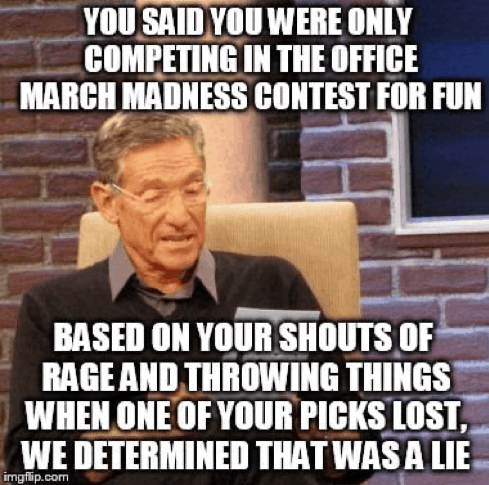 We all know that sore loser who always denies his expectations and anticipations. Let them know you remember they lost and it is okay.
The Overconfident One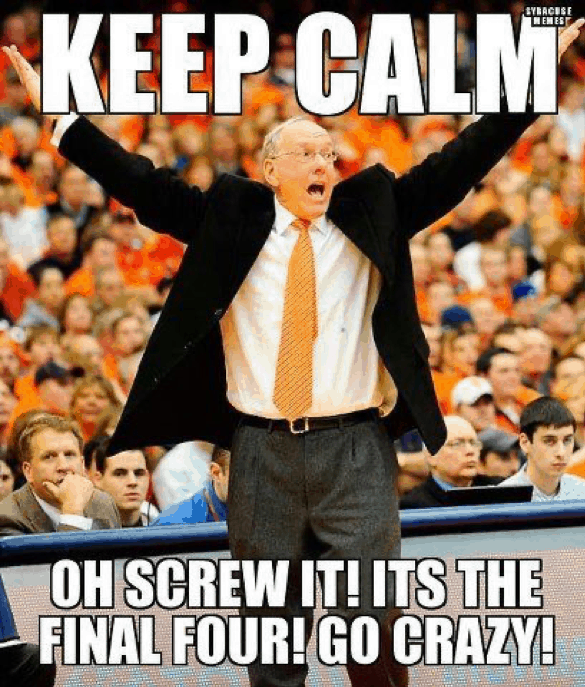 A mile run is not a mile won. But some of us are to quick to anticipate our wins right before they happen, especially during the march madness craze.
Busted Brackets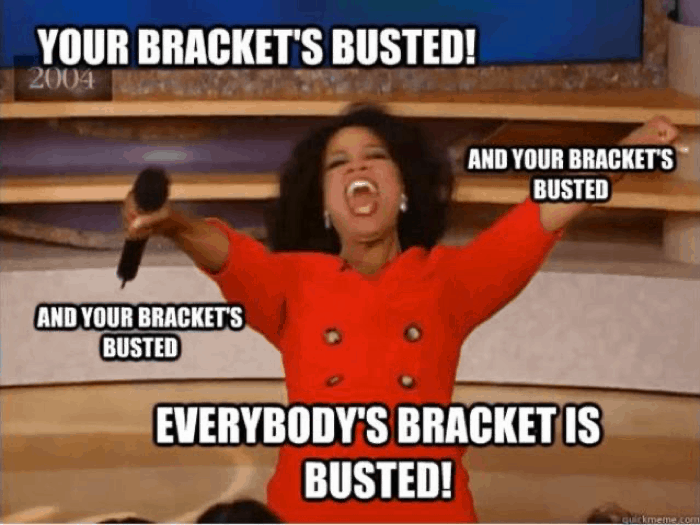 You thought this year would be different? No, same game same rules same results, busted brackets as usual. Send this to your family or friends who believe their brackets are the epidemy of perfection
The Craziness of March madness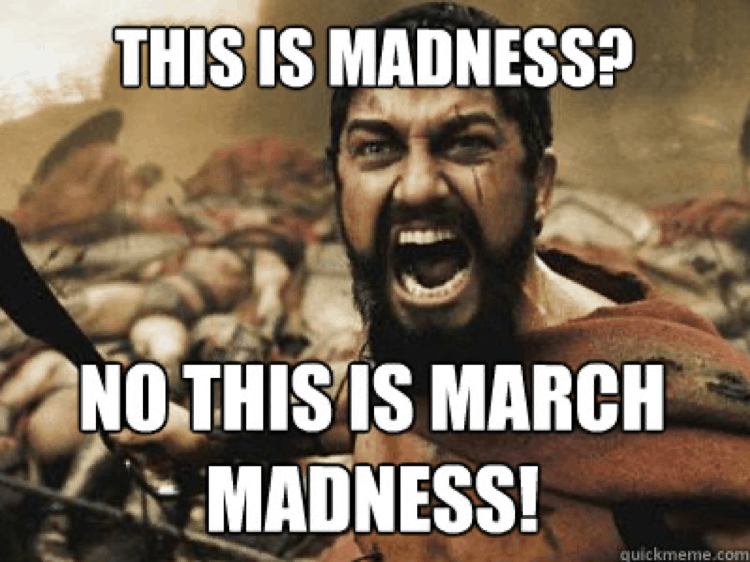 Whoever named the march madness was wise, because it is truly madness. The tensions are high, expectations higher, and fear roams the streets. Do not fear it, embrace the madness, because this is march madness and it deserves your craze.
Picking Seeds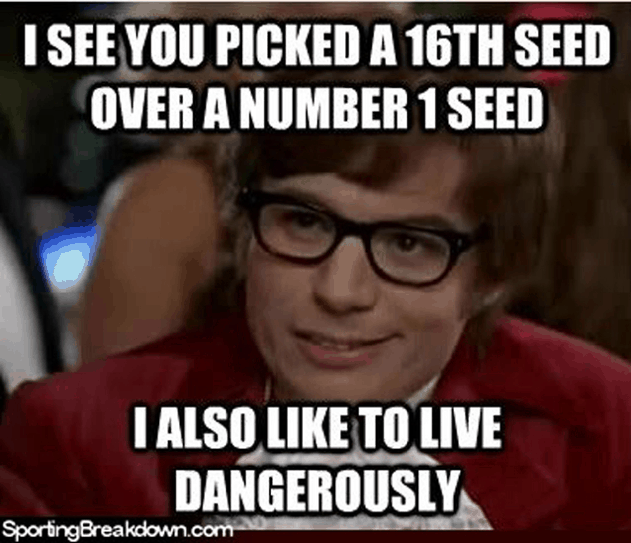 Most of us are not experts when it comes to picking seeds. What is a little risky here and there to test the waters? Live dangerously for a while and make your friends pick a 16th seed over a number 1 seed.
How much madness can go south really quick?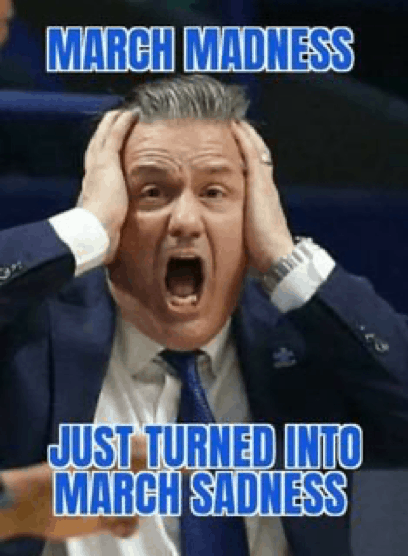 March sadness is synonymous with march sadness, it is part of the game, and one might consider it a feature and not a bug.
The Regrets of March Madness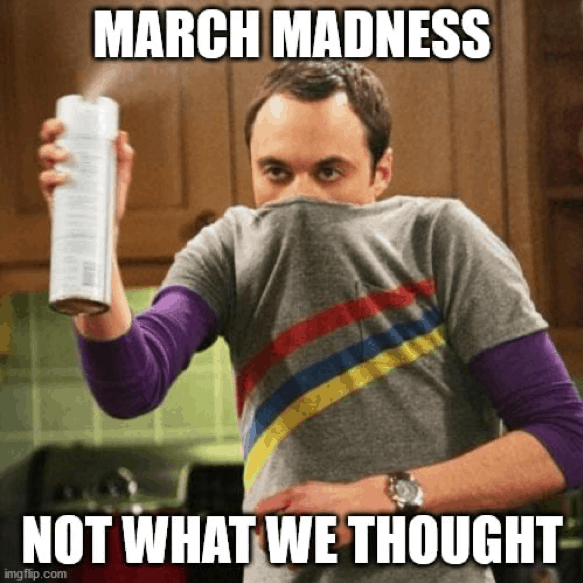 Expectations and the reality of march madness is always different. For most people that is. Make sure you are as prepared as Sheldon Cooper to deal with the contaminations that come with the craze.
How terrible are you at filling out a march madness bracket?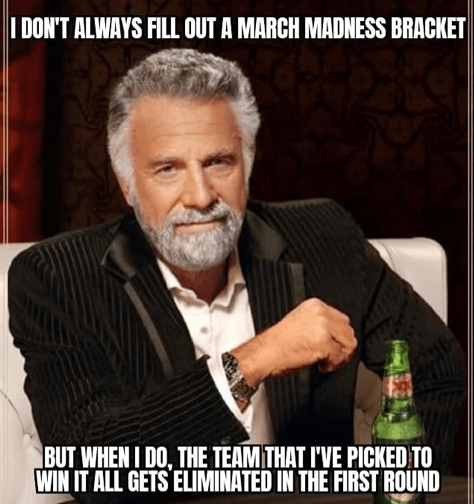 Maybe it is because you suck at march madness brackets or you are just unlucky. Either way, march madness isn't meant for some people.
Michigan State Basketball Memes
Winners of two NCAA championships and sixteen Big Ten Conference Championships, Michigan State Spartans are one of the most impressive college teams. But they are not with their own fair share of disappointment and embarrassment.
Who can beat Duke? Us, of course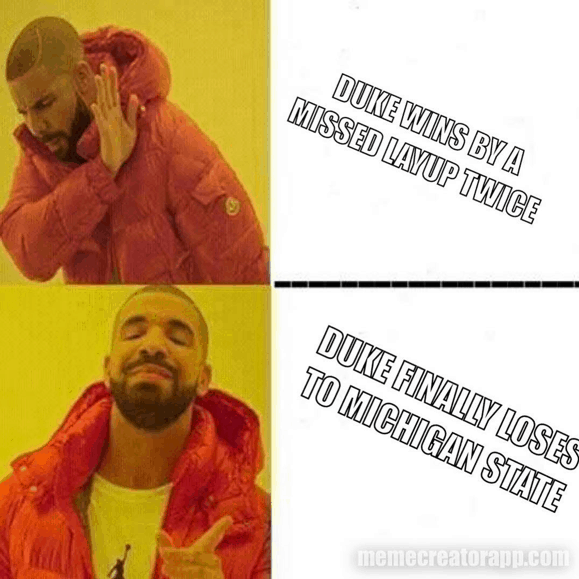 Seen as the bigger dog, Duke has lost on a number of occasions to Michigan State, and that is a beautiful thing, let your Duke fans know that.
We can be disappointing some times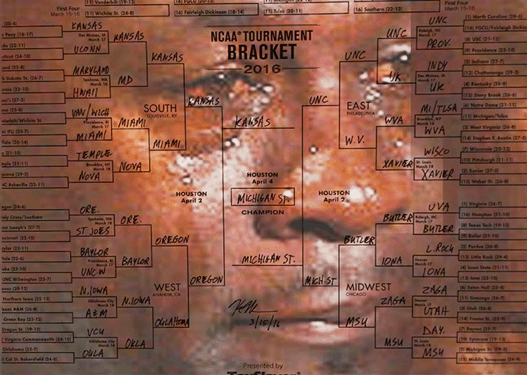 NCAA tournament brackets for 2016. What a painful year that was for Michigan fans.
We Cry Too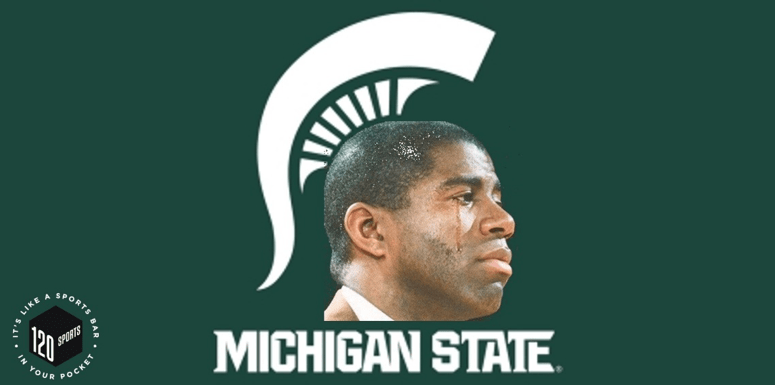 If you lose too many times, then it might make more sense to change your flag into something that represents the team's state.
Kentucky Basketball memes
Coach John Calipari is an iconic coach with lots of controversial strategies and amazing performances at the same time. Moreover, he is ranked as the highest paid college basketball coach. Kentucky Wildcats men's basketball is also well known for being formidable players against strong holds like Michigan.
Does anybody love Kentucky anymore?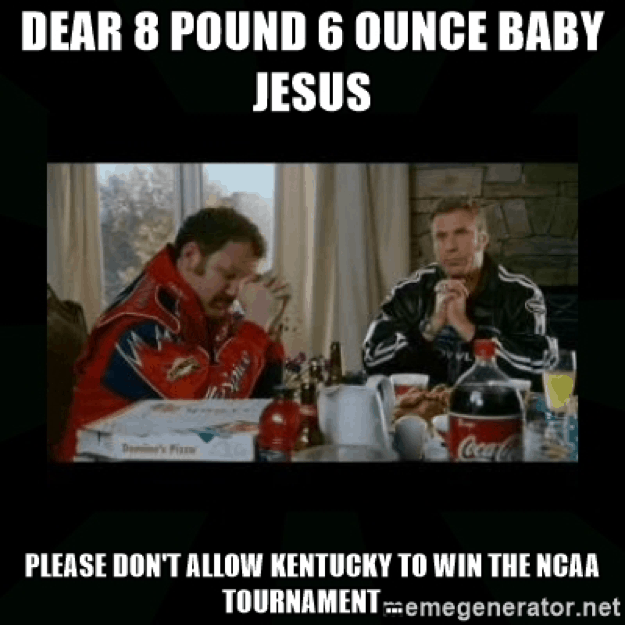 Does it keep you up at night that some people are praying for your downfall? If not, then be thrilled, because that is very funny.
Its great to be a Wildcat, isn't it?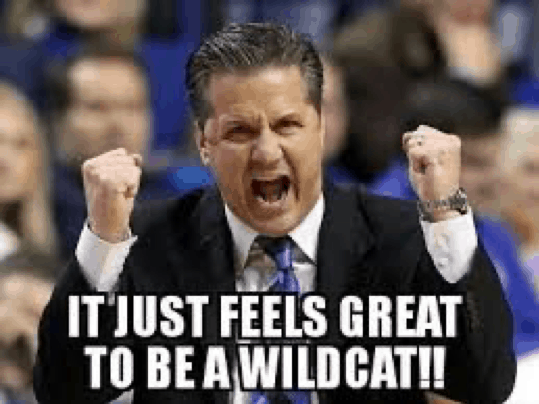 There is no one who is happier than a Wildcat when they win.
The disappointment and failure are tough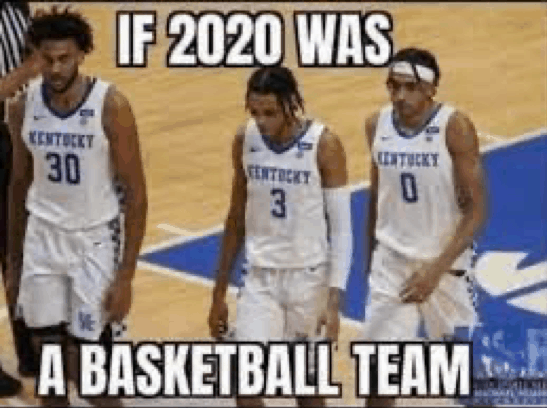 To fail till your team's performance gets compared to 2020 is enough to make anyone quit. But like all things, the losing streaks always come to an end for Kentucky Wildcats.
Does Calipari cheat?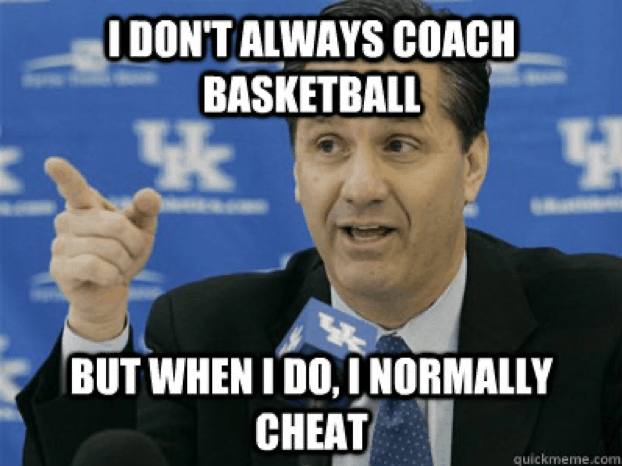 When your team is great, haters are going to hate. They will accuse you for cheating and the Wildcats' coach is no exception. Why defend your team when you can troll your haters with the fact that you can get away with it.
We Don't fear Tennessee. Do we?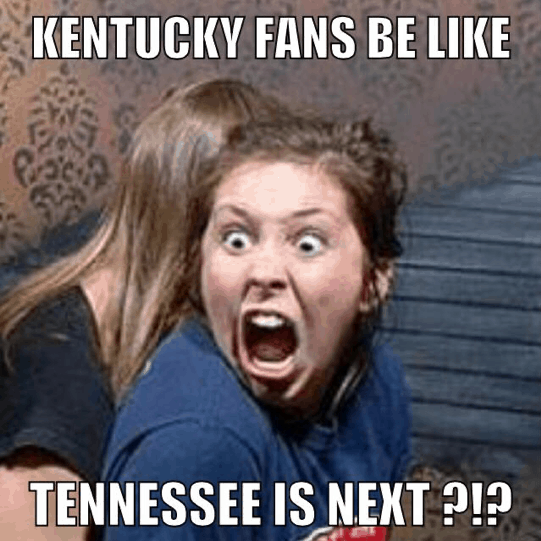 Tennesse is force to be reconned with. Even the great Wildcats can't escape from the inevitable dread of losing to them.
We always beat Louisville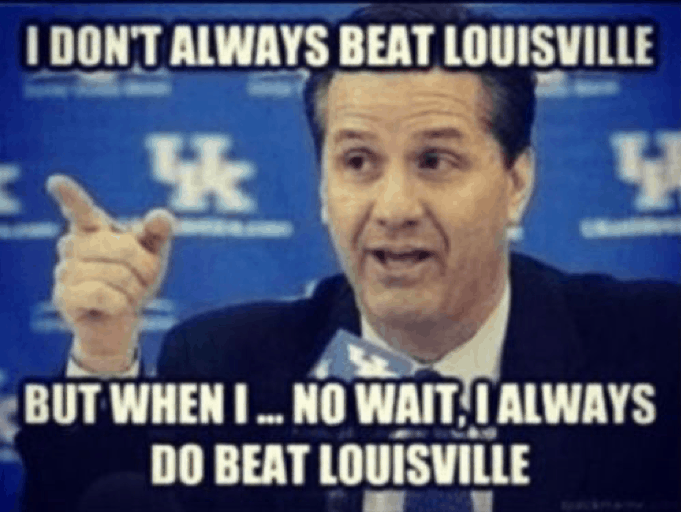 It is always nice to know, that no matter how brutal other big teams can beat you, you will always have a team to always defeat.
We may loose, but we play hard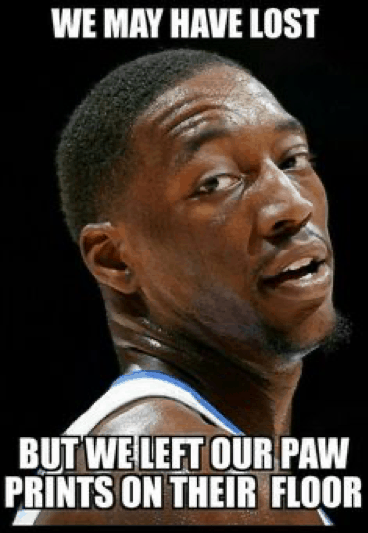 The play is more important than the win. That is the beauty of the game, but who loves a loss, right?
Your team can suck sometimes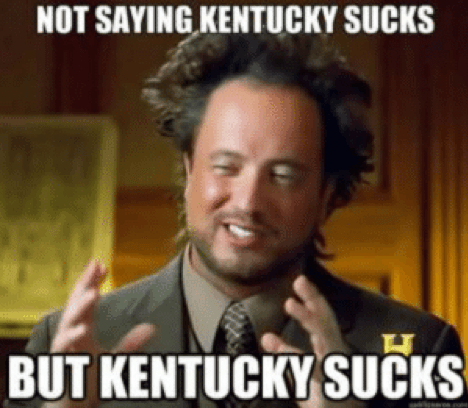 Kentucky often loses its grip on success easily; their wins are often short-lived and hard to come by. In simple words, they suck.
We are the boss and the daddy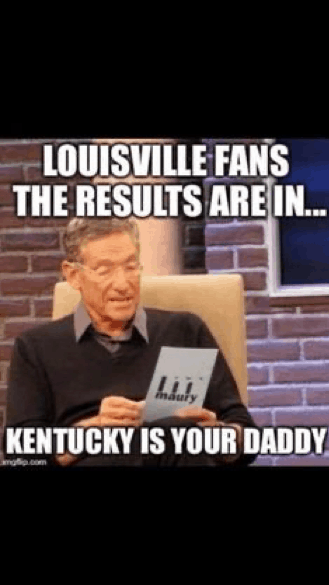 Do you like being called daddy by Louisville fans? Then choose Kentucky.
Only Kentucky fans can relate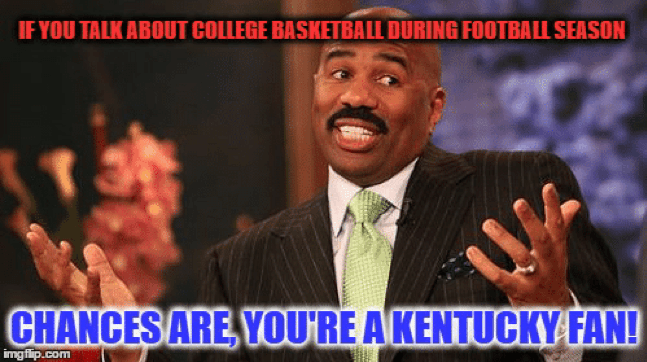 If there was one thing to differentiate Kentucky fans, then this would be it.
They tremble at the sight of us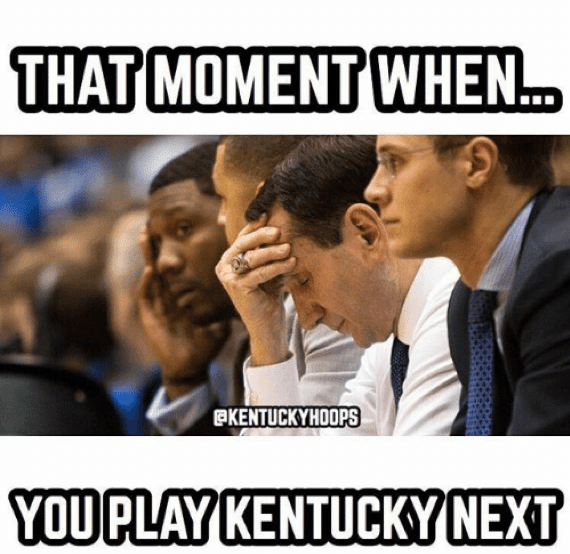 It is the pride of a team to be feared. And it is good to know Kentucky is that team.
North Carolina Basketball Memes
With 46 NCAA division 1 team national championships, North Carolina are beasts and truly feared formidable players. However, they are known for their misguided pride that usually leads to failure. Lets see what memes fit their description.
Michigan State can get salty with North Carolina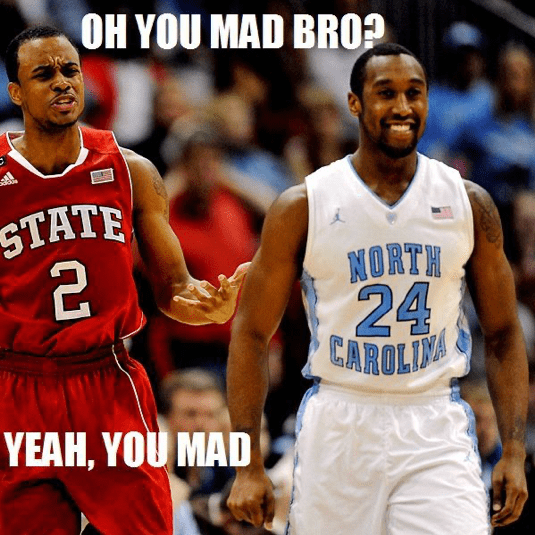 The confidence is key. You haven't made it till you perform so well that the other team loses it as you smile to the finals.
When they disappoint you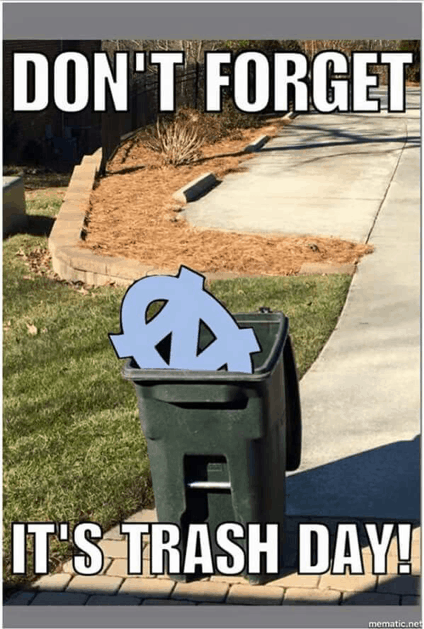 Every team will fail from time to time, and when it does, it is always good to trash them. Or else how would they improve.
Defeat while watching from the sidelines be like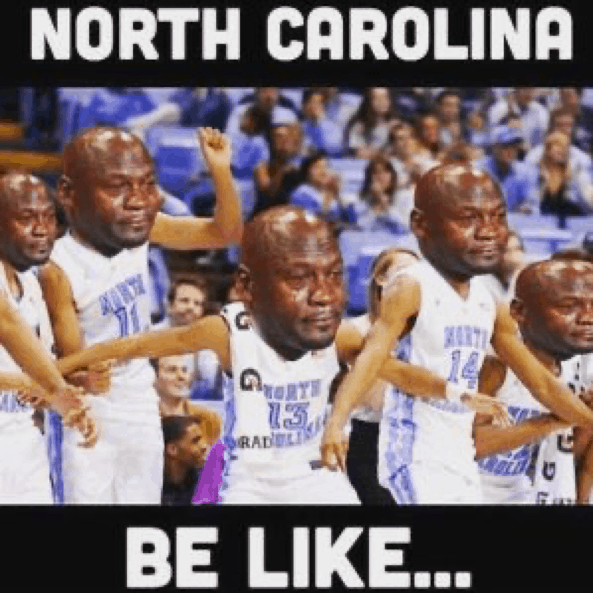 As much as losing is part of the game, several loses can drive you to tears, especially on the court.
Its sad that we lose too much, that is why we cry like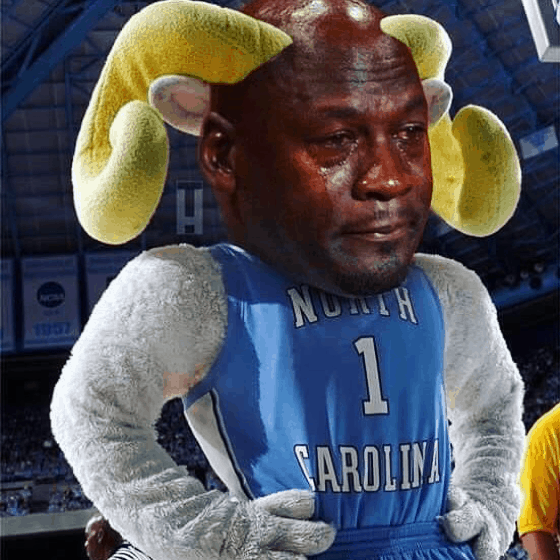 The greatest teams cry the most, UNC is no exception especially considering the fact that Michael Jordan played for team.
Louisville Basketball Meme
The Cardinals only have two NCAA championships wins and have been to only 8 Final Fours. Needless to say, the jokes write themselves with this team.
Coach will be our downfall, we can't trust him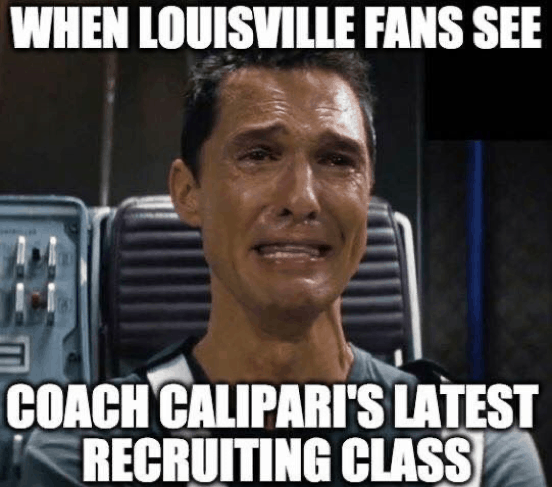 Every fan will often think they can do a better job than the coach. But since you can't do anything about it, you are left to worry but hope for the best.
John Calipari's help has never been underrated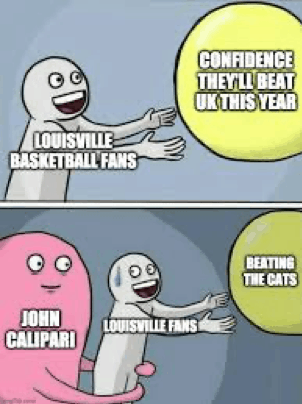 On the other hand, some coaches can be miracle workers, John Calipari is a good example of this.
Said no one ever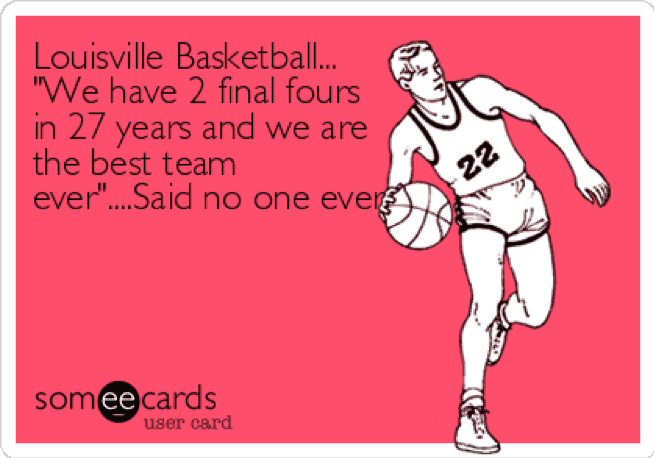 Even the fans are not so confident in the team.
Kentucky wants us to call them daddy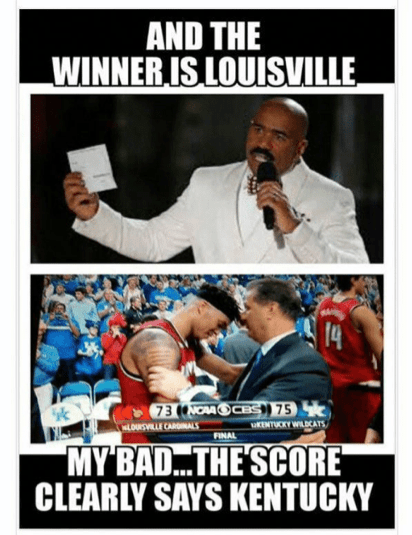 With numerous loses to Kentucky, one can only understand why Kentucky is called their daddy.
The tailgates of NCAA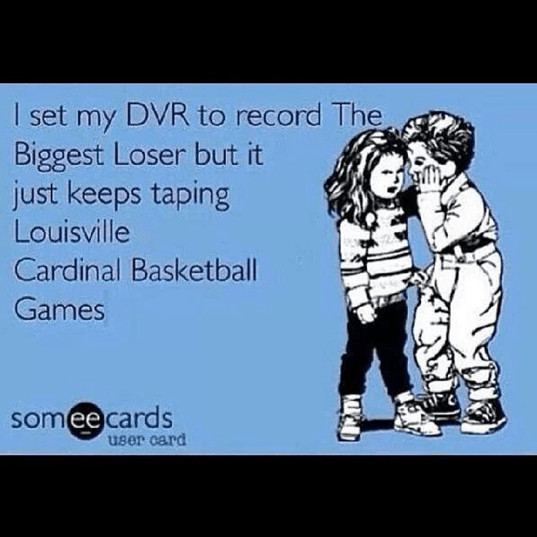 Have you ever believed in your tea, but got so shocked at how they performed? Well, that is not news to Louisville.
Can't convince them otherwise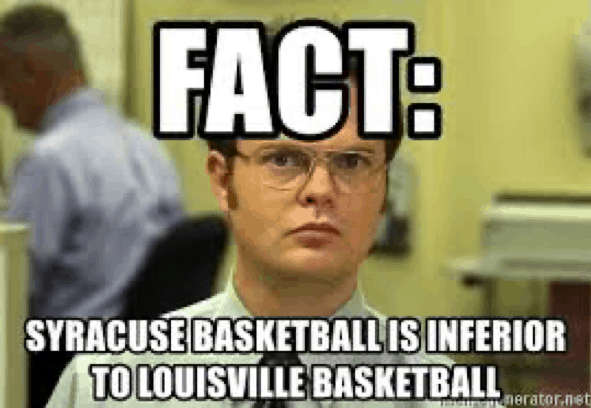 Duke Basketball Memes
The goat themselves. They are one of the most beloved teams and the most hated in the same proportions. You either love them or hate them, there is not middle line. You know when they come to play it is going to be amazing and no one can be able to stop them easily.
Duke is Carolina's daddy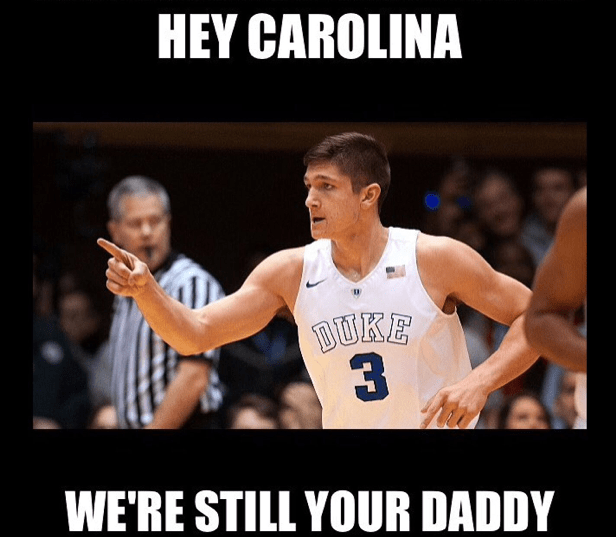 Duke dominates over all the NCAA teams, takes most of them toe to toe and Carolina is no exception.
Others talk Duke wins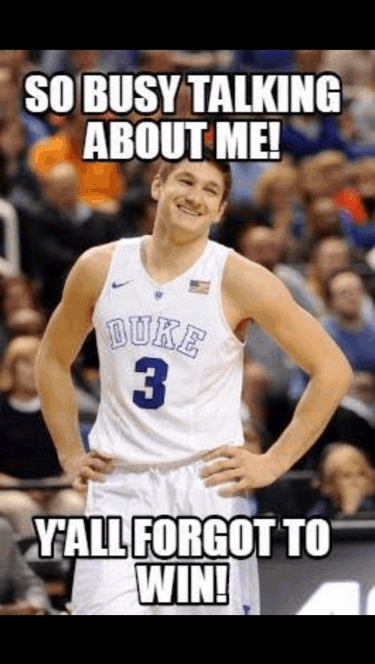 Basketball is won by those who believe that more talk equals less play.
Grayson Allen's cockiness, the one-man team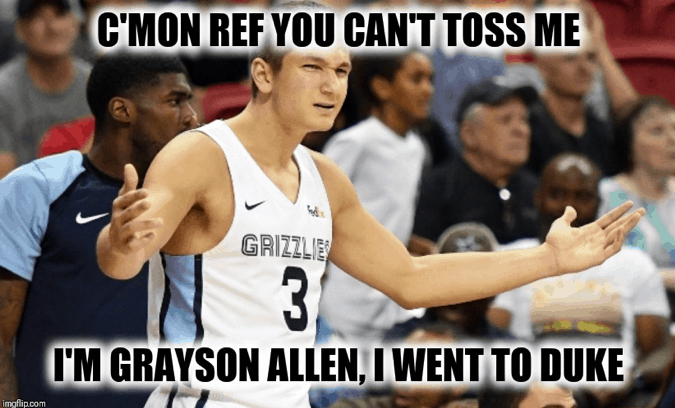 We all know how the glorified Duke students overemphasize where they study, but who are we to judge, they are arguably the best.
They hate us so much, it is almost political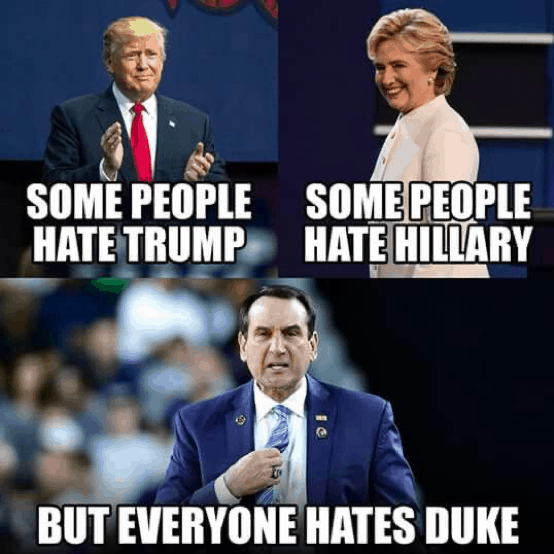 You know you are doing something great when you get compared to political figures. Duke is so influential and powerful to the extent of it having political comparisons.
Only lose to a 15 seed, or don't lose at all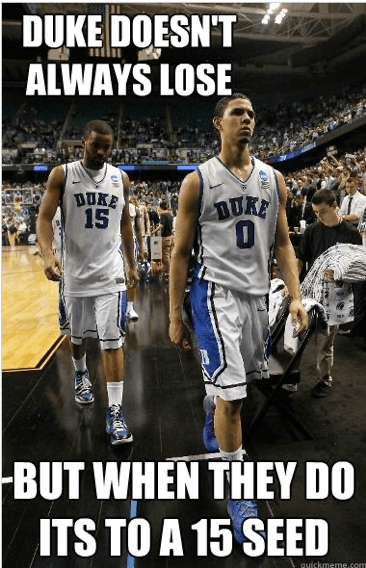 If you have to lose, lose to the best, and in the most respected stance. Champions still remain champions even when they lose.
Duke's game will make a grown man cry like a baby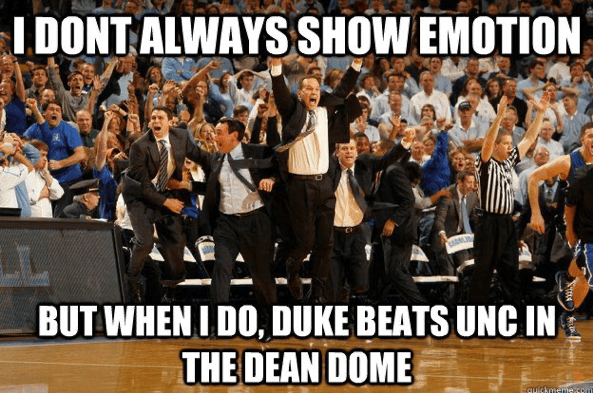 Want to see a man cry, watch him celebrate Duke's wins.
If we lose, we lose together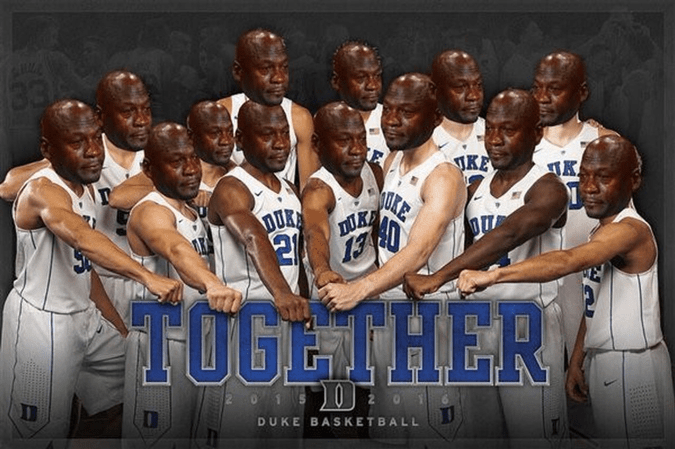 There is no 'I' in team. Win together. Lose together. Laugh together. Cry together.
The best night is when duke is playing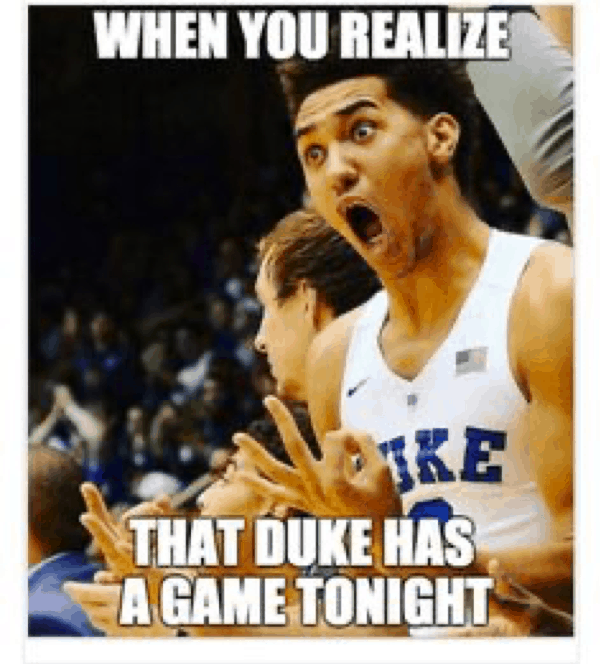 An interesting game will make your day any day.
Setting records upon records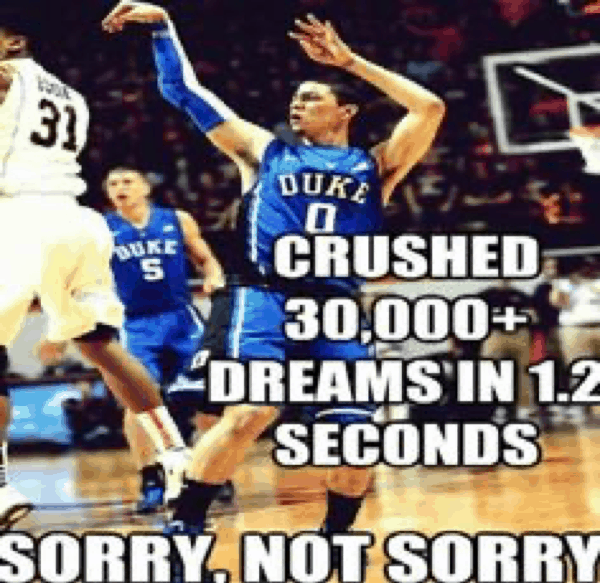 The Dukes owe no apology for being the best. Who else can compare?
We always triumph against UNC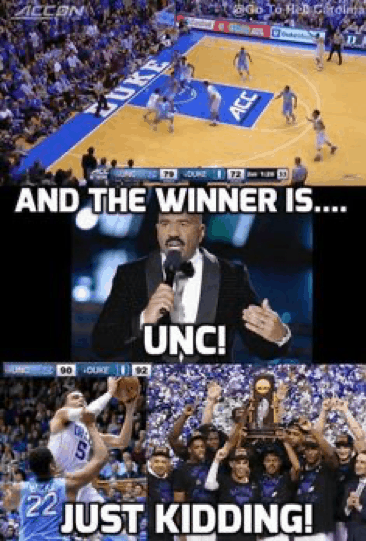 If Steve Harvey was the winner presenter, then he would definitely make fun of UNC for losing so many times to Duke.
The disrespect is real, not to mention the hate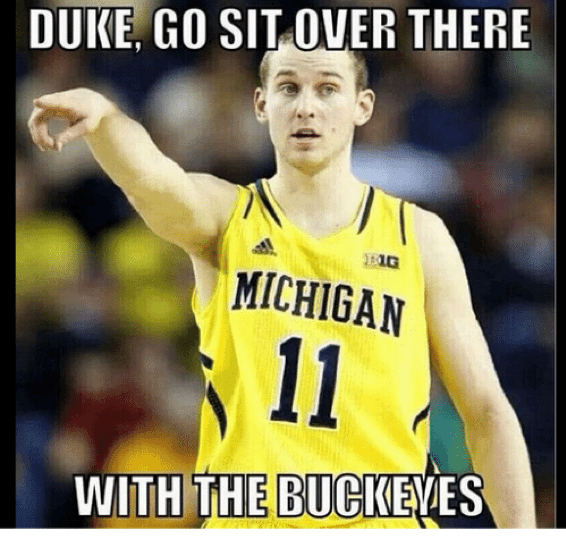 Michigan has their moments and when they get them, they always own the game.
We may be best rivals, but we may as well be the best love story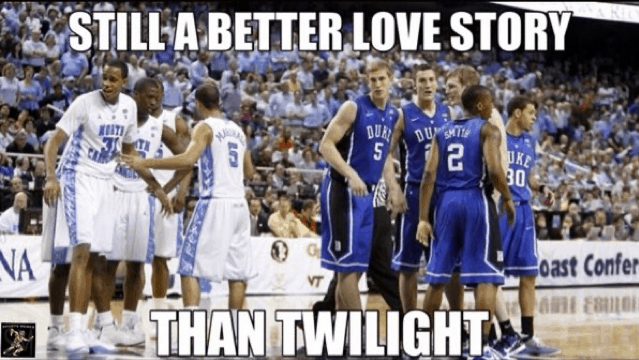 Those who fight hard love hard. Ask Duke and UNC.
Biggest rivalry in NCAA, you won't convince us otherwise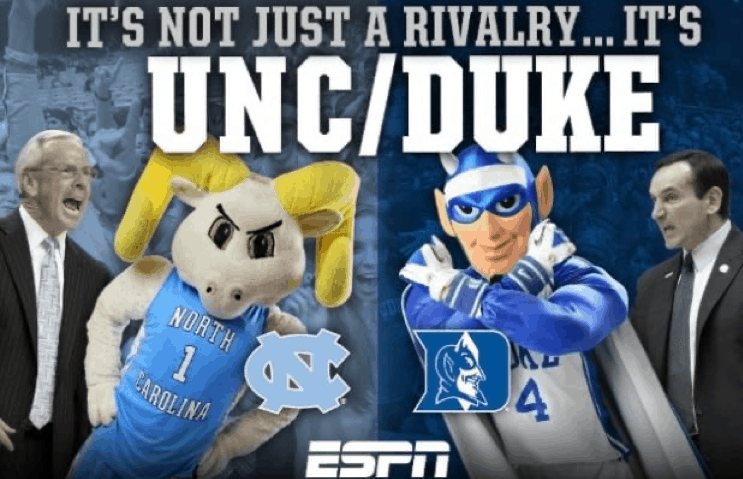 Rivalries make basketball more fun. UNC and Duke provide that competitive zest that we all desire.
We tend to forget college players need to go to class too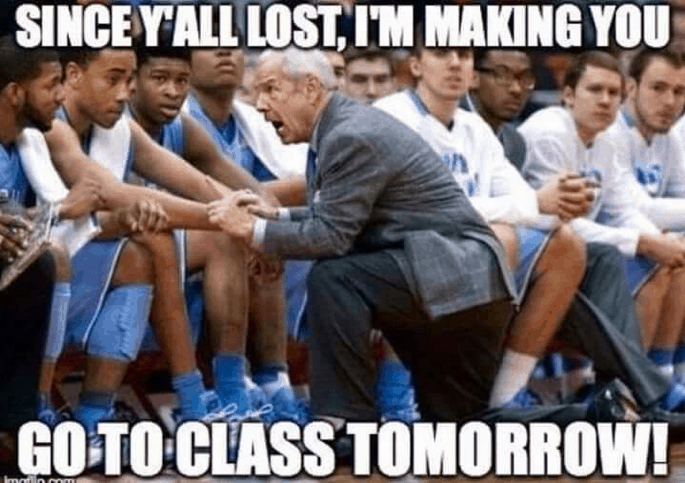 Its no surprise to most that college basketball players rarely get the time or chance to study as much as they can.
Unranked teams can catch Duke off guard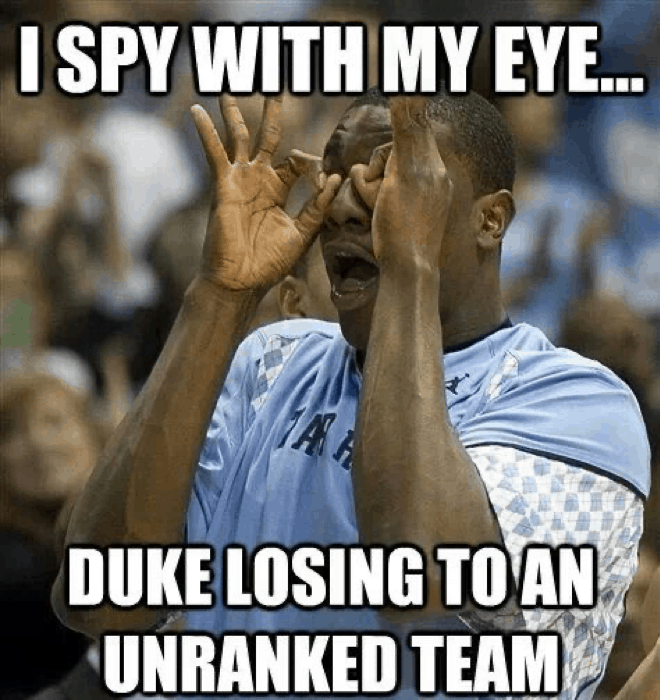 Even lions lose easy prey during the off season. Duke is no exception.
We are the beasts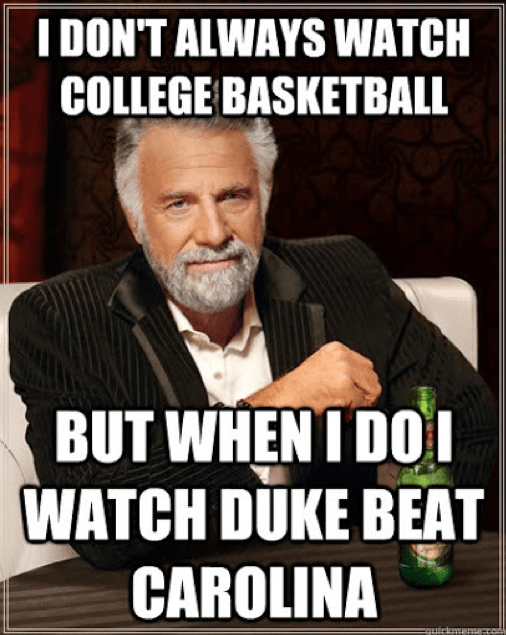 It is okay to watch basketball because of a single match. But if you have to do that, then chose to watch a game between UNC and Duke, its always thrilling.
We are the champions too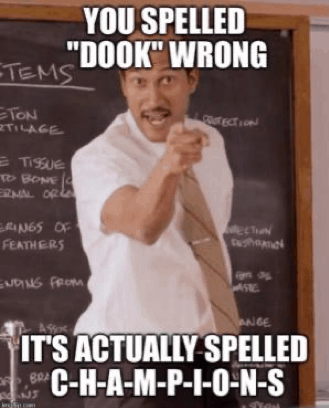 How famous and awesome do you have to be to have your name used interchangeably with other similar sounding words?
Haters are going to hate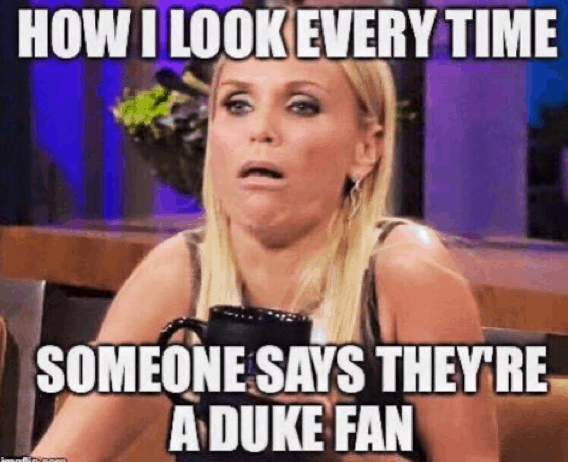 You know you hate a team when the thought of someone supporting that teams make you want to puke. The emotions are so great that they manifest in the physical plane. That is the beauty of being a fan of basketball.
Most Relatable College Basketball Memes
How is it possible?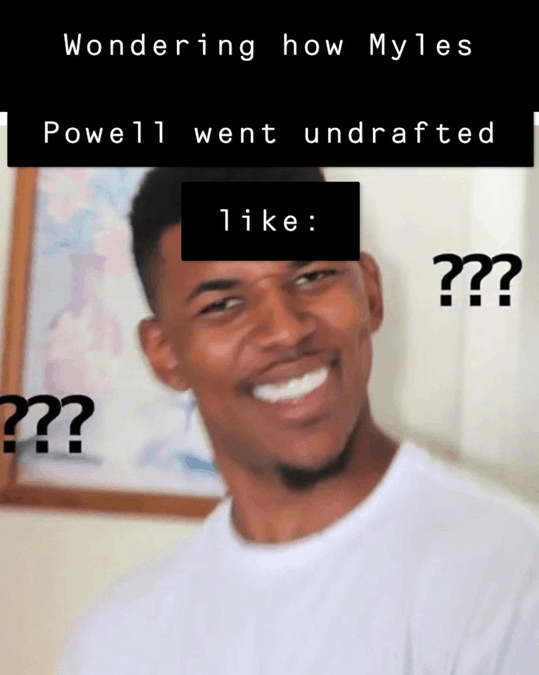 The chance of getting into the NBA is 1.3%. It does not matter how great you are, the competition is fierce and a lot of notable players miss a spot in the drafts.
Some teams are just scary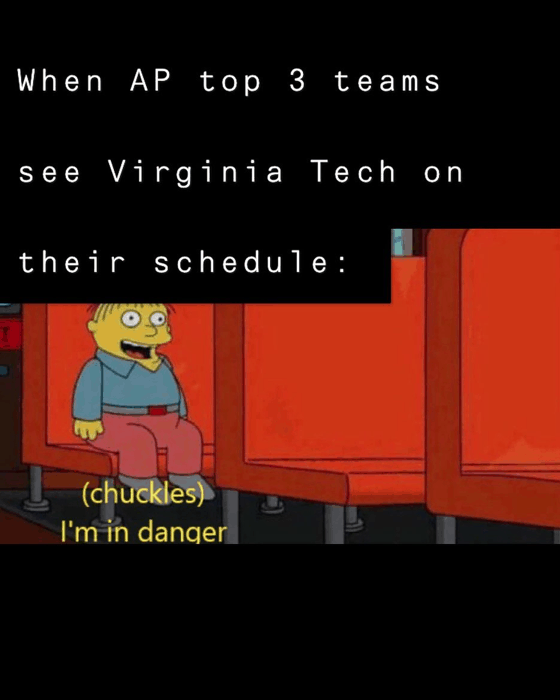 It's okay to be scared of a bigger and better team, but you still have to play. This is probably the dread some teams feel when facing Virginia tech.
Some players do get scared sometimes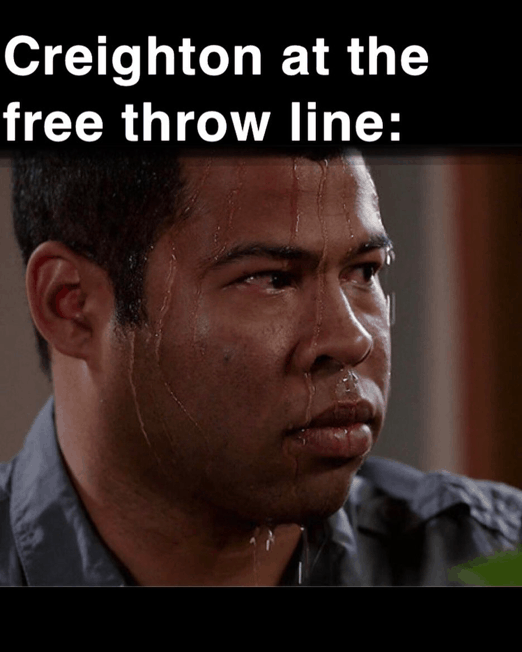 Having a lot of fans and players watching you perform a stunt that you aren't good at is the best recipe for sweating profusely.
It is all play and fun till you are considered too weak to compete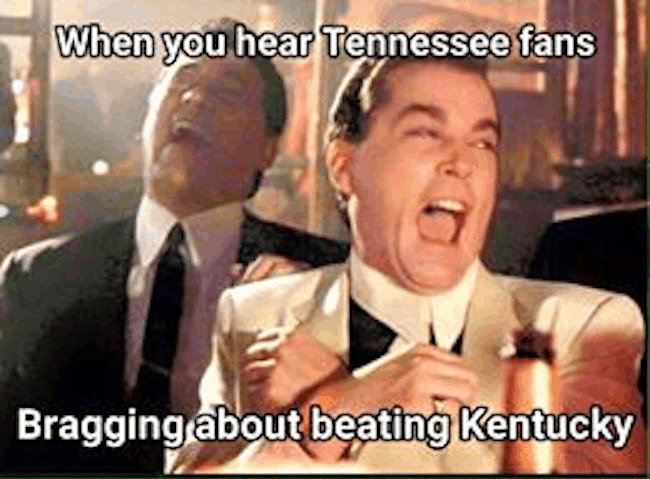 Some wins are not worth bragging about. Kentucky may not be that terrible, but they are for sure one of the easiest teams to beat.
It is not fair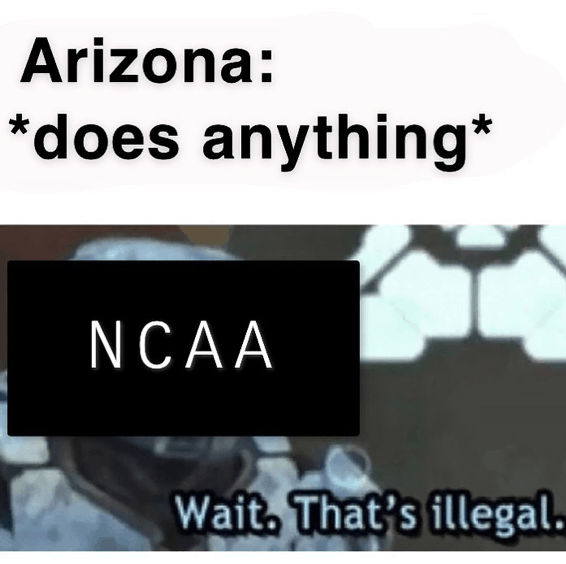 There goes the NCAA again, being unfair and quick to judge minor issues that can easily go unaddressed.
Sometimes the game ends in the first half, and sometimes it's just beginning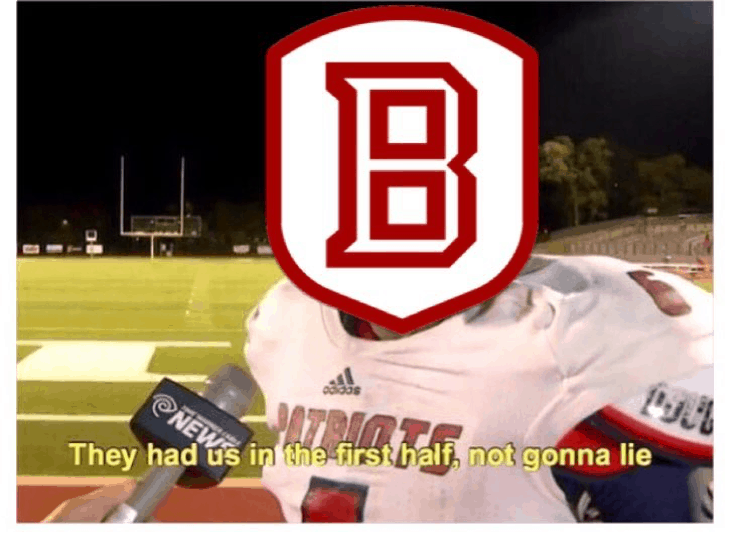 It's not over until it is over. The first half is a good determine for the rest of the game, which is why it's no surprise why some players lose hope when halftime kicks in.
Tough seasons are normal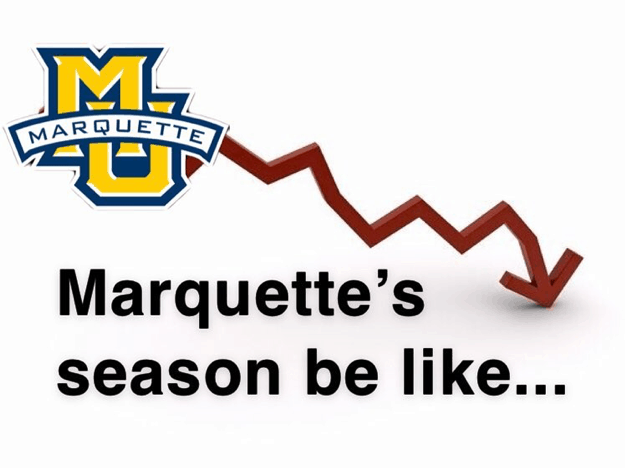 A downwards trickling scoreboard is enough to send Marquette out of the NCAA league.
Don't count your cheeks before they hatch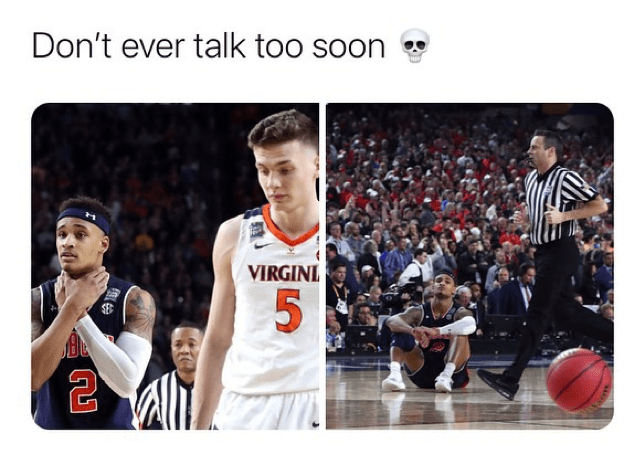 Ever heard of not counting your chicks before they hatch? That is a phrase that will save lots of disappointment when watching basketball.
Some coincidences are too funny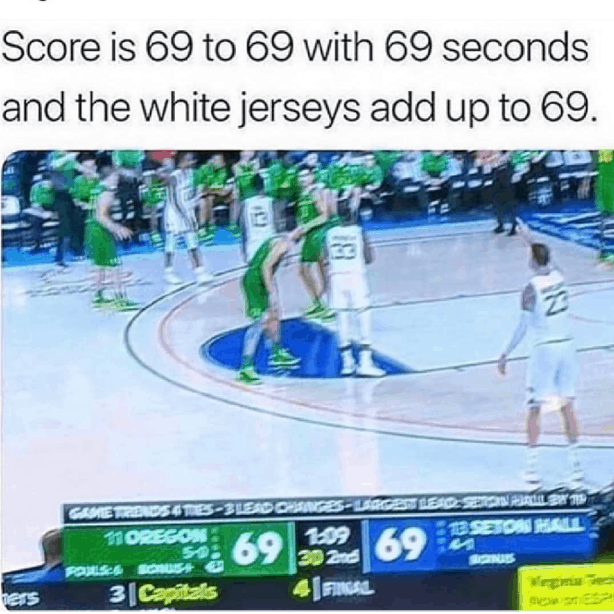 Sexual references are usually fun if done in a tasteful manner. This multiple 69 score board will go down in history as one of the funniest sexual references in basketball.
Don't lie, nobody loves the IOWA Hawkeyes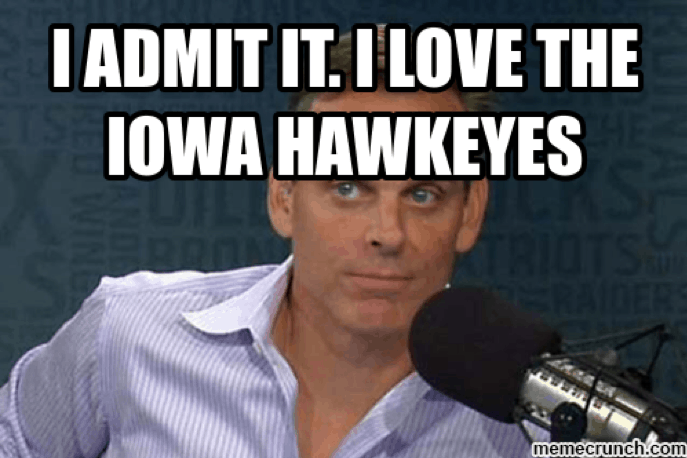 Saying that you are an IOWA Hawkeyes fan is an unpopular opinion.
The three big rivals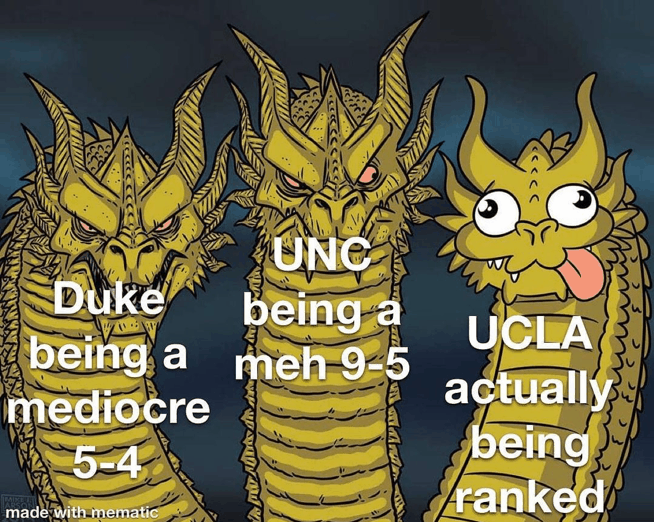 UCLA always find a way to beat Duke and UNC in the most ridiculous ways.
Not everybody is big league material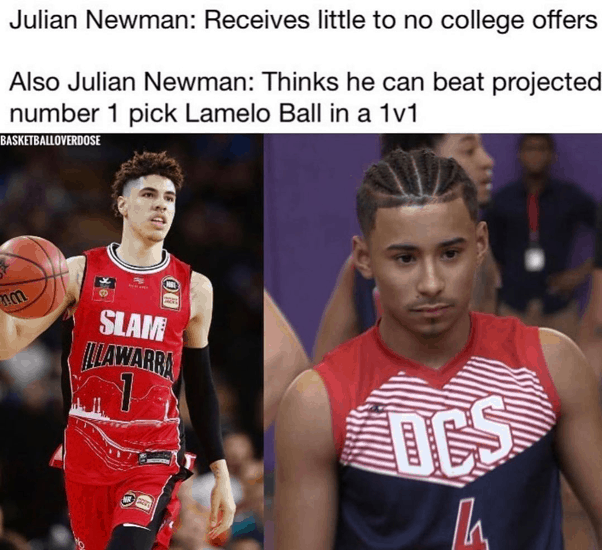 Julian Newman has never been drafted into the NBA, and probably won't because despite his few skills, he never seems to remember that the chances of getting in the NBA are 1 in 75.
How to solve problems and the priority of each problem is sometimes a joke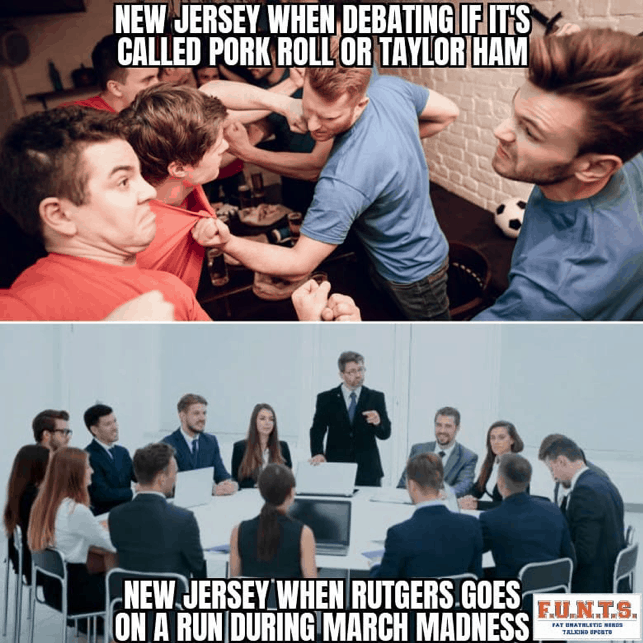 A poorly managed priority list can make you forget the most important issues that need your uttermost attention.
Overconfidence is key in certain situations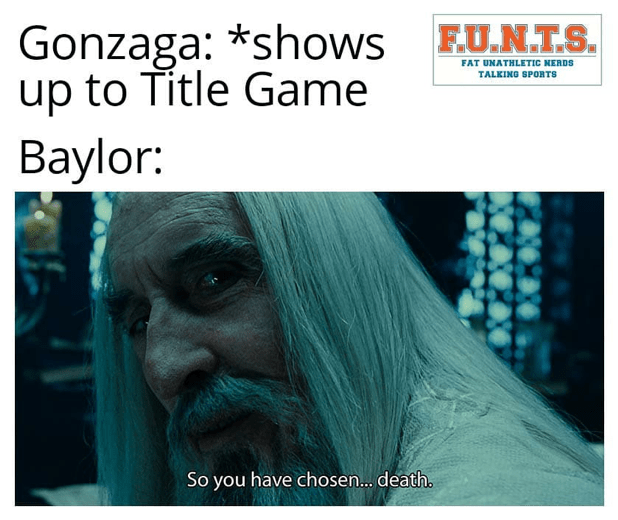 Sometimes the games are fueled more by the players rather than the teams. Competition surpasses the groups and trickles down to the individual level in basketball. Gonzaga and Baylor are a good example.
Can't believe the defeat? We can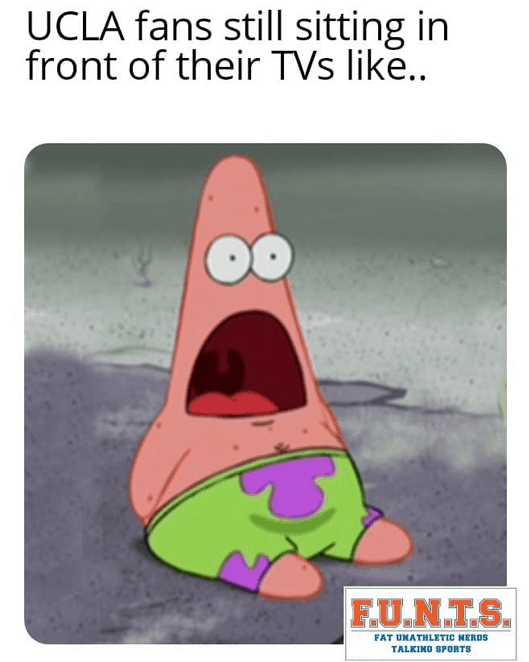 Ever watched a game and still couldn't believe you lost? Me too.
Here is a cool shirt for you, ORU eagles' haters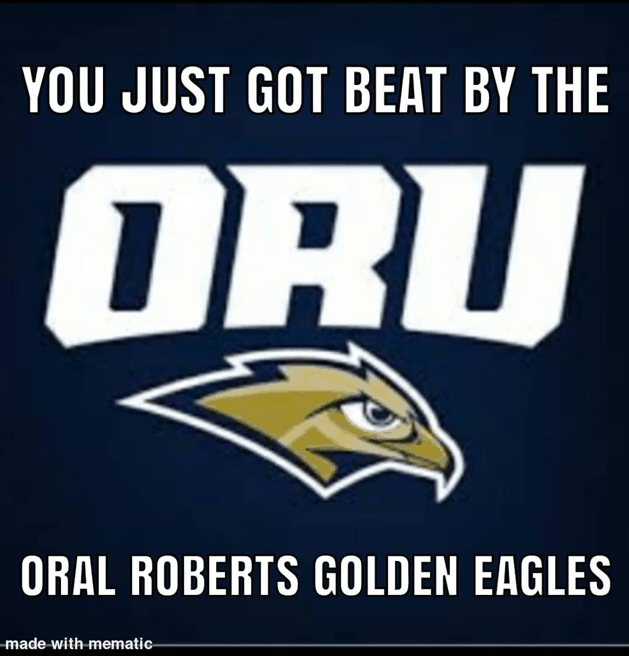 Gift your opponents with a short that has this printed on it. It is by far the best diss.
Tar Heels fans are wasting their times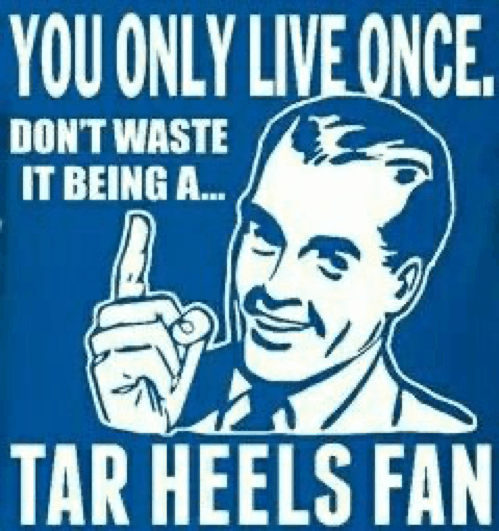 If you do not want to lose time and time again, then not being a Tar Heels fan is the answer.
Is the NCAA unfair when it comes to referees?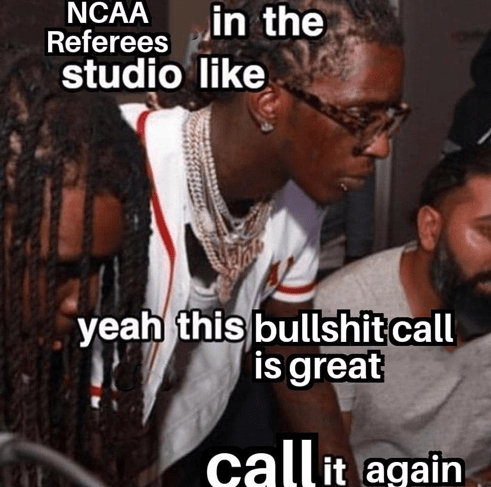 Every game has some calls that will be subjective and open to debate. The NCAA's decisions are one of those subjective calls.
Also Read: