In the NBA, G.O.A.T is a popular acronym used by fans to refer to the Greatest Of All Time. This title is used to reference players who are thought to have been the best players of all-time in the NBA. G.O.A.T is not just a basketball acronym but is also used in many other sports to refer to the greatest players in the history of a particular sport. The distinction that you need to make is that GOAT does not just refer to the players who are currently active but players throughout the history of the NBA who are considered the greatest.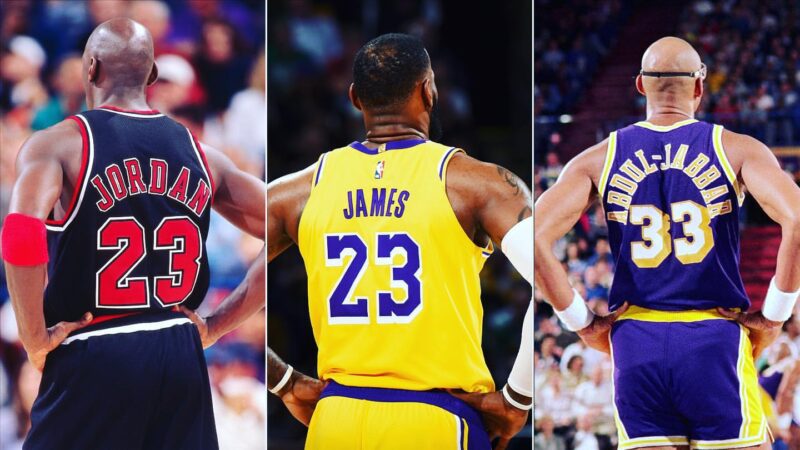 Since G.O.A.T is not an actual award given out by the NBA, the perceived G.O.A.T can vary depending on which fan you ask. Basketball fans are a passionate lot and while most will agree that Michael Jordan may be the ultimate NBA G.O.A.T, this opinion is by no means the general consensus. In the NBA G.O.A.T debate, some names will always stand out more than others, let's take a look at the top 6 NBA G.O.A.Ts.
The NBA GOAT Debate
When it comes to the G.O.A.T debate, Michael Jordan vs LeBron James seems to be the never-ending question. While Jordan fans argue that it's not even close, fans of LeBron argue that King James is just getting started. However, this debate is unlikely to end anytime soon because as we mentioned earlier, the G.O.A.T title always comes down to individual perception and preference.
LeBron James vs Michael Jordan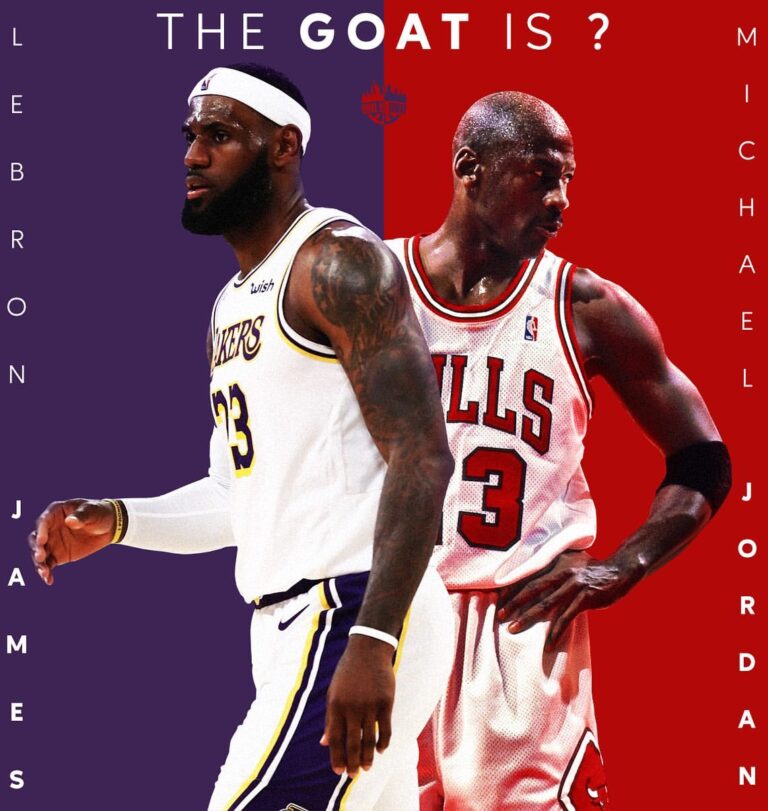 For two players who have never met on the court, these two G.O.A.Ts are compared to each other a lot. While that itself speaks to the greatness and the impact that these two players have had on the N.B.A, getting a consensus among these two fandoms is almost impossible.
Jordan retired from the Washington Wizards two months before LeBron was picked by the Cleveland Cavaliers in 2003. However, these two names have been the most mentioned in the N.B.A G.O.A.T conversation for the last four decades. With LeBron ranking first in playoff points scored and Jordan coming out on top in the finals MVP tally, the G.O.A.T debate is unlikely to be settled any time soon.
In a 2020 ESPN poll, 73% of NBA fans voted Jordan as the ultimate G.O.A.T with the Chicago Bulls legend beating James on most of the comparison points posed by ESPN. However, while the M.J fandom is certainly strong and vocal, there is a reason LeBron James is never far from the G.O.A.T debate. So fandoms and opinions aside how do the stats of these two G.O.A.Ts compare?
MJ vs Lebron: By the Numbers Comparison
| | | |
| --- | --- | --- |
| | MJ | LeBron |
| NBA Titles | 6 | 4 |
| MVPs | 5 | 4 |
| Finals MVPs | 6 | 4 |
| All NBA selections | 11 | 16 |
| All-star MVPs | 3 | 3 |
Regular Season Stats
| | | |
| --- | --- | --- |
| | MJ | LeBron |
| Points | 32,292 | 34,241 |
| Rebounds | 6,672 | 9,405 |
| Assists | 5,633 | 9,346 |
From the stats, it is easy to see why the G.O.A.T conversation revolves around MJ and LeBron. These two greats have set records that other players can only aspire to. No matter which side of the fandoms you belong to, these two players will remain entrenched in NBA history for decades to come. But as for who the real G.O.A.T is between the two, we will leave the judgment entirely up to you.
Kareem Abdul-Jabbar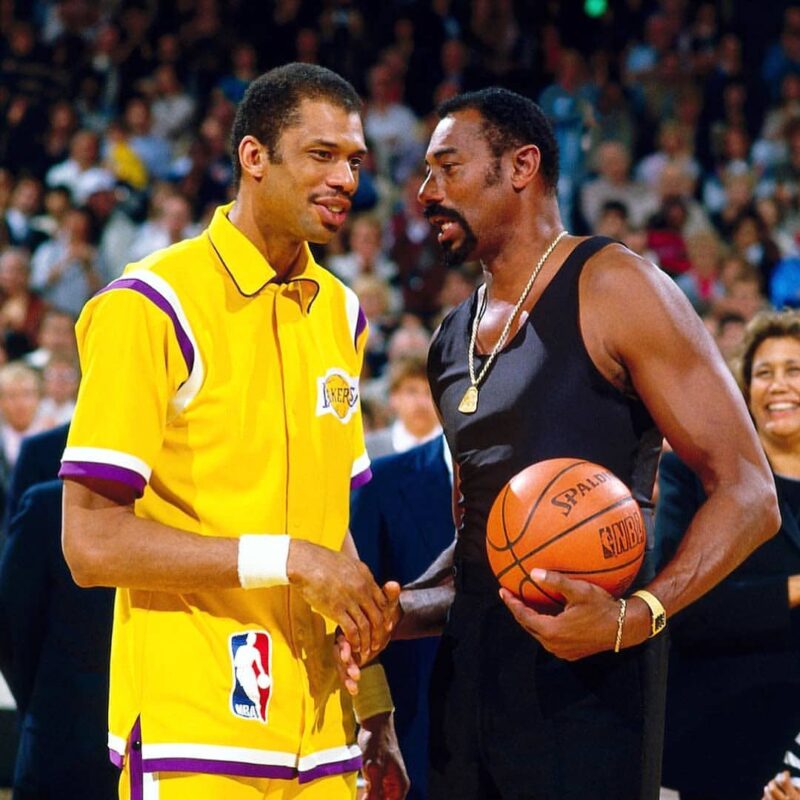 With six career MVP awards, Kareem Abdul-Jabbar is yet to be beaten for the most MVPs for a player ever. Michael Jordan takes the second spot with five but so far no one has topped Kareem's record. This G.O.A.T also holds the record for the most Offensive Win Shares ever at 178.9 followed by LeBron James' at 165.8. This second record is likely to go since LeBron is still playing.
Kareem Abdul-Jabbar's record for Most Points Ever by a player, 38,387 career points, still stands although LeBron is not that far off at 34,241. However, in terms of player ability, consistency, and overall performance there is no denying that this G.O.A.T was an absolute legend when he played for the Bucks and then the Lakers between 1969–1989.
Wilt Chamberlain
Depending on which generation you come from you may or may not know of the greatness of Wilt Chamberlain. This G.O.A.T may have played in the 60s but he set plenty of records that are still going strong. In his best scoring season, Wilt averaged 50.4 points per game, a record that is yet to be broken and by all indications not likely to be broken soon. Wilt once scored a record 100 points in a game, with the only other person to have come close being Kobe's 81 points against the Raptors.
Magic Johnson
At the peak of his career, Magic Johnson averaged an impressive 11.2 assists per game which so far only John Stockton came close to doing with 10 assists per game for his career. Magic also retains the record for the most assists in the playoffs at 2,346 assists, a fete that only LeBron has come a distant second to although he is still more than 500 points behind. Another record set by Magic Johnson that is still standing is his 30-playoff triple-doubles. LeBron is a close second for this record with 28-playoff triple-doubles and is likely to break this record.
Kobe Bryant
It would be impossible to talk about NBA G.O.A.Ts without mentioning the Black Mamba. Kobe's life may have been cut tragically short in 2020 but his legend is likely to remain part of NBA history for decades to come. Kobe ties with Michael Jordan, Gary Payton, and Kevin Garnett for the Most 1st Team All-Defense selections at nine each. Kobe also holds the record with Bob Pettit for Most All-Star Game MVPs. Most of the NBA fandom has nothing but respect for Kobe and even non-Laker fans admit that Kobe was one undoubtedly of the greatest players to ever play in the NBA.
Conclusion
In every sport, there are elite players who make history and create legends that make the sport what it is. Football has its Brady and Bill Russell, soccer has Ronaldo and Messi and the NBA has Jordan and LeBron. G.O.A.Ts each make their marks in the history of the sports they play in. Although fandoms will argue till kingdom come about who the ultimate G.O.A.T is, there will always be multiple greats each outstanding in their own way, in their own era, and as long as the N.B.A is still in play, there are more G.O.A.Ts to be made in the future.