As a basketball referee, you must be so careful when selecting a whistle for the match. This is one of the essential tools you can't afford to compromise on. Whistles have been there in sports for more than 140 years and provide the most recognized sound in any sport.
They are very helpful in quickly getting the players' attention even amid a noisy crowd. Referee whistles perform several tasks, including starting and ending a match, resuming the game, declaring fouls, among many related situations.
The following are a few super-quality referee whistles that are worth your time and money. Read on!
Product Summary
Before delving on to the nitty-gritty of each recommended referee whistle here, let us do a simple dissect of the top three best-buy. This part will significantly reduce your search time, ensuring you get the most appropriate whistle to use.
For the loudest whistle in our category (120dB) with a traditional look and touch yet lightweight and available in a variety of colors, the Fox 40 Sonik Blast CMG Fingergrip Pealess Whistle carries the day.
If you are searching for a light-weight referee whistle made of ABS plastic, moderately sized, pealess thus excellent for all weather and best for big stadium, then go for the Acme Tornado Slimline – Black.
Advanced technology electronic whistle, hygienic, it is pealess, hygienic and easy to use. Best for all environments and comes with three mode sound settings, the Fox 40 Electronic Whistleis your go-to whistle.
Best Basketball Referee Whistles
Stainless Steel Whistle with Lanyard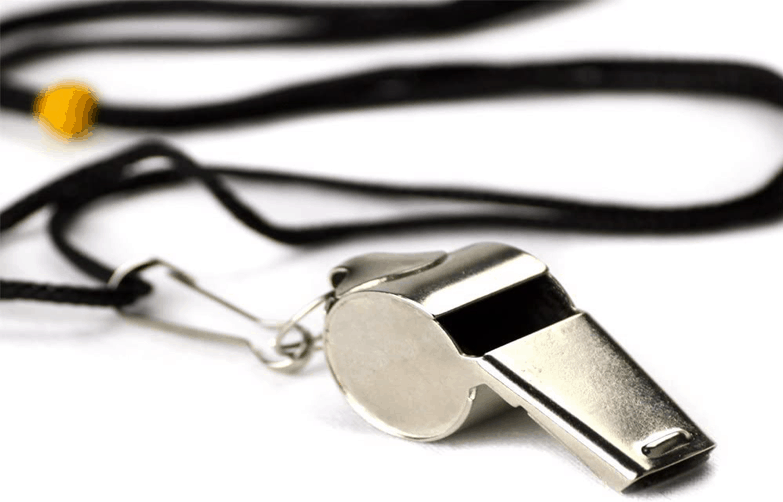 The Crown Stainless Steel whistle is a perfect choice when you are eying for a whistle that is rustproof, light-weight, and reliable. This one is also resistant to corrosion thanks to its stainless-steel feature. Hence, you can count on it for its excellent quality along with its durable nature.
The whistle has a cork pea that comes in handy in generating a shrill and loud sound. It produces a loud and bold sound that can be heard even in the most crowded stadium or miles away. This feature alone, therefore, makes it a perfect choice for basketball referees and coaches.
The stainless-steel whistle with lanyard is convenient to blow and needs less breath of you. It has a yellow bead that can be adjusted to get the whistle's desired length. This consequently allows you to manage the length of the lanyard. It is lightweight and affordable to hold or insert between your lips.
Other Features:
Adjustable length
It is loud and clear
It has a black braided lanyard for hands-free use
It has a lot of uses
Dimensions 1.9 x 1 x 0.5 inches; 0.48 Ounces
Pros:
Its stainless-steel body makes it durable
Lightweight and excellent quality
The cork pea in it ensures a shrill and loud sound
Requires less breath
Cons:
Some people say it is a little bit small in size
Gladiour Whistle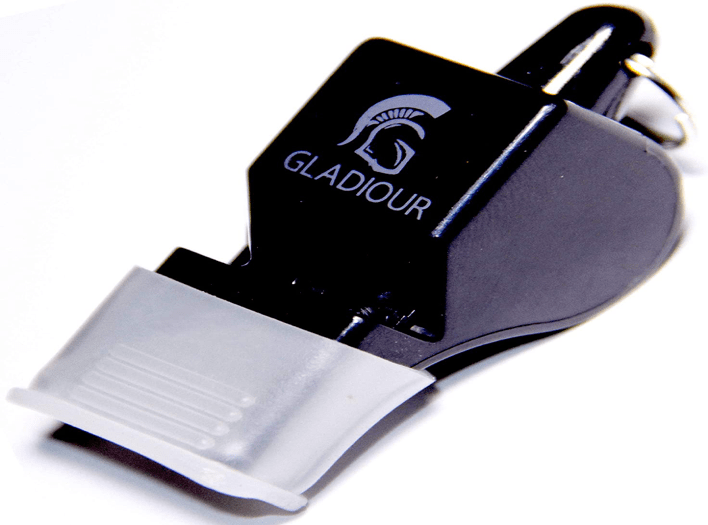 This whistle can be excellently described as a universal sports whistle because it is the go-to option for referees and coaches of all sports. It is also ideal for lifeguards and most outdoor activities. The whistle is designed to produce a loud voice in a manner that is easy to control. Its dual looped lanyard ring is stronger than a single loop and ensures it stays intact and hard to lose.
Also, it has a gentle, comfy, and well-cushioned mouth grip enabling it to stay between your lips for long periods without worrying about your teeth' safety. Other than it being water-resistance, it lacks peas or a ball. Its unique mechanism allows it to remain silent, especially when in a lanyard.
This Gladiour- inspired whistle comes with other popular features, for example, the ability to produce a controlled loud sound. Unlike the whistles with peas or a ball that immediately become useless when they come into contact with water, this one doesn't. The peas in other whistles get stuck on one side, rendering those whistles useless in certain environments. Luckily, the Gadiour whistle doesn't use peas; hence it is always reliable and worth each penny.
Other Features:
Dimensions: 5.1 x 2.8 x 1.5 inches; 0.63 Ounces
Manufactured by Gladiour
Backed by One Year Free Replacement Guarantee
Pros:
Water-resistant
Comfortable for mouth
It has a dual looped lanyard ring
Cons:
Some units may have cheap lanyards
It Maybe a bit expensive compared to other units
Fox 40 Sonik Blast CMG Fingergrip Pealess Whistle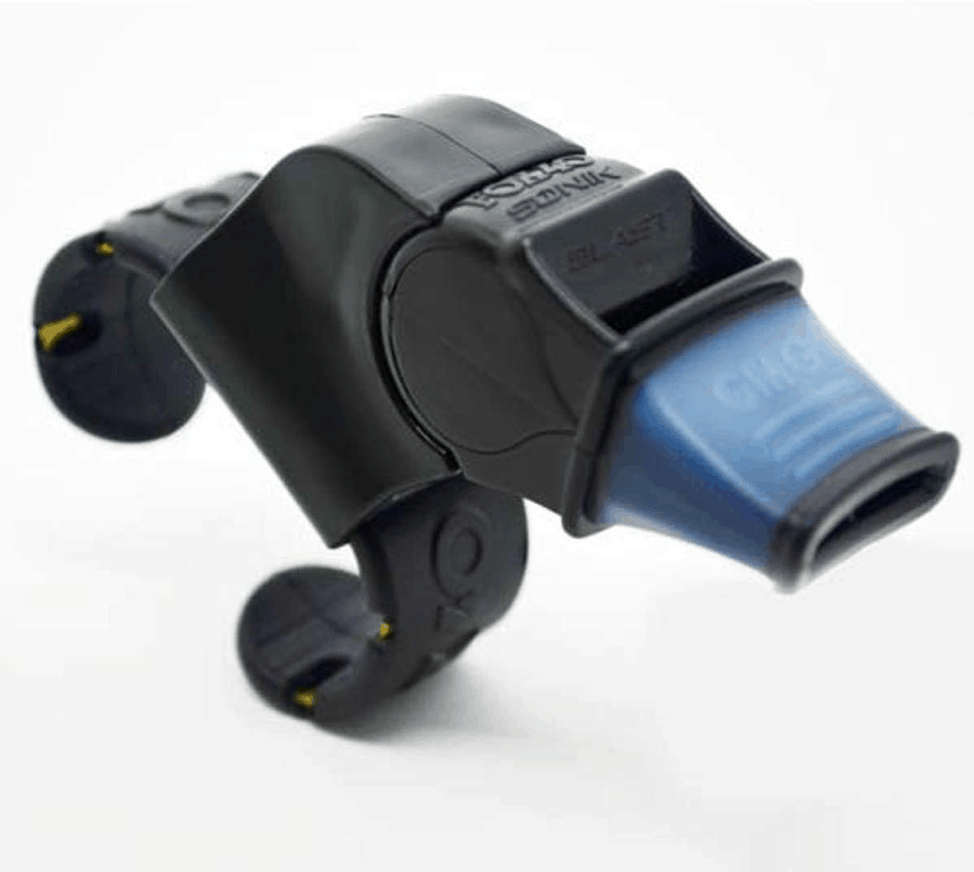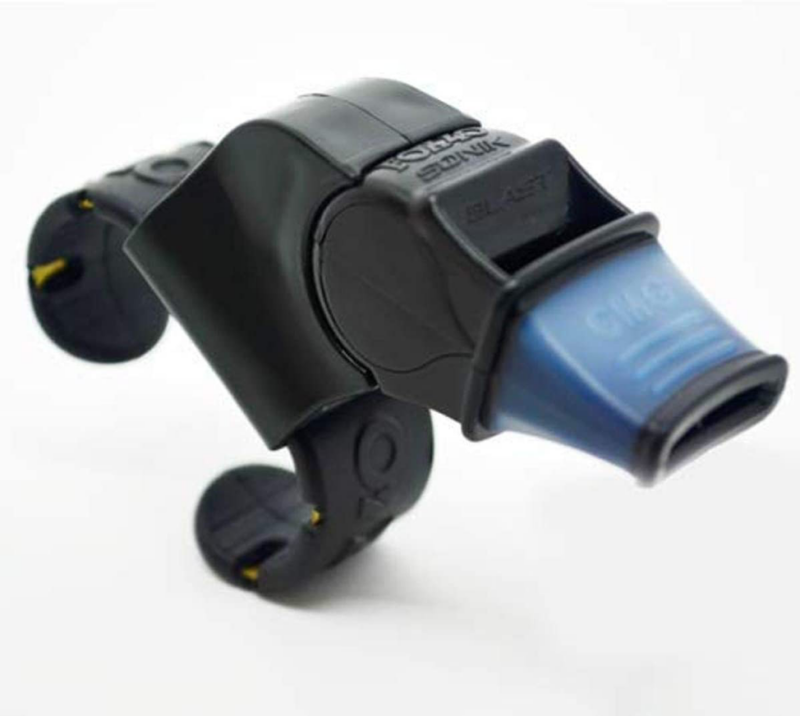 When you closely look at the Fox 40 Sonik Blast CMG whistle, it almost resembles a traditional whistle that most physical education teachers love holding. Nonetheless, unlike the conventional models made of metal, this one isn't. It is made of plastic thereby does not rust when exposed to moisture. It is a best-buy for basketball referees. The whistle is available in various colors, allowing you to pick a color that suits your style.
This basketball referee whistle is available in up to seven colors ranging from red to pink in white and everything in between. It is an exceptional whistle for referees seeking to add a little personality to their job.
The whistle does not come with a bead in it. It is made using high-quality ABS plastic; thus, it's built to last and does not easily break. Its output is generously high. With a decibel level of 120 dB, nothing is off-limits; you can hear it from a mile away. You are confident to command attention on the sidelines despite how chaotic things are in the field of play.
Other Features:
100% impervious to moisture
The harder you blow, the louder it sounds
It comes in a pealess design with no moving parts
Dimensions: 6 x 3 x 2 inches; 1.6 Ounces
Pros:
Built to last for long
Many color options
High-pitched sound
Made using durable ABS plastic
Cons:
The grip is too large
It doesn't have the feel of a traditional whistle
It doesn't have a chain or lanyard; thus, you will need to produce one
Some users find it too high-pitched
Premium Metal Whistle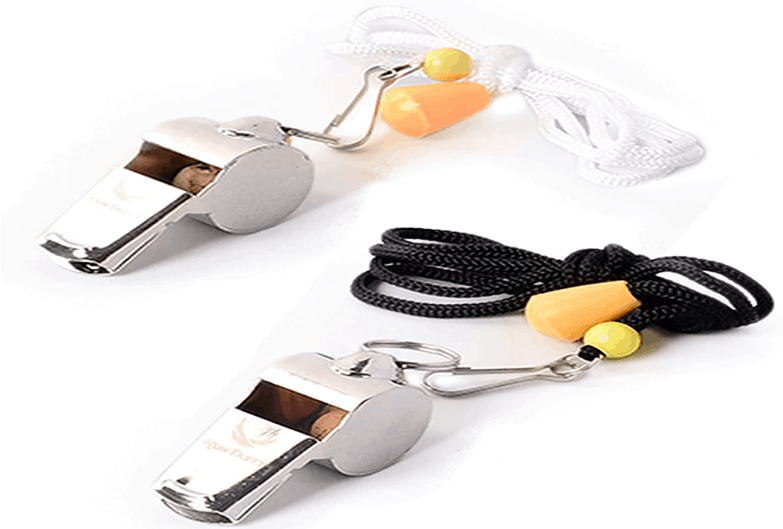 Every basketball referee understands an excellent whistle is one that produces a super loud sound. You cannot go wrong when choosing the Premium Metal Whistle. With up to 100 dB, you are sure to get a player's attention from very far away despite the chaotic situation in the field.
This referee whistle is light-weight, weighing only 0.2 ounces. It is made using high-quality brass material. The brass material makes it resistant to impact; needless to say, it is crack-free. It has a cork pea that enables it to produce a bold and crisp sound.
Also important is the 19-inches adjustable lanyard, thanks to the gold adjustment ball. It can fit any size of the neck, delivering a comfortable fit to the referee. The lanyard is also removable. Upon purchase, the package has two whistles inside and is backed by a ninety days money-back guarantee.
Other Features:
Sound can be heard from half a mile away
It can be attached to a keychain for fast and easy transport
Item dimensions: 2.5 x 1.5 x 0.9 inches; 1.13 Ounces
Pros:
The cork pea generates a crisp sound
Loud sound can be heard a half-mile away
Impact-resistant and crack free
Two whistles inside the package
Light-weight
Backed by a money-back guarantee
Cons:
The whistle's ring may not be sturdy
The pea in the whistle may get wet and render the whistle ineffective
Some units may have two peas in one of the whistles; this makes them useless
Acme Tornado Slimline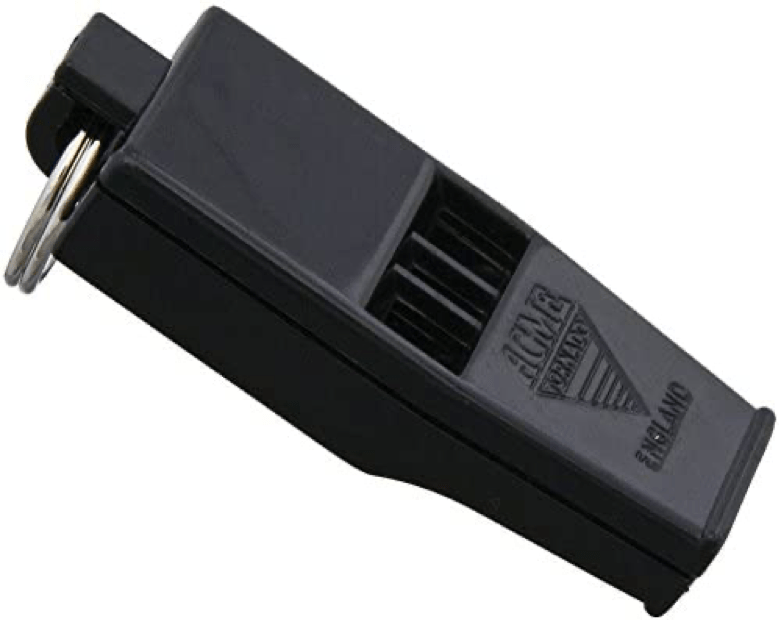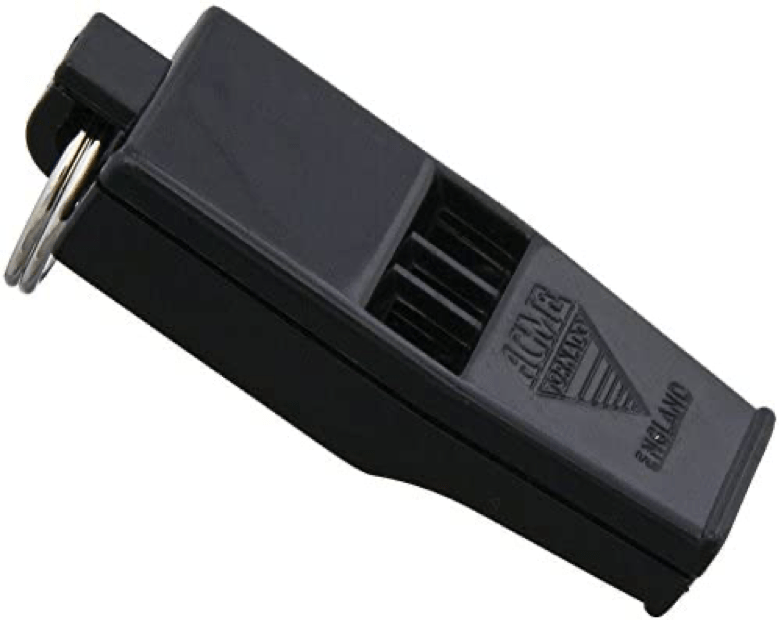 A traditional whistle can be hard and heavy as it is made of metal. However, the Acme Tornado Slimline guarantees the feel of a conventional whistle but is soft and lightweight. Like the traditional one, it has a slim shape that easily fits into the referee's finger. It is, therefore, an excellent whistle for both a basketball referee and a coach too.
The 636-referee whistle is made using high-quality ABS plastic and has an open-top to ensure that you do not accidentally block the air as it happens with other designs. It also has a smooth and polished rim to ensure it is comfortable between your lips.
This whistle does perform excellently. With up to 110 decibels, you can hear its sound from as far as half a mile away. 110 dB is more than you need in an average basketball court, games, or competitions. This whistle produces a much higher pitch thanks to its beadless' design. If you are a referee who likes bringing their style into your game, the Acme Tornado Slimline whistle lets you do that with its five distinct colors to choose from. These colors are orange, red, black, green, and yellow. Hence you can customize it to fit your style and preference.
Other features:
Dimensions: 5.8 x 2.8 x 0.2 inches; 0.32 Ounces
Has a keyring attachment
Recommended for big stadium
Various applications
Pros:
Open top for fewer accidents
Available in a slim and compact design
It comes in a variety of colors for personalization
Easy to hold and use
Cons:
May not be as oud as some whistles
You may have to blow hard for a loud sound
Fox 40 Electronic Whistle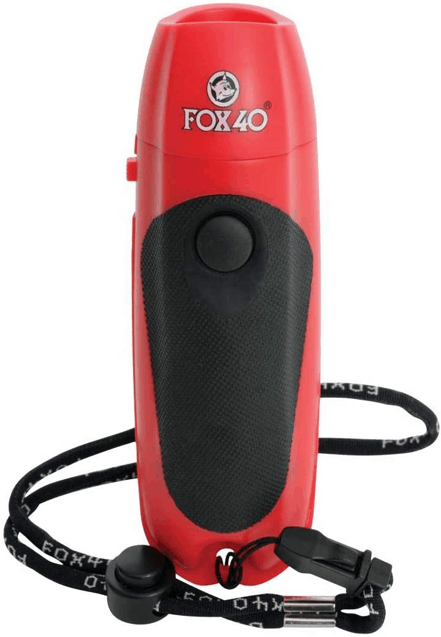 The new wave of technology has brought with it the Fox 40 Electronic Whistle. This is an electronic whistle that mimics the sound of the generic whistles though you don't have to put it in your mouth.
Like many other electronic whistles for referees, the Fox 40 Electronic Whistle is more hygienic since it does not get into contact with the saliva. The Fox 40 Electronic Whistle provides a consistent sound every time.
This whistle features three tone settings along with a push-button activation for a swift loud clear and seamless sound response. It also uses a 9-volts battery thus lasts longer than most electric whistles.
Other features:
Sound can be aimed in the intended direction
It comes a red design
Has mobile device-style loop attachment
4-switch, three tone functions
Pros:
Latest technology
Mouth free whistling thus hygienic
You don't get out of breath
Cons:
Some units reported catching fire after battery replacement
Button may fall out
The Ultimate Referee Whistle Test
These are only a few types of basketball referee whistles; the list is endless and cannot be exhausted in one piece of article. Most often, it may be a bit challenging to choose the best from the rest. The good thing is that they are not as expensive; hence, you can buy a handful and find out one that works best for you.
We suggest you begin with the least expensive ones (the pea whistles are the least costly). If these don't work for you, try the pealess whistles, which comes at a higher cost, and then the electronic type. All these have unique sounds. The video below shows a comparison of the three types of referee whistles.
Guide to Picking The Best Basketball Referee Whistle
Comfort
The best referee whistle is one that feels comfortable around your neck and hand. It feels comfortable also between your lips, especially if you need to have it there for long. Ultimately, it should be easy to blow.
Volume
By volume here, we mean the loudness of the whistle. A good whistle should be loud enough for players to hear even amid a noisy crowd. Therefore, before purchasing one, be sure to consider its decibel ratings and choose one depending on where you will need it. Most whistles are rates between 100 and 120 decibels. The high-end ones could go up to 140 decibels. All these deliver more than you need on a basketball court.
Durability
It pays to purchase a durable whistle that won't break easily even with rough use during a tournament or practice. The whistle should hold up even if it drops on the floor. You see, the traditional referee whistles are made using metal, with a small bead in the air chamber. This allows for a high-pitched warble. The metal casing makes them strong enough though a bit heavy. The new method whistles, however, are made using plastic. They are equally durable, lightweight, are deemed safer, and deliver a high and easy-to-hear pitch.
The ease of use
An excellent whistle can be counted upon to work anytime. It should also be easy to use too. Most whistles with a pea won't work effectively or at all, especially if they have been subjected to moisture. Moisture takes the toll on the pea inside.
The mounting system
These days, most referee whistles have a keyring allowing you to wear them around the neck on a chain or lanyard. Other units, nonetheless, use a finger cuff to wear them on your hand for convenience. It is upon you to choose a mounting system that suits your style.
Conclusion
A referee whistle is an important part of a basketball game, just like any other equipment used. It helps the referee or the coach to let the player know what's is going on. While coaches use the whistle to reinforce their teaching methods, a basketball referee uses it more than they do speak during the basketball game.
It may be easy to start a basketball match without a referee whistle, but it could be practically impossible to know when a foul happens or when the game ends or anything in between, especially in a noisy crowd. This is one of the essential pieces of equipment a referee should have. Therefore, when scouting for the right referee whistle to buy, determine how it can deliver and under what environment you will use it.