When it comes to finding the best basketball shoes, every pair you see is not created equally and, therefore, has different benefits and comfort. In fact, there is a wide variety of materials used to make shoes for basketball.
But should you really buy basketball shoes? And are they any more beneficial to your game and health than other shoes?
While there's certainly more to the sport than just the basketball shoes, you definitely want to have good ones to beat the other teams.
We've gathered the 6 best and cheap basketball shoes for you to get great quality at a reasonable price. Here's a rundown of what you can expect from them from cheap basketball shoes to more premium ones that will get you on top of the game.
Why You Should Get A Pair Of Basketball Shoes
There is a number of elements that you should consider before buying a new pair of basketball shoes. The design, the price, but also the traction, their durability, and ultimately, the brand.
Mid-cushion basketball shoes offer excellent cushioning but at lower prices.
First of all, the basketball shoes with mid-cushion are usually those with an extra layer of cushioning in the forefoot and the heel, and, for this reason, they tend to be more comfortable.
Secondly, and as opposed to traditional running or gym shoes, basketball ones have a particular closure with added grip. This allows you to have more support on your ankle and ultimately avoid getting hurt.
According to RunRepeat, the biggest reasons to get basketball shoes are their traction, less cushion that provides more safety when playing, and, as mentioned previously, more support thanks to their closure.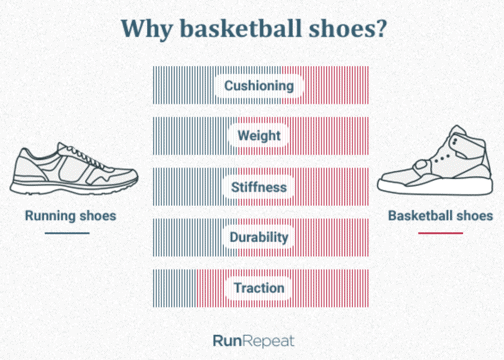 To sum up, the show quality doesn't only help win basketball games but also to distribute body weight more equally, reducing the stress on delicate joints and muscles providing more comfort than traditional shoes.
Best Basketball Shoes Under $100
Now that we have covered why you should get basketball shoes over traditional gym ones and the benefits they provide, let's look at the best and cheap basketball shoes that you should consider.
From big brands such as Adidas and Nike to less known brands like PEAK, these are the best quality for the best price.
Adidas Men's Harden Stepback Basketball Shoe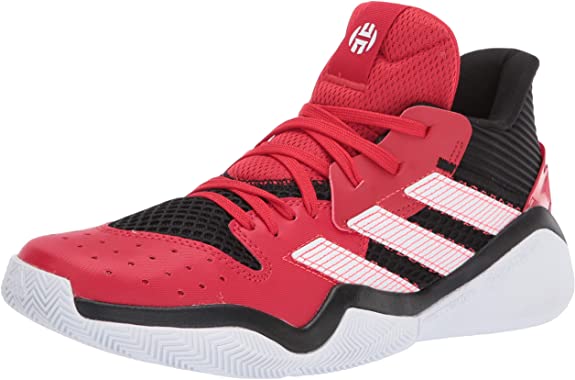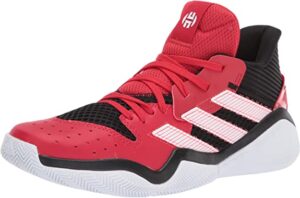 The Adidas Men's Harden Stepback Basketball Shoe is the ultimate basketball shoe for men looking to dominate the court. Adidas has stepped it up a notch by introducing a shoe that features a fusion of style with performance.
Available in different colors, the Adidas Men's Harden Stepback shoes are the perfect mix between styling and performance.
On top of that, and while they are not as lightweight as other shoes on this list, they are versatile. Also, the technology that Adidas uses in manufacturing these shoes allows for a sleek and that is designed to absorb the impact of jumping and running while still providing exceptional performance.
A thick and sturdy rubber outer sole and a deep cork heel provide supreme comfort and stability under heavy-duty use.
With over 2,200 reviews on Amazon and the comfort the official buyers claimed to have, this is really one of the cheap basketball shoes you have to take into consideration.
Nike Unisex-Adult Precision Iii Nubuck Basketball Shoe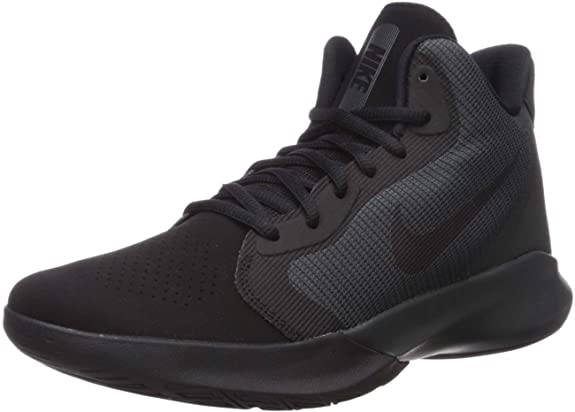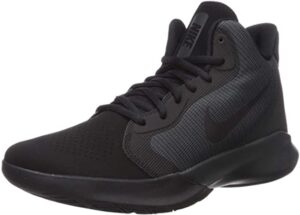 The Nike Unisex Adult Precision Iii Nubuck Basketball Shoe is one of the most sought-after footwear for basketball players.
These unique Nike shoes offer the same high performance in a more casual look and feel. Its unique cushioning system allows it to absorb shock to reduce the chance of injury to the ankles while also preventing external pressure from affecting the stability of the shoes.
The Nike Unisex Adult Precision Iii Nubuck Basketball Shoe is perfect for both the basketball court and wandering around the city. In addition, its lightweight (11.6 ounces) gives it an advantage over all other sneakers on the market today, which is what makes it so popular.
Their durability is also unmatched in the basketball shoe industry and that is certainly something that should help you make a choice.
Furthermore, you don't have to worry about breaking the bank either because its affordable price tag makes it accessible to just about everyone, starting at $57.67.
Other than the performance they offer, what makes the Nike Unisex Adult Precision Iii Nubuck stand out from the rest is the fact that they are sure to blend with the colors of any wardrobe.
If you have a black belt, a navy blue pair, or a grey pair of Nike, chances are you will be able to find the perfect color combination for you.
In plain words, it doesn't matter if you are playing at a high school, college, or professionally, Nike Unisex Adult Precision Iii is one show you won't want to miss out on.

PEAK High Top Mens Basketball Shoes Lou Williams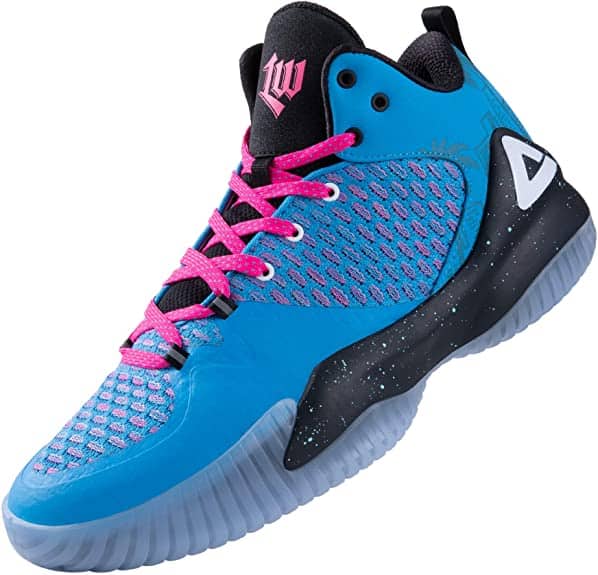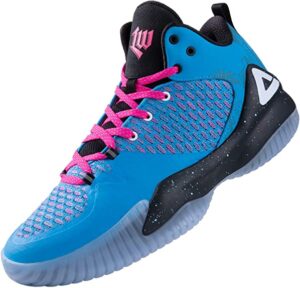 Another pair of cheap basketball shoes is the High Top from PEAK.
To start with, they are incredibly durable and lightweight, which allows for proper movement while in the heat of the game. The best part about this is that they can also withstand the rigorous physical training that professional athletes go through.
In fact, the good part about PEAK Basketball Shoes is that they are specifically designed to meet the requirements of today's professional athletes. Therefore, they will benefit all players regardless of the level.
If you're a novice who is looking for the perfect shoes to wear during practice or games or a professional willing to up his game to beat the other team, you should definitely consider purchasing these from PEAK.
Starting at $58.99 and equipped with a wear-resistant rubber, this is a purchase that you certainly won't regret. If you want the best cheap basketball shoes, you definitely want to look at these.

Beita High Upper Basketball Shoes Sneakers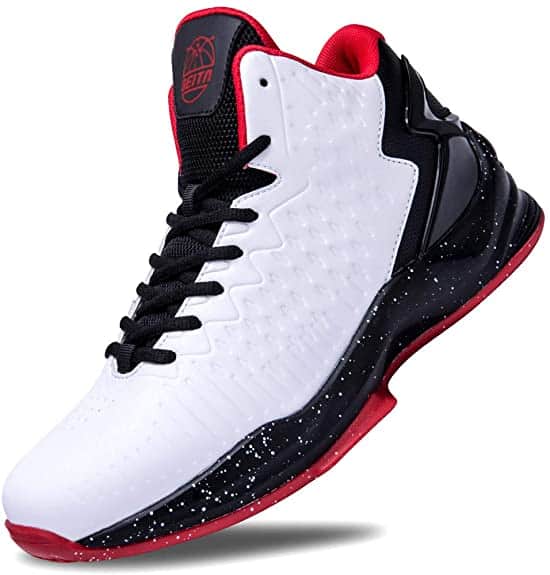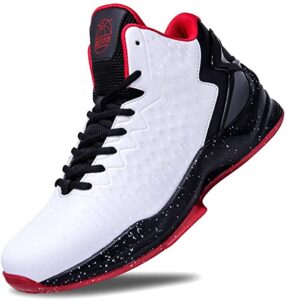 Next on our list come the High Upper shoes from Beita. With their anti-slip and sweat perspiration technology, beautiful design, multiple colors available, and incredibly low price tag, Beita came up with one of the most unique shoes for the basketball court.
Apart from that, they are designed to give you a very good fit.
It's important to note that, despite their low price, their weight is relatively good at 1.6 pounds as well as their closure that allows your ankle to be protected from injury at all times.
Furthermore, they are equipped with breathable and no feet stink technology so that your foot will breathe during the entire duration of the basketball match.
Lastly, with over 2,500 reviews of happy customers on Amazon, we can only agree that they are some of the best basketball shoes to play intensive games but also to wander around after the match.
To sum up, if you're willing to constantly receive compliments for both your basketball victories and your style, these are the shoes you need in your life.

Adidas Men's Marquee Boost Low Basketball Shoe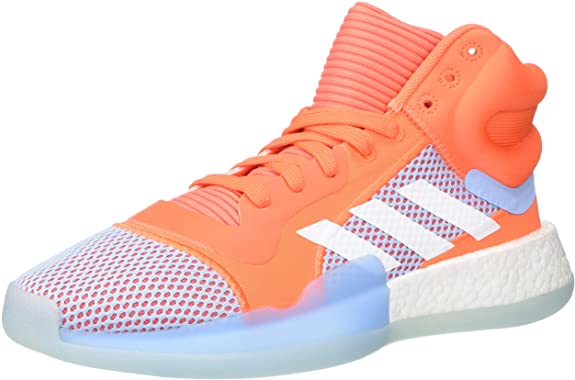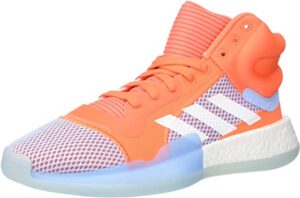 When Adidas makes new basketball shoes, you know they are going to meet most of your requirements, and the Marquee Boost Low is no exception to the rule.
If you're someone who is looking for a basketball shoe that will help give you an edge when playing on the court, then these are definitely great candidates.
The flashy yet beautiful colors available will really draw the eye right away and they were specifically designed for those people who want a classy look, but still, get performance.
The traction and their durability are also other factors to consider and they will certainly help prevent your feet from slipping around while you're playing while lasting forever.
Last but not least, their cushioning is one of the best ever on an Adidas basketball shoe and your energy levels will definitely be boosted during the game. Needless to say, this is another factor to consider especially for such a good price.
With the starting price of $57.99, the Adidas Men's Marquee Boost Low will most likely respond to your needs if you're looking for a shoe that looks good and performs at an extremely high level.

Nike Men's Air Visi Pro Vi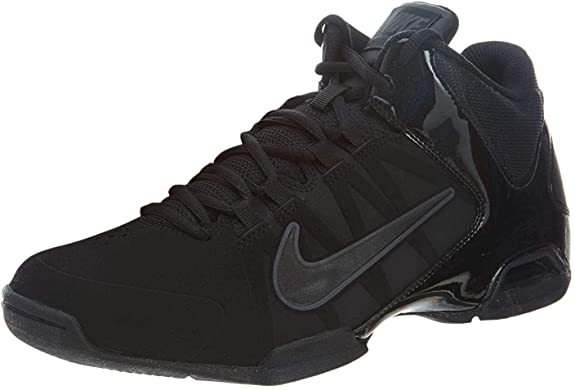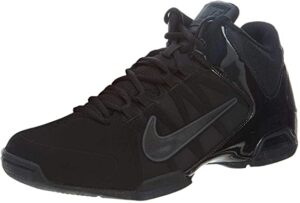 Nike Men's Air Visi Pro Vi is a sporty high-top basketball shoe that offers a ton of style and comfort for players of any age.
Comfortable, beautiful, and affordable are the words that define them the best. Designed with a smooth mid-top design and a sleek midtown section, they are engineered for ultimate performance on the court.
While they don't come in an interesting color combination and, rather, only in black and black and white, you will be able to wear them anywhere and look cool in all situations. While the black canvas and grey color combination may be sporty, the overall look and feel of the sneaker are far more understated than you may expect.
Most importantly, the Nike Men's Air Visi Pro Vi features a soft cushioning inside the mid-top of the sneaker that allows for the great support and ultimate maneuverability on the court.
The soft material also makes this sneaker perfect for players who like to be on the edge and perform flexible moves.
Made out of premium material, the Nike Men's Air Vi sneaker offers a lightweight feel while still maintaining performance. They also have a sporty feel while being durable and we only appreciate this for the low price tag.
To conclude, the Nike Men's Air Vi is an amazing sneaker that offers top-of-the-line quality construction but at a great price and we can only recommend them.

Where To Buy Cheap Basketball Shoes?
Buying cheap basketball shoes as a player is definitely a goal and sometimes a challenge. In fact, professional and good quality ones can be hard to find.
The easiest response is simply to visit a clearance shop and get them with an incredibly high discount compared to new models.
However, other than that, it is possible to get cheap basketball shoes off Amazon and you'll definitely find some to make you happy.
Lastly, buying them at important events such as Black Friday, Christmas, or others that offer generous discounts is certainly one of the best ways to get yourself great and cheap basketball shoes.
The Bottom Line
After being through the best and cheap basketball shoes under $100 we could ever gather for you, you now have an idea of the products and quality to expect.
As we can see, good basketball shoes don't need to cost a lot of money and, rather, you can easily find premium shoes with great traction and durability.
To conclude for today, whether you want to choose a premium brand such as Nike and Adidas or less known and good quality brands like PEAK, these 6 cheap basketball shoes will all reply to your requirements.