Basketball is a high contact sport where the risk of injury is very real. Players have been known to lose teeth, sustain fractures, and all manner of serious injuries. In physical sports, the impact from contact with hands, elbows, and other collisions can result in disaster. So how do players keep themselves protected? Safety gear is a must-have in contact sports and for basketball players, mouthguards are essential.
A mouthguard covers your teeth keeping them safe from impact during play. NBA players like Steph Curry and Lebron James are never without their mouthguards and for good reason. It is important to stay safe even as you enjoy playing your favorite sport. But just how do you go about picking the best mouthguard?
Great fit, quality, and breathability are some key factors to consider when choosing the best mouthguard for basketball. Our top ten list of the best mouthguards for basketball features products that combine quality, ease of use, and comfort.
Best Mouthguards for Basketball: Our Pick
1. OPRO Power-Fit Mouthguard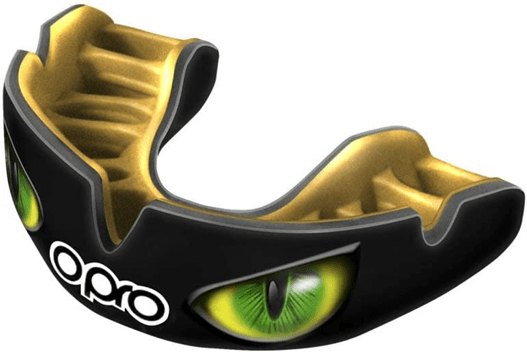 The Orpo Power-Fit mouthguard is one of the best mouthguards for basketball. It is designed using leading dental technology to offer maximum protection in high contact sports. This mouthguard is ideal for all high contact sports including wrestling, basketball boxing, and other injury-prone sports.
Key Features:
Unique hybrid design with a dual-layer outer shell and an ultra-flow inner gel channel for maximum protection and comfort.
Designed with a 2-piece system that molds easily to the contours of your gums and teeth.
Comes with an inter-jaw absorption layer to provide maximum protection against heavy impact
The OPRO Power-Cage design applies even pressure to your mouthguard for a snug comfortable fit.
Pros
Highly retentive fit
An ultra-impact resistant outer layer
dentist-made using leading dental technology
Breathable
Durable
Comes with a hygienic case
Available in adult and junior sizes
Cons
2. Shock Doctor Gel Max Mouth Guard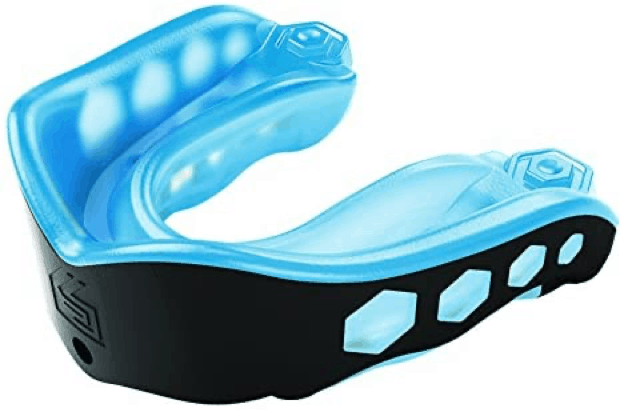 The Shock Doctor mouthguard does not live anything to chance. The solid construction provides full mouth protection which secures your teeth even during the hardest impacts. The Gel-fit Liner Technology ensures a comfortable fit that molds perfectly to your teeth.
Key Features:
Provides triple-layered protection
Breathable
Custom-fit design that molds to your teeth
Comes in flavored and non-flavored options
Durable heavy-duty construction
Comes in strapped and strapless options
Pros
The colors of the product can be customized
Medically tested for allergens
Available in a variety of sizes to suit youths and adults
Cons
Not suitable for people with braces
Casing not included
3. Redline Sportswear Custom Molded Mouthguard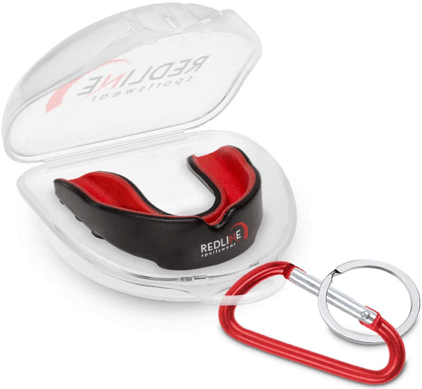 Redline's custom-molded mouthguard is a practical shockproof mouthguard designed to offer maximum protection. The one size fits all design ensures a comfortable fit for both youth and adults.
Key Features:
Made with safe 100% BPA-free, latex-free, and PVC-free materials.
The dual-layer, gel-lined design offers maximum protection for both youth and adults
Comes with an antimicrobial carrying case for maximum hygiene and ease of storage
Designed to fit right in with your gums and teeth for comfort and ease of use
Pros
One size fits all design
Comes with a convenient carry case
Gel-lined designed for a snug and comfortable fit
Available in different colors
Cons
Only available in a strapless design
4. SISU Aero Sports Mouth Guard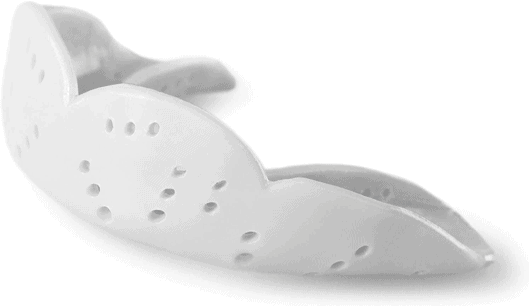 The SISU Aero Sports mouthguard is one of the best mouthguards for basketball. The lightweight design makes it comfortable to wear while still offering maximum protection for your teeth.
Key Features:
Ultralight design with a thickness of only 1.6mm for enhanced comfort and ease of use
Made with the scientific Diffusix technology which distributes impact from contact sports reducing the risk of injury.
Comes with a wide bite pad and rounded edges to ensure a comfortable easy to wear fit.
Breathable design that allows you to talk and breathe normally
Pros
Slim-fit lightweight design for maximum comfort
Enhanced mold-ability for a perfect fit
Breathable
Available in different sizes
Cons
Not suitable for heavy impact protection
5. Venum Challenger Mouthguard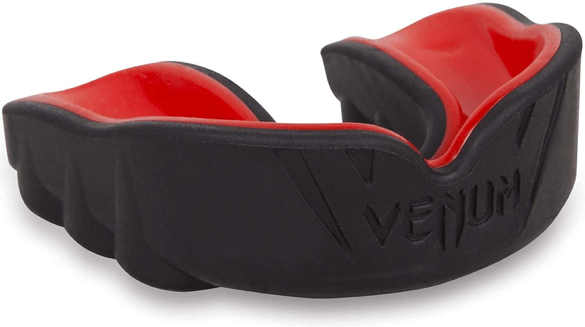 For high-impact sports like basketball, the Venum Challenger mouthguard offers maximum protection. This mouthguard is designed to offer optimum shock absorbency to protect your teeth, arches, gums, and jaw.
Key Features:
Enhanced breathability to enhance ease of use and comfort
Designed with a comfortable Nexfit Gel Frame
Sturdy construction with a high-density rubber frame for maximum absorption and optimum protection.
Comes with a convenient case for hygienic storage
Pros
Easy to clean
Great fit and comfort
Maximum protection for the heaviest impacts
Cons
Only available in one size
6. Professional Sport Mouth Guards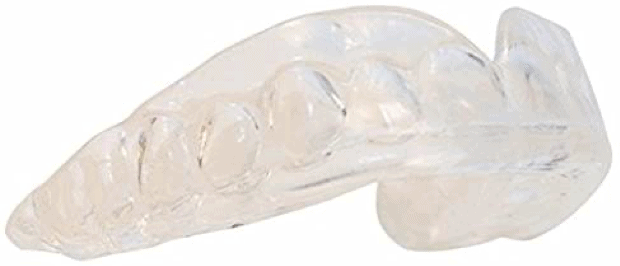 A great fit is important when choosing the best basketball mouth guard and this model from Sparkling White does the job perfectly. It is designed to ensure that your mouthguard stays in place and provides maximum protection.
Key Features:
Designed using New Teeth Armor Technology for a perfect fit.
Made using BPA and latex-free materials
Sturdy construction with a thick cushioning base for maximum impact absorption
Designed to provide chew resistance
Custom-fit to suit youths and adults using Teeth Armor's precision fitting material.
Breathable and easy to wear
Pros
BPA and latex-free
Comes with a carry case
Molds easily for a perfect fit
Works well for people with braces
Cons
7. SAFEJAWZ Mouthguard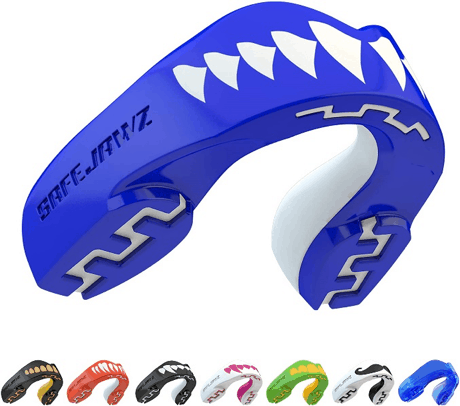 If you want a mouthguard that stays in place even with the heaviest impacts, the Safejawz mouthguard is a great option. This mouthguard is designed to deliver optimum retention and a snug fit that helps to keep you protected as you play.
Key Features:
Made using Fluid Fit technology to ensure a secure and comfortable fit.
Comes with a Jaw Secure technology which features a pre-formed base to protect your jaw from impact
Designed to be lightweight with a slim-fit profile to ensure comfort and minimum interference as you play
The ReModel Tech feature allows you to fit multiple times to achieve the ideal fit.
Pros
Lightweight design for a comfortable fit
High retention design that keeps your mouthguard securely in place
Sturdy construction for maximum protection
Easy to fit
Cons
Not suitable for people with braces
No case included
8. FIGHTR Premium Mouth Guard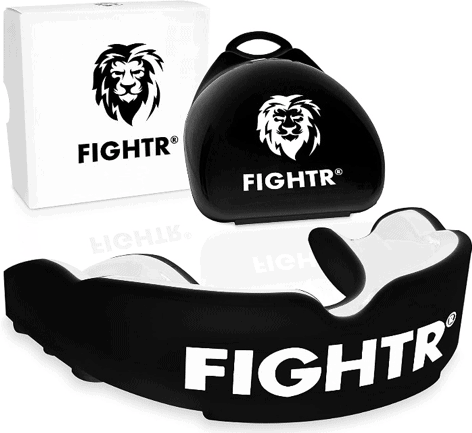 This premium mouthguard from FIGHTR is designed for comfort and ease of use. If you want a basketball mouthguard that will not interfere with breathing or the slim design of the FIGHTR mouthguard is perfect.
Key Features:
Comes with a two-layer design that ensures maximum comfort on the inside and optimum protection on the outside
Slim design that ensures a comfortable fit that enables you to breathe and function normally
Designed to ensure maximum retention with a snug and secure grip to hold your mouthguard in place
Good quality design with a sleek finish
Pros
Excellent fit and comfort
Breathable and easy to wear
High retention
Comes with a hygienic case
High-quality construction and design
Cons
No strapless options available
9. Oral Mart Sports Youth Mouth Guard for Kids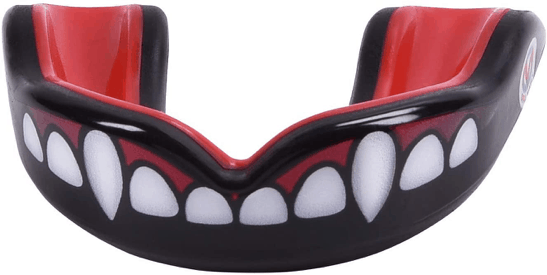 Finding the best basketball mouthguard can be a challenge due to sizing. This Oral Mart mouthguard is designed specifically for youth and comes with a secure comfortable fit. It is also made with safe medical-grade materials to keep children and young adults safe.
Key Features:
Specifically designed for youth
Made with medical-grade BPA and latex-free materials to guarantee safety
Designed with an inner gel layer for a comfortable and secure fit.
The dual-layer construction provides optimum protection from impact without compromising comfort
Pros
Easy to mold
Secure and comfortable fit designed specifically for youth
Superior impact resistance
Durable high-quality construction
Cons
Not suitable for people with braces
10. GuardLab APEX Mouthguard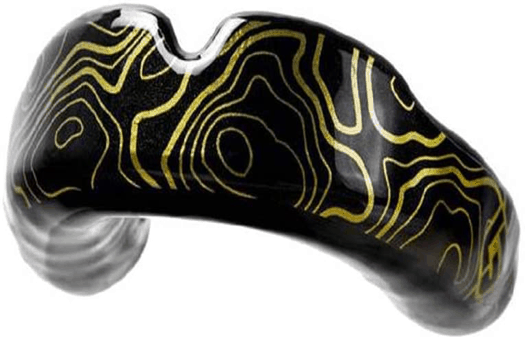 The GuardLab mouthguard is ideal for basketball because it fits securely and stays in place. This mouthguard is designed using 3D technology to endure it fits perfectly allowing players to breathe and talk with ease.
Key Features:
Designed with a pre-indented bite pattern that allows for a precise and comfortable fit.
Developed using 3D technology to ensure the ideal combination of maximum protection and comfort
Made using premium dental-grade materials that are BPA free, Latex-free, and phthalates free to ensure safety
High-quality durable construction that provides a secure fit for maximum protection
Pros
Breathable
Precise and comfortable fit
Easy to mold
Comes with a hygienic case
Available in different sizes to suit both youths and adults
Cons
Choosing the Best Basketball Mouthguard
There are plenty of options when it comes to mouthguards but not all products will deliver the same results. When buying a basketball mouthguard, it is important to keep the following considerations in mind.
Look for a Comfortable and Secure Fit
A mouthguard will only do what it is supposed to if it stays in your mouth. This means that the first consideration to keep in mind is whether the mouthguard has the right fit for you. A mouthguard that's too big will not offer protection since it will not stay in place. On the other hand, a tight fit can be very uncomfortable and will interfere with your ability to play.
Mouthguards developed with a gel inner layer are usually a good option since the gel helps the mouthguard mold perfectly over your teeth and gums. Other technologies that ensure a great fit are pre-indented bite patterns and 3D molding technology.
Pick an Appropriate Size
Not all mouthguards come in a one size fits all construction. It is important to check with the manufacturer the available sizes and pick one that is appropriate for you. Kids' mouthguards will typically have a different fit so buying an adult-sized mouthguard for a child may not provide the best fit or protection.
If you wear braces, always find out whether the mouthguard you want to purchase is appropriate for braces. Some mouthguards are not designed to be used over braces.
Go for a Mouthguard with Optimum Shock Absorbency
The best basketball mouthguard is one that ensures your teeth, gums, and jaw are protected in case of impact. A lightweight design may look and feel great but if it does not have sufficient shock absorbency it will not protect you adequately.
Pick a mouthguard that is designed to offer maximum protection on impact. Look for features such as dual-layer construction and jaw protection technology. These features enhance the protection you get from your mouthguard.
Consider Safety Features
A mouthguard will spend a lot of time in your mouth so it's important to consider what materials it is made from. High-quality mouth guards are usually made with safe BPA and latex-free materials to keep you safe. It is also important to check whether the basketball mouthguard you want to purchase is medically tested for allergens that may cause you sensitivities.
Additional Features
Mouthguards also come with a host of additional features for style and added comfort. Flavors, customized colors, straps, and other extra features can help to improve your user experience. Shop around and compare features until you get a design and style that works for you.
Conclusion
Sports are fun and entertaining but the risk of injury in high contact sports such as basketball makes protective gear a necessity. A mouthguard will make it easier for you to play without worrying about losing teeth or other mouth injuries. The right mouthguard will enhance your performance by giving you the confidence to play without worrying about injuries.